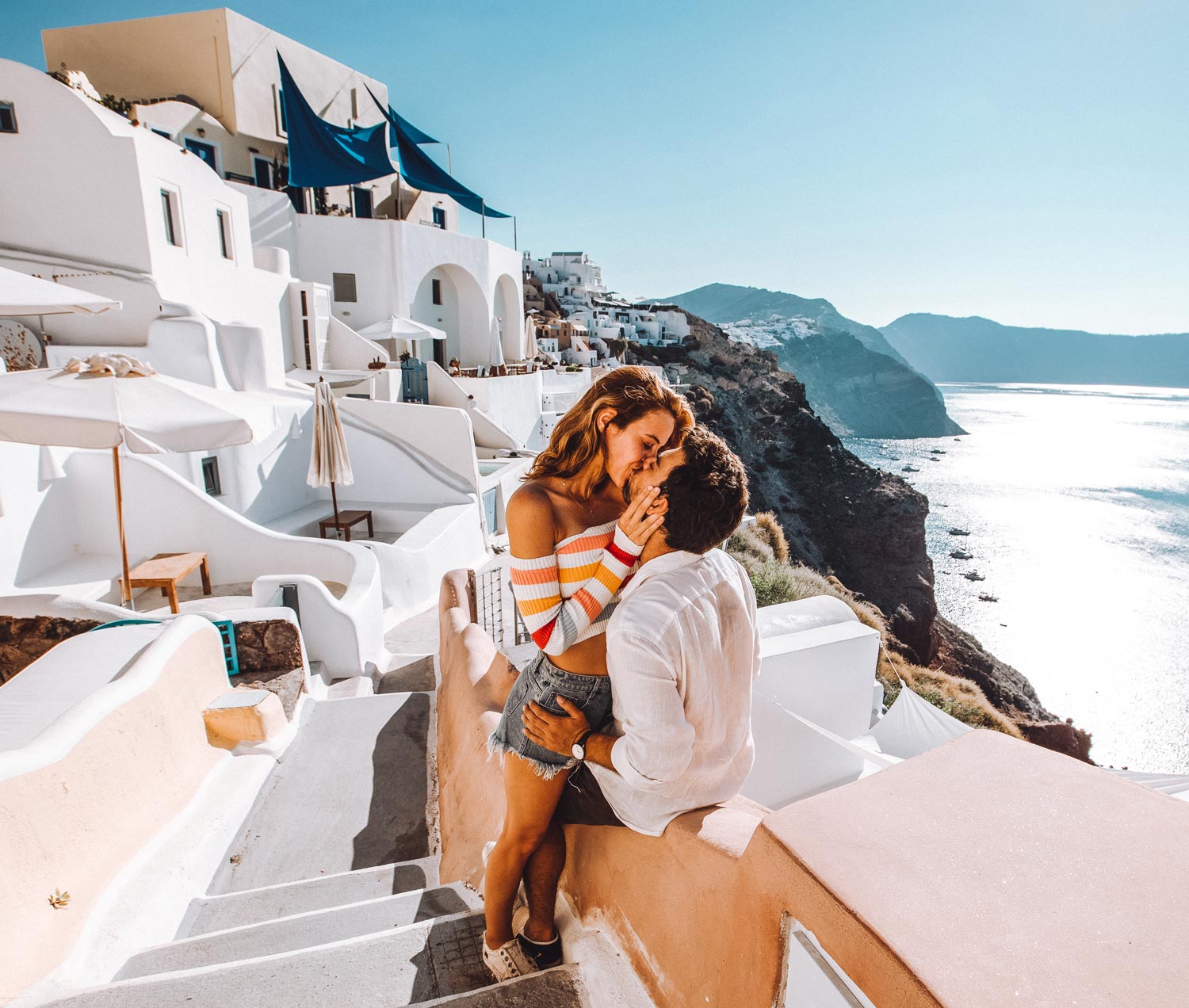 Just a year ago we were both so far from where we are today. Katerina was single, living with roommates in New York City going on a bad date after a bad date thinking I will never find a good guy in this city. And Yinon was on the verge of moving back to Israel, where he thought he'd have a better chance of meeting someone and starting a family.
Fast forward 12 months and we are happily engaged, traveling the world together and building our own business. Life has never been better!
How We Met
Katerina: I was waiting in line at a salad place in the city one day, it's usually a long line so I was on my phone. Then I heard a voice and looked up to see a cute guy with a huge smile on his face asking something about how long the line would take. I'm usually not very warm with strangers but there was something about that smile and his energy that made me want to talk to him more so I was happy when he kept the conversation going. He said something about an article he was reading and I noticed his accent so I asked where he was from – "Israel", he said with that huge smile on his face again.
I figured he was not a New Yorker because no one in this city smiles like that! We chatted a little longer while getting our salads, he got his first, and before I knew it he said "Nice to meet you!" and darted out of the place pretty quickly without asking for my number. Well, too bad. He was cute I thought, but it's not like I would meet the love of my life at a salad place anyway!
I guess I was wrong.
I thought he was long gone when I left the place but instead I was greeted by that same ear-to-ear smile waiting for me by the traffic light just outside.
Yinon: It was just another Thursday, another crazy day at work as I had just started a new project. My colleagues and I went to pick up the salads we had just ordered (the line is always too long at that place so we did it through an app). It was only when I arrived there that I found out my lunch was not ready. After a quick look I realized that from being so busy I had not completed my order so my friends left and I had to wait in line. I never thought that the next 20 minutes will change my life forever.
I didn't see her beauty at first but after asking her how long the line would take I saw the beautiful smile on her face. She was nice, too warm for a New Yorker, I wanted to talk to her for longer. Then I got a text from a friend about this 7yr old kid who learned how to drive on YT and drove his younger sister to McDrive, she laughed (or maybe thought I was a creep). Then the conversation started flowing.
I got my food first, said the most boring thing I could have ever said and left. It only hit me when I was about to cross the street that I need to go back to her. I had already walked down the block so I stopped, turned around and waited for her to come out, hoping she would not go in the other direction.
When she walked out she smiled and came right over! My head was so far up in the clouds that I almost didn't ask for her number. I thought she would never go out with me.
Katerina: But this is isn't even where our "happily ever after" started! It took me some time to even agree to go out on a date with Yinon. And then to allow him to get closer. After so many horrible dating experiences his behavior confused me. He was always so sweet and attentive, doing all the right things, saying all the right words, he never played any games and told me he could "stare at me forever" probably sometime after our 3rd date. Was this guy for real? Is anyone really this perfect or he was just too good to be true?
Sadly, women often refuse to date guys like that because they're "too nice" or "boring". In my case I also just didn't believe someone could be THAT nice. But once I allowed myself to give it a chance, it turned into the most beautiful relationship I've ever had.
We Move Quickly!
Yinon: Two weeks after we met, Katerina left for Bali where she found the time to call me and not disconnect like I thought she would, after all she only met me a couple of weeks earlier. On the phone we already started to get really close, and later spend much more time with each other. We never had plans after our dates so we wouldn't be limited in time. For once in my life, I felt like I was really letting go and not letting any history affect what we have together.
Surprisingly or not, we are so similar that we could relate to everything the other was saying. Two months in Katerina was pretty much in most of parts of my life. She had a key to my apartment and we went to work together everyday to Soho. Who would have thought that the person I plan to spend the rest of my life with was living a 10 minutes walk from me, working a block from my office, and going to yoga in the same building for almost 2 years!
Katerina: Just a couple of months after we met we were already spending most of our free time together. Yinon had a surgery, which was minor but he still needed someone to take care of him so I basically moved in with him to help him out. He let me see him in his most vulnerable state just a few months after we met. He didn't even know me that well yet but somehow trusted me so much.
Another month later we were both headed to Greece to spend a week with my parents in Paros. My parents don't speak a word of English and Yinon only knew how to say "good morning" in Bulgarian. So it was a challenge, to say the least. But it was also amazing to watch them communicate and bond through a combination of gestures, funny faces and sign signals. We have been inseparable since then.
When You Know, You Know
We had heard that expression before but we didn't fully understand what it means until we met each other. Everything suddenly fell into its place! For the first time in our lives we were able to share everything with someone – highs and lows, excitements and disappointments, passion for traveling, ambition, views on marriage, family and communication. We could easily see our whole lives together just after a few months.
We are both very affectionate and expressive with our love and we didn't think we'd find someone just like us. And we were always the "needy" one. Don't let anyone tell you you are too needy! There is always someone out there just as needy as you are. It just might take some time to find them. All of the things about us that we thought were flaws were all of a sudden charming traits that someone fully appreciated.
Yinon: We both kept hearing that sentence for so many years. Coming from Israel most of my friends already had families, children. I always felt like I was late, late to find love, late to start my startup, late to… When I met Katerina everything became clear. It was like taking a capsule and time didn't matter anymore. We both knew that this is it and we decided to put everything into it.
Katerina: As someone who loves traveling and was working on doing it full-time, I wanted to find a partner who would be supportive. It's not possible to do it alone! Not only did I find someone who shares my passion for traveling. But I also found someone who completes me in ways I didn't even think about before. Yinon's skills are so different from mine but complement me in the best way possible. Together we have been able to achieve more than I thought possible in such a short period of time.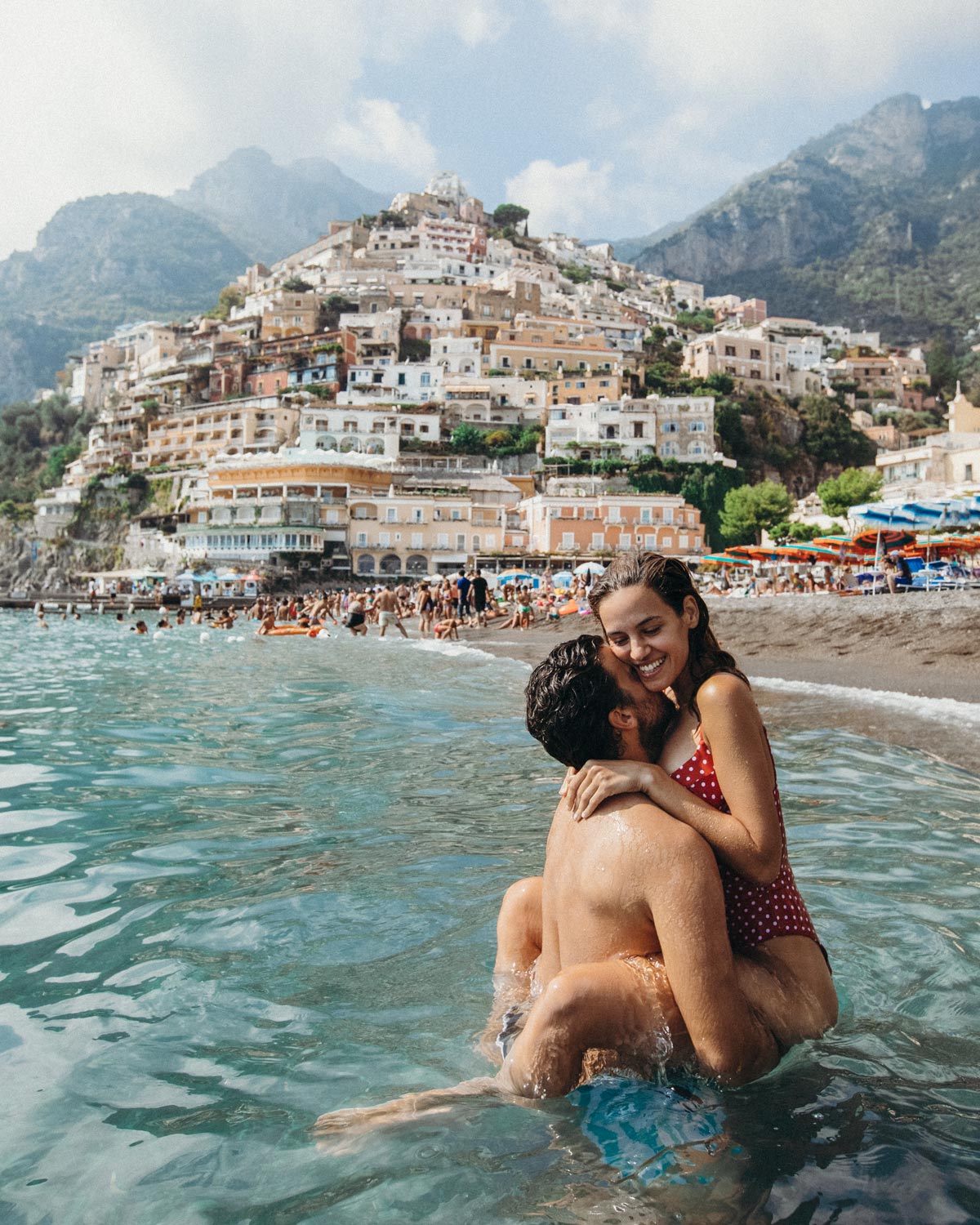 Anything Is Possible
People often say perfect relationships or perfect people don't exist, but we beg to differ. There is someone out there for everyone. Someone who completes you perfectly and who would see even your flaws as something beautiful. Even when we disagree or argue, we see it as a stepping stone for something better, a chance to improve. We believe with the right person you will see even the adversities as something positive, something to learn from.
We are no relationship experts. But we learned a lot through our experience and truly believe anyone can find happiness with a little bit of luck and the right attitude:
Be open. Don't get stuck in stereotypes or dated ideas on whom you should be with! The right person might be just around the corner. But probably doesn't fit exactly in the box you have ready for them
Be vulnerable. Show yourself, don't be afraid to feel deeply and don't hide it. Vulnerability is not a weakness, it's power!
Don't settle. Don't do it just because someone said you need to find a partner by a certain age. Or just because you think true love exists only in movies, or just because you don't want to be alone… Keep looking and you will find exactly what you need. Sometimes it just takes time to even figure out what that is!
We hope everyone can experience what we have at least once in their lives and strive to inspire people to look for it.
LIKE THIS POST? SAVE IT ON PINTEREST!