Ahhh Miami – "It's paradise, but don't tell anyone."
We finally found a place to live! It's been a while since we've updated you on our personal lives sooo here it goes :)) We made some big decisions in the last few months, which JUST happened to coincide with a global health crisis that may or may not have thrown some wrenches in our plans.. But, hey, it worked out for the best in the end!
Traveling Full Time
After selling most of our possessions last year and leaving our cozy home in New York, we traveled around the world without a base for more than a year. For the first time in our lives, we traveled everywhere on one-way tickets and it was the most exciting feeling ever!
We started out in Asia where we spent time in Singapore, Tokyo, Vietnam and Thailand, roadtripped in Australia, and then spent an unforgettable summer in Europe. The last destination we visited before settling down was India, which was a dream come true for both of us. We went from the jungle, to the busiest cities, to the most luxurious hotels, to interacting with some of the most unique wildlife, to feeling cozy and at home in Europe, to the colorful explosion of sounds, smells and textures that is India, all in the span of one year. And what a journey it was!
But after a whole year of traveling out of a suitcase, the nomadic lifestyle started to get quite tiring and we longed for all the conveniences we used to have. We traveled with just one big suitcase, one carryon and two backpacks for our equipment.
Quite honestly, as much as we enjoyed the ever-changing landscapes, we were missing just lying around on our couch! We got tired of looking through suitcases and getting frustrated every time we couldn't find something small. It was a rare occurrence that we'd even unpack our clothes and put them inside a closet or a drawer. Simple things we never thought we'd miss so much, like a gym membership, all of a sudden seemed so important. So over time, always having to move to the next place started to get frustrating instead of fun.
That's when we decided it was time to find a new permanent home.
How We Decided Where To Live
As you might know, we are incredibly fortunate to have quite a lot of options for settling down. Yinon has an Israeli passport and Katerina has a Bulgarian one, so Israel and basically anywhere in the European Union were good options. We also both have Green Cards form living in the States for years. Katerina has lived here for more than 10 years so it feels more like home to her than most places around the world.
Since we work remotely, we could basically live anywhere we wanted. But let us tell you this – having too many options can also be a problem. We always found something wrong with any place we considered seriously. Bulgaria has a COLD winter, Israel can be quite expensive so it doesn't really make sense for remote workers, the US has a lot of issues also, including its horrible healthcare system that is notoriously unfriendly to the self-employed.
One thing was clear though – we were definitely not going back to New York. Although New York feels the most like home and we sometimes really miss this dynamic city, there is no real reason to live there if not for a job that requires you to be there. One thing we really hated about living in New York, and it's a major one, was the absolute inability to spend time outdoors for most of the year. We LOVE being outside, we love nature, and we are content creators, which means being outside is part of our job.
Why Miami?
So eventually, we decided to make Miami our home base. And we are couldn't be happier with our choice!
The reason we even considered Miami in the first place is that we came down here a few times to visit Yinon's father who lives here with his family. Every time we visited, the weather was lovely and we always got this happy sunny mood from just being here. We loved the idea of living somewhere tropical and warm but with all of the conveniences and business opportunities of a big US city. The fact that we have some family in the area was a factor too.
And on top of that, Miami is one of the biggest tourism hubs in the United States, with a huge cruise port, lots of resorts and tourism agencies, and a close access to the Caribbean. Of course, the COVID crisis put a big hold on all of our tourism-related plans but this is just temporary.
Living In Miami, Working Remotely
One of the biggest benefits of working remotely is that we don't need to cram ourselves into a tiny New York apartment to be close to business opportunities. Our office can be anywhere we want it to be. And that includes the sunny rooftop in our building or by the pool with a cold drink in hand.
With a raging global pandemic and more and more big companies allowing their workers to transition to working from home full-time/move to a different state, more and more people will flock to Miami. Not only is the weather great year-long, but the entire culture of the city is one of having fun.
Most apartment complexes in the city come with their own gym, pool and and outdoor areas that feel more like a resort than an apartment complex. We were shocked to find out that most apartments here have their own balcony, some with pretty spectacular views. Something that is a huge luxury in New York is so commonplace here that people don't even notice it anymore.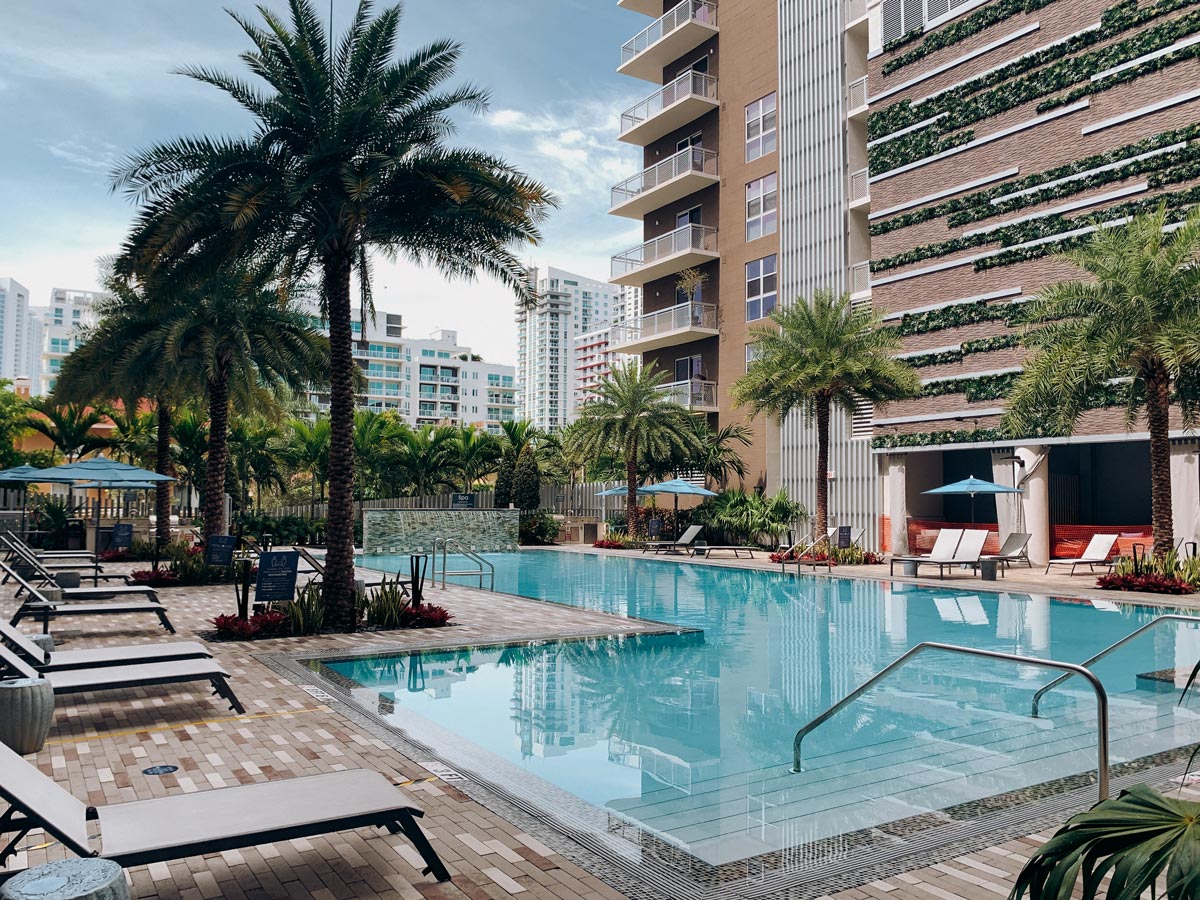 To top it off, living here is around 30% cheaper than cities like New York and San Francisco, taxes are lower AND overall quality of life is better for what you pay.
We usually spend our mornings working in the beautiful office space in our building's common area, then go for a little workout at the gym and cool off in the pool right after. Beautiful tropical beaches are just a quick 20 minute car ride from our home and getting to Miami beach takes even less time.
What more could we ask for?
Finding A Home In Miami
We arrived in Miami in the beginning of March 2020, just before the global coronavirus pandemic hit full force. We had a couple of weeks at most to look for an apartment as it was looking like heavy restrictions were about to be imposed on just about every aspect of life in Miami and the States as a whole.
And we were right. Just a couple of days after we moved into our new place on March 19th, all hotels, restaurants, Airbnbs and anything else you could imagine abruptly closed. We don't know what we would have done if we hadn't found a place fast!!
We were lucky to have Ana Raznatovic as our real estate agent as she helped us navigate the daunting task of finding an apartment in such a short amount of time. There are so many residential buildings in Miami and while most of them look great at first sight, some have considerable management issues that you might only find out about later. So having Ana as a trusted guide was invaluable.
You can contact Ana at ana.raznatovic@floridamoves.com.
The Buildings
We chose not to live in Miami Beach as that's a more touristy area and as such, it is a little overpriced and the buildings there are not as new. There are many high rise residential buildings in Miami that look quite shiny and attractive when you first visit, but to us, they didn't seem as appealing. They can feel more like big partying resorts than a home, and we were not looking for that vibe. It could be great if you are single though, as we're sure you can meet a lot of other single young people that way.
The low-rise residential buildings feel more cozy and quiet, which we liked. Some are definitely more boutique and feel more like a home than a huge party house. So we ended up choosing one of those buildings – newly constructed and we were the first to ever live in our apartment!
We definitely recommend you visit the place you are considering a few times, maybe even different times of the day, try and get a good feel of what it is like to live there and what kind of culture there is among the residents.
That's exactly where we were extremely thankful to have our real estate agent Ana organize everything for us. She was very knowledgeable in giving us tips, explaining pros and cos about different areas and work with the Building Association for our fast approval. We highly recommend her and her service. Choosing the right place and being happy and satisfied at the end to call it your home is very important.
Settling In
So, welcome to our new Miami life! We are still settling in getting used to living here. We are loving the sun, the tropical summer rains, enjoying our morning coffee outside on our balcony, and finally having a closet :))
We are hoping the COVID restrictions get lifted soon so we can explore our new city more, try some of the delicious food and make some new friends!