Disclaimer: This is a sponsored post in a collaboration with LOLI Beauty.
About LOLI Beauty
LOLI Beauty skin care company, finally a skin care line worth talking about. LOLI, which stands for 'Living Organic Loving Ingredients', is everything the name suggests. It is truly a guilt free, ethnically made, zero waste, environmentally conscious beauty brand that everyone can get their wallets behind. LOLI's beauty skin care products are made from organic food supplies, waterless (most beauty products are made with 80-95% water), organic, vegan and cruelty free. A skin care line that cares as much about the environment as it does about ensuring you use the best and most natural products available. Every last detail has been consciously thought through. Products come beautifully packaged using recycled, recyclable, reusable and garden compostable packaging. LOLI Beauty even offers carbon free shipping and is plastic negative. Which means they pledge cleaning 2 pounds of plastic in the world for every order that is made with them.
Now that we've settled the guilt free purchase of products from LOLI Beauty, how do the actual products bode?
Here I will review a few of LOLI Beauty skin care products, like their Chamomile Lavender Tonic which is both a make up remover and toner. Their Plum Elixir, which is not only a face serum, is used for chapped lips and dry hair. Finally, their Date Nut Brûlée is the perfect full body lotion from head to toe. You no longer need to buy separate lotions for the different parts of your body. Keeping your beauty and skin care drawer nice and lean with all the essentials.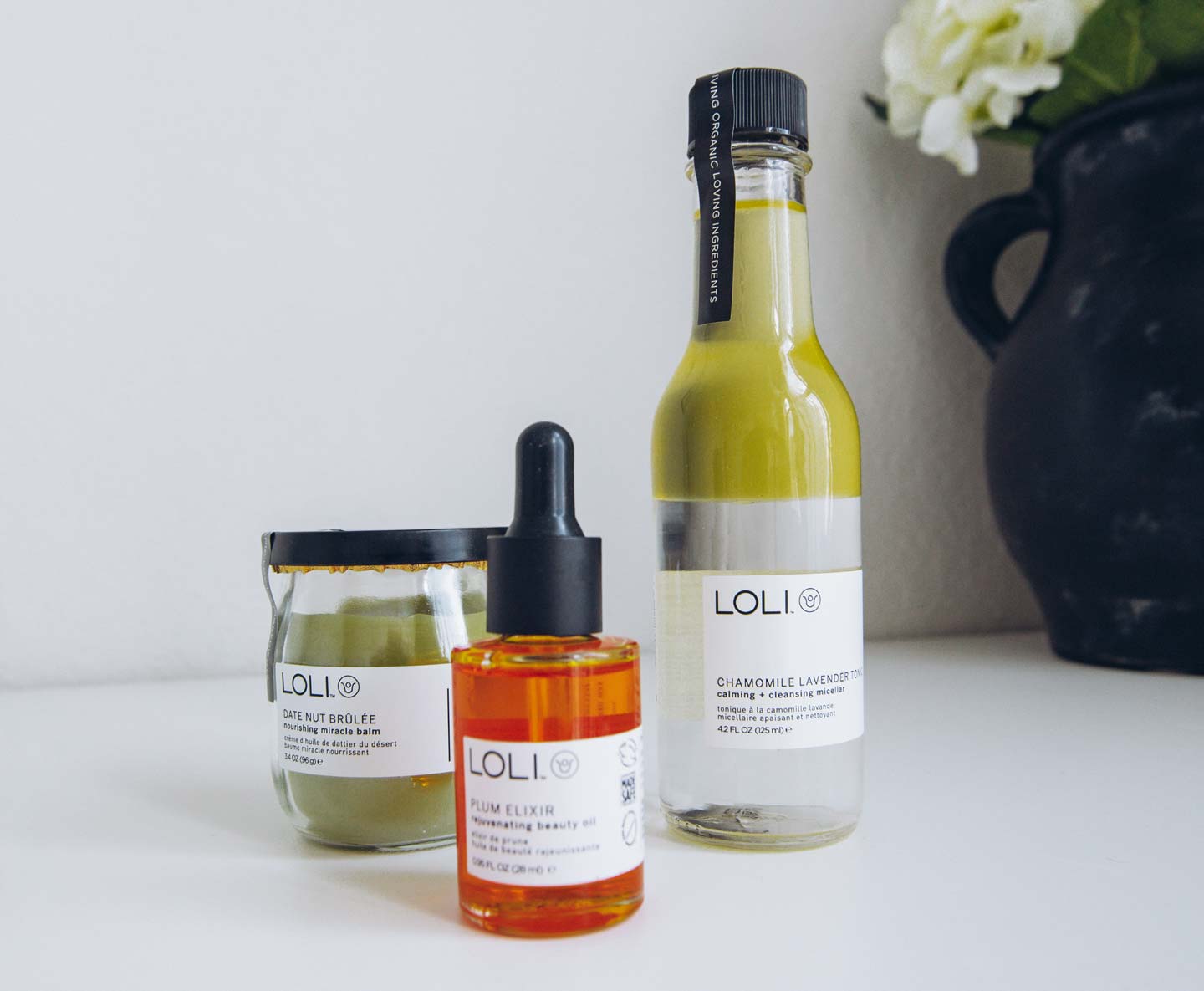 This all in one makeup remover and toner is ideal for anyone with sensitive skin. Whenever I use make up removers, I always feel a slight sting afterwards, which I thought was just part of the cleansing process. After using LOLI Beauty's Chamomile Lavender Tonic, I've entered a whole new world! The gentle cleanser feels light and fresh on your skin, with no stinging feeling afterwards. Chamomile and Lavender have natural antiseptic and anti-inflammatory properties, making your skin feel extra soft afterwards. Most toners can make your skin feel dry and tight, but after using this one, my skin was left feeling lightly moisturized. As for the first LOLI Beauty skin care products tested, so far I'm pleasantly surprised.
Best Ways To Use This Product
LOLI Beauty skin care products are all very versatile, giving you plenty of ways to use the same product. The best way to use this product is as a make up remover. Simply add a few drops to a cotton pad and wipe away! If you don't wear makeup, using it as a toner is just as effective. Simply use a cotton pad or splash some on your hands and dab your face.
For an extra deep clean, you can also add this cleanser to any face mask, lotion or serum. While this product can be used with your morning and night routine, I enjoy using it at night most. The smells of chamomile and lavender puts me in the perfect wind down mode for a restful night's sleep.
I've never been one to use serums. I always figured using a moisturizer would be enough. However, after having dabbled with LOLI Beauty skin care Plum Elixir I'm a converter. Miami's sunny climate means our skins are constantly exposed to the sun which can cause dark spots, acne, wrinkles and skin discoloration. Using LOLI Beauty's Plum Elixir can help reduce that.
Serum's are a lightweight moisturizer you apply to your skin after your toner and before your moisturizer. Because serums are more concentrated than moisturizers, they can easily absorb into your skin quickly. The Plum Elixir is a blend of 4 seed oils packed with vitamins A, C and E. The serum has a nice consistency to it. Not too oily, yet not at all watery. It's hard finding a serum that won't leave your skin feeling too oily when you also apply moisturizer to it. But LOLI Beauty's Plum Elixir somehow finds that right balance. The plum seed oil used in LOLI Beauty's Plum Elixir, is also a natural skin protector against damaging free radicals!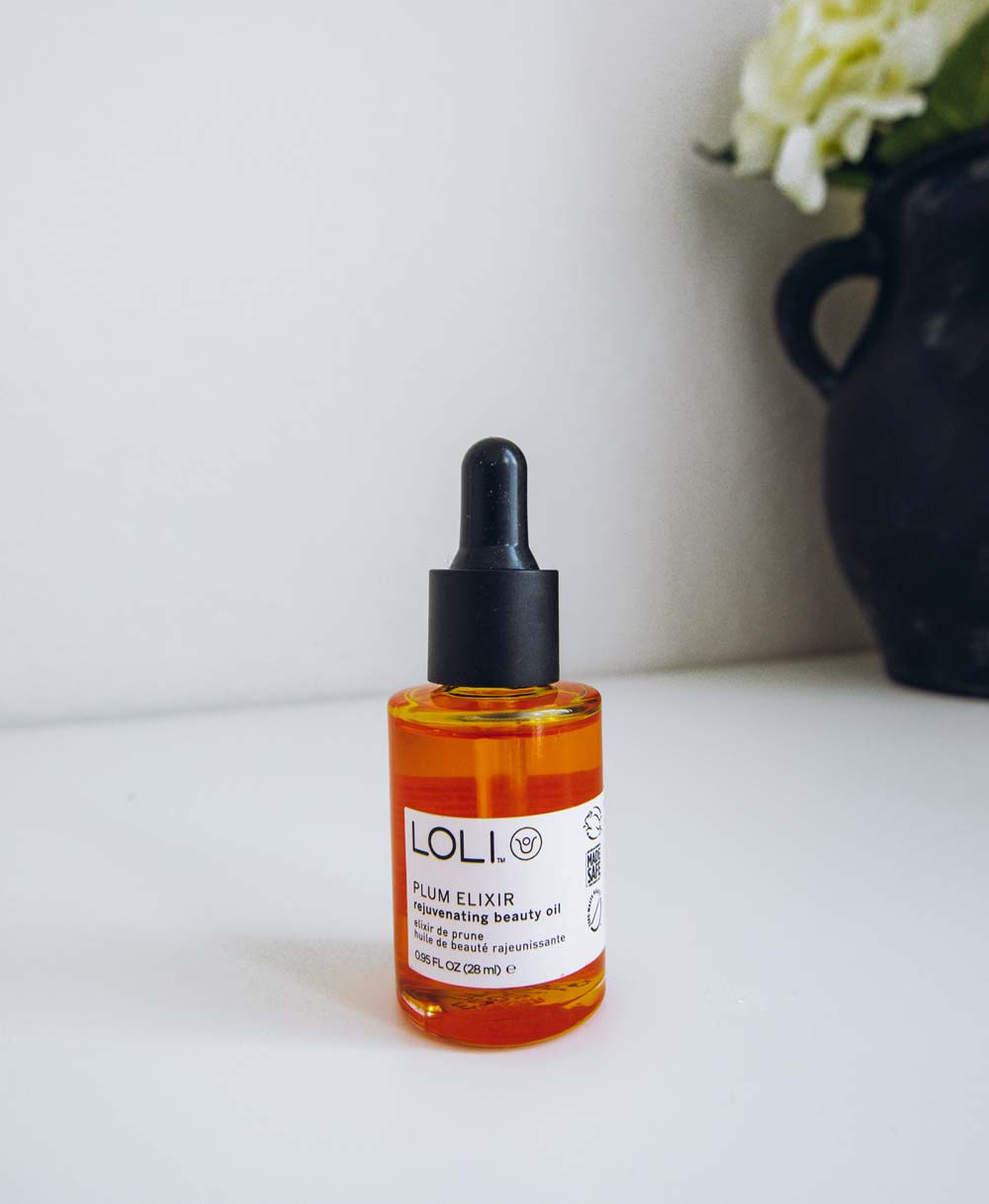 Best Ways To Use This Product
I use this product day and night on my face. Keeping my skin a little damp as I rub in this serum. You only need a few drops rubbed softly into your skin. If you have oily skin, I would opt to replace your moisturizer for this serum, otherwise add it to your existing skin care regime.
It's also a great primer replacement. Simply use it before you apply your makeup and watch your make up go on more evenly and smoother. Another great use for it is on the dry, dull ends of your hair. By applying it to your ends, it'll give your hair a nice shine, prolonging the next dreaded trim.
If you have dry skin, you can also add a few drops of this serum to a face scrub or mask. It leaves your skin feeling super soft and never shiny from the oil.
I've always been a little skeptical of all in one products. How can one product do so many things? However, with LOLI Beauty skin care products, it makes more sense that these natural ingredients have an array of healing properties. For example, the Date Nut Brûlée moisturizer can be used as a cleanser, body balm and face moisturizer. The main ingredient for this product is the desert date oil, extracted from West Africa. Keeping in line with LOLI Beauty ethics, it is sourced from a women's union group in Africa. Desert date oil is packed full of vitamin A, antioxidants, fatty acids and antimicrobial properties, which is great for acne prone skin. The antimicrobial properties help fight bacteria and reduce skin inflammation. While the vitamin A, antioxidants and fatty acids help maintain young and hydrated skin.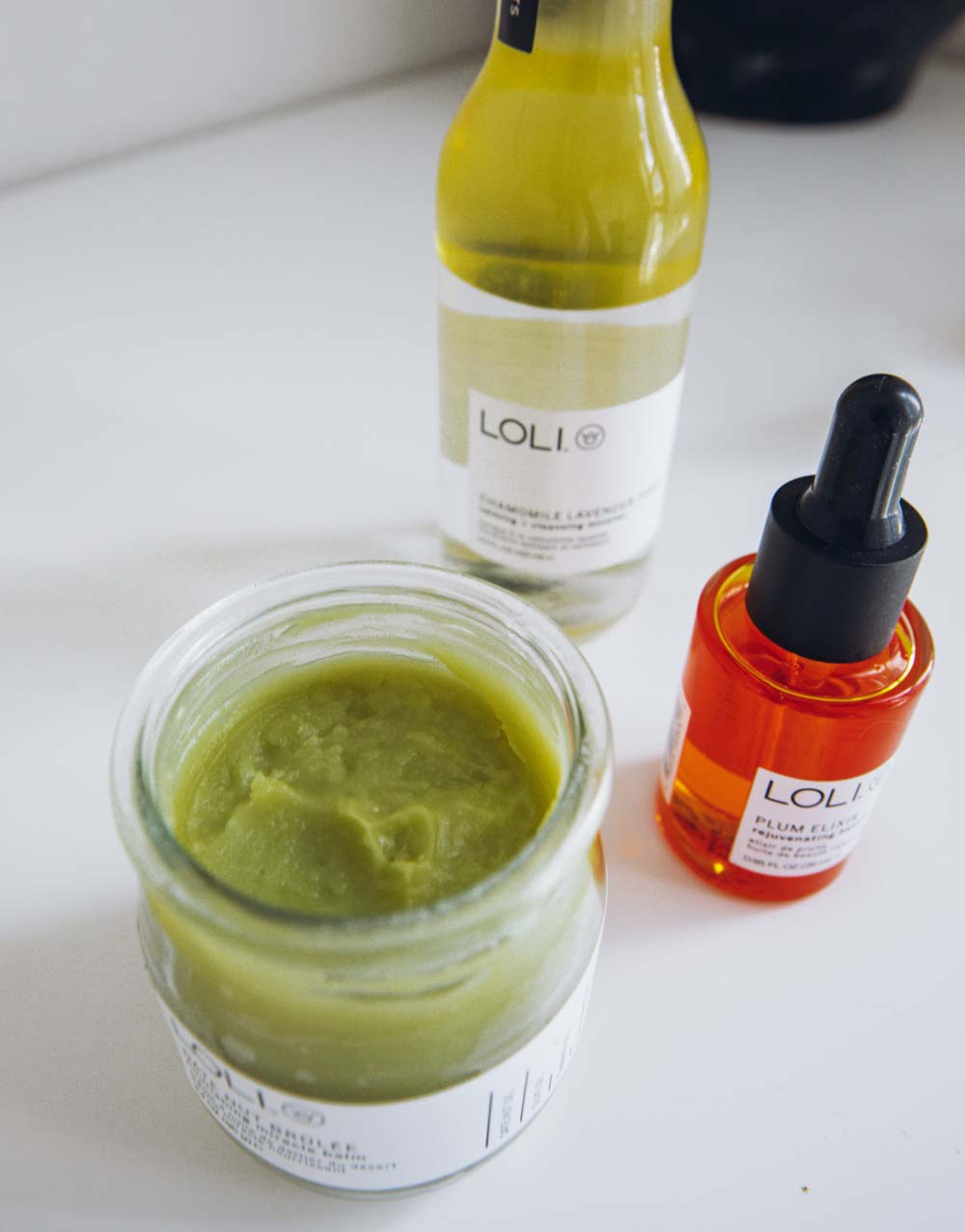 Best Ways To Use This Product
I love using the Date Nut Brûlée as a face moisturizer. While the appearance of it looks thick, if you rub a tiny portion of it with your hands, it'll turn into a less thick moisturizer, perfect for face application. I generally do this step after using the Plum Elixir serum. It's also a great general body moisturizer. It fiercely targets dry skin areas like elbows, back of heels and general dry spots with ease.
Also a great overnight lip balm repair mask for those lush lips. I was pleasantly surprised how well it also took my makeup off. If I've used a lot of make up in a day, I like to mix LOLI Beauty's Chamomile Lavender Tonic water and Date Nut Brûlée moisturizer to turn it into a make up cleanser. It wipes your eye make up off with such ease, you won't have to worry about rubbing off all your eyelashes! The most surprising thing I've used the Date Nut Brûlée moisturizer for is to texture my hair! You know those days when your hair has a mind of its own, frizz everywhere, flat, unruly looking? Simply apply some Date Nut Brûlée moisturizer to your ends to give your hair some texture or a little of the moisturizer on your fizz, and your hair will be looking extra shiny.
Final Thoughts
LOLI Beauty is the poster child for clean, organic, conscious companies. It has received accolades like the CEW (Cosmetic Executive Women) Beauty Award for Sustainability Excellence, Fast Company Fashion Design & Innovation Award, the BYRDIE Eco Conscious Award and a Shorty Social Good Award. It is now named "one of the 250 disruptive brands to watch" by IAB, and the only beauty company that is a member of 'Made In A Free World' & 'FRDM'. Both platforms focus on mitigating the risk of people trafficking in the supply chains.
But not only is this company geared towards making a change in the beauty industry and bettering its operational practices, its focus on clean beauty products is astounding. Many of their products can be used in various ways, so that you aren't left buying multiple products for all your skin care needs. This is especially helpful when you're traveling and trying to keep your packing to a minimum. Before you dive head into all their products, you can always try their bundles first, which are smaller sizes of their regular products that come in a variety of sets.