When choosing where to stay in Bora Bora, InterContinental Bora Bora Thalasso is one of the top luxury resorts to consider. It offers an amazing view of Mount Otemanu, some of the clearest blue water, overwater bungalows, white-sand beaches and all the luxury amenities you'd expect from a resort of this caliber. The InterContinental is also competitively priced against other resorts in this range. Although there are some areas for improvement, the hotel is one of the best options for your special trip to Bora Bora.
Best Time To Visit
The InterContinental Thalasso is located on Motu Piti, a private island in Bora Bora. It's best to visit during the shoulder season between September and November or April/May. You'll be able to enjoy lovely weather with temperatures around the mid-70's to mid-80's without the crowds.
It's best to avoid the peak season from December through March as this is also the rainy season in French Polynesia. Trust us, the rain and thunderstorms do not make for a peaceful lagoon environment. From May to August is another high season with lots of Europeans heading here for their summer holiday. Prices and occupancies also soar during the high season periods.
The Hotel Experience
The InterContinental Thalasso is not too far from Bora Bora Motu Mute Airport. Take the extra hassle out of your trip and book their boat transfer shuttle through the concierge, which costs around $70 per person. You'll be greeted by hotel staff at the airport and shuttled onto a boat that fits about 12 people. The boat transfer offers stunning scenic views of the volcano and an impressive first glimpse of the hotel as you glide into the dock. The surreal view of the 80 thatched roof overwater bungalows reminds you where you are again – in paradise.
At the dock, warm friendly staff will greet you with a welcome drink and a cool towel. Given the humidity, it's a nice refreshing touch as you arrive. Next you'll head to a quick resort tour and finish at the large open air reception area.
The hotel has a calming vibe the moment you step foot onto the property. The breathtaking scenery of Mount Pahia and Mount Otemanu in the background can be seen from almost anywhere on the property. You're surrounded by deep blue turquoise water, giving you that calm relaxing feeling of being in paradise. The quiet ambiance of the place offers a true respite from the cacophony of the world.
Service
Overall the staff at InterContinental Thalasso lived up to true Bora Bora hospitality the island is known for. They were friendly, welcoming and highly attentive. Always there to take care of our every need, the staff made sure we had a pleasant stay. Although the standard of service is high, there are still some misses and areas for improvement, especially if you are looking for true luxury experience.
We still had a few moments of unnecessary attitude or odd vibe from a staff member. When we checked in we did not receive a proper explanation of all the rules in the hotel, such as having to bring a mask to breakfast. This is not the rule at all resorts in Bora Bora so we were not aware. Just as we were noticing that everyone else was wearing a mask on our first morning, a restaurant staff member scolded us for not having ours.
We did have a couple of similar interactions with concierge and other staff member, but overall the service at the resort is still top-notch.
The Rooms
It's all about the overwater bungalows at the InterContinental Bora Bora Resort Thalasso Spa. You won't find any beach suites here. Accommodations are split between two Y-shaped overwater walkways, that flank the main facility area creating a lagoon between them. You'll walk alongside the turquoise lagoon water to get to each bungalow.
All villas include your standard hotel amenities like complimentary WIFI, tea and coffee facilities, mini bar, 24 hour room service, AC, two flat screen TV's (one in the living room and one in the bedroom) and an outdoor shower. In general all villas are situated in a way that allows your bungalow to be private.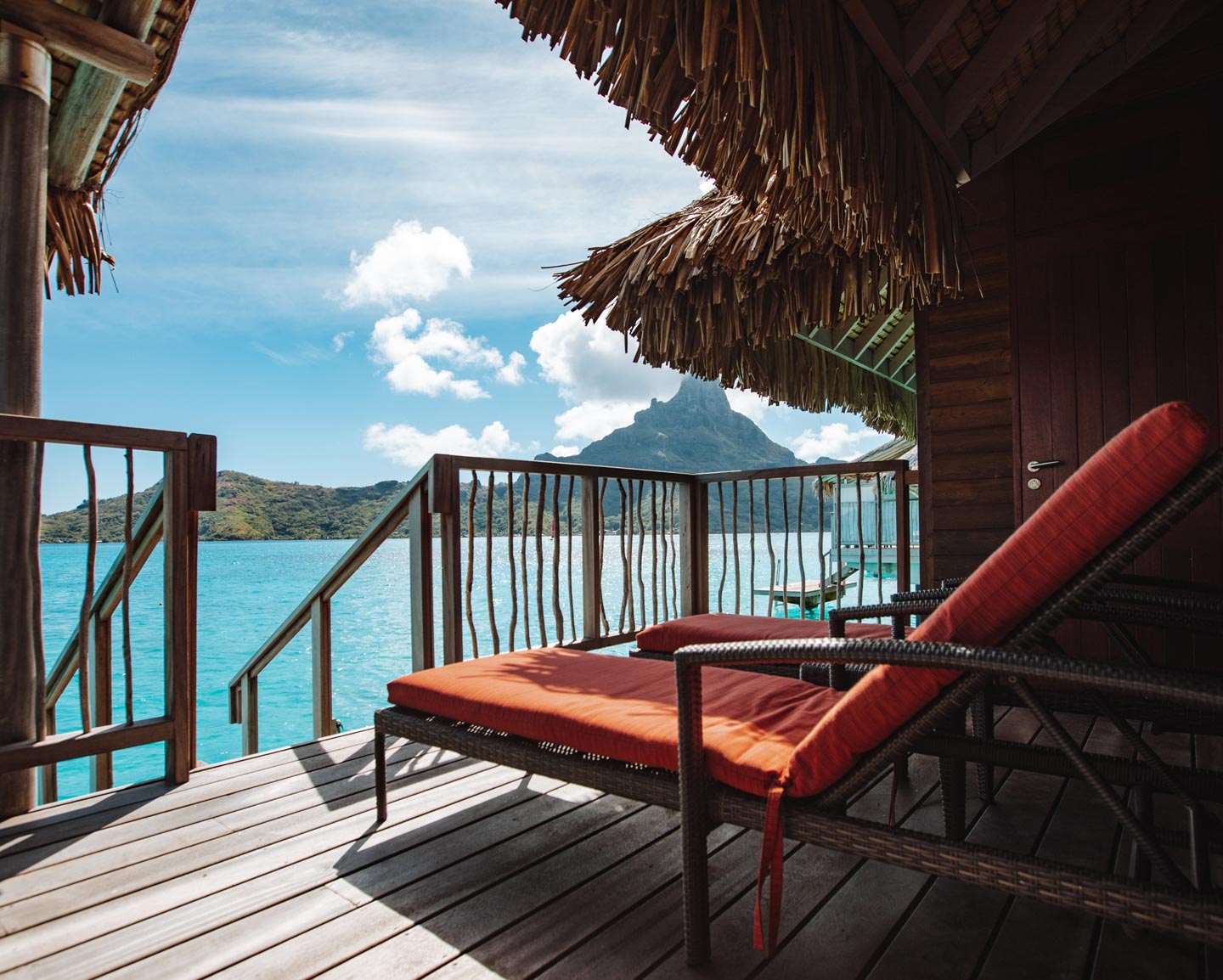 Emerald, Sapphire, Diamond & Diamond Otemanu Overwater Overwater Villas
These four villas all have contemporary decor with a traditional Polynesian design flare. The difference between them is the views they offer. Diamond Overwater villa looks out to Bora Bora's main island, the Sapphire Villa looks out to the lagoon, and the Emerald Villa offers views of the beach and the motu. But the best views are reserved for the Diamond Otemanu Villa, which looks right out to Mount Otemanu and is the most privately situated villa out of the four.
All villas are surprisingly spacious for an overwater bungalow with each room having a distinct separation to it. Large patio style doors open to a deck with both shade and sun that includes two sun loungers, a dining area and direct access to the lagoon. Inside you'll find a large living area with a glass-bottom coffee table that allows you to see right down into the sea.
The bedroom boasts high ceiling fans and a plush king sized bed that faces out to the lagoon with floor to ceiling windows. Waking up to the view of mount Otemanu and the calm lagoon under your feet is something really special, even for Bora Bora.
Enjoy a walk-in closet and a spacious bathroom with his and hers sinks. In the bathroom you'll also find a rainfall shower and an oversized bath tub situated next to a large window for gorgeous views of the lagoon.
You'll find the Thalasso Spa toiletries on showcase and a nice welcome gift when you get to your room. Each Villa fits 3 adults or 2 adults and 2 children.
Pool Overwater Villa & Pool Premium Overwater Villa
These two villas have all the offerings of the other villas but with the addition of your own private pool. The Pool Overwater Villa has a luxurious addition of a 17 sqm pool and the L-shaped terrace includes two separate areas to lay out, a dining area and a large lower deck for access to the lagoon.
If you're looking for views and don't mind a little splurge then opt for the Pool Premium Overwater Villa which has a stunning horizon infinity view that's absolutely magnificent!
Brando Suite
The Brando Suite is the best suite you can book at the InterContinental Bora Bora Thalasso. Strategically situated at the end of each walkway, the 4 Brando Suites offer the best views of Mount Otemanu. With two master bedrooms each having its own bathroom, office area and a conjoined dining area and living room, the Brando Suite easily fits up to 6 people.
Enjoy a large outdoor terrace and pool with ample space to lounge around and even an upper floor that has a more private lounge area. The Brando has a similar bedroom and bathroom footprint to the other villas but is more grand and spacious, so the experience is not quite the same.
With the Brando Suite, you'll receive exclusive benefits that include: A special welcome with a lei, daily amenities delivered to you, complimentary mini bar refills, no room service fees, complimentary transfers between Thalasso resort and its sister property Le Moana resort, a farewell gift and, best of all, a one-day access to the Deep Ocean Spa facility for each guest.
The Brando Suite can fit up to 8 people with a maximum of 4 adults and 4 children. This suite is perfect if you're traveling with another couple or family. This was actually where Beyonce and Jay-Z spent their babymoon!
Restaurants/Food
Le Reef Restaurant
has a beautiful terrace overlooking the lagoon to enjoy al fresco dining for breakfast and dinner. Here you'll find traditional French cuisine served in the backdrop of a bistro-style environment. You can opt for the breakfast package which costs $39USD per person. The buffet offers a good variety of options. In addition, there is an a la carte menu giving you multiple options to choose from. They have all the standard international breakfast options available. But what really stole the show was their Polynesian breakfast table with delicious sweet desserts and poisson cru, a must try in French Polynesia!
Le Sands Bar and Restaurant
is located on its own private beach and has a casual feel to it. The international menu offers something for everyone. At lunch you can expect a mix of snacks, grilled dishes, salads and sandwiches. At night they offer an international cuisine with an Asian twist. Each week a special beach bbq is offered and on certain dates there's live music too. Enjoy sitting on the beach or on the deck. We loved getting happy hour drinks and some small share plates. Not to mention it's a great place to see the sunset.
Le Corail Restaurant
provides a romantic ambience for those looking for a special night out. With the French inspired menu you'll be sure to ignite every one of your senses. A booking is required, but you can easily do that with the concierge. Pick between the chef's tasting menu or dine a la carte. With one of the most expansive wine cellars in Bora Bora, be sure to pair a nice bottle with dinner.
Bubbles Bar
has an array of cocktails and champagne options which is located perfectly overlooking the lagoon with views of Mount Otemanu. It has a trendy feel to it with plenty of seating. They even offer fun bar games to play if you're a gamer. Check out their Happy Cocktail Hour from 5-6pm every day.
South Beach Bar
is great for when you're having that lazy day at the beach. Lay out on one of their sun loungers or beach chairs in the sand and enjoy a cocktail, or two with some yummy snacks. A great place to grab a snack throughout the day or a casual meeting point if you're traveling with others.
Private Dinner
For more private romantic dinner options, The InterContinental can arrange three different types of dinners.
The Romance Turquoise Dinner allows you to dine in the private area of Le Reef restaurant. You'll receive a four course gourmet meal with a bottle of champagne and mineral water on a specially decorated table.
The Overwater Villa Romantic Dinner option has the same offerings but set in the privacy of your own terrace. They'll set up the entire dining experience so you won't have anything to worry about.
The Beach Gourmet Dinner is set up under the starry night sky on their private beach with the same offerings as the previous two. Enjoy a gourmet dinner with sand between your toes.
With three great locations to pick from, you won't have any trouble finding some romance around every corner. You can easily book your romantic dinner with their concierge team and perhaps surprise your better half!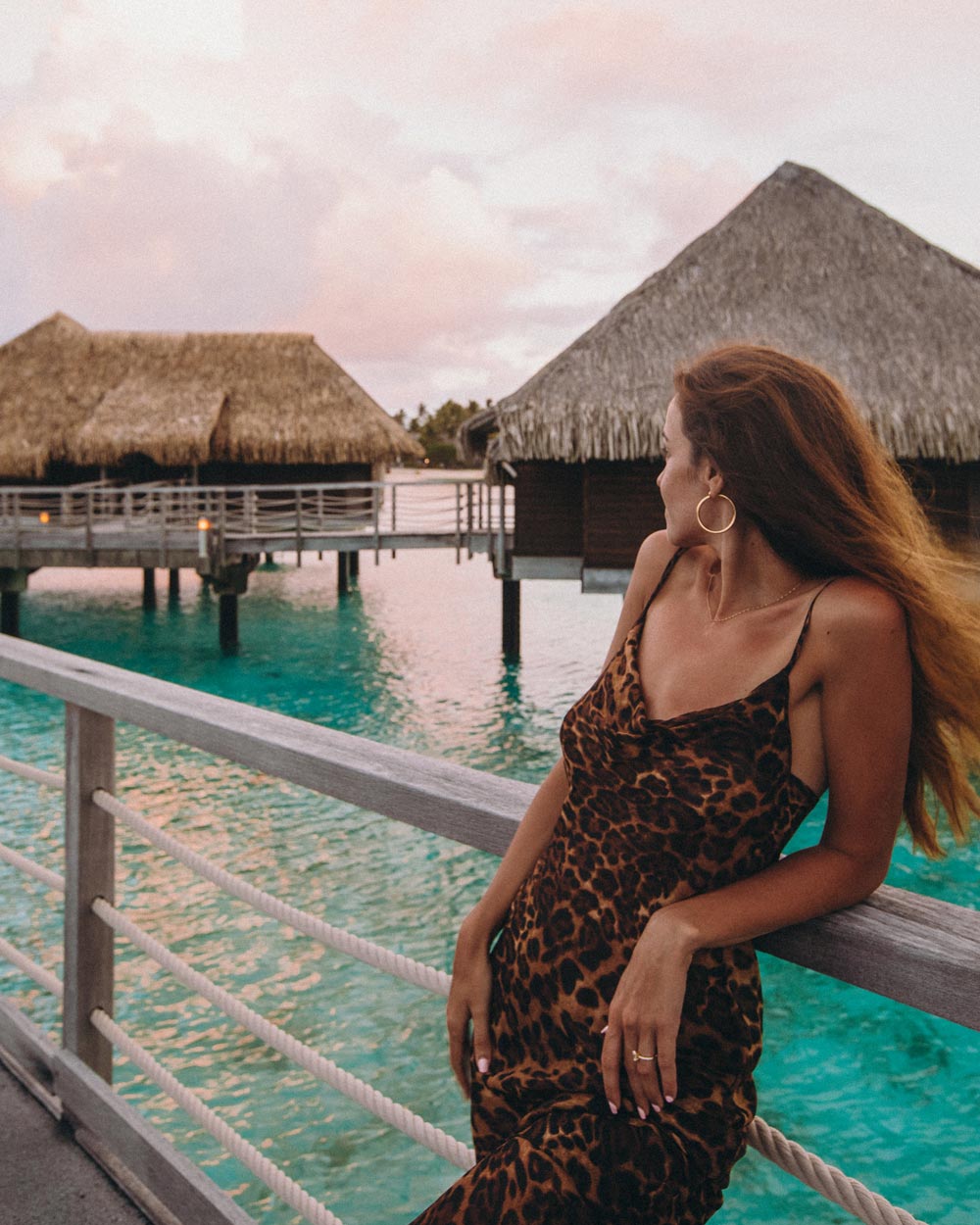 Amenities
Beach
The main beach is situated in the middle of the resort, nestled between the two main accommodation areas. While laying on the beach, you can enjoy views of the thatched roofs with Mount Otemanu in the background. It's a narrow white sand beach with very calm turquoise blue waters.
There are plenty of seating options from giant beach bean bag chairs, sun chairs, to private cabanas. Best of all if you get hungry at the beach, order some food and get it delivered right to you. Right behind the white sand beach is a grassy area with loungers and hammocks so you can still enjoy the view of the beach while changing up your scenery.
If you want to be more active and check out the kayaks, SUP boards or snorkeling equipment, just head to the Fare Nautique kiosk to grab the equipment for free.
Pool
The heated infinity sand pool is located in the middle of the resort which looks right out to the lagoon and Mount Otemanu. This is one of the best pool views towards the mountain we've seen in Bora Bora.
Only a few steps away from the lagoon, the pool makes for a great place to see the sunset. There's plenty of shade from the palm trees that line the pool and there are sun loungers alongside the pool.
The staff is there to grab you towels or take your order from the pool bar so you never need to leave. It's the perfect location to snap a gorgeous picture of you in the water with the sun setting over Mount Otemanu in the background.
Lagoon
Similarly to other resorts in Bora Bora, the InterContinental Thalasso has a private protected lagoon where you can snorkel and observe tropical sea-life. Although the lagoon is not that big, it still offers plenty of fish to see on the backdrop of beautiful tropical scenery. You can also learn about sea life conservation with the on-property Marine Biologist in the Lagoonarium.
Spa & Wellness Centre
This is home of the first Thalasso therapy centre in the South Pacific. Thalasso therapy harnesses the deep sea nutrients found in salt water to help heal your skin. Enjoy 6 different treatments specifically designed to your needs and relax into the treatment while watching the fish swim by through the glass floors in the treatment rooms. For panoramic views of the ocean, check out the multi-sensory outdoor spas, steam baths and showers. You'll feel completely refreshed and rejuvenated.
Gym
The gym has all the offerings of your standard gym back home. So you won't have to worry about missing your routine! Although the gym is smaller than you would expect from such a resort, there are plenty of other options for your workout.
The outdoor jogging track takes you through the tropical gardens with 8 different workout stations along the route. If you're looking for more group work outs, there's a tennis court, table tennis table, fitness classes and yoga classes. Hydrate with free filtered water and apples available after your workout.
Additional Activities
The InterContinental also offers an array of water activities like jet skiing, sunset cruises or other excursions in Bora Bora. If you want to get more hands on, check out their daily tropical fish and stingray feeding activity. Enjoy petting the stingrays or interacting with marine life! Don't worry, the stingrays are just like puppies and love to be fed and petted.
For a landlocked activity, they also have a "Secret Garden of Love" that's filled with Polynesian symbols. You can even attach padlocks for good luck to the trees you are most drawn to.
Lastly, there is a small romantic wedding chapel right on the lagoon. It's the perfect place to have a quaint wedding or if you're thinking of eloping!
If you're looking for a change of scenery from the hotel, the InterContinental offers daily excursions. Try scuba diving with a local dive master, rainforest tours, mountain tours, off-site fishing excursions or shopping trips into the main town of Vaitape. You can book these with the concierge. They can also organize a private guide if you want a more local tour of the area.
To Sum Up
The InterContinental Bora Bora Thalasso lives up to the hype with its amazing location, beautiful views and some of the most spacious overwater bungalows on the island. Although prices can be steep, the magical experience of waking up over the shallow lagoons of Bora Bora completely justifies it.
Pros
Incredible views, calm blue water, classic Bora Bora tropical ambience
Competitive prices with other luxury hotels on the island
Spacious overwater bungalows with views of the mountain
Large beach and free non-motorized water sports
The property is fairly walkable, compared to other resorts that can be quite spread out
Family-friendly
Free water taxis between both InterContinental properties
Free shuttle to the main island
Cons
Fitness center is small and does not offer as much as other similar hotels
Small private lagoon and underwhelming variety of corals and tropical fish
Dining options can be expensive for the quality offered
Service can be a bit underwhelming if you're used to high luxury standards