How We Quit Our Jobs To Travel
Just over a year ago, we both had full time jobs in New York city. Yinon was doing Business Development for an Israeli start up and I was working in a similar position at a fashion company. We were quite successful in our respective industries and were living a comfortable life.
But we were just not built to work for someone else. We wanted to have our own business and we both loved traveling for as long as we could remember. So our entrepreneurial spirit led us to creating our own jobs and turning travel into a living. We were finally able to quit our corporate jobs and travel full time AND sustain ourselves while doing it without touching our savings.
How did we do that?
Careful Planning
You probably see a lot of "I quit my job to travel" proclamations all over the place. And it all sounds very romantic and even spontaneous in a way. But the process, at least for us, was slow and carefully planned. We didn't want to quit our carefully built careers on a whim without a solid plan and the confidence that we'll make it work long term. And, most importantly, we didn't both quit our jobs to travel at the same time without an income. We planned to do it only when we made enough to support ourselves.
The planning process had already started before we even met. I had built a sizable following on Instagram on my own by nurturing my passion and while still working full time. I knew it was something I wanted to do for a long time and worked around my day job to make it happen. By the time Yinon and I met, it was already on its way to providing me with a good side income and growing.
But we quickly realized that doing this as a side job was very limiting and we reached a point where we had to make a decision. Would I pursue it full time or just drop it? As much as it looks like all fun and games, social media requires a lot of time. It is a job on its own. After a year and a half, I had already built an amazing community of about 100,000 like-minded people on Instagram. And it felt like the right time to see if this could become my full-time job.
We decided I would test it out first and see if I could develop a stable income from it and we'd take it from there.
Building A Base
When I quit my job in June of last year, I was nervous. All I knew was working for a big company with a stable monthly income and benefits.
My main income outside of my job at that point were brand collaborations on Instagram. Because of my growing and engaged following, brands were reaching out to me constantly to find ways to work together. And I was making money from promoting their products. It's a great way to make money on Instagram, but it can also fluctuate a lot from month to month. It was also definitely not enough at the time to support both of us while traveling.
So, my first task after quitting my job, was to build more income streams for us by adding on to my existing platform:
Building a few different income streams through social media is a great way to sustain yourself while traveling. And the best part is that they all feed into each other. Our Instagram and Pinterest pages send traffic to our blog and fuel our preset sales. The articles we write on our blog that help people plan their trips, improve their editing, or sell their own presets rank high on Google and bring more people to our other pages and increase our sales.
Once all of these platforms were up and running and making us money, we made the decision for Yinon to quit his job as well and join me. But again, we didn't get to that point until we made sure we are making enough to support both of us while we travel and allow us to work from anywhere.
How You Can Do It
That all sounds great, but how do you start?
The way we did it is not necessarily the right way for everyone. Maybe you don't want to make money through Instagram or a blog. Or maybe photography and writing is not your passion. Maybe you just want to travel for a few months and see the world, and then go back to your day job because you love it.
In any case, we recommend that you plan your journey carefully. We would never encourage someone to quit their job on a whim just because they feel like traveling and see what happens. That may work for some people, but it's not sustainable for most. So here are a few steps that can help you prepare for something like this.
Step 1. Save Some Money
Saving money is crucial. You don't need to have a huge amount of money in the bank, but it's always good to have a safety net. Although we are not using our savings, we feel a lot more comfortable knowing that we have money in the bank to cover us if we have an emergency or something goes wrong.
So How Much Do You need?
The average cost for a year-long trip around the world for one person is estimated to be around US $20,000. Of course, if you are willing to travel cheap and plan your route carefully, you can probably bring that down to about $10,000. But if you like to stay at nicer places etc. you could end up at a much higher number. So let's say you need on average of between $1000-$2000 per month to travel full-time on the low end.
We recommend you save up for at least 2-3 months of full-time travel before you jump into it. Try to estimate that number based on how you travel and make it your goal to save up. That's if you are planning to make money while you travel. If not, you really should save up for the entire trip.
How To Save Money
This, of course, really depends on where you live and how much money you make. But we have a few general tips for everyone:
Step 2. Find A Passion
Being able to make money remotely is one of the best things that happened to us. But starting out is not always easy. And you need to find the right way to do it.
Our number 1 tip for you is to really think about what you are most passionate about. Yes, most people love traveling, but do you really love it so much that you want to make it your job? Once it becomes your job, traveling is no longer just about having fun. Now you need to also work really hard while doing it. Are you ready for that?
In addition, the skills required to make money from Instagram, YouTube or your own blog are not necessarily about travel. To be successful at Instagram, you need to love photography and editing. To be great at YouTube, you need to really enjoy making videos. And to run a successful blog, you need to really enjoy writing and some web design. If you also work with brands and make money from partnerships, you need to be great at building and managing relationships, keeping track of hundreds of emails. Behind every beautiful curated shot on Instagram and every 5-10 minute video on YouTube, there are hours and hours of work that's not so glamorous.
So to do this as a job and be good at it, you have to really enjoy it. And you have to be willing to work probably even harder than you do at your full time job. We spend hours and hours on processing and editing photos, writing articles for our blog, working on new projects and building products. We wake up early and stay up late into the night. Often we work on weekends and holidays. And we love it. It doesn't even feel like work to us because it's our passion.
Start by thinking about the things you love doing.
List the things you would do or want to improve at even if you're not getting paid. Do you love writing? Taking photos? Designing things in Photoshop? Are you good with people? Chances are, you already have some skills either through your hobbies or through your job that you can make money from.
Look at the list you made and start thinking of ways to turn your passions into a business. Do some research on other people who have done it and learn how they did it. Maybe their path is not exactly right for you but you can at least find inspiration and start thinking out of the box.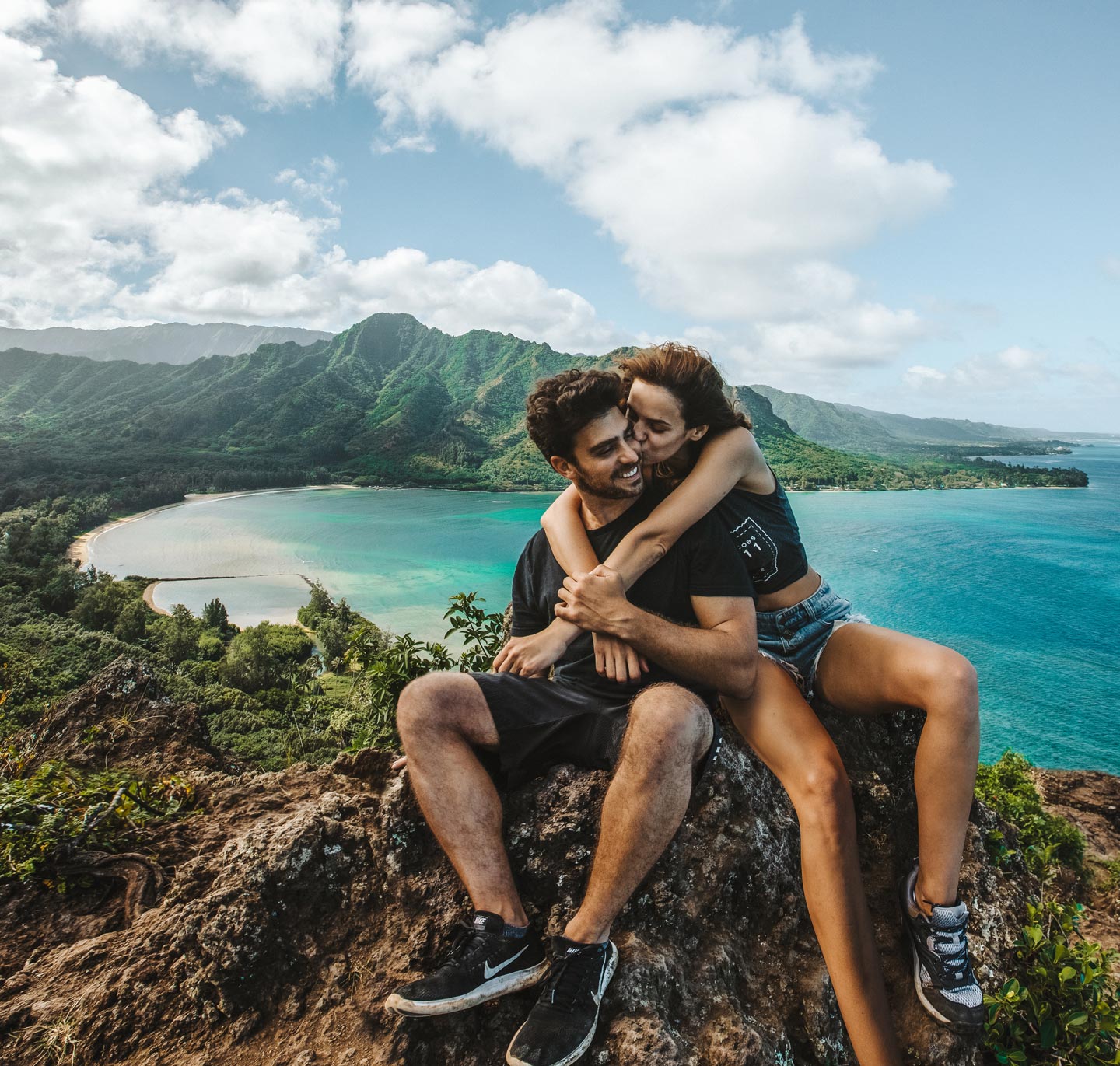 3. Build An Income Base
Once you've identified your passion, start working towards it. Start by doing it for fun in your free time. If it's writing, start a blog. If you like photography, just start by taking photos and learning what kind of photos you like taking. Improve your skills. Don't even think about money yet. Little by little you'll start finding ways to make money from it. When you love what you do, it will start attracting a bigger audience.
Stay committed! Make sacrifices.
It doesn't matter which path you pick, you just need to really stick to it. Nothing will happen overnight. You will most likely need to work for at least 1-2 years towards building something sustainable before it starts making enough money. And you'll have to make sacrifices along the way. You might have to stay home sometimes when friends are out in the park or getting a drink. Or you might have to work on a holiday weekend when everyone else is having fun. We spent a lot of evenings working at home instead of going out and having fun. It may sound harsh but it's just reality. It takes consistency and a lot of work.
But remember to stick to the things you like and not the things you think will make you the most money, if you don't enjoy them. When I was thinking of adding another channel on top of Instagram, a lot of people were going into YouTube. It sounds more lucrative because YouTube (unlike Instagram) actually pays its creators by sharing ad revenue. But I never enjoyed creating videos. I don't love the process of shooting a lot of footage and I don't enjoy spending hours and hours on editing video. But I do love writing. You've probably noticed by how long my posts are!
I could write for hours and hours – I probably enjoy it even more than Instagram.
So a blog made a lot more sense. And at first it was just a place for me to put up all of our advice and info about our travels. Only later I learned how to use affiliate links and I'm still learning! But soon my articles started to rank on Google because people found them useful, and now this is a great stable source of income for us. So, always think about the value you are providing to people with your creations. If you are writing a blog just to write a blog, and not to actually help people, it might not be as successful.
I started out by only making money through Instagram brand partnerships. But by doing more and more things we love, today we already have so many different sources of income:
Of course, there are other ways to make money through social media.
We haven't tried these yet because they were either not right for us or we just haven't had the time yet:
4. Having An Entrepreneurial Spirit
Working for yourself is not for everyone. It gives you a lot of freedom but it also means how much money you make each month depends only on you. And you have to work for it non-stop. It's not all about how many followers you have or how many pageviews your blog gets. We know people with bigger reach than us who don't make as much money as we do. And we also know people whose blogs make a lot more with much less traffic than us.
It's all about learning how to make the most of your skills. If you're good with people – work more with brands because that's all about developing relationships. If you are amazing at editing or have great technique in photography, go more towards teaching other people how to do it. Write articles or do tutorials on it. Sell your tools. Create your own unique products. The sky is the limit.
Yinon and I share the passion of photography but we come from very different angles. I love the creative side of it, editing, writing, designing. And Yinon loves to talk to people, write emails and think about business opportunities. This is one of the biggest keys to success in the world of working for yourself – understanding where you shine and creating ways to monetize it.
In Conclusion
We will never advocate for people to quit their jobs to travel without a solid plan. Of course you can just save up enough money to travel for a few months and do it until you run out. But building an income that takes care of all your expenses while you do what you love is the best way in our opinion. If you have a creative passion and are willing to put in the work into it, you will see results. Just remember it takes time and be persistent.
Let us know if you have any questions below and keep us updated on your progress!
LIKE THIS POST? SAVE IT ON PINTEREST!