On April 10th 2019 Instagram announced that it will start limiting the reach of "borderline content" – posts that don't necessarily go against their community guidelines but are still sexually suggestive, racist or offensive. Essentially that's an Instagram "shadowban" as the user is not notified or warned in any way that their post was restricted.
You might have heard about this policy update but probably didn't really think it affects you. You don't think you are posting anything that can be considered inappropriate, right? Think again.
Here are some of our posts that were marked as inappropriate content by Instagram and affected by this shadowban:
How Does It Work?
Instagram is training its AI algorithms to recognize this so-called borderline content and automatically limit its reach and discovery. Since the posts don't go against Instagram's community guidelines, they won't be outright removed. They will also still be visible to your own followers. However, it will be harder for other users to find them as they will not be shown on hashtags, explorer, location or any other places where people search for new content.
What Is An Instagram Shadowban?
Even though your photos are essentially "demoted" and restricted from certain parts of the platform, Instagram won't explicitly tell you that. That's why this is often referred to as an Instagram "shadowban". If you don't know you are being banned from certain areas of the app, you have no chance of adjusting your content to comply with these policies.
But there are some ways to check by looking at the hashtags or location of the post. Any borderline content won't be visible there. Your post insights can also give you a hint. Below are screenshots of our stats for a typical post on the left vs. one that had this Instagram shadowban on the right. Both were taken 24 hours after the post went live: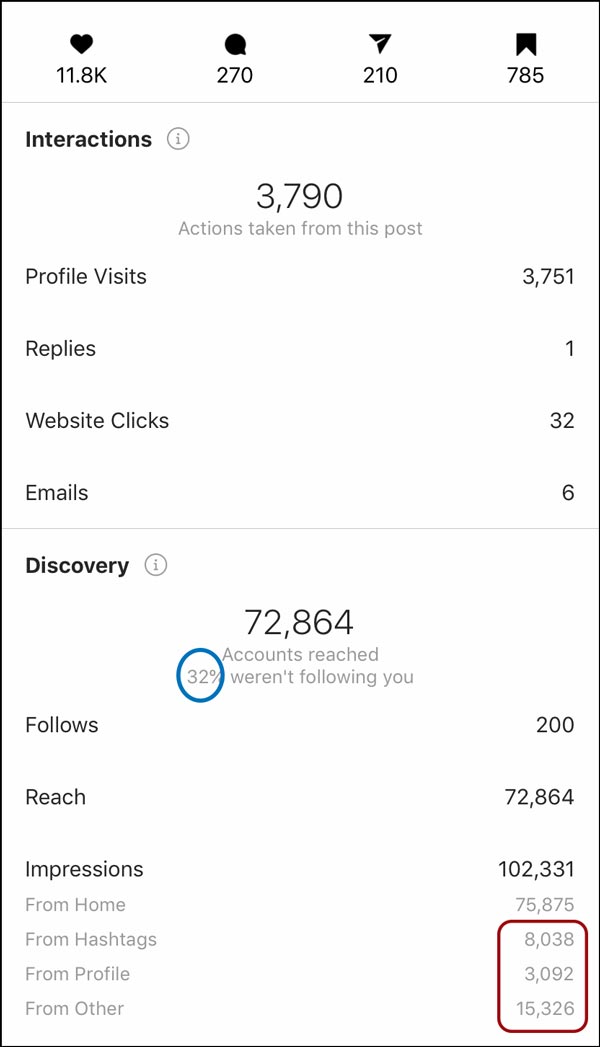 On the left you can see the typical post on our page has on average about 30% Discovery in the first 24 hours. That means 30% of the people who saw it were not following us. After a few more days that percentage goes even higher. This is usually due to the post showing up on explorer and hashtags where new people can discover our page. You can see the impressions coming from Hashtags and Other are pretty high.
On the right is a restricted post – it's basically hidden and limited only to our own followers. Most impressions by far come from Home feed. Discovery is very low at 4% with barely any views coming from Hashtags and Other. As a result the overall reach of the post is suppressed and very few people outside of our following see it.
Slowing Growth And Engagement
The problem here is not just this one restricted post. If you keep posting pictures that get restricted by Instagram, your whole account could be flagged and affected. We noticed that on weeks where we had even just 1 post restricted, it slowed the growth of our account and it affected the engagement of the posts right around it as well. As we mentioned when we wrote on how to grow your Instagram followers, momentum is really important for your account's growth and engagement. And having a few restricted posts here and there can really limit that.
If you are not taking a closer look at your analytics yet, we strongly suggest you do. In addition to taking screenshots of our stats at the 1hr mark, we also use Iconosquare to track our engagement and demographics. It has been of huge help in analyzing our account and what works for us.
What Is Borderline Sexual Content?
When we first read about this policy we weren't particularly worried. It doesn't really affect us, we thought, as we don't post sexual content. But soon we started to realize that the way Instagram defines inappropriate content is pretty broad.
We did a quick scroll through our feed and checked our friends' posts showing a little more skin to see if they were also affected. And while we obviously can't see their stats, we could check if the posts were showing on hashtags. Here are some of the posts that don't show up on hashtags and seem to be marked as inappropriate by instagram:
From the examples above you can see that even regular bikini photos that are not particularly scandalous are still considered inappropriate by Instagram. Topless men are not safe either. In some cases even your naked back can get marked as indecent.
What Does This Mean For You?
Of course, you can still post photos like that. They are technically allowed. But they will only be shown to people who already follow you and won't help your page be discovered by new users. As a creator, you already know what that means. When your discovery goes down, fewer people outside of your own followers see your posts and the ability to grow your following organically also decreases.
This could also affect your ability to do brand collaborations. Brands care about performance. And working with certain brands after this policy went in effect would affect your performance. Fewer people will see your posts if they involve a swimwear brand collaboration, for example.
Our Thoughts On Instagram Shadowbans
The intention of this policy is to protect the community from content that is close to being pornographic. On the face of it, that's a good thing. Instagram should take steps to keep its billions of users, some of which are very young, safe from harmful content.
But in reality, the effect is far more sweeping. From the posts we looked at, it seems like Instagram's algorithm can't tell the difference between a sexually suggestive post and someone simply hanging out at the beach in a bikini. So in effect, this becomes a universal suppression of any account showing a little more skin on the platform.
It will affect bikini brands, models, fitness and body positive accounts.. Far from the original intention of suppressing borderline inappropriate content. But what's worse is that there are no clear guidelines on what is considered inappropriate by Instagram. Creators will now have to guess just how much skin is ok.
The fact that creators are not even notified in any way that they are breaking any rules is not a good practice. As creators, we spend a lot of time curating beautiful content for the platform. When our hard work is being affected by invisible rules we are not even aware of, it can be extremely frustrating.
When Facebook started to limit brands and creators on its platform, they started to leave. Nowadays no one creates interesting content for Facebook as you just don't have the ability to grow organically there. By putting more and more restrictions on its creators without clear guidelines, Instagram is going down the same path.
What do you think? Has this policy affected you?
LIKE THIS POST? SAVE IT ON PINTEREST!