Let's face it – you've seen a million pictures on Instagram of bikini-clad girls blissfully feeding pink flamingos on a dreamy turquoise beach. Same! It was one of those pictures that inspired me to book a flight to Aruba and find that famous Flamingo Beach. I didn't know much about it, I just wanted to feed some flamingos!
So let me burst your bubble first – flamingos are not found everywhere on this island. You can't just rock up to any beach in Aruba and expect to find wild flamingos roaming around. They inhabit a private island part of the Renaissance Hotel and access is very limited. Visiting it requires careful planning. So we're here to help you do your research!
How To Get To Flamingo Beach Aruba
Flamingo beach is located on a small private island, part of the Renaissance Hotel in Aruba. The island is not open to the public and the only way to get there is by boat transfer through the hotel. So you have two options: stay at the hotel or get a day pass.
Stay at the hotel:
If you book a room at the Renaissance Hotel you can access the private island by taking a boat from the hotel lobby. You have to use your room key to board the boat. Depending on the dates it will cost you between $250 – $500 a night. But this guarantees you access to the island and Flamingo Beach Aruba and you don't have to worry about the day passes selling out.
Get a day pass: 
If you don't want to stay at the hotel, you can purchase a day pass for the private island only. Day passes cost $125 per person and include lunch and a drink. The tricky part is, they are very hard to come by. You can't buy them online or over the phone and you can't reserve in advance. To get one, you have to show up at the hotel the day of your planned visit and try to purchase the moment they go on sale. Tickets start selling at 7am and people line up as early as 6:30am. They sell out fast.
Typically the hotel decides how many passes to sell each day based on the hotel occupancy rate. If it's higher than 80%, no passes are available. When occupancy is lower than 80%, the number of passes will vary but we heard it could be just around 20 per day. So, needless to say, day passes for the Renaissance Private Island can be hard to get. Plan early to avoid disappointment. We recommend you don't plan to go to Flamingo beach on your last day in Aruba. Tickets might sell out so you would want to have at least another day to try again.
The boats leave from the hotel every 15 minutes starting at 7am and can fit around 20 people. Try to get to the island early so you don't have to wait for a spot on the boat. It can get quite busy around noon and later.
What Is The Beach Like?
The two beaches on the private island have all the amenities you need to have a very relaxing time. The towel hut and restrooms are located near the boat station at the entrance. There are beach chairs and umbrellas as well as lots of palm trees for shade. Each beach has a cafeteria/restaurant with fresh food and drinks. There are even beach bungalows with overwater hammocks available for rent.
The island is never too crowded due to the limited access the hotel keeps. It is the perfect place to spend a quiet relaxing day by the beach with a book in hand.
Are Kids Allowed On The Island?
To make sure the flamingos have a quiet and peaceful time, kids are allowed only between 9-10am on Flamingo beach. The good news is they don't need a day pass and can enter for free. But don't worry – there are plenty of other nice beaches in Aruba to enjoy with children. Check our list with top beaches in Aruba here.
What Is It Really Like To Feed A Flamingo?
I'll be honest with you – flamingos DO NOT sound or move the way you expect them to. Maybe I haven't been around nature enough, but I imagined their voices sweet and cherubic and their movements – graceful. In reality they sound like angry seagulls and seem oddly uncomfortable with their own beaks, as they have to tilt their head sideways to be able to pick anything up with them. Don't worry though, they are pretty harmless and can't hurt you with those giant awkward beaks at all.
The best part about the experience though is that, although they can look and sound a little intimidating, flamingos actually become quite pleasant once you get them a snack! Don't expect snuggles, but you can feel them getting happier and happier as you feed them. It's really quite satisfying and fun. They are also oddly respectful of each other! They never try to steal each other's food or get in front of a buddy and snatch their pellets. Who knew birds can be this polite?!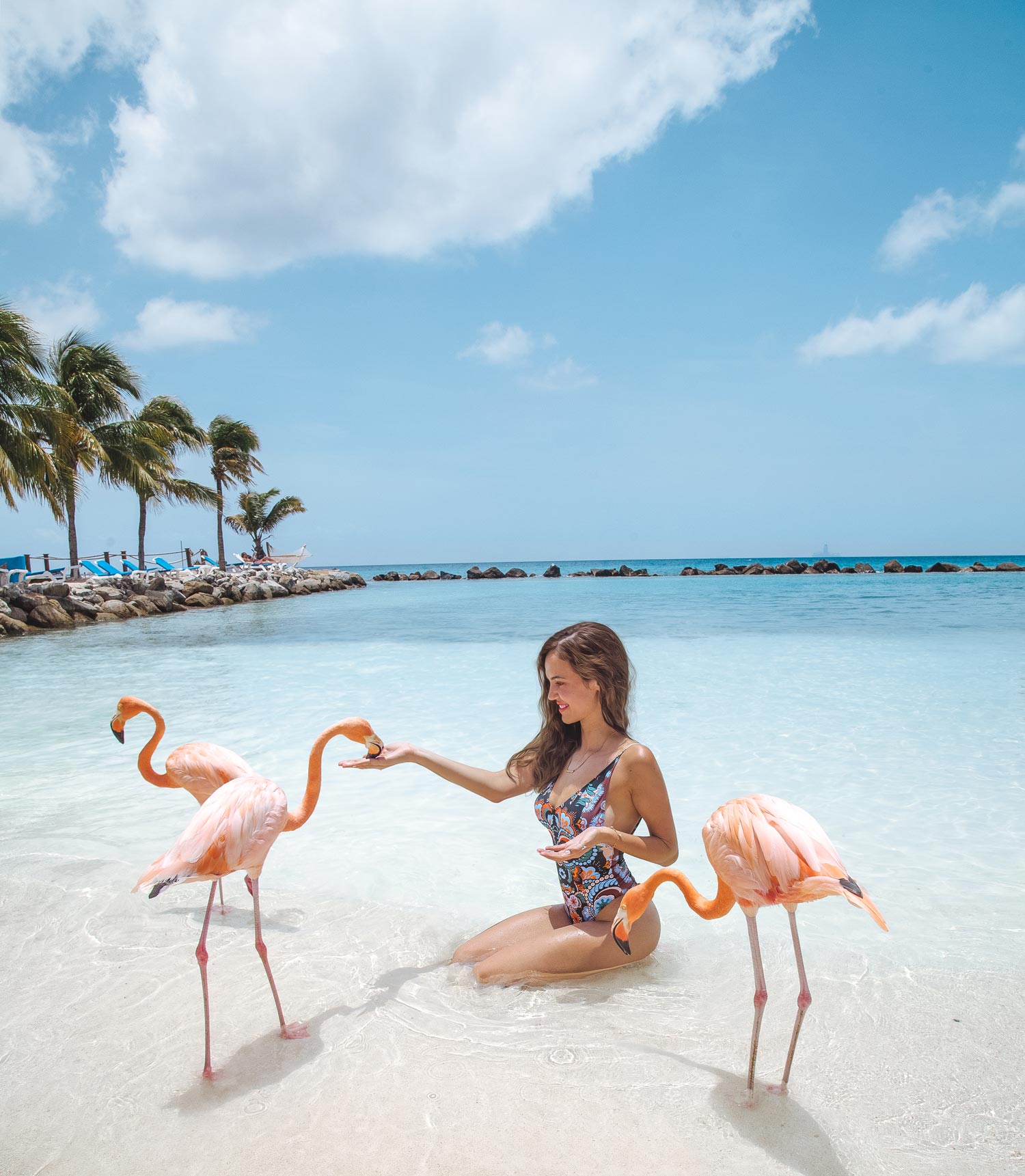 How To Stay Respectful And Still Take A Good Picture
First of all, be respectful of their space! Don't chase the flamingos around, don't splash water at them or shove food in their face. If you are aggressive you'll scare them off. They might not come back to you even later. Don't approach them too fast and don't hover.
DO sit down, move slow and just put your hand out. When they're hungry they'll come to you. 
There are bird food dispensers at the beach so make sure you bring quarters. There's also a cafeteria where you might be able to get change. But it might not be open early in the morning.
GO EARLY IN THE MORNING! This is my pro tip for pretty much any photo but it's especially important in any place where feeding animals is the main attraction. Animals can't eat all day! So if you're one of the first people to offer them food, they're more likely to be hungry and play with you. Once they are full they'd rather to hang out under the palm trees and might not want to follow you to the water.
Be ready to compete with a lot of other picture enthusiasts on the beach and a few inevitable flamingo floaties – some people are just literal like that? But above all, don't go too crazy for a picture. If you take your time, stay clam and be nice to the animals, you'll get your turn.
Are The Flamingos Free?

And finally, I couldn't ignore this question. I've seen some reports online that the wings of these flamingos have been clipped so they can't fly away. Flamingos are actually not native to the island, they most likely come from neighboring Curacao or Bonaire. Of course, it doesn't sound very humane if the birds are being kept on hotel grounds to entertain guests. But they could also be rescues or perhaps there is another explanation for how they found themselves in Aruba and whether they are free to leave.
As much as I tried to find a definitive answer to this question, I was not able to. Other than a few threads on online forums and random articles with unclear sources, I could not find anything solid. If you have any official information, I'd love to find out!
LIKE THIS POST? SAVE IT ON PINTEREST!