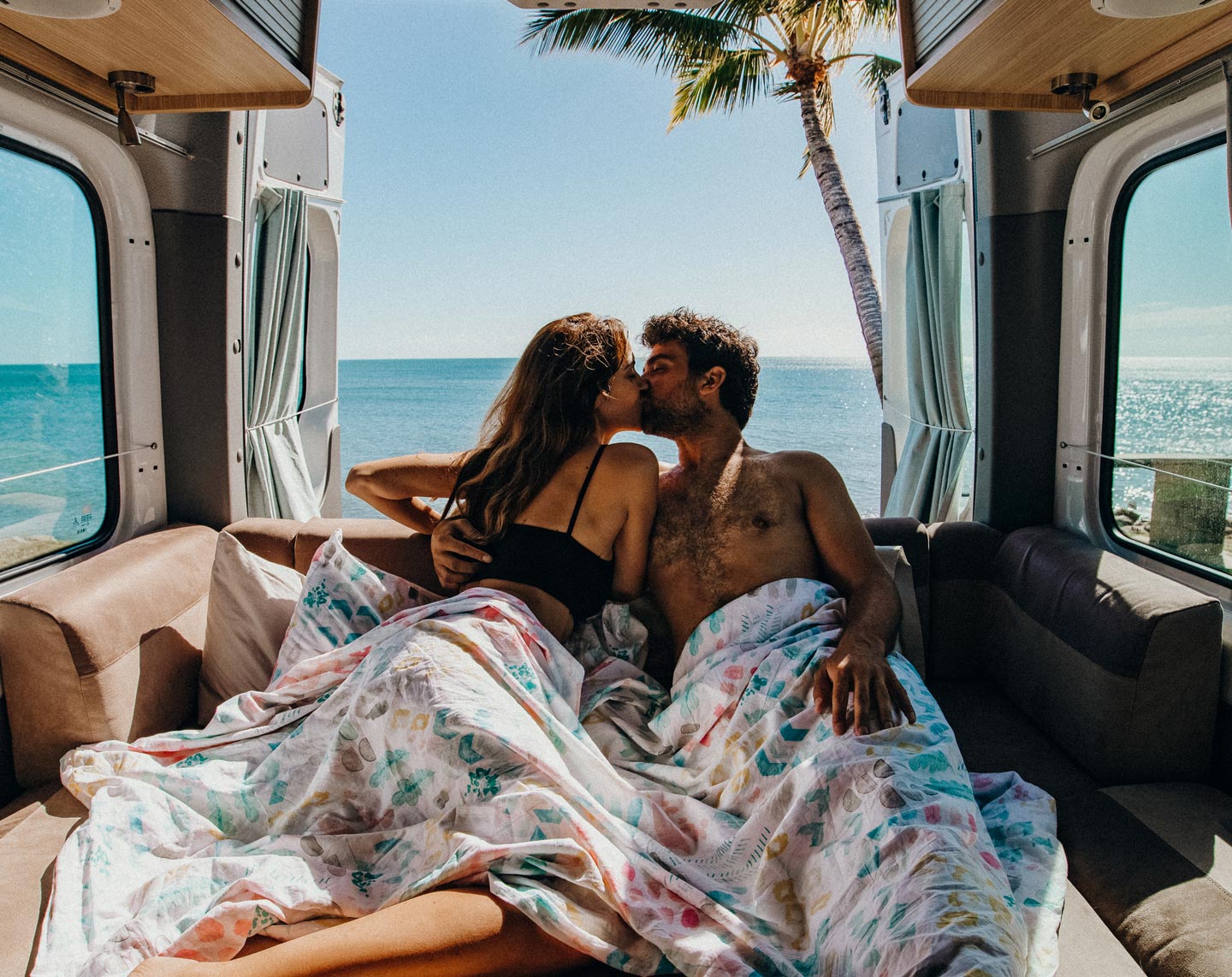 Yinon and I really wanted to visit Australia for a while. For him the main draw was the desire to visit a new continent and to experience traveling in a van. And for me, it was mostly my interest in wildlife. Australia has such a unique flora and fauna that I'd been dying to visit and see it firsthand. So doing a campervan roadtrip in Australia was a dream for both of us.
We planned to spend a full month there, hoping we could visit a lot of different places we had marked over the years allover the country. However, we soon realized Australia is just so huge that it would be impossible. We quickly narrowed down our areas of interest to just a part of Queensland. And we decided to do a road trip from Brisbane all the way up to Cairns.
We were planning to visit Australia in mid-April, which is already fall season there. That means a lot of the Southern parts of Australia would be getting pretty chilly and we wanted to focus on having more beach time. Visiting tropical Queensland in fall is a great idea though. The cooling off of the weather is actually welcome there and since it's right in between seasons, the area is not as crowded and planning is easier. A lot of the beautiful places we had marked in Australia were also in this area anyway.
Why Travel With A Campervan In Australia?
If you are planning to spend a full month in Australia and want to explore at least a couple of different areas, traveling in a van makes a lot of sense. We would even argue Australia is one of the best places in the world to travel with a campervan. The roads are great, the drives are long and beautiful, and the country is just so well set-up for camping in a van. There are camping areas everywhere and most of them have amazing facilities. In Queensland, you couldn't drive for more than 10-15 minutes without seeing signs for camping grounds.
And to top it off, the weather and nature in Australia are the best for traveling in a campervan. You can camp on the beach one day, waking up to a beautiful sunrise with the laughing sounds of kookaburras in the trees and the smell of fresh coffee. Have long conversations with your partner on the drive up to the mountain the next day, cook the most delicious meals of your life on the BBQ and watch curious cockatoos descend from the trees looking for a snack.
And you can do all that while still having great accommodation with hot water, clean bathrooms and kitchens, meeting great people in the amazing camps you see allover Australia.
About Our Campervan
Disclaimer: We rented our campervan through a collaboration with Maui Motorhomes. Our rental was sponsored by the company. This post still contains our completely genuine review of our experience 🙂
We chose the 2+1 Berth Ultima Plus from Maui Motorhomes. It is a big van designated for up to 3 people. It really had everything we needed and more – air conditioner, toilet, shower, fridge, TV, kitchen sink, microwave, stove and even a range hood inside. On the outside the van also has a fold-out barbecue powered with gas. In the back of the van we had a comfortable seating area with a table, which converts into a bed. There is plenty of closet space a lot as well as 6 storage cupboards for various kitchen items or clothes.
We were amazed by the amount of little necessary things included in our van rental that we didn't think about. Other than food, we didn't really need to buy much for our trip. The van came with:
Plates, bowls, cups, cutlery, cutting board and even a potato peeler
Pots, pans, salad bowls, microwave-friendly containers
Toaster and kettle
Linens, towels, pillows and comforter
The camp table and folding chairs also came very handy for all the evenings we spent sitting outside the van with some snacks, talking.
Having such a big and comfortable van definitely made a difference on our trip, especially since we were on the road for weeks. Although there are so many camps everywhere, not all of them have all the facilities you need every time. A few times we had to park at camps with no showers or a kitchen. In those cases having everything we need in our van was very helpful.
Click here to take a check out the campervan options from Maui Motorhomes.
Camping Tips And Things To Keep In Mind
Holiday Parks And Camps
Camping in a campervan in Australia is very well regulated. You should definitely not plan on parking and camping wherever you find. You have to use designated campgrounds or holiday parks, as they are called here.
We have to say though, camping grounds in Australia are some of the best we've seen. Although the prices can be a little higher than you'd expect, most of the parks offer top-notch facilities, clean showers, cooking areas with BBQs and even hotel-grade swimming pools.
Expect to pay between $15-$45 per night for a campsite for 2 people. The cheapest we paid was $15 for 2 for an unpowered site at a camp with very basic facilities and no common kitchen/cooking area. On the higher end we've paid around $45 for a powered site at a big holiday park.
You can also camp at campgrounds across Australia's national parks. Some of them are free but even the paid ones are very affordable at around $6 per person per night. You might need to get a license for some of them. Each state in Australia has its own website where you can search and book a spot. You can find the one for Queensland here.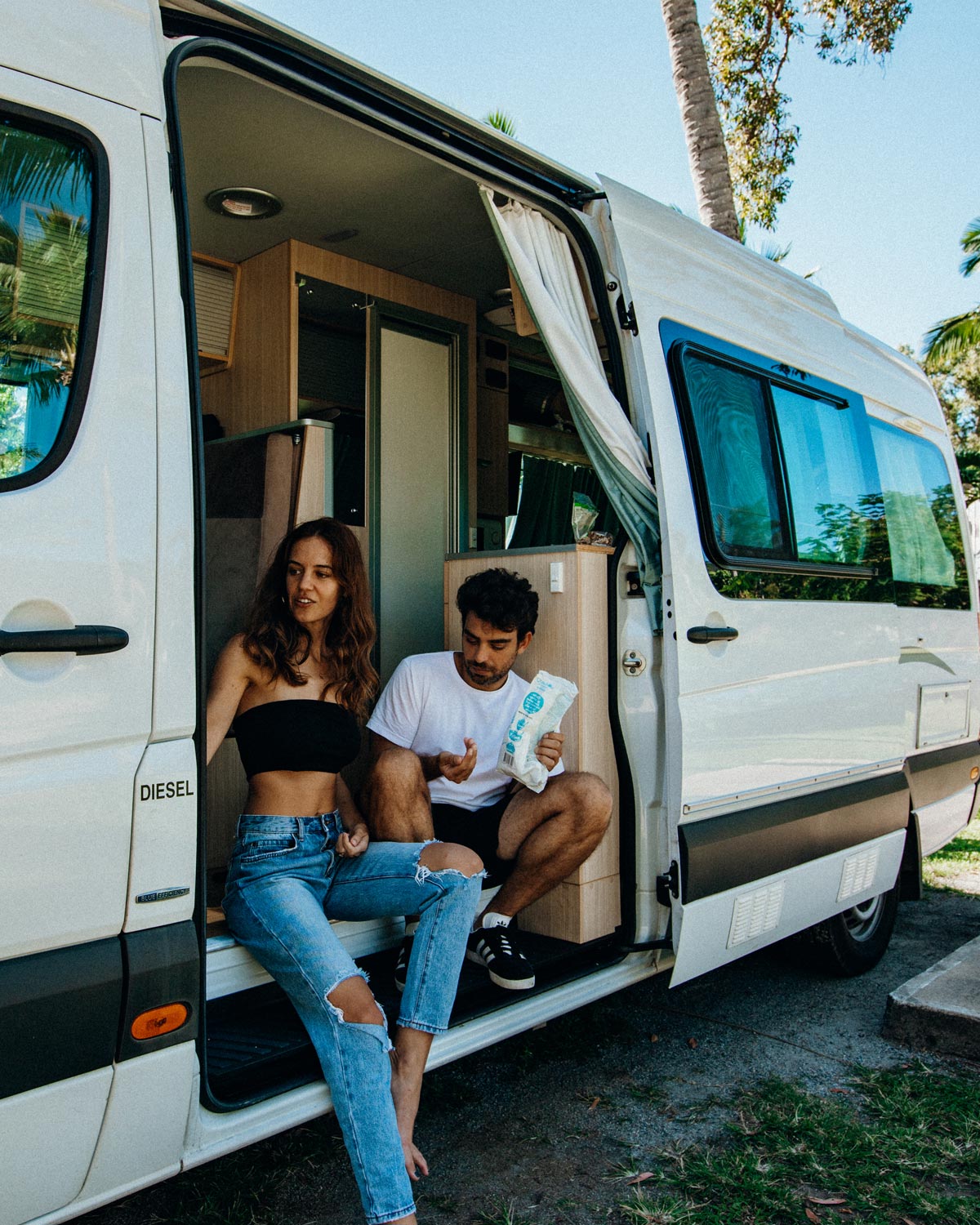 How To Find A Campsite
You will see a lot of signs for campgrounds as you drive across the country so finding a place to park for the night s not a problem. But if you want to have the best experience, we recommend doing some research on which camp to pick.
We used an app called Wikicamps Australia, which has info on each camp with details on the facilities they have such as power, dump points, water disposal, etc. Most of the camps in Australia are on the app but we stayed at a couple that were not. We used the app together with Google Maps to find the best camp for us.
Booking A Site In Advance
Depending on the season you're traveling, you may need to pre-book your campsites in advance. Since we traveled during off-season, we didn't really have a problem. We were able to book our campsites as we go, which allowed us a lot of spontaneity. If you are traveling during a busier season though, you will have to plan more in advance. Traveling in a campervan is a very popular holiday activity in Australia and you might be unable to find a spot if you wait until last minute during the holidays.
Keep in mind that some campsites won't allow check-ins after sunset or after hours. You might need to make arrangements with such places if you are planning to arrive later in the day. On our very first day we did not have a site booked and were planning to arrive to our first destination pretty late. Fortunately, we were able to find a campsite that accepted us without check in but it was a stressful situation.
Powered vs. Unpowered Spot
When booking a spot at one of the camps, you'll have the option of getting a powered site. That means there will be a power outlet available for you to plug in your van. Depending on your van you may or may not need this. A few of the features in our van would not work when we were not plugged into the power site – the AC, microwave and the power outlets in the van.
The price difference between a powered and unpowered spot was usually not high so we always picked the powered option when we could. We had a great AC for the hot tropical nights in Queensland. And we had plenty of space in the van to not feel too cramped after weeks on the road.
Dump Points And Grey Water Disposal
This is not the most pleasant part of camping but it's necessary to pay attention to. If your van has a toilet and shower/sink, you need to keep in mind the disposal facilities of each camp you are visiting.
Most van toilets work with a cassette, which you need to clean out every 2-3 days. The cassette must be emptied in special "dump points" that most camps have. Because of the chemicals used in these types of toilets, you absolutely must dispose of the waste at a designated dump point.
The water waste from the shower and sink in a campervan is separate from the toilet waste. It's called "gray water" and its disposal is a little different from emptying the toilet cassette. For this purpose you need a gray water disposal point. Most camps that have a grey water disposal also have a dump point but that's not always the case. Make sure you check carefully before booking a camp.
The clean water for the shower/sink needs to be refilled every few days as well. Water refill is also not available at every camp and is something to be mindful of.
The #vanlife
After years and years of traveling all over the world, we have to say traveling with a campervan in Australia was our favorite trip! We are not even exaggerating. The ability to just drive around and spend the night wherever you want is unbeatable. You can be at the beach one day, open the back of your van in the morning right after you wake up with the sound of waves crashing next to you and have your coffee right outside under the palm trees. Pay for the camping spot day by day and decide when you want to move on to the next area.
We had a loose plan of the spots we wanted to visit but we often found ourselves too in love with a campsite to leave as planned. Sometimes we extended our stay by a few days and skipped some areas altogether. We just LOVED that flexibility. And of course, having your entire "hotel room" with you everywhere you go is so convenient.
Being able to experience nature and Australian wildlife so closely was an unforgettable experience. We encountered exotic birds, hand-fed cockatoos, petted kangaroos and saw a cassowary really close-up. And more than anything, we enjoyed the peace and quiet of being self-sufficient in nature with the freedom to go anywhere we wanted.
Once in your life, wether you are with your other half, kids, or just want to experience this type of travel, do yourself a favor and go do it!
LIKE THIS POST? SAVE IT ON PINTEREST!