Our Australia trip started out in Bryon Bay. We spent a full week here eating some really good food, meeting beautiful people, and getting some surf lessons. After that much needed relaxing week, we headed to Brisbane to pick up our van, which would be our home for the next couple weeks. We were excited to start our Queensland road trip!
We decided to do our campervan trip in this area mainly because we were traveling in April/May. It turned out that was one of the best times to do a road trip in Queensland as the weather cools off this time of the year and there are not that many tourists.
If you are still wondering whether traveling in a van is for you and how exactly it works, click here to read our full guide on Roadtripping in Australia With a Campervan.
We had 14 days total to make the 1700km drive from Bisbane to Cairns. That was enough time for us to not feel to rushed and make all the stops we needed. But we also had to skip a few places people recommended to us due to timing. So if you have the time, you can easily make this trip a little longer, you definitely won't regret it!
Noosa, Fraser Island
Noosa is about 2 hour drive from Brisbane. This is most people's first stop on a Tropical North Queensland road trip. It's considered one of Australia's best locations for surfing and is known for its laid back surf-town kinda vibe. It can be the perfect place to ease into your road trip as you don't need to drive that far on your first day. But unfortunately we didn't have the time to stop here.
Another popular stop on the way is Fraser Island. It's best known for its unique landscape of sand dunes, rainforests and the beautiful Lake McKenzie. Getting here from Noosa takes about 5 hours as you'd need to take a ferry. Keep in mind that the island lacks sealed roads so the only way to drive here is with a 4×4. That was one of the main reasons we decided to skip Fraser Island as well. We didn't feel like leaving our campervan and renting another car just for the island.
Our friend Sammy and his company Ratpack Travel are helping many travelers save close to 15% on their trips there. Sammy is an entrepreneur from the UK who learned and lived the traveling agency world in Australia for years. He understood how agencies take a big commission on the expense of visitors. So he started his own agency which operates from a modified bus as an office. That way not only do they have the coolest office in Australia, but they are also able to save money on a lot of activities around Australia for their customers.
Agnes Water
Since we skipped Fraser Island and Noosa, we had a lot to drive on our first day – a total of 6 hours. It was not the easiest but it was good to get it out of the way on the first day.
The main reason we wanted to stay near Agnes Water was a specific camp we wanted to visit – Horizons Kangaroo Sanctuary. It was around $30 per night for a powered site. The camp is small with not a as many amenities as the big holiday parks. But it is ran by a lovely couple who loves animals and takes care of orphaned and wounded kangaroos. The property is beautiful with a large green pasture and a lot of trees and dozens of kangaroos roam around freely.
We really wanted to stay at this camp as we wanted to interact with kangaroos closely. If you travel for a couple weeks in Australia, you will definitely see kangaroos in the wild. However, it is not advisable to approach wild kangaroos as they can be dangerous. At Horizons Kangaroo Sanctuary that's not the case. The kangaroos here are used to people. There is kangaroo feeding at the camp every day between 3-4pm when people can hand-feed the animals.
The best part is the kangaroos are not held there captive. They come and go as they wish and they actually seem to enjoy being around people. On our second day here we sat out on the lawn and hand fed a few kangaroos with sweet potatoes. And while they loved the potatoes at first, eventually they would just take them from our hands and drop them. It seemed like they didn't care that much about the food, they just wanted to play and get a little scratch behind the ears! This was one of our favorite experiences in Australia. And our only chance to get so close and personal with kangaroos!!
Cape Hillsborough
Back on the road, the next stop in our Queensland road trip was Cape Hillsborough. It was another 6 hour drive but at least this was the last long drive we had planned on this trip.
We arrived in Cape Hillsborough Nature Tourist Park right before sunset and got to experience the beauty of the beach in low tide and took a little stroll on the beach while the sun was setting. It was one of the most beautiful sunsets we had on the entire trip.
Cape Hillsborough is also known for its "kangaroo experience" where you can feed kangaroos on the beach early in the morning. It was a beautiful morning, with the sun rising from behind the cliff and the roo's hanging out on the beach. After a short briefing people started taking pictures with the kangaroos. Great chance to meet other people in a very relaxing morning.
But, this was a lot less intimate than the Horizons Kangaroo Sanctuary experience. You cannot get close to the kangaroos or hand feed them. And there are a lot more people around compared to the camp experience. So if you are choosing between the two, we recommend the kangaroo sanctuary if you are looking to get more close and personal with the animals.
For this camp you mostly pay a higher price than usual for the Kangaroos morning experience. It was around $45 per night for a powered site. The camp is right by the beach with kangaroos casually hanging out. They have a pool and a nice movie screening area. However, the camp was really busy, it has no cellular connection or wifi, and the showers were not the cleanest.
Airlie Beach, Hideaway Bay
Our next stop was the one we were most excited about. You've probably seen or heard about Whitehaven beach and the Whitsundays. It's one of the most beautiful areas in Australia with powdery white sands and crystal clear waters. And if you are visiting Queensland it's a must-see.
To get to the Whitsundays, it's best to stay in Airlie beach area and take a boat tour. Airlie beach was an hour and a half drive from Cape Hillsborough and the holiday park we chose here was one of our favorite from the entire trip.
We stayed here for 3 nights and would have probably stayed a little longer, this was by far the best camp we stayed in. It's a little away from all the bars and restaurants of Airlie but we deliberately chose to stay a little outside of the main town. We wanted more nature and quiet rather than being in the middle of everything. And we really got that!
The camp is beautiful, drenched in greenery and full of life with all sorts of birds, parrots, and cockatoos flying around. Katerina had the best time here with curious cockatoos stopping by our van every day looking for a snack. She loves interacting with animals and got so excited getting to know cockatoos and their intelligent but hilarious behavior. One day she hand-fed a few birds some nuts and was amazed to see how they lined up and politely waited for each other's turn without creating a mess.
The camp had everything we needed – showers, outdoor kitchen area with BBQ, laundry, WiFi and even a pool. All the amenities were very nice, comfortable and clean and the camp had a very laid back vibe. There is also a supermarket 7 minutes walk so you can fill your TimTam supply. Don't forget to ask for a discount if you rent a car in Australia.
Whitsundays And Whitehaven Beach
There are so many options for activities in this area but Whitsundays is the main attraction. You can sail and stay on a boat for a couple nights, you can camp on Whitehaven beach, or you can just take a day tour.
We used Ratpack to book our Ocean Rafting Southern Light day trip. Our boat left from the beautiful Airlie beach Abell Point Marina North where you can see the blue water like we never seen before in a marina. After an exhilarating ride to the famous Hill Inlet, we had about an hour at this popular spot to go enjoy the view and of course take some pictures of the Whitsundays swirling sands. This is one of the most stunning views we've seen, and we've seen a lot!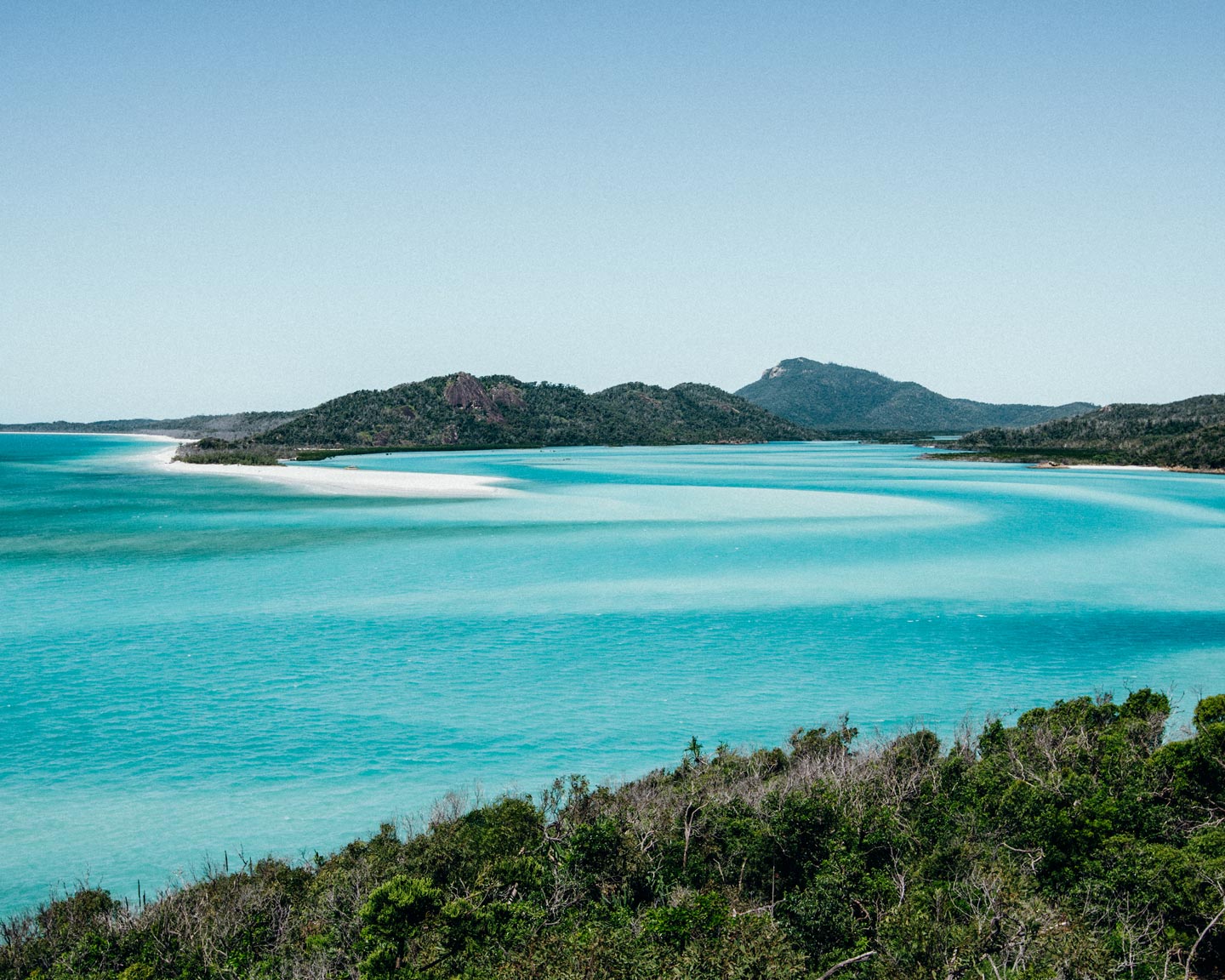 From there we took the boat for a short ride until to the southern part of Whitehaven Beach. We spent another 1-2 hours here for a delicious lunch on the boat and a relaxing time on the beach afterwards. It felt a little short, but the beauty of this place made us want to come back again. We got back to our camp around 5pm.
If you have the time to spend the night at Whitehaven beach or on a sailing trip here, do it! Our friends at Ratpack Travel can help you book the right tour at better rates 🙂
Hideaway Bay
Although it was hard to leave this magical camp and atmosphere, we started our way to Bowen beach. But first, we had one little stop in the area near the spectacular Hideaway Bay. It was not the easiest way to find as there is no reception in the area but it was worth the hassle. Just put Montes Reef Resort in your navigation and you'll find this magical corner of paradise!
Bowen
Keeping our way up north we found ourselves in this beautiful and peaceful camp of Tropical Beach Caravan Park in Bowen. We really wanted to camp somewhere with a sea view and wake up with the beach right next to us, and that's how we found this camp.
It's just an hour drive from Hideaway bay. The camp has a beautiful outdoor BBQ area right near the water under tall palm trees, clean bathrooms and showers and powered sites. The only downside was the lack of a shared kitchen with sinks, etc. but it didn't bother us much as we could wash our dishes in our van.
Enjoy spectacular sunsets here and wake up with the sound of waves crashing right under your windows. We booked 2 nights here and easily could have stayed more if we had the time.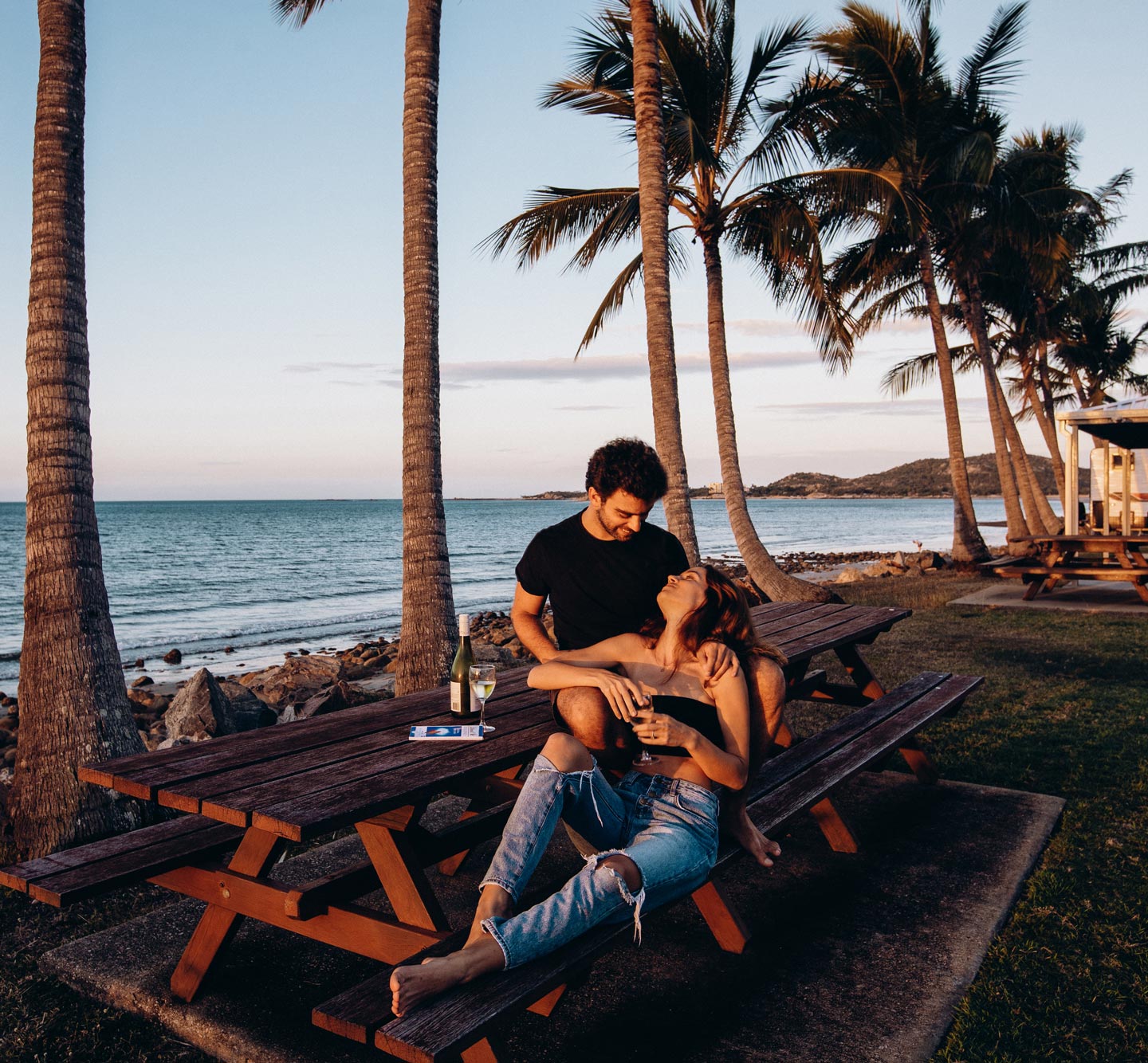 Townsville Area
This is where our we ended up really deviating from our original plan. We wanted to spend a few days in Townsville area instead of Bowen. We were going to visit Magnetic island from there and then head to Lucinda. From Lucinda we wanted to head to Hinchbrook island and try some of the beautiful hikes there.
Magnetic island is known for its koalas and some unique wildlife. It is a very laid-back place with beautiful beaches. And Hinchbrook island is also home to some very unique landscapes and beautiful hikes. This all looked great when we planned our trip initially.
However, once we actually got on the road and experienced life in the van, we quickly realized we didn't really need that many activities to enjoy our trip. The idea of getting on a ferry to these islands, trying to get a different car there (as it would have been difficult to take the van), then finding places to sleep etc. just didn't seem that appealing. We were happy to just camp somewhere in nature, cook and be surrounded by animals.
But if you're up to it, feel free to take advantage of all the research we did on this area 🙂
Magnetic Island
Stay at Bungalow Bay Koala village to experience wildlife close up and contribute to its conservation. Head to Geoffrey bay to feed rock wallabies. Do the Forts hike if you want to spot koalas in the wild. Enjoy the many beautiful beaches on this island.
Hinchbrook Island
Try Ramsay Bay for beautiful mountain-meets-sea kind of beaches. If you are up for the challenge Thorsborne Trail should reward you with some magnificent views.
Cardwell Spa Pool is a beautiful natural swimming spot a little north of Townsville. Its stunning turquoise blue waters compel many travelers to add it to their Queensland road trip itinerary.
South Mission Beach
Our last stop on our way to Cairns was South Mission Beach. We stayed at Big4 Beachcomber Coconut holiday park as we wanted to be near the beach. Although you won't get a camping spot right near the water, like you would in Bowen, this park was still wonderful. The facilities were very clean, with BBQ, showers, spacious kitchen and everything you might need in a caravan park.
We spent 2 night in this camp as we were planning to visit the Great Barrier Reef from here with the help of Ratpack travel. Based on what we read Mission Beach is one of the best places to get on sails to the reef. But due to some unfortunate weather at the time (including a cyclone), we could not book one. Although that was very frustrating for us, we still managed to have an awesome time at this camp.
We were really hoping to see a cassowary here as we heard it is really common in the area. Although this bird has an unfortunate reputation, it is really rare and beautiful and seeing it in person is quite the experience. We spotted one early in the morning right outside our van. It was going through all the camping spots looking for food scraps. The staff at the camp warned us not to feed these birds under any circumstances as they get quite aggressive towards people. So we kept our distance and just admired this beauty from afar 🙂
Another couple places in the area you should check out but we didn't visit are Babinda Boulders and Tully Gorge National Park.
Port Douglas
We ended our Queensland road trip with a few days in the Port Douglas area. Although we had already dropped off our van in Cairns, we just loved it here so much that we decided to spend a few more days here at a hotel.
We stayed at the Sheraton Grand Port Douglas and it was genuinely one of our favorite hotels. The beautiful design of the entire hotel, the laid-back atmosphere and amazing service really made our stay here so relaxing. Our favorite were the shallow lagoon-style pools with powdery white sand and tall beautiful palm trees. While the beaches in this part of Queensland can be quite dangerous to swim in due to jellyfish, crocs and whatnot, the pools at the Sheraton Grand provided a great alternative.
Some of our favorite spots in this area include Oak Beach, Rex Lookout, Palm Cove and Cape Tribulation.
We loved our van so much but it was nice to finally have a normal bed, take a shower and cool off by the pool. It was the perfect way to end two weeks on the road!
Planning Your Queensland Road Trip
We can't even describe with words how much we loved this road trip. Especially if you have never tried traveling in a van before, we highly recommend doing it in Australia for the first time. This country so well set up for it and there are caravan parks everywhere with the best facilities you can imagine. Although we ended up skipping a lot of the stops we had initially planned, we still had an amazing time. We actually enjoyed having a more laid-back itinerary in the end and soaking in the camp vibes more rather than jumping from one activity to the next. Of course, this trip can be whatever you make of it 🙂
Make sure you reach out to Ratpack travel for any tours and activities you need to plan along the way.
And if you haven't yet, read our guide on renting and traveling in Australia with a van here.