10 Days In Vietnam – Should You Go North Or South?
We planned to spend only 10 days in Vietnam on this trip so we had to choose wisely where to spend them. Vietnam is a pretty long country stretching for about a thousand miles from North to South. So, unless you have at least a month to spend there, it makes sense to spend 10 days either in the north or the south of Vietnam. In the North you have stunning landscapes of limestone rock formations, rice fields and Ha Long bay. The South is more well known for its beaches and nicer resorts, Ho Chi Min city and the Mekong delta. The weather between the two regions can also vary a lot throughout the year. The South is pretty tropical and warm all year round, whereas the North has more pronounced seasons and it can even snow further North in the winter.

When To Visit Vietnam
Overall the best time to visit Vietnam is spring (Feb-April) or Fall (August-October). During those times there is less rain and the temperatures are more moderate. Again, it really depends on which region you pick. For example, we would completely avoid the North during the winter as it gets colder.
We visited the North of Vietnam for 10 days in early April and for the most part the weather was very pleasant. Warm but not too hot, and with very little rain. Initially we wanted to do a longer trip in the region and do Vietnam, Laos and northern Thailand in April. However, we learned about the slash and burn season, which happens in Thailand, Laos and Myanmar in March and April. During that time of the year farmers burn their fields to clear them out for the following season. The practice fills the air allover the northern regions of those countries with thick smoke. It can drastically decrease air quality and visibility, and cause health issues for people with respiratory problems.
We also learned that Vietnam doesn't really have that slash and burn practice so we decided to drop Laos and Northern Thailand for now and just head there. Here is how we spent our 10 days in Vietnam.
10 Days In Vietnam – Itinerary
Day 1, 2 – Land in Hanoi and spend 2 nights here to get a hold of your jet lag and settle in a bit.
Day 3, 4, 5, 6 – Head North to Cao Bang early in the morning. It will take a full day to get there and rest after the long trip. Spend 3 days in Cao Bang.
Day 7 – Return to Hanoi and spend another 1 night here.
Day 8, 9 – Head to Ha Long Bay in the morning. Spend 2 nights on a cruise.
Day 10 – Return to Hanoi to catch your flight out.
How To Get Around Northern Vietnam
Don't even think about driving yourself in Vietnam. The best ways to get around are by bus, shuttle or train, or you can hire your own driver. Going the private driver route is much more convenient, of course, and has the added benefit of being quite affordable in Vietnam.
We use Bookaway to find different transportation options between cities and compare prices.
Hanoi – 3 days
To visit Northern Vietnam, you are most likely flying into Hanoi. We initially planned not to spend a lot of time there as we are so used to disliking the bigger cities in South East Asia and just heading somewhere more rural and relaxed quickly. But that's not the case with Hanoi.
Hanoi is actually pretty fun. Don't get us wrong, it's still pretty hectic and chaotic. The traffic is crazy – trying to cross the street with 5 million motorbikes on the road that do not stop at traffic lights will leave you with a mild form of PTSD when you leave. But it's still so worth it. The street food is unbelievably good, after a while the chaos starts to make sense, and you're just going to have so much fun!
We recommend you spend at least 3 nights in Hanoi, but they don't need to be consecutive.
Although we loved visiting the stunning Ha Long Bay and rural Cao Bang was absolutely incredible, Hanoi is where we enjoyed hanging out the most. It has the most vibrant energy
Where to Stay in Hanoi
the best area to stay in Hanoi is called Old Quarter. That's where a lot of the best street food, restaurants and bars are located and it's easy to just wander off and walk around when you feel like it. There are many affordable hotels in Hanoi in that area for less than $100 a night. Even the more inexpensive hotels were very clean and the service was excellent. We stayed at two different hotels here:
Things To Do In Hanoi
When you have about 10 days in Vietnam, you are probably not planning to spend a lot of time in Hanoi. We didn't plan to spend that long there either. But we ended up enjoying Hanoi so much that we extended our stay here a little. We mostly just enjoyed walking around Old Quarter in the evenings and trying different types of street food.
Street Food
The energy on the streets is really contagious and fun. The street "restaurants" are usually just a couple of people doing everything from food prep to dish washing right on the street. Customers eat sitting on tiny little chairs spilling onto the sidewalk. Just walk out the hotel and you'll be immersed in different smells and flavors – noodles, spring rolls, snails, cooked right in front of you as you are walking down the street. Pick something that looks enticing and enjoy the most interesting dining experience.
Our favorite thing about eating in Vietnam was that tourists and locals eat at the same places. This might sound obvious, but it's not the case in a lot of South East Asian countries. If you visit more touristy places like Thailand and Bali, you'll notice there are places where only tourists eat and there are restaurants where only locals eat. The food at touristy restaurants is more suited for Western taste and it's also a lot more expensive. You expect to save some money by traveling to a less expensive destination with low cost of living, but you end up paying Western prices at these restaurants. Finding more local places is harder.
But this was not the case in Vietnam and it's one of the reasons why enjoyed street food in Hanoi so much. We were treated exactly the same way as locals, and we got the same prices. The experience felt a lot more authentic.
Oh, and don't forget to try egg coffee! It's a Vietnamese treat that you can find allover Hanoi. Don't worry – it doesn't taste like an omelet! It's more like a sweet rich cappuccino with a twist. This is definitely more of a tourist attraction though, as it didn't seem like the locals drink it at all.
A Few Of Our Favorite Spots In Hanoi:
Mr. Bay – Amazing authentic Vietnamese food. We ate at this place a few times while we were in Hanoi and it was our favorite. Things to try: crispy pancakes, beef noodle soup, mini cake spring rolls. The fun part about the rolls is that you have to roll them yourself – they were the best we had in Vietnam.

Nộm Long Vi Dung

– This is a popular street food place in the heart of Old Quarter. It's the perfect place to experience sitting on tiny chairs in the middle of one of the busiest streets in Old Quarter and try tasty street food while people watching. They only have 2-3 things on the menu so it's not the most versatile restaurant. But we LOVED their dumplings. Don't even try anything else, just go for that.

Giang Cafe

– Great place to try egg coffee. It's pretty much the only thing they offer but you get to choose from a variety of flavors and styles. It's a touristy spot.

Circle Coffee

– Cool coffee shop with an old French vibe, which turns into a live music bar on weekend evenings.
Train Street
This is one of the most famous spots in Hanoi. It's a narrow residential street built around a train track, which is still operating! The train passes through only a couple times a day – at 3:15pm and at 7:30pm. The place has become a tourist attraction of sorts. There are cafes that place their little chairs and tables on the tracks for most of the day, until it's time for the train to come. You can sit back, enjoy your coffee and take a picture or two at this photogenic spot. And watch the hectic removal of chairs and tables when the train times near.
Surviving The Hanoi Traffic
The street traffic in Hanoi can be a little intimidating but with a few tips you can survive it! There are not a lot of cars here, mostly motorbikes and a lot of them. And the most scary part is – no one follows the rules. Bikes don't stop at red lights. Buses and cars sometimes don't either. So it would look impossible to cross the street, even when the light is green for pedestrians, because there are still bikes coming from all sides!
But don't worry, just stay calm and start walking when the light turns green for you. The key is to not do it too fast and stay predictable – walk in a straight line and don't make any sudden movements in a different direction. You'll find that the bikes will start avoiding you and you can cross safely. You'll also notice there is a lot of honking going on, which might feel rude at first. But in Vietnam honking is more of a way to let you know that someone is approaching so you can be careful. It's considered more of a gentle notification than a forceful warning.
Cao Bang – 3 days
Cao Bang is a less-known area in Northern Vietnam that most tourists don't get to. If you are in Hanoi, it's much more common to go to Sa Pa or Ninh Binh. But not many people are traveling all the way up to Cao Bang. And that's exactly why we wanted to go there. We had seen some beautiful photos around but, unlike the other areas, Cao Bang felt much more virgin and untouched by the social media thirst for picture-perfect spots.
First, let us warn you – a trip to Cao Bang is neither comfortable nor convenient. You won't find a lot of direction or resources for tourists because there aren't any. There are barely any hotels to stay at. And once you get to Cao Bang you'll need your own transportation. We recommend you rent a bike, or reach out to our friend who has a tourist agency there and helped us on our trip It would be hard to get around by taxi and driving in Vietnam in general is not advisable. Most of the spots that you would want to visit are 1-2 hours away from each other.
But it was so worth it for us. We travel often to countries in South East Asia looking for authentic experience but usually end up with commercialized local culture, overpriced Westernized restaurants and lots of tourist traps. But visiting Cao Bang was eye-opening. You can really feel what authentic rural life is like in Vietnam. It was sad and emotional for us to realize some of the people here live on less than $1 a day, living a simple life on a farm, far away from the world we know. But it was also the place where we felt the most authentic connection with people and had the most genuine interactions, even when we never spoke a word in the same language. Not to mention the stunning landscapes we found here that are still unspoiled by mass tourism.
How To Get To Cao Bang
There are some trains in Vietnam, but nothing that will get you to Can Bang conveniently. There are also overnight or day buses that take 6-7 hours and cost around $10 USD per person. However, from our research it seemed like a very bad idea to take any night transportation in that area. The locals drink and drive often and the roads can be a little scary at night.
So instead, we took a luxury shuttle service. The ride took a total of 6 hours, which is a little faster than a regular bus and it only cost $12 per person. The shuttle itself only fits 7-10 people and was very clean and comfortable, with reclining seats, bottled water and wifi. The shuttle will pick you up from your hotel in Hanoi and can drop you off at a location of your choice, including airport. Just keep in mind that on weekends the shuttles can't go into the central parts of Hanoi so you could get dropped off pretty far from your hotel.
The best way to book one of these shuttles is through contacting them directly on Facevook. Here are links to a few of them that we talked to:

Where To Stay In Cao Bang
Here is the tricky part. Cao Bang is not really set up for tourism just yet. Ideally, there would be nice laid back hotels somewhere near the mountains and rice fields where you can enjoy nature. But we were not able to find any. So we ended up staying in Cao Bang itself, which was not ideal. Cao Bang is a city, and not a very touristy one at all, so it might be hard for you to find things to do here. It is also busy and noisy and not really laid back, if that's the vibe you're looking for. On the other hand, it's a convenient base to explore the area and there are plenty of restaurants, coffee shops and a market.
Your other option might be to stay near the Ban Gioc waterfall. But keep in mind that's another 2 hour drive North from Cao Bang.
What To See In Cao Bang
Ban Gioc Waterfall
This is one of Vietnam's most impressive natural sights – a beautiful massive waterfall surrounded by picturesque mountains. It is located near the border with China, about 2 hour drive from Cao Bang. The drive to the waterfall is very beautiful as well though! You'd want to make a few stops along away as you find more and more scenic spots.
Truc Lam Phat Tich Pagoda
This pagoda is located right next to Ban Gioc and you can actually see the waterfall from the pagoda grounds. You might not see the way to the pagoda from the main road unless you know where to look. But once you do the short hike up, a stunning view of the whole area opens up in front of you. Don't miss it!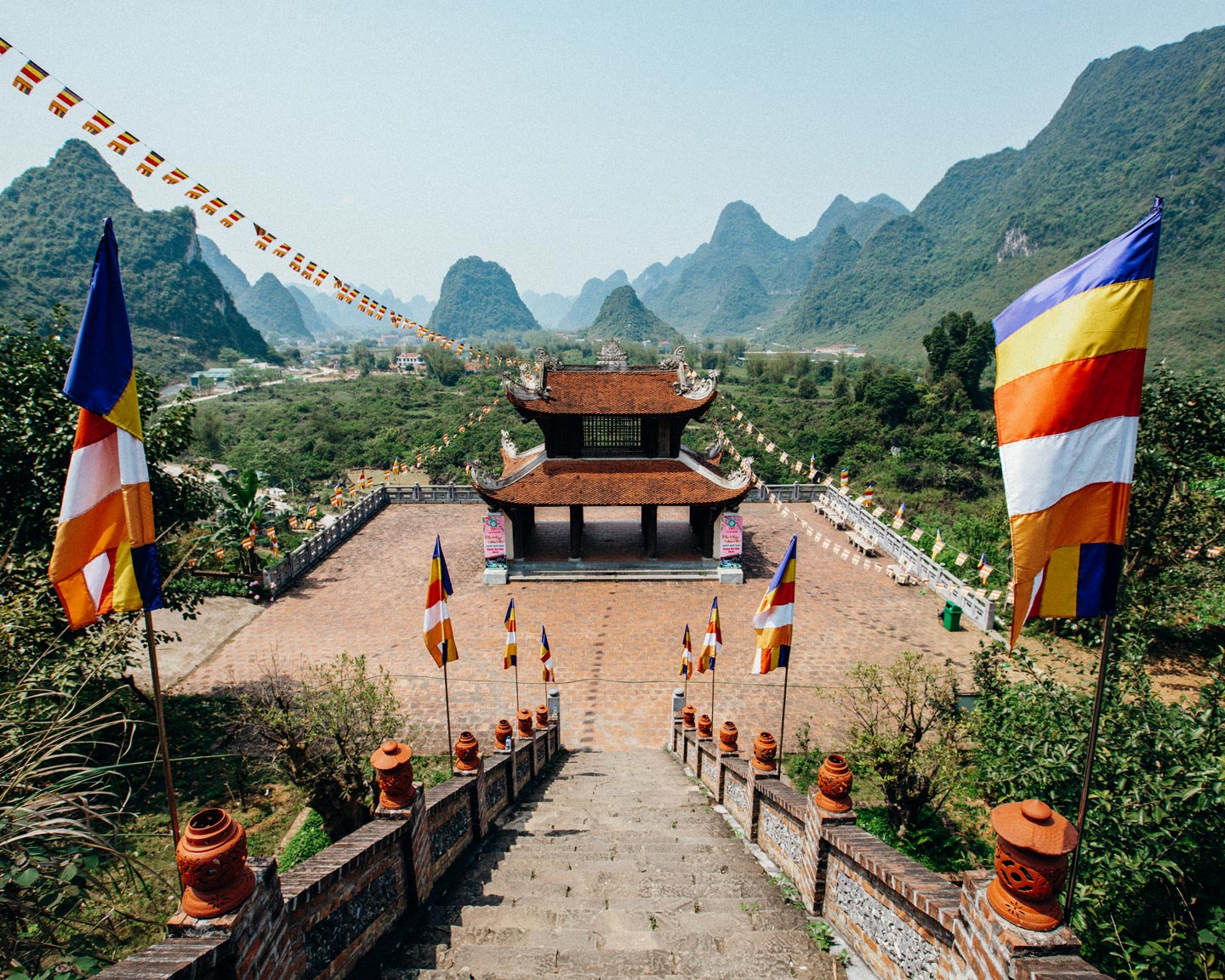 Nui Thung
This area is even less-known than the rest of Cao Bang. Unlike most of the other spots, this area is not on the way to Ban Gioc waterfall, you'd need to make a separate trip here. It's about a 30 minute drive from Cao Bang city.
This is really a one of a kind place. An expansive valley surrounded by scenic limestone mountains, isolated from the outside world. You most likely won't see any tourists here. The only people we ran into were locals on motor bikes and a few kids who live on the nearby farms. It's far from any roads and city sounds – just you and the sounds of nature. It felt like we were teleported into another time. Bring your picnic setup and some music and spend a whole day here. Trust us, you'll never forget this place.
Ha Long Bay – 2 days
How To Get To Ha Long Bay
We were not able to find a direct way to travel from Cao Bang to Ha Long Bay, but we were not too upset about it. We welcomed the opportunity to spend another night in Hanoi. So we took the same shuttle on the way back from the North to Hanoi and were planning to head to Ha Long from there. We planned to do a 2-night cruise in the bay and the company – Syrena Cruises – had a free shuttle pick us up from Hanoi and drive us to Ha Long. The ride took about 2 hours.
If you are spending 10 days in Northern Vietnam, you have to visit Ha Long Bay. And the best way to experience the bay is on a cruise. You get to sail through this beautiful landscape, wake up to stunning views from your cabin window, enjoy fun water activities and visit the islands during the day, and watch the sunset with a glass of wine on the upper deck. It was truly one of the most romantic experiences for us.
There are a few different types of cruises – you can do a day trip without sleeping on the boat, or stay in the bay overnight. Some boats are the partying type for young single people and others are more quiet and laid back. Make sure you do your research before booking as we encountered a few of the louder boats and were very happy we didn't end up on them. Read more about our Ha Long Bay cruise here.
Most people on our ship stayed for just one night, but we did 2. It really depends on how much time you have and how you want to experience it. If you want to just check it off the list, 1 day is probably enough. But if you want to really enjoy the boat and have enough time to explore a bit, 2 days is better. We don't really recommend more than 2 days as you might start to get bored. Overall it's an unforgettable experience.
Are 10 Days Enough In Northern Vietnam?
Although our itinerary felt just right at the time, we wish we had more than 10 days in Vietnam overall. Even if you are just planning to stay in the North, spending just a couple days in each location felt a little short to us. If we could add a few more days, we'd spend them in Cao Bang and add a couple more stops in Sa Pa and Tam Coc.