Doing A Cruise In Ha Long Bay
When we planned our trip to the northern parts of Vietnam we knew we had to visit Ha Long Bay. It's one of those world-famous places that you just have to see once, even if it's too touristy or crowded. We thought we'd book a hotel near the bay and go on hikes to chase those amazing views we'd seen in photos. We expected it to be flooded with tourists. But once we did some research we realized the best thing to do in Ha Long Bay is a cruise. And that changed everything.
When you're on a boat, your experience is only as crowded and touristy as your boat. So if you do a tour with a lot of people you might feel a little rushed and overwhelmed. But if you pick a cruise with fewer people and stay in the bay for a couple nights, you'll get a much more private relaxed experience.
So that's what we did.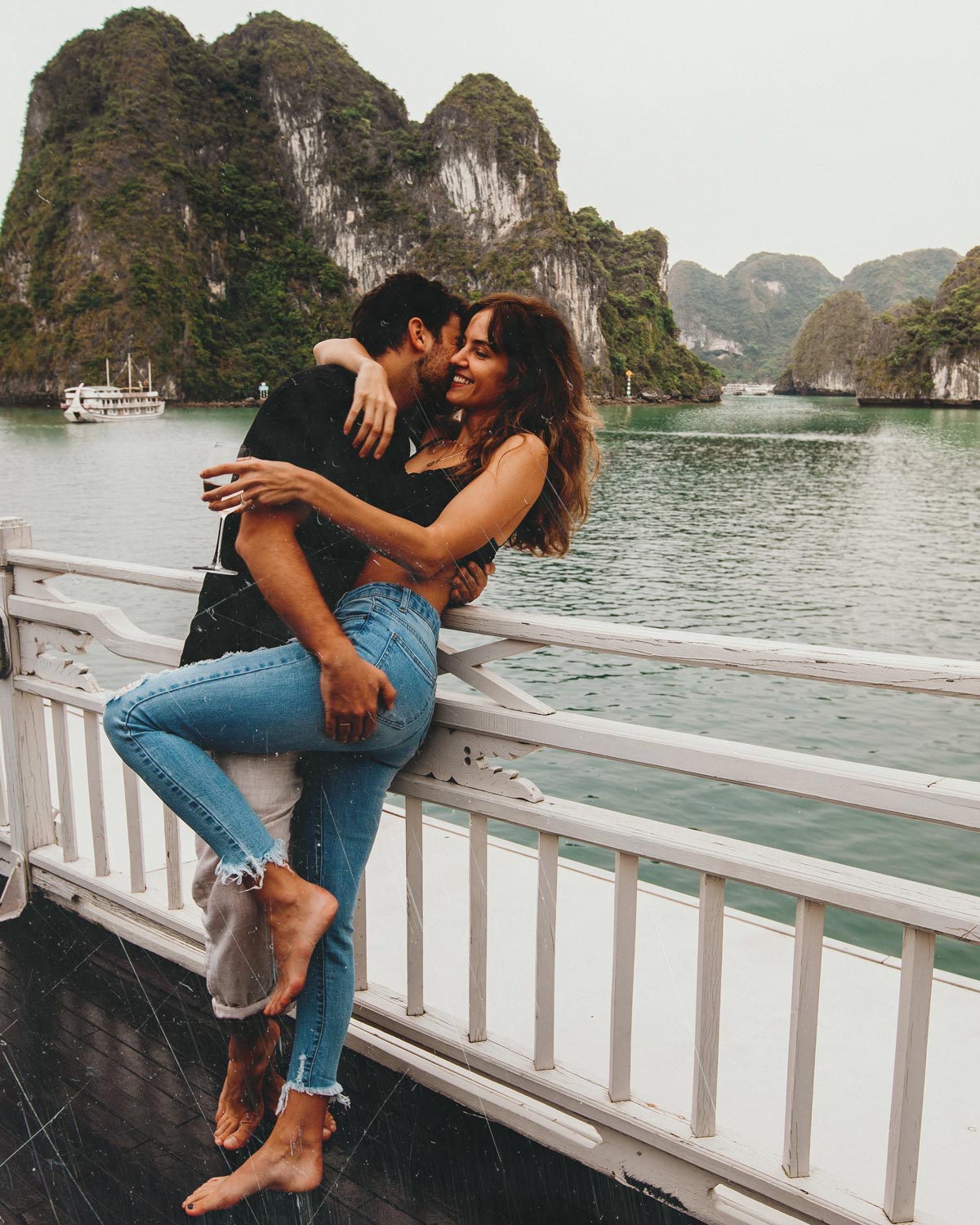 There are many different companies that offer tours and cruises in Ha Long Bay in different price ranges. You can book a day tour and just go in and out, making a few stops in the bay. Or you could book a cruise and stay overnight. Each cruise company might also offer a different vibe. Some attract younger crowds of single people, and others are more romantic and quiet.
We went with Syrena Cruises for 2 nights and were very happy with our choice. The atmosphere on the ship was relaxed and quiet. On our first night there were just a couple of other people on the boat. And on our second night the boat was almost full. But it still never felt crowded or loud. We mostly had the upper deck to ourselves whenever we felt like sitting up there and enjoying the view.
We highly recommend you stay in the bay overnight for at least one night. Watching the sunset from the upper deck with a glass of wine was our favorite. And not being rushed to see everything in just a few hours was important to us.

Hotel Pick Up
If you are staying in Hanoi Old Quarter, make sure you book a package with pick up included. Syrena Cruises offers pickup form most hotels in that area and it's the most convenient way to get to Ha Long Bay and back.
The Boat & Cabins
The Syrena Cruises boats are big and spacious with a classic design and an old-time touch. Each area of the boat – from the restaurant to the cabins – offers beautiful views of the bay that you can enjoy no matter what you're doing. Even after 2 days on our Ha Long Bay cruise, we still couldn't get over the beauty we could enjoy all around us. The outside area offers comfortable seating and sun chairs and was our favorite place to hang out.
The cabins are also quite spacious for a boat. They have a big comfortable bed, a closet and a toilet/bathroom with shower. Each cabin also has a terrace with table and chairs, perfect to get some fresh air or enjoy a drink and a late night chat. We were quite impressed by the amenities and found the cabins to be very comfortable. There is definitely not a lot of space for large suitcases though, so try not to bring too much baggage if possible.
Dining & Activities
When you board the boat you will receive a schedule with all activities and meals during your stay. The meals are included in the price but they happen on a schedule too so you have to be at the restaurant at a certain time every day. We found the food to be varied with a mix of local and western dishes. The staff is also very helpful if there is something you can't eat or want to substitute.
There are scheduled activities on the boat and they are usually the same every day. So if you stay for a couple nights and miss something on the first day, you can do it on the next.
Activities include:
Kayaking
Cave exploring
Tours of floating fishing villages
Bamboo boat trips
Hiking Ti-Top mountain
Fishing
Cooking classes
Taichi
We did the Ti-Top hike, which is a must if you want to see that famous Ha Long Bay view. But we have to warn you – this is exactly the kind of place where you'll run into big crowds of tourists. There are so many boats in the bay and most boats have the same spots on their schedule. So inevitably you'll feel crowded any time you get off the boat and head to one of the islands. While we definitely enjoyed the view from the top, we had to climb the stairs leading up to it back to back with other people. So that was not the most relaxing way to do a hike.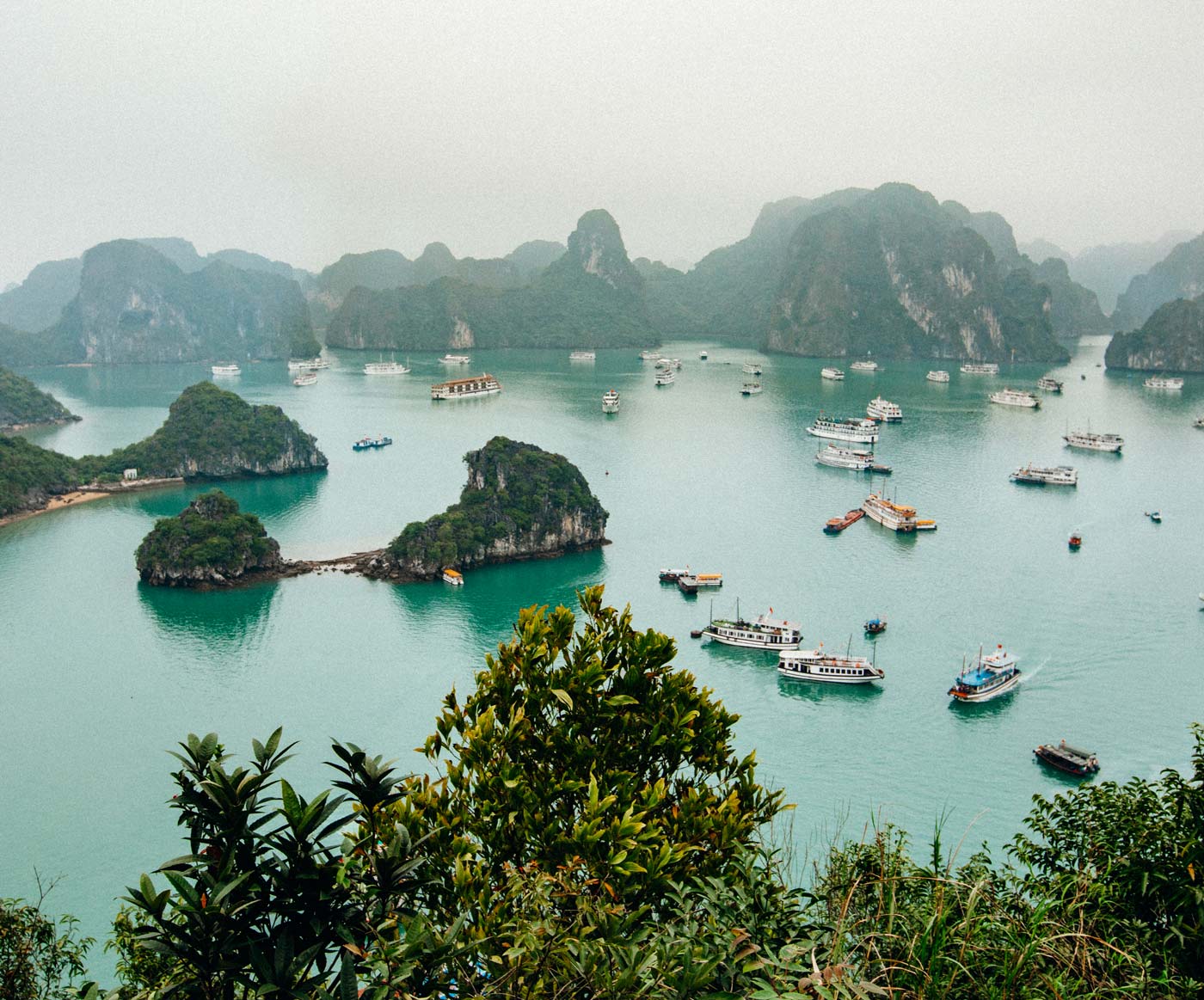 You should definitely do some of the offered activities but participation is optional. However, we recommend you don't try to do everything and give yourself some time to sit back and enjoy the boat itself. For us it was way more fun to hang out on the upper deck and enjoy the views with good company, rather than spend an hour at a very loud and very crowded beach off the boat.
Best Time To Do A Ha Long Bay Cruise
We did our trip in April and the weather was perfect – not cold and not too hot. It was very cloudy the entire time, however, and we were not able to get any sun during the 2 days we were there. We were told the best time to visit if you want sunny weather is between June and December, but the temperatures are also higher.