Since having our baby Neriah 6 months ago, we haven't really had the chance to travel anywhere! We've traveled all over the world from complete luxury to relaxed casual spots. We've seen some of the most popular world destinations as well as some of the more obscure places. But the one thing we hadn't done so far was traveling with a baby. Yes, it's a whole different world out there when you start traveling with an infant!
Life with a baby and moving to the suburbs has been a huge adjustment for us, so naturally we put any travel plans on hold. And to be honest, the idea of traveling with an infant just seemed too daunting for us.
But as we started to settle into our new life a little more, we decided it's time for a little getaway. We didn't want to go too far so we went for a stay-cation of sorts – right here in Florida! Greater Fort Lauderdale is a popular vacation spot and just a 40 minute drive from where we live. So when Visit Lauderdale and the Conrad Fort Lauderdale reached out with an invitation, we immediately said yes.
Greater Fort Lauderdale is on par with some of the most beautiful places we've visited. But the idea we would be able to stay at the Conrad Fort Lauderdale and take advantage of their Infant Amenities is what really sealed the deal for us. The package includes pack and plays with blackout solutions, changing tables, sound machines, baby monitors, bath essentials, feeding accessories, and more. We really didn't need to pack much for the baby! We were just excited to have relaxing family time by the beach without having to stress about anything. More on this later.
Fort Lauderdale Beach
Fort Lauderdale is known for its beautiful beaches and boating canals. The Strip is its famous beach promenade running along the oceanside highway. It's lined with cute restaurants, upscale shops, bars and luxury hotels. The city offers everything you need for a perfect vacation – a beautiful beach, art, events, culture, lots of places to shop, dine out, party, or just relax with the family.
The beach at Fort Lauderdale is one of the most beautiful in South Florida. A perfect wide strip of soft white sand, speckled with tall palm trees, umbrellas and chairs. The warm turquoise blue water offers a perfect respite from the heat and the promenade that runs along is always bustling with people, music and the perfect summer vibe all year long.
The pedestrian walkway along the beach is one of the most iconic in South Florida with its beautiful palm trees and a bustling stretch of hotels bars, restaurants and shops. Perfect for jogging, biking, taking a stroll or just people watching, The Strip is a great place to get some fresh ocean air and just take in that bronzed-skin-salty-hair vacation feeling.
Where To Stay In Fort Lauderdale Beach
Most hotels in Fort Lauderdale are located around The Strip – the area between Las Olas Boulevard north to Sunrise Boulevard along the coast. This is the best area to stay in Fort Lauderdale due to its direct access to the beach and proximity to shopping areas and entertainment. This area is also known as Central Beach. Most hotels here have easy beach access just across the street or at most a block away.
We stayed at the Conrad during our Fort Lauderdale vacation. This is our first time at a Conrad hotel and it did not disappoint. This is an all-suite hotel with stylish, modern and upscale feel, popular with families and couples. The rooms are spacious and comfortable with high-end appliances and beautiful views. The hotel is very family-friendly and that was one of the main draws for us.
Rooms
The property has 290 self-catering suites with top notch kitchens, marble showers and upscale linens. We stayed in a One Bedroom Ocean Front Residence. One-bedroom suites come with larger kitchens with a full-sized fridge, a dishwasher, an island breakfast with a cooktop, as well as a spacious balcony with a seating area. The suite setup is very comfortable for families with kids as there is plenty of space to hangout, cook and play. In our suite there was even another half bathroom, which was very convenient as my mom was also with us. The outdoor area was also very spacious with plenty of seating room for a big family. Nothing beats sipping your coffee on the balcony overlooking the Atlantic Ocean as the city is waking up!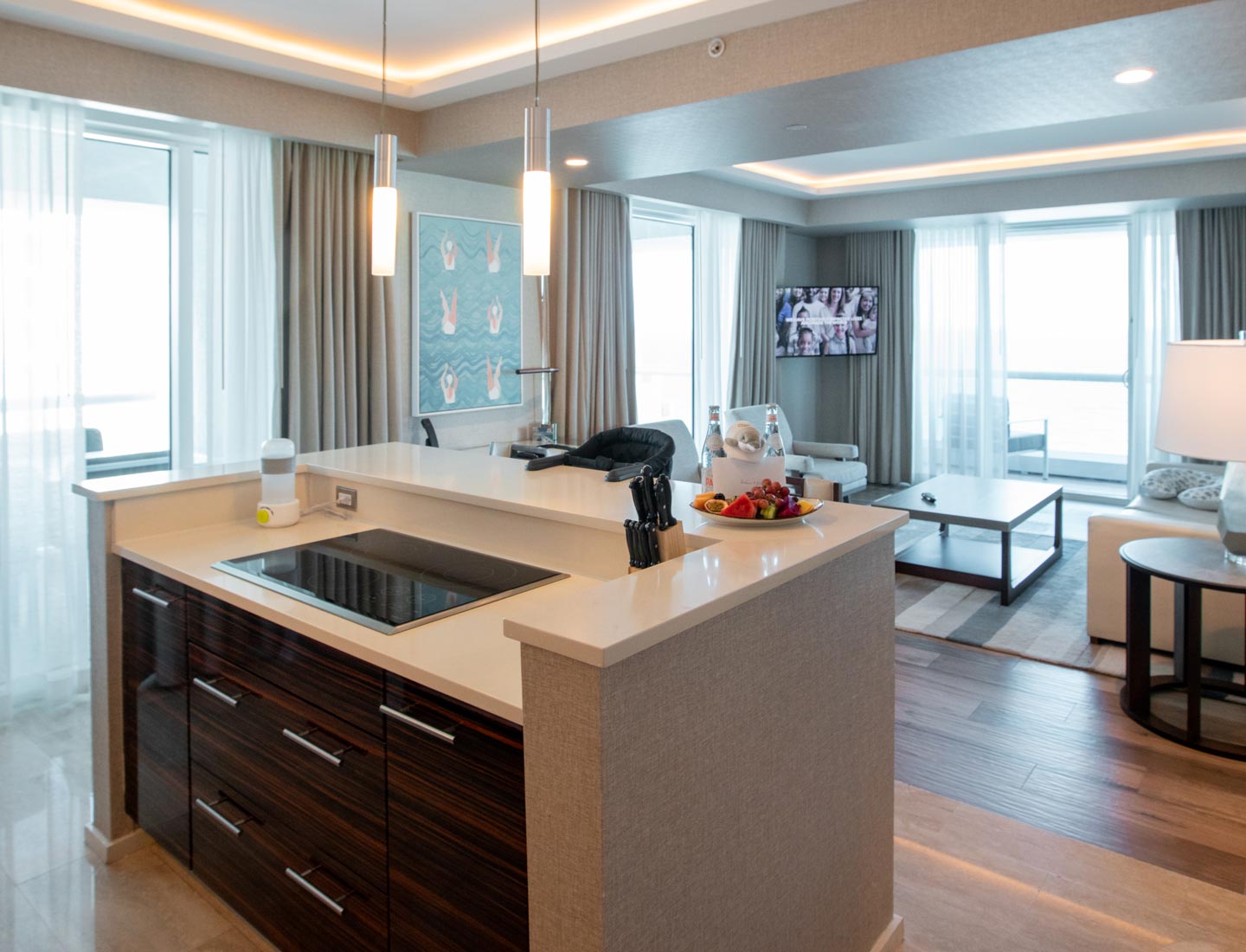 Pool & Beach
The pool is located on the 6th floor sky deck, with beautiful panoramic views of the beach below and reservable poolside cabanas. It's casual, family-friendly and you can even rent a floatie for your little one from the hotel. There is also a full-size bar and a small hot tub.
The beach is located just across the street from the hotel. Your resort fee includes 2 free chairs and towels for the beach although the umbrellas come at an extra cost. There is no food or drinks service at the beach but guests can buy a picnic basket at the Cornucopia Gourmet Market to take with them to the beach.
Amenities
If you're looking for some quality self-care, the Conrad Fort Lauderdale has a great 24-hour gym, free morning yoga and a spa. Expect to find quality aromatherapy, massages, crystal-infused water and steam rooms.
Valet parking is available at an additional fee. There is also a business center with two workstations and printers. Pets are also welcome with an additional fee.
But hands-down our favorite were the Infant Amenities the Conrad Fort Lauderdale offers to its guests with small children. The resort offers a complimentary package which includes a standard pack & play, a crib, a high chair and baby bath products. But there is also a luxury package for an additional nightly fee that includes a changing table, a baby bathtub, and a bathtub kneeler. There are even add-on items like a nursing pillow, play mat, sound machine, bottle washing kit, and more.
The infant amenities were a life-saver for us as we were traveling with a baby for the first-time. We really did not know what we were doing packing-wise! It was a relief knowing that anything we might need for our baby was available at the hotel. All we had to bring were clothes, diapers and food for Neriah.
For more details on Conrad Fort Lauderdale's family-friendly amenities click here.
Check out Visit Lauderdale's amazing Staycation deal for the

Conrad Fort Lauderdale here.
Things To Do In Greater Fort Lauderdale
LauderDeals is Visit Lauderdale's amazing vacation discount program for everything Grater Fort Lauderdale. From Dining Out to Hotels, Cruises and Spas to anything else you can think of, LauderDeals is a great resource if you are planning a trip to the area. There are even special discounts for Florida residents!
There is a lot more to do in the Grater Fort Lauderdale besides relaxing at the hotel and beach! One of our favorite experiences was getting on the famous Water Taxi. Fort Lauderdale is known for its many canals, with beautiful boats and multi-million dollar homes lining them. No wonder it's called Venice of America (a lot more tropical though)!
Click here to sign up to the LauderDeals newsletter.
The Water Taxi is a great way to get around Fort Lauderdale while also taking in the beauty of its many canals. It's a hop-on-hop-off kind of experience where you can get on and off at any stop and explore the city's many sights easily.
The route has 11 stops around Fort Lauderdale from shopping to museums to iconic restaurants. The boats run 7 days a week from 10am until 10pm, every 35-45 minutes. To do the whole route and come back where you started it would take around 3 hours. But the beauty is that you can just do any part of the ride and still get the full experience.
We recommend you ride the water taxi in the morning or evening as the temperatures are more pleasant. We got on at stop 6 Las Olas Boulevard around 6pm and got off at stop 9 to go to Shooter's Waterfront for a sunset drink. The ride was beautiful as we got to see the famous Millionaire's Row with all the gorgeous waterfront properties and big boats.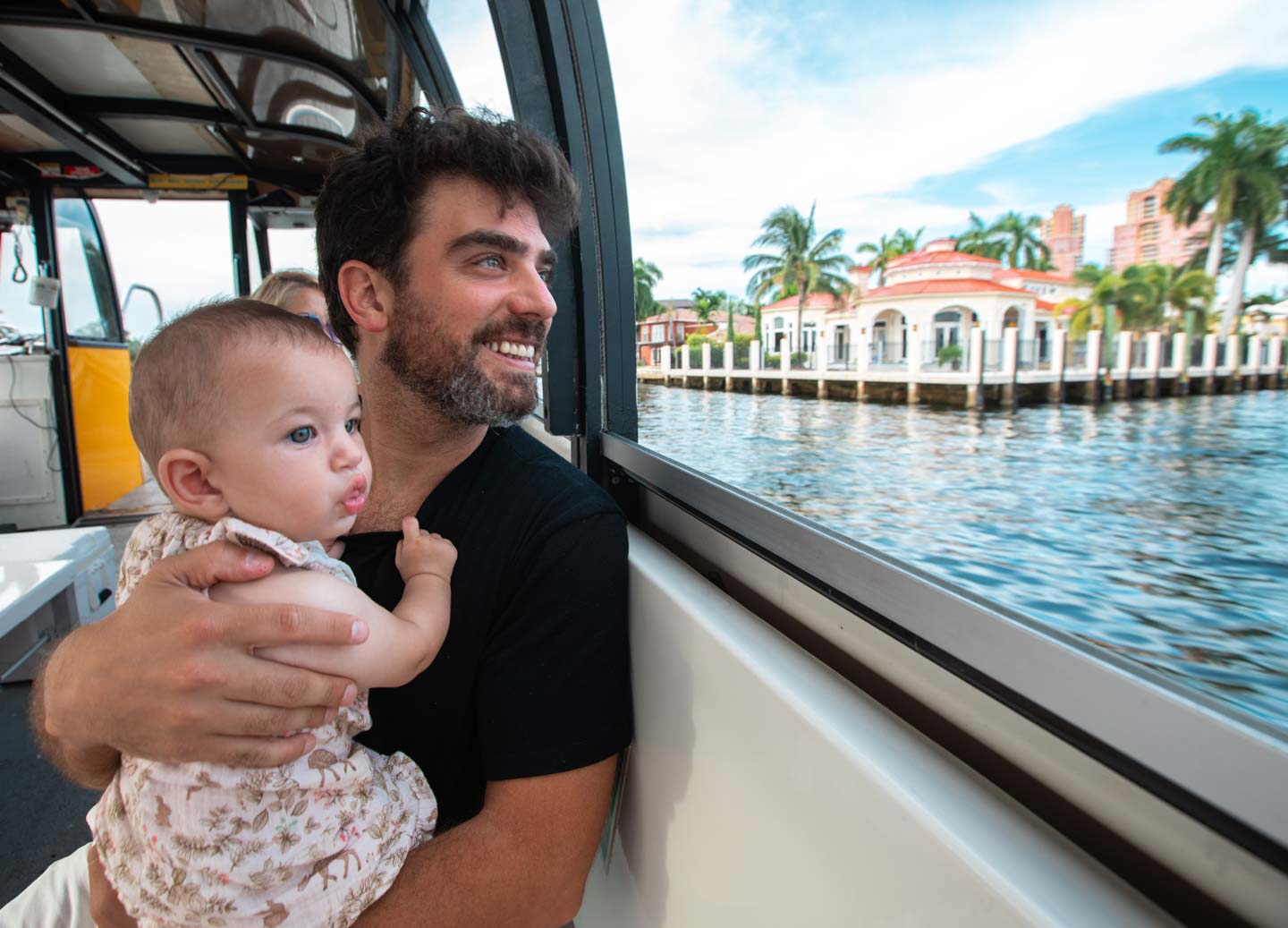 Chicago-born artist Frederic Clay Bartlett created Bonnet House in 1920 on South Florida oceanfront land. Today, the estate is a preeminent house museum dedicated to historic and environmental preservation, but also to learning and creative expression – much like its owners.
The sprawling 35-acre estate features an art gallery, extensive tropical gardens, an orchid greenhouse and more.
Check out Visit Lauderdale's 2 for 1 deal for Bonnet House here.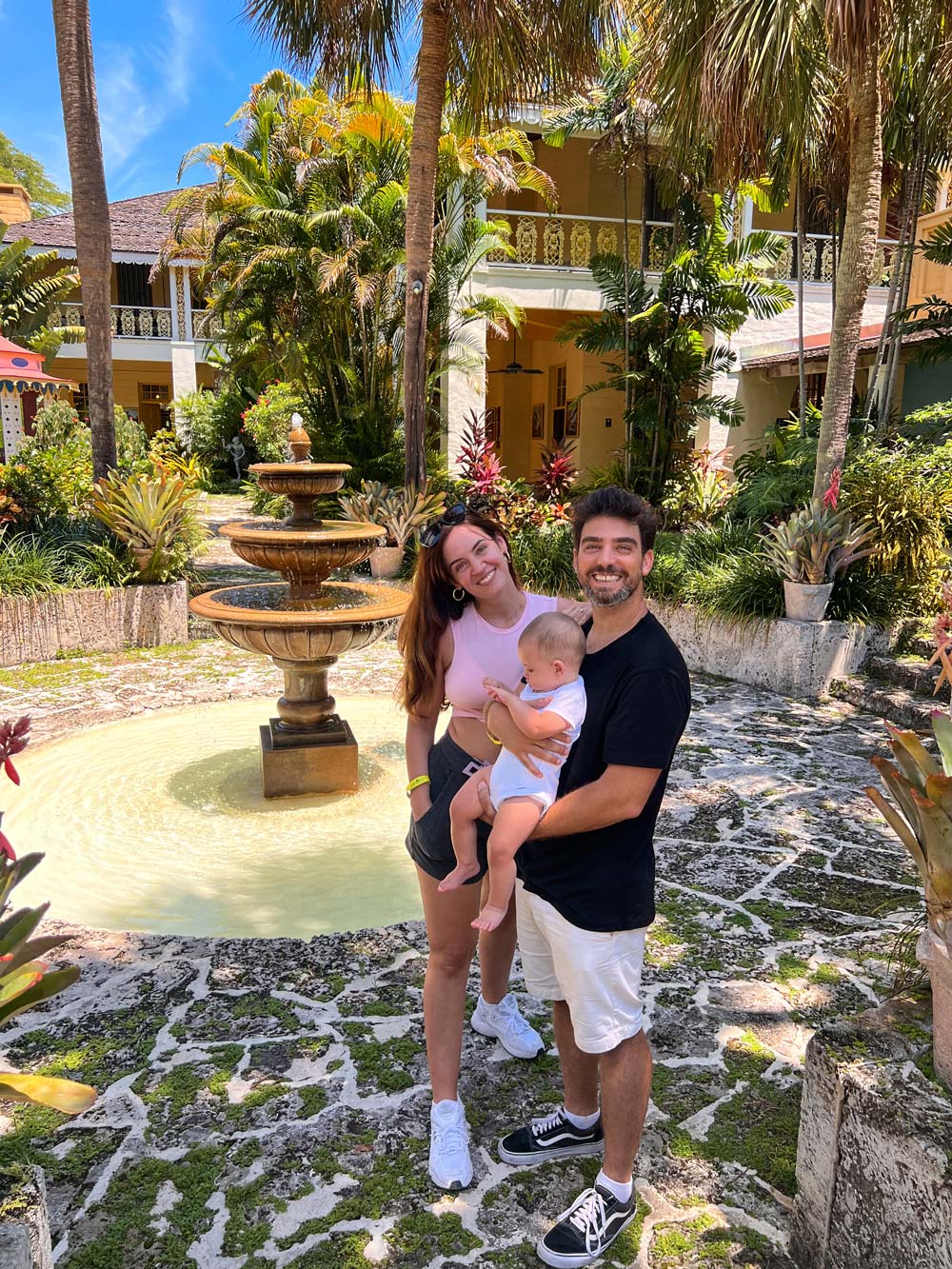 Butterfly World is the first butterfly house in the United States and the largest in the world. It encompasses 3 acres of butterfly aviaries, botanical gardens, a working butterfly farm and a research center. The park also has 2 tropical bird aviaries and an interactive lorikeet encounter.
Get $5 off with LauderDeals here.
Flamingo Gardens is one of the oldest botanical gardens in South Florida. The gardens is home to 18 "Champion" trees, the largest trees of their species, including the largest tree in Florida. Specialized botanical gardens including a Butterfly and Hummingbird Garden, Tom Coffey Aranda Garden, Croton Garden, and Bromeliad Garden dot the main Arboretum. The wildlife sanctuary features over 3,000 species of rare & exotic, tropical, subtropical, and native plants and trees. Flamingo Gardens' sanctuary is home to the largest collection of Florida native wildlife including alligators, bobcats, eagles, otters, panthers, peacock, and of course, flamingos!
There's a lot to do at the Museum of Discovery and Science (MODS) in Fort Lauderdale! Explore the hundreds of interactive exhibits perfect for families and kids:
The Hangar – an aviation-themed Makerspace
Experience hurricane-force winds in the Storm Center
Dig for fossils alongside pre-historic creatures in the latest Augmented-Reality exprience
Two-story indoor/outdoor habitat with animals
Animal encounters at the Florida EcoScapes exhibit
Outdoor physics Science Park and Sprouting STEM Early Childhood Learning Lab.
Take a ride to Mars in an FA-18 cockpit simulator
Take a ride in the 7D Theater
Six-story-high film adventure at the AutoNation® IMAX® 3D Theater, home of the BIGGEST screen in South Florida
Get the South Florida Adventure Pass here.
Enjoy Fort Lauderdale!
Our first trip as a family was a success. After traveling the whole world as a couple, we found such an amazing vacation spot right in our backyard! It was also extremely convenient that the Conrad Fort Lauderdale had all the amenities we need to have a stress-free vacation with our little one. Of course finding such family-friendly destinations will definitely important to us in the future.
We hope you found our tips helpful and enjoy your trip to Greater Fort Lauderdale!