If you're visiting Singapore for the first time, 2 full days is the optimal amount of time to spend here. You can get a little flavor of the city, while not having enough time to get bored. So here's our perfect itinerary for 2 days in Singapore for first-timers.
Why Visit Singapore?
Singapore is one of our favorite places to visit in South Asia for a number of reasons. It's a beautiful, clean and highly developed city with a lot to see, amazing food and an interesting mix of cultures.
One of the coolest things about Singapore is that it's a city that cares deeply about sustainability. A lot of the government-sponsored projects here are carbon-neutral (like Gardens by the Bay, for example) and are entirely supported by clean self-sustained energy. The city also has an incentive program that encourages real estate developers to replace greenery lost on the ground through development with high-rise terraces and gardens. That's why there are so many buildings in Singapore covered in gardens and plants.
More cities around the world should strive to be like Singapore, and it's great to support places like that!
Why Spend Only 2 Days In Singapore?
Because of its central location in SE Asia, there are quick easy flights from Singapore to almost anywhere in the region. That's why most people end up in Singapore as a layover on their way to their SE Asia vacation.
Singapore is a pretty small city/country and is overall not hard to explore in a couple days. Unless you really want to immerse yourself in the city and get to know it really well, 2 days is the perfect amount of time to spend in Singapore.
Unless you really want to immerse yourself in the culture and get to know the city really well, we recommend spending a couple of days here. That's why our 2-day Singapore itinerary is perfect for first time visitors.
Where To Stay In Singapore
Marina Bay & Esplanade
We always find ourselves spending a lot of time in the Marina Bay/Esplanade area as that's where most tourist attractions are located. So if you are visiting Singapore for the first time and want to be within walking distance of those spots, Marina Bay area is a great place to look for a hotel. On the flip side, most hotels in this area are quite pricey. If you're visiting just for a couple of days though, it might be worth it.
Marina Bay Sands is probably the most well-known hotel in Singapore. The infinity pool on the rooftop has been featured in multiple movies and it really has some of the best views of the city. The pool is only accessible to hotel guests so staying here even just for one night can be an unforgettable experience.
While Marina Bay Sands is quite pricey, there are other amazing hotels nearby that you can still book for around $200-300 a night:
The Ritz-Carlton Singapore
Pan Pacific Singapore
Marina Mandarin
Chijmes
This area is a little quieter than Marina Bay and the hotel rates are more affordable. It's located near charming little streets like Haji Lane with lots of small cafes, shops and delicious food. But it's also still not too far from the marina area. This is where we love staying the most and is perfect for a 2-day Singapore itinerary.
This time we stayed at the Naumi hotel and were very happy with it. It's a 4 star hotel with nice rooms, great service and a beautiful rooftop pool. And if you book in advance, you can score a room for less than $200.
Hotels:
Naumi Hotel – this is where we stayed and were very happy with it
Raffles Hotel
Carlton Hotel Singapore

If you are looking for something under $100 that's still nice, clean and in this area, try:
NuVe Heritage – we've also stayed here. The rooms are small and the hotel doesn't have a lobby but value for money is good. Rooms are clean and have nice bathrooms.
Hotel Kai
China Town
China town is busy and bustling, with tons of small shops and food stalls and a lot to explore. The architecture and food is as diverse as Singapore as a whole and there's plenty to do here without leaving much. It's also located pretty close to Marina Bay so access to the most popular tourist areas is easy.
Hotels:
Parkroyal on Puckering – beautiful architecture, it's definitely on our list to visit in the future
Park Regis Singapore -4 star hotel at around $150 a night
Furama City Centre – 4 star hotel at around $100 a night
Singapore Itinerary – Day 1
Gardens By The Bay
Head to Gardens by the Bay to explore Singapore's most famous park before it becomes too hot to be outside. Early in the morning is the best time to visit this place. The heat during the day can be unbearable and make your experience quite unpleasant. The gardens are free to visit and, from our experience, don't get too busy with tourists until the evening when it starts to cool off.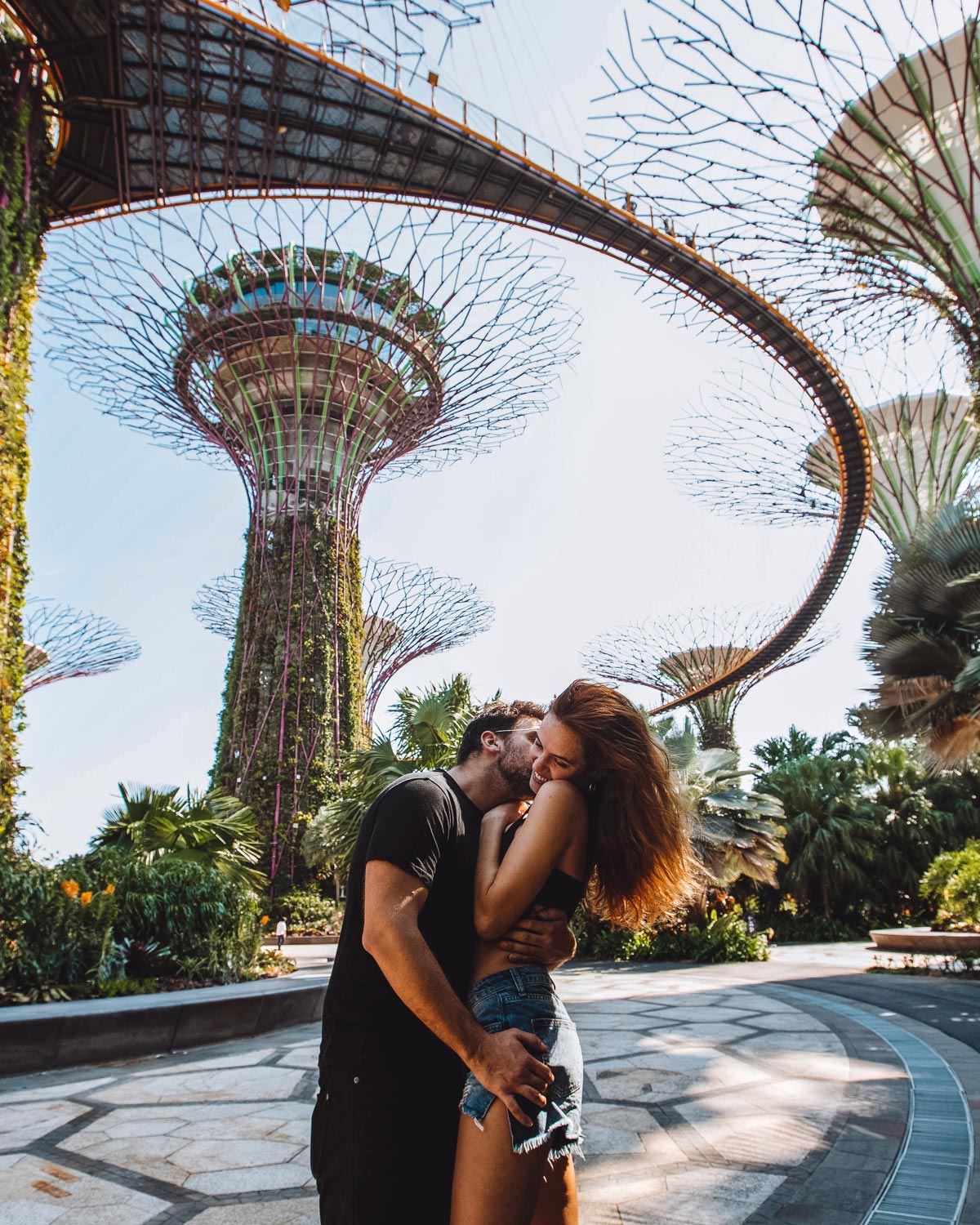 Another great time to visit Gardens by the Bay is in the evening. Although it's a lot more crowded, the temperature is more bearable. You also get to see the light show and get up on the skywalk when the lights turn on. Now that's a truly magical experience! It feels like walking around Wonderland.
Our pro tip is to get to the gardens right before sunset and do the skywalk around 6:30-7pm. You would need to buy tickets ahead of time but you can only buy them the same day close to the time you want to go up.
After the skywalk, find a spot on the grass to watch the light show. It's free and it happens twice every night – at 7:45pm and at 8:45pm.
Cloud Forest And Flower Dome
As it starts to get hotter outside around 11am, walk over to nearby Cloud Forest and Flower Dome. The entrance fee is 28 SGD and the ticket allows you to visit both domes. There is lots of interesting info to learn about these gardens so you could easily spend a couple of hours wandering around. It can also provide a nice escape form the heat as it's very cool inside and the air feels fresh from all the plants.
Head back to the hotel for an afternoon nap before you go out to explore again in the evening.
Hawker Markets
The best way to experience food in Singapore, in our opinion, is to visit one of the hawker markets. They open in the evening around 5pm and are a great place to grab dinner if you want to experience some delicious local cuisine at great prices. Our favorite market is Old Airport Road but Newtown Circle is great too if you don't mind paying a premium for eating at one of the spots where the movie Crazy Rich Asians was filmed.
Check out this guide on what to eat at Old Airport Road hawker center.
Singapore Itinerary – Day 2
ArtScience Museum
Visit the ArtScience museum during the day and enjoy some of the creative futuristic exhibits. The area around the museum is one of the most beautiful in Singapore so make sure you take a stroll and explore the marina bit in the morning.
If you cross the Helix bridge you can also walk around the area called Esplanade, which offers spectacular views of the famous Singapore skyline. It's equally pleasant to do in the morning and evening, but it's better not to walk around in the sun mid-day here.
Haji Lane & Arab Street
Walk around Haji Lane for some afternoon shopping or grab a coffee at one of its many colorful cafes. This area has a lot of character and lots of fun little shops to explore. Nearby Masjid Sultan mosque in also a must-see – it's one of Singapore's most impressive religious buildings.
Grab lunch on Arab street where you'll find lots of middle eastern restaurants and a delicious mix of asian and Middle eastern cuisine.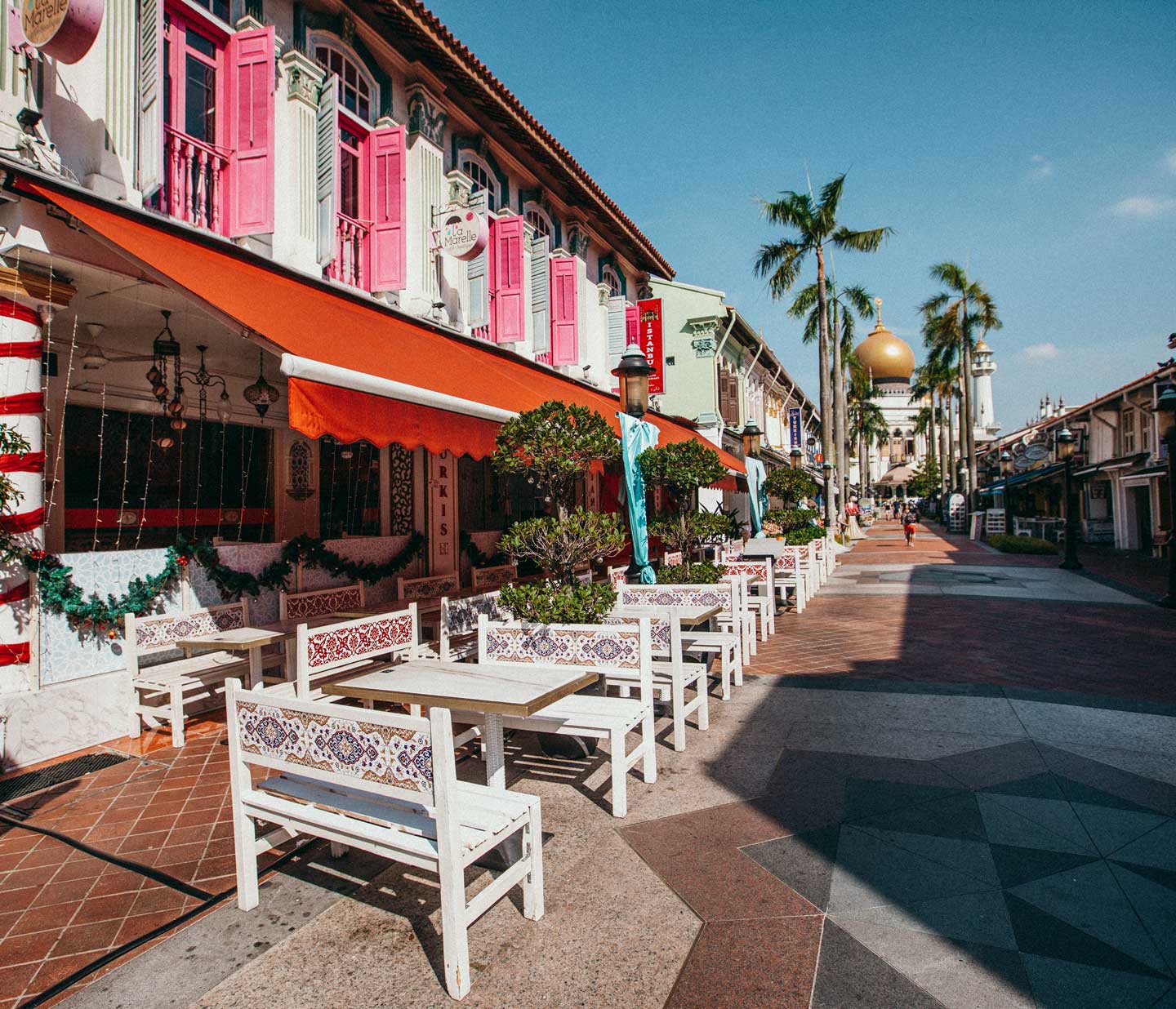 Head to the marina in the evening to watch the light show at the Shoppes at Marina Bay Sands. It's a 15 minute fountain and light show that lights up the entire marina and it's quite the spectacle even if you're not watching from the main location. Show times vary by day so make sure you check them here before you go.
Enjoy Your 2 Days In Singapore!
This should get you all set to spend 2 amazing days in Singapore. You would be able to see some of the main attractions and get a little taste but still leave you wanting to come back soon!