As some of you may know, in March after a full year of traveling the world, we settled down in Miami. One of the main reasons we picked Miami is its proximity to the Caribbean as we love traveling there. But you don't need to fly off to a Caribbean island to have a tropical holiday. You can find a tropical paradise right here in Florida – in the keys! So we'll share with you or 4-day Florida Keys itinerary.
In these challenging times, traveling internationally can be a pain logistically. Normally you'd need to get tested, fill out forms and plan everything carefully. But a trip to the Florida Keys can be quick and simple to organize. We made a few stops along the way starting with Key Largo, Islamorada where we stayed in Cheeca Lodge and Spa, and finishing in Key West where we stayed at The Reach Key West, Curio Collection by Hilton.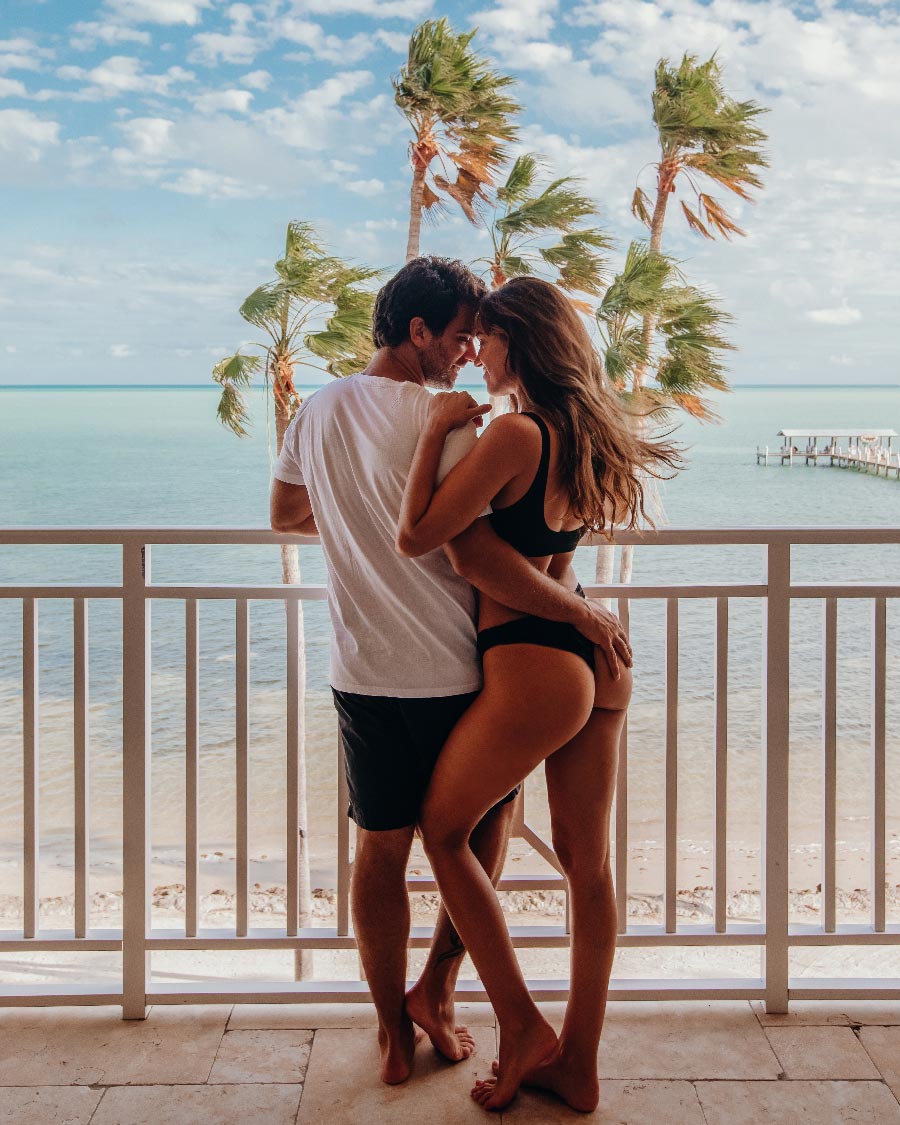 Day 1
The first stop on our road trip was
John Pennekamp Coral Reef State Park
Say hello to mangroves, tropical hammocks and coral reefs! St John Pennekamp State Park isn't quite like your typical State Park. Take a glass bottom boat ride, scuba dive, snorkel or kayak through the mangroves full of marine life.
St John Pennekamp has all the makings of a true nature playground. Hike through trails, swim at the beach, try your luck at catching some fish, camp overnight under the stars or check out their 30,000 gallon saltwater aquarium – there's something for everyone.
While the park is open daily from 8 till 5pm, given the current climate, the far beach area located over the bridge and aquarium is temporarily closed. Luckily the boat tours and restaurant are still open, so there's still plenty to do as well as the smaller beach close to the parking.
After we spent some time in the park, we headed to Key Largo Conch House to grab some lunch. It's an environmentally friendly restaurant that serves sustainable seafood. Arriving at Key Largo Conch House is like coming home to your Caribbean Grandmother's welcoming front porch. This place exudes island vibes!
We loved the fish tacos, definitely worth it if you are a taco lover. They're closed on Thursdays but other than that run from 8am – 9pm daily.
Islamorada
After a day of exploring, we headed to Islamorada to check into our hotel for the first couple nights – Cheeca Lodge.
Since the hotel check-in time was a bit late (starting 4pm), we made a stop at Robbie's for some classic Florida Keys entertainment – feeding tarpons! Robbie's is a waterfront restaurant where you can grab a bucket of fish and feed giant tarpons and nurse sharks at the dock. It's especially fun because curious pelicans also frequent the dock and may or may not sneakily try to steal the fish from your bucket or straight up beg you for some! It's a fun spot to have a snack and interact with wildlife.
Stop by the gift shops outside of Robbie's on your way out for some keepsakes to help you remember the Florida Keys!
After Robbie's we headed to Cheeca Lodge to check in. We really loved this place!
The laid back vacation vibe coupled with the elegance of the buildings made for a serene romantic setting. There's plenty to do at the resort with 3 heated swimming pools, spa, gym, water sports, tennis courts, daily tours, fishing and even golf to name a few. You can grab some golf clubs or even fishing rods free of charge and enjoy what the hotel has to offer.
We stayed in the Lodge Oceanfront King Suite. The room was spacious and comfortable. We loved the the plush king bed and open living area. The stunning bathroom includes a rainfall shower opening to the balcony with a panoramic view of the ocean. The balcony is also quite spacious and even features an outside spa tub with a ceiling tap! Coupled with the view of tall palm trees swaying against the backdrop of the turquoise sea, the atmosphere of the suite is romantic and luxurious.
Chef Michael's is right next to Cheeca Lodge which was the cherry on top for our first day on the road. The imaginative Florida Keys menu with hints of Polynesian flare, featuring hogfish and other fresh fish prepared in a number of festive ways is not to be missed!
The hogfish is a must-try when you're in the Keys, and Chef Michael's is a true culinary delight for the foodies out there. We had the hogfish cooked in "Mixed Nuts' style with pistachio, cashews and macadamia crust, served with coconut rice and mango sauce.
Warm and inviting, the dining area with local art creates a unique ambience that compliments the creative presentation of the food. Chef Michael's is open for dinner daily from 5pm onwards.
Day 2
Marathon Turtle Hospital
Day 2 of the road trip was all about the turtles! An easy day trip from Cheeca Lodge, the Marathon Turtle Hospital was a fun and eye-opening experience. It's the largest turtle hospital in the US.
The staff at Marathon Turtle Hospital rehabilitates and takes care of sick and injured turtles and upon their recovery, reintroduce them into their natural habitats. Along with rehabilitation, the hospital also conducts research and works with environmental legislators to help keep the sea waters safe and clean for these majestic creatures. The hospital itself also does fun things like educating the public through outreach programs and local school visits.
What's amazing about them is that they are privately owned and fully supported by donations and tours at the hospital. So if you're in the Florida Keys, be sure to stop by and support them
At the hospital, you'll learn all things turtle at their mini museum, learn about the rehabilitation process and even get to feed the turtles some treats! A wholesome experience all round that reminds you how important it is to not only look after ourselves but mother earth as well.
After we fed the turtles, we decided it was time to feed ourselves! We headed for lunch 2 minutes down the road at Isla Bella Beach Resort. The all-white buildings with light blue shutters made us feel like we were back in the Bahamas! Beach Bar restaurant is located next to the water, with a beautiful beach view under the tall palm trees.
Day 3
After a relaxing couple days at Cheeca Lodge, it was time to head down south to Key West. It takes close to 2 hours by car so we needed to make a stop on the way. We decided to stop at
This is a 500 acre park and an offshore island! Bahia Honda offers some of the best snorkeling and beaches in Florida. Try kayaking, camping, fishing on a chartered boat, or check out their impressive historic bridge. This State Park is a perfect place to recharge in a quiet nature getaway. The park is open daily from 8am till sunset.
After our rejuvenating pit stop at Bahia Honda State Park, we made our final drive down to The Reach in Key West to check in. The Reach feels like a hotel plucked out of the Caribbean. Located on the only natural sand beach in Key West, the ambience of the place has the perfect island getaway vibe.
Reserve a cabana or daybed on the beach, head to their indoor and outdoor Spa Al Mare for a treatment or morning yoga, challenge yourself and your partner to an Escape The Room game or go for a 90 minute jet ski ride with a local guide from the Atlantic all the way to the Gulf of Mexico! Although not as expansive as Cheeca Lodge, there's plenty to do at the hotel.
The room we stayed at was the Key West View Double room. The rooms have all the makings of a regular hotel room: nice balcony with outdoor furniture to relax, a coffee maker, mini fridge, work station, couch and black out curtains, so you can have a good sleep in.
For Sunset we headed to Seabago Watersports to do a Sunset Sail tour. They offer the quintessential 60 feet catamaran sail with live music, snacks and drinks all to compliment the famous Key West sunsets. As the catamaran takes you on your sailing journey, you'll pass Key West landmarks like the Mallory Square Sunset celebration, Sunset Key and historic Fort Zachary Taylor, giving you a different perspective of the area.
Seabago Watersports also offers other tours like Parasailing for the daredevils, or just jump on a catamaran and go reef snorkeling. The warm waters and vibrant marine life make for a pretty unforgettable experience. They also have eco tours, kayaking through mangrove islands and snorkeling through backcountry patch reefs. If you book directly from their website, you'll have a chance of saving anything from 5% – 20% off your tour!
We ended our day at First Flight Island Restaurant & Brewery for dinner. They have a Garden Canopy Dining area that spans 2 floors with the second floor seating nestled in the treetops! At night they light up all the twinkling fairy lights hanging above the ground floor eating area, creating a magical starry night ambience. If you're looking for a drink beforehand, head towards the french doors that lead to their brewery.
First Flight is actually a historic building, where Pan American World Airways (Pan Am) was born back in 1927. While the company closed in 1991, Pan Am is actually responsible for revolutionizing the airline industry with its innovations. Sitting here, enjoying our kobe beef burger and tuna tacos, nestled in a garden canopy soaking in the greenery and history felt pretty surreal.
Day 4
For our last day of the road trip, we headed to Fisherman's Cafe for breakfast. Located in the Historic Seaport, Fisherman's Cafe offers a taste of the old Key West with Cuban elements. Enjoy fresh catch of the day's seafood, cuban sandwiches and amazing cuban coffee! We loved how reasonable the prices were considering how fresh everything was. We were happy to have eaten a nice meal before we headed to our next activity.
We had so much fun at Lazy Dog Key West. It was a windy morning so we were a little hesitant to get on the paddle boards but we decided to go for it and we didn't regret it! While we gently floated through the mangroves we saw huge iguanas lounging on the trees and nurse sharks swimming underneath us.
We anchored in a quiet cove with shallow water and started the yoga session. It was also something we weren't very sure at first. Even though we're both quite experienced with yoga, we were worried we wouldn't be stable enough on the board. However, our guide Tara walked us through each step slowly and made us feel so comfortable, within a few minutes we were in our warrior 1 pose with no issues!
Ultimately it was a very calming and challenging experience that we'll definitely be doing again.
Lazy Dog Charters also offers a few different tours, like kayaking, paddle boarding and boat tours head to their website for a look at all of them.
After all the excitement from the paddle-boarding excursion, we headed to Papa's Pillar Rum Distillery located in the Old Town for some drinks! The building used to be a Tobacco warehouse and is entirely made of bricks. It felt like we were stepping into the 1800's when it was originally built.
We went on a very informative distillery tour and learned about the history of rum, how they were inspired by Hemingway's adventurous spirit, and how the distillery works with the Hemingway family today to support the community. We smelt the different notes that go into the making of rum and at the end of the tour, tasted all different types of rum.
There's even a section where you'll see historical pictures of Hemingway, his actual writing desk and personal information that you can't find elsewhere. What we also loved about this place was they donate a majority of their proceeds to charities that carry on the Hemingway legacy. If you're a Hemingway fan, we highly recommend this place.
Matt's Stock Island Kitchen + Bar
Now that we were a little tipsy we had to get some food in us! Dinner was calling our name. Off we headed to Matt's Stock Island Kitchen + Bar that had been recommended to us. When you arrive you're greeted with modern decor and wooden furniture throughout, that gives it a rustic feel.
There's outdoor seating, and since it's right by the water, you can have your dinner while you daydream about which yacht you'd look best on cruisin' the Keys. We recommend to try the tuna tacos, the empanadas and the avocado salad, oh and of course the warm chocolate cake. The buzzing atmosphere of the place was just as enjoyable as the delicious food. Head there for breakfast when they're open from 8-11:30am or dinner from 6-10pm.
Additional Recommendations
All in all we had a great time on our road trip. We couldn't believe all this was in our backyard! Here are some additional places we think you'll like if you find yourselves doing this road trip too.
More Things To Do In Key West
Take the Key West Conch Tour. The 90min train ride passes through lush landscape, historic landmarks with friendly staff telling you about the tales of pirates, Hemingway, artists, and other historic facts about the area.
The Keys are full of historic figures and we can see why with how beautiful the landscape is. It's no wonder ex president Harry Truman would have a winter White House here. Harry S. Truman Little White House is located in the Historic District and is a presidential museum. It's open daily from 10 – 4:00pm with guided tours available. You'll get a peek into the life of a US president. There's even furnishings and memorabilia from back in the day.
The Ernest Hemingway Home and Museum was one of our favorite spots. An inspiring look into the life of Hemingway. Hemingway's home turned museum was where he lived for more than 10 years.
Places To Eat
Hogfish Bar & Grill located in Stock Island this is where you'll find all the locals eating. Savour Florida's famous key lime pie! Enjoy the big and spacious dining area that screams island vibes and head for a stroll around the wharf afterwards.
Yahmans Authentic Jamaican Jerk Shack at Stock Island is the first Jamaican restaurant in Key West. Try authentic Jamaican food
Enjoy the Florida Keys!