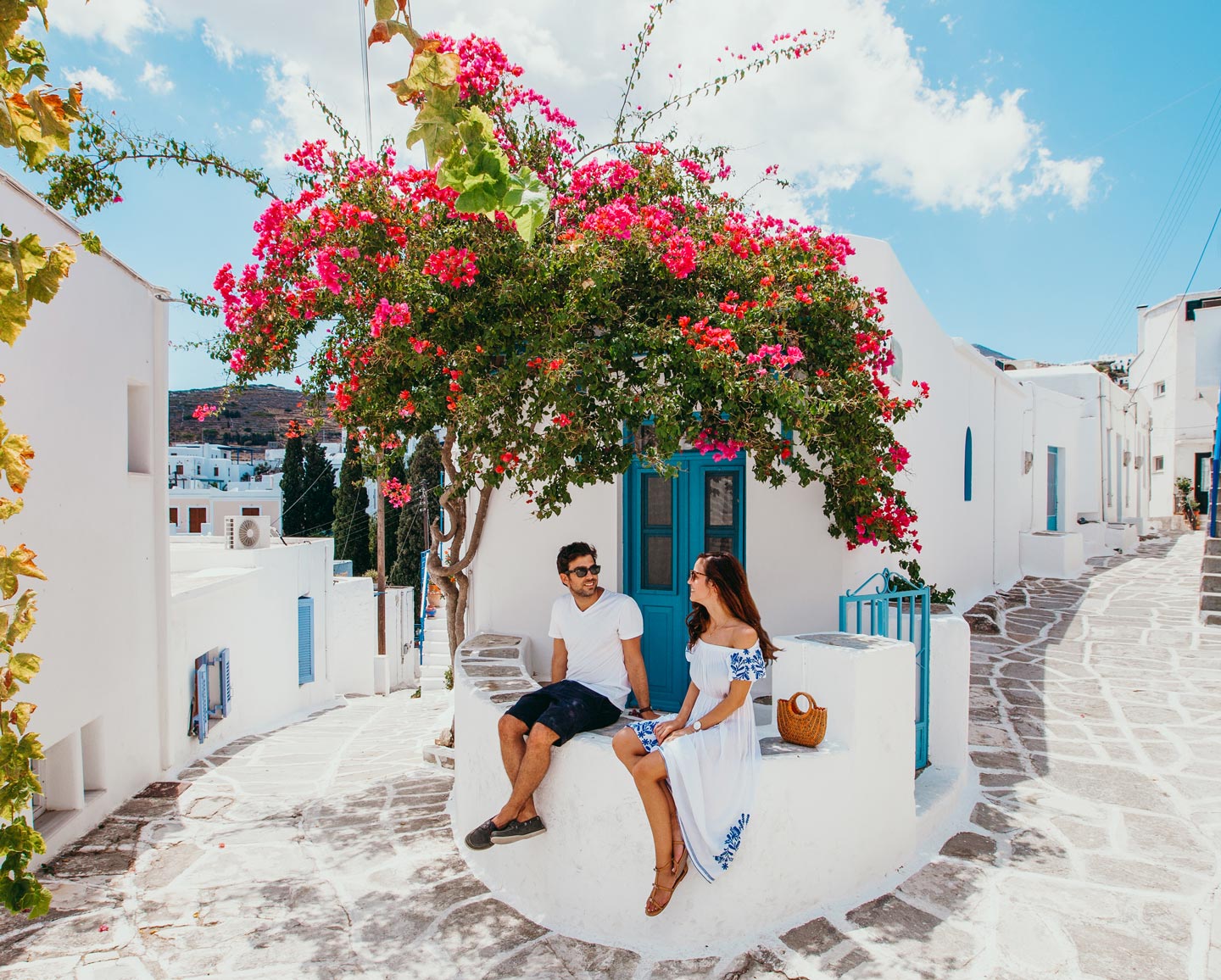 When you think of Greece, Paros is probably not the first island that comes to mind. Maybe you've been dreaming of visiting Santorini or Mykonos. They are both extremely popular and for good reasons! The striking white villages perched high up on the edges of those Santorini cliffs overlooking the sea are unmistakable and have attracted steady streams of tourists for many many years. And Mykonos is known for that famous row of windmills and of course – the best party scene in the Cyclades.
But it's time to add Paros to your Greece itinerary too!
We love finding the next best spot before it starts drowning in tourism and losing its charm. So if you're like us, you will definitely enjoy this charming little island.
Why You Need To Visit Paros, Greece
Paros is one of the bigger Cycladic islands, located right next to Naxos. It offers the same charming narrow streets freckled with colorful flowers and cute little cafes, delicious Greek food and beautiful rocky virgin beaches you'll find anywhere else in the Cyclades.
But is also offers something more unique to Paros. This special insider vibe, the feeling that just enough people know about this place that it's interesting to visit, but not enough to make it too overwhelming.
And last but not least, Paros is the place where Yinon and I went on our first big trip together. He met my parents and we became closer than ever – and what a backdrop to have for your budding love story!
How To Get To Paros
Paros is easily accessible by a quick flight from Athens and a number of ferries. If you prefer to fly, it's best to fly into Athens first, and then take a local flight from Athens to Paros. The flight is quick and convenient and costs between 50-100 Euro.
For flights we recommend Aegean Airlines and Olympic Air.
One of the most convenient ways to travel within Greece is by ferry, and that's a great way to get to Paros too. The Greek ferry system is one of the most efficient well-oiled machine that runs close to impeccably on schedule and is very reliable and comfortable. We actually prefer to go by ferry whenever possible.
You can get to Paros from Athens in as little as 3.5 hours from Piraeus port, or you can take a ferry from any of the major islands in the area.
Where To Stay in Paros
The best town to stay in Paros is unquestionably Naoussa. It's hard to explain why, but there is just a special vibe about this little place that makes us want to come back every year.
There are no big resorts here. Your only option is staying at a small family-owned hotel where everyone knows your name and how you like your coffee. We stayed at Parian Boutique Hotel and loved the staff so much.
As soon as we dropped off our things at our hotel, we received old-fashioned but amazingly accurate directions on how to get to the town center. Just walk up the street until you get to the church, then take a right and walk down the stairs. The church is, of course, located in the most elevated central part of town and visible from any location. If you ask for directions in a Greek town and they do not include a church, you're most likely not in a real Greek town!!
Once you get to the old central part of Naoussa in the evening you'll understand why we think it's the only place to stay in Paros – it's cute, it's lively, it feels authentic but it's also full of trendy little shops and cafes and beautiful young people from all over Europe.
Hotels In Paros Island, Greece
Here are some of our hotel recommendations:
Parian Boutique Hotel – this is where we stayed and we really enjoyed it. It's beautiful and modern but with a traditional Greek flare. The downside is the hotel does not have a pool
Villa Irini features beautiful views and a rooftop pool but is often fully booked

Yades Suites

– another great place for beautiful views and a great value for money
Joseph Studio – under $100 per night and it still has a pool

Hassouri Vasso

– more on the budget side but a great location
Airbnb is also a great option. Sign up here to get up to $45 off your first booking.
The Charm of Naoussa
Every morning we had breakfast at the same place – a cute little cafe called Sousouro. The food was delicious and healthy, the orange juice – freshly squeezed and the yogurt with nuts and fruits was the best we've had. We loved sitting at the outside tables right on the narrow street, people-watching and trying to imagine what it would be like to live here.
After a couple days we started feeling like we got to know the neighbors and became part of the community. There was an old lady that swept the street in front of her house around the same time every day. She stopped and verbally expressed her frustration to herself every time she had to pick up a plastic bottle or some other trace left by Naoussa's vibrant nightlife.
There was an old man with a very distinct cough who opened up the restaurant across the street every morning. We named him Nikos. I was worried about his health and Yinon about his personal life. We noticed he was nervously pacing back and forth one evening. He was fixing up his shirt and notably did wasn't smoking. So we started speculating that he might be waiting to meet a lady.
She showed up minutes later, of course, and "Nikos" became visibly more excited than we've seen him in the past few days. We moved our attention back to our own table before we started feeling too nosy though. It was fun pretending to be gossipy locals for a bit. Funny how this place draws you in so quickly!
Something For Everyone
The best thing about Paros (and Greece in general) is that it can suit many vacation styles. If you want to travel with your family, there are great family-friendly hotels and beaches for the kids. If you want to go out with your friends to trendy places, there's plenty of exciting nightlife. And if you want to have a relaxing romantic trip but with still enough places to eat out and drink, this is your place. This was our first big trip as a couple and also a meet-the-parents trip for Yinon so we really appreciated the versatility of this place. No one was ever bored or left with nothing to do.
Some of my favorite spots in Naoussa were Linardo, bar Kosmos, Come Back and any of the tavernas by the marina. We also loved walking along the same little street with bright white stairs lined with contrasting orange floral pots.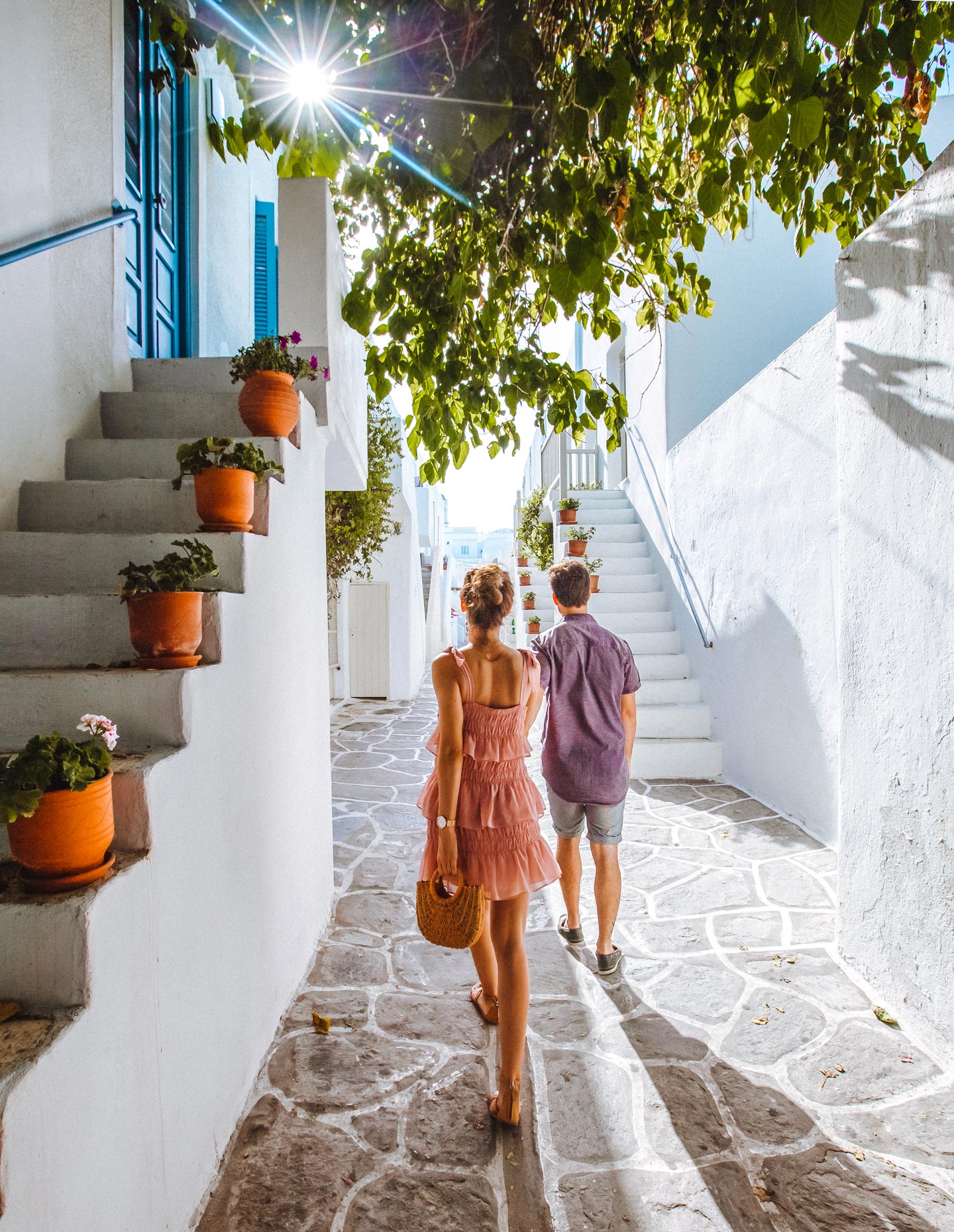 There are a couple of beaches in Naoussa. They are not the most amazing greek beaches but the water is clear and blue and they are not too busy. But we ended up going off the beaten path and exploring some areas beyond the public beaches. We ended up finding some beautiful rock formations and our own little puddles to bathe in. The exact location doesn't even matter because you'll find lagoons like these pretty much anywhere around Paros.
Explore The Island Beyond Naoussa
Naoussa was by far our favorite town so we spent most of our time there. We left the last day of our trip open as we wanted to visit at least one other town. So we decided on Lefkes. We rented a car in Naoussa and it was easy to reserve it for the following day. There were a few rental places in the central part of town near the marina.
Lefkes is a quaint little mountain town, about a 20 min drive from Naoussa. Its streets are narrow, blindingly white and there is not a living soul around. There is a big church in the central part of town with amazing views of the area. But we were more interested in exploring the off streets around town. This is not a town you'd want to stay in. It's not near the beach and there are not a lot of restaurants or hotels. But it's still worth exploring if you want to see a more authentic Greek town and how people in this area really live.
There is an endless supply of beautiful and under-explored islands in Greece, and Paros is just one of them. If you are debating between Santorini/Mykonos and trying out something different, I would encourage you to go with the latter. The main draw of Paros for me is that special Naoussa vibe. You won't know what I mean until you experience it yourself. If you end up going be sure to drop me a line and let me know your thoughts!!
Do A Day Trip To Another Island
AND you can still do a day trip to one of the most popular islands from Paros. There are regular ferries from Paros to Santorini and Mykonos that will take you there in just a few hours:
We highly recommend doing at least Santorini, especially if you've never been. Read more about our thoughts on Santorini here.
LIKE THIS POST? SAVE IT ON PINTEREST!