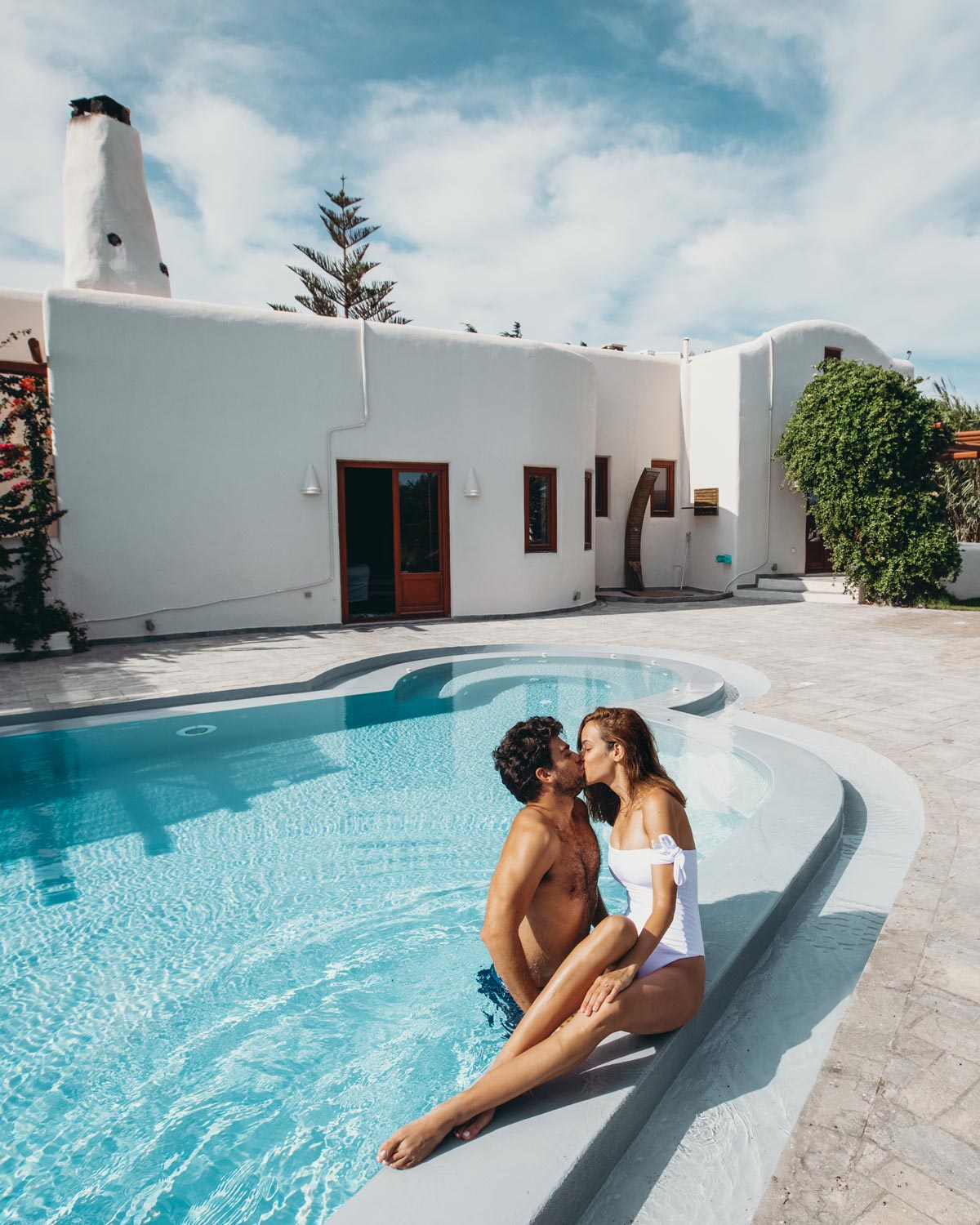 When you think of Santorini the first thing that comes to mind is plunging cliffs and volcano views, next to infinity pools and traditional Cycladic houses stacked on top of each other. That's the most popular image of Santorini, and understandably so, it is a truly unique and beautiful sight. But if you are looking for a little less crowded, more private and more spacious type of accommodation, Aquaria Villa Santorini might be the right place.
Aquaria villa is located in the quiet village of Karterados in Santorini, Greece. It is just a few minutes drive from the capital of the island, Thera, and a 30 minute drive from Oia. The location is secluded enough to get you away from all the noise and crowds of the main towns but also very close to all the main attractions in Santorini. The couple days we spent here after a busy few weeks of traveling were enough to get us out of the busy mode and relax our minds.
The Villa
We immediately fell in love with the traditional Santorinian design of the villa combined with elegant modern touches and comforts. The place is beautifully furnished, filled with light and as quiet and relaxing as we hoped. It is one of very few places on the island that can accommodate larger groups of people and families. Some features of the villa include:
2 master bedrooms with ensuite bathrooms
2 double bedrooms
4 bathrooms total + 1 common WC
2 kids' bedrooms
Spacious living room
Fully equipped kitchen
4 dining areas (2 inside and 2 outside)
Fully equipped laundry room
Kids' play areas – 1 inside and 1 outside
Private st. Catherine's chapel
Sleeps up to 12 people
Free parking
The Garden
The outdoor area is spacious with a private sea-view garden, pool with lounge area, outdoor grill, kids playground and private parking. The pool is large enough to swim in and there are a few sitting areas outside that can accommodate large groups of people. The lawn and kids playground offer plenty of space for children to play in.
Links
LIKE THIS POST? SAVE IT ON PINTEREST!