Oia feels like a movie set – you find yourself stopping at every corner to take pictures. There's something about the combination of white houses and deep blue waters that just gives you a special type of glow, every photo looks effortlessly dreamy. Everywhere you turn there are bloggers and influencers running around looking for the perfect spot and wedding photographers setting up tripods. Everyone is looking for the best Instagram spots to take their Santorini pictures!
It's a lot of fun but it can also be quite crowded and stressful. Read about some of the things we loved and hated about Santorini here.
What You Really Need To Know About Oia
One of the things that surprised us about Oia the first time we visited, was that it's actually not that easy to find all the famous Instagram photo spots in Santorini. In fact, it can be quite hard and disappointing.
The reason is that Oia doesn't really have straightforward roads that are easy to walk. It's all little winding streets and back alleys and A LOT of steps, no shade anywhere so you get really hot and tired of walking around with no clear direction. To top it off, a lot of areas are private and closed off so if you don't know where you're going, you often get to a dead end and then have to go back around and look for another path.
So, to save you this headache, we made a neat little map with all the important locations marked along with the photos we took there. Scroll to the end of the article for the map and just zoom in until you find our location markers 🙂
How To Get To Santorini
The best way to get to Santorini is through Athens. Don't try to fly all the way through to Santorini from your international destination as that could make the flight expensive. Fly into Athens and then take a ferry or a local flight.
By Air
For flights we recommend Aegean Airlines and Olympic Air. The price for a return flight to Santorini is between 50-100 Euro. Ideally try to book around January/February for the summer. If you get too close to your travel dates, the prices can go up quite a lot or sell out.
By Ferry
Traveling by ferry in Greece is very convenient and cost-effective. In some cases it can be faster than traveling with a plane door to door, and it is usually less expensive. Ferries are big and comfortable with snack bars and wifi (although it doesn't always work), and run impressively on schedule. We use Let's Ferry to book our ferries in Greece.
Here's our guide for the best photo spots in Santorini:
1. Oia Cliffside
Located on the Western side of Oia, the cliffside overlooks the colorful buildings of the town as well as the famous windmill. The steps that lead down to Amoudi bay are a popular spot where people gather in the evening to watch the sunset. This is where some of the most recognizable Santorini pictures have been taken.
This is a great place to take sunset photos but keep in mind it gets insanely busy around that time. In the summer sunset is around 8:30pm so we recommend you get here around 6pm if you want to have some time before people start to line up. If you like evening/night photos, right after sunset is over everyone starts to leave.
To get there, take the main road in Oia and head all the way to the West. You will see a pathway with steps leading down to Amoudi bay. Start walking down, but not all the way to the bay. On your right you'll see some of the most beautiful views in Oia.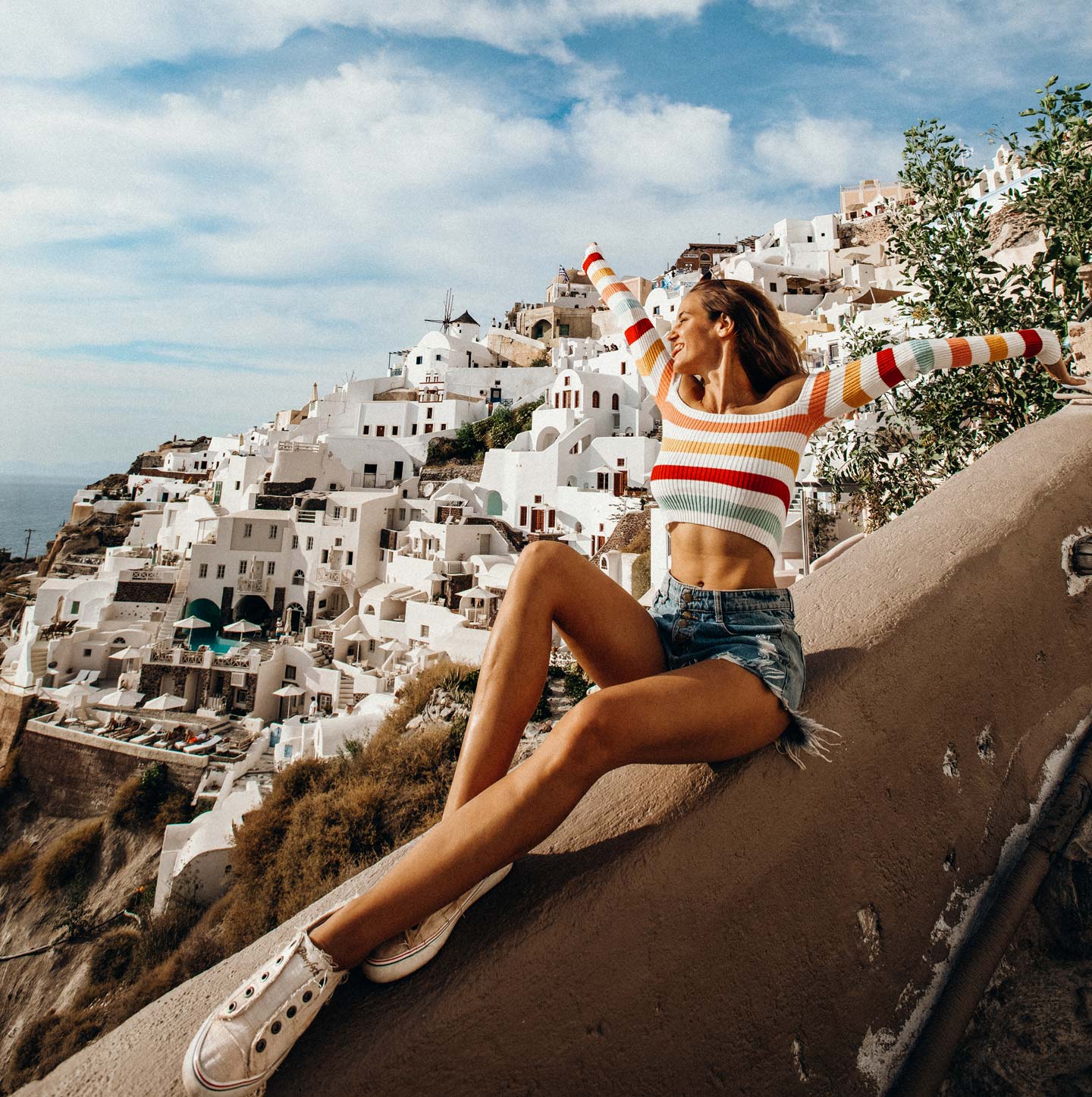 Located right next to the cliffside, this light pink/orange hued hotel is so picturesque, you've probably seen it all over Instagram. It is one of the most popular spot to take Santorini pictures. Not only is it located in prime sunset area, the view behind it is also incredible. Be sure to stop by earlier during the day as it gets extremely crowded around sunset.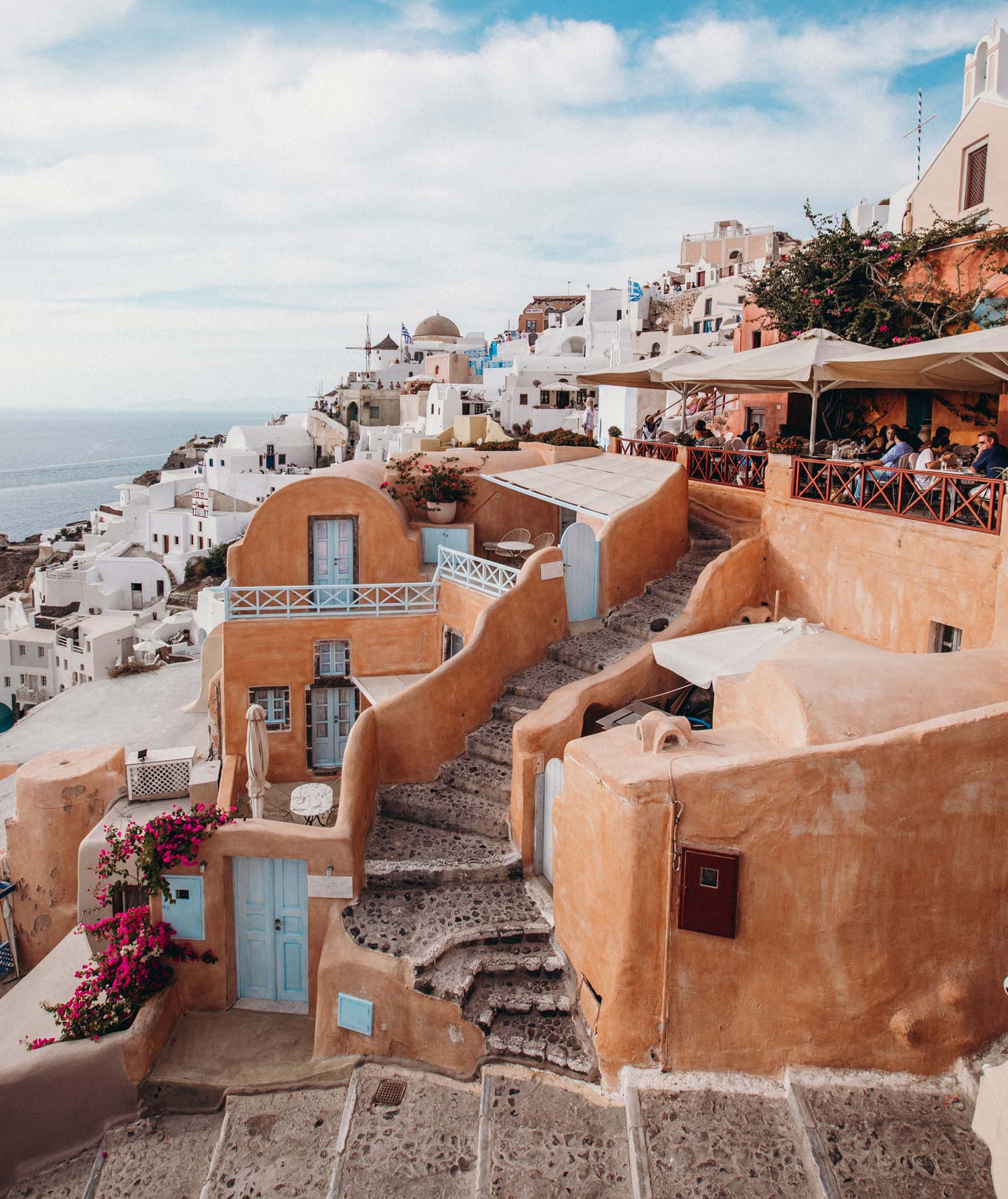 3. Anastasis Church
The blue domes of Anstasis Church are probably the most recognizable domes in Greece. Countless of Instagram photos are taken at these famous Santorini spots every year. There are two famous spots to take photos here – with entrances on each side of the church.
When you're facing the water, the right side is closed off as it is a private area. But if you can get permission from the owners you might be able to shoot. This is where we took one of our favorite photos in Santorini below. Check the map at the end of this article and zoom in until you find our marker for Anastasis Church for the exact location where we took the photo.
The left side is a little more open to the public but there is always a line of people there waiting to take a picture. Your best bet is to get there very early in the morning. There will still be a line, just a lot shorter 🙂 on the map below, this side is marked as the "Three Domes of Santorini".


4. Oia Windmills
There are two windmills on the Western side of Oia that attract crowds of spectators in the evening. These are some of the most famous Instagram photo spots in Santorini. Watching the sun set behind them is truly a magical experience. Of course, if you are not looking for a sunset picture, this spot is a lot less crowded during the day.
5. Steps To Art
Just below this cute little art store, you will find a few quite picturesque spots that are never crowded. When you get to the store head down the steps on the public paths. You can turn either right or left, there are beautiful spots on every corner here. Be careful not to trespass or enter any fenced off areas as there are a lot of quite expensive luxury hotels here that are never amused with trespassers.

6. Sunset
Anywhere on the Western side of Oia is as beautiful as it gets during sunset. After all, that's the reason why so many people don't mind getting completely crowded out to watch it.
When you get to the Western part of the town near Kastro House, if you turn left you can walk to the Oia castle remains. It's a very popular spot to watch the sunset from and that's why people start lining up there early. From this spot you will get the most unobstructed view of the sunset. You can see the ruins on the furthest left side of the picture below, at the top of the cliff, where a lot of people have already gathered for sunset.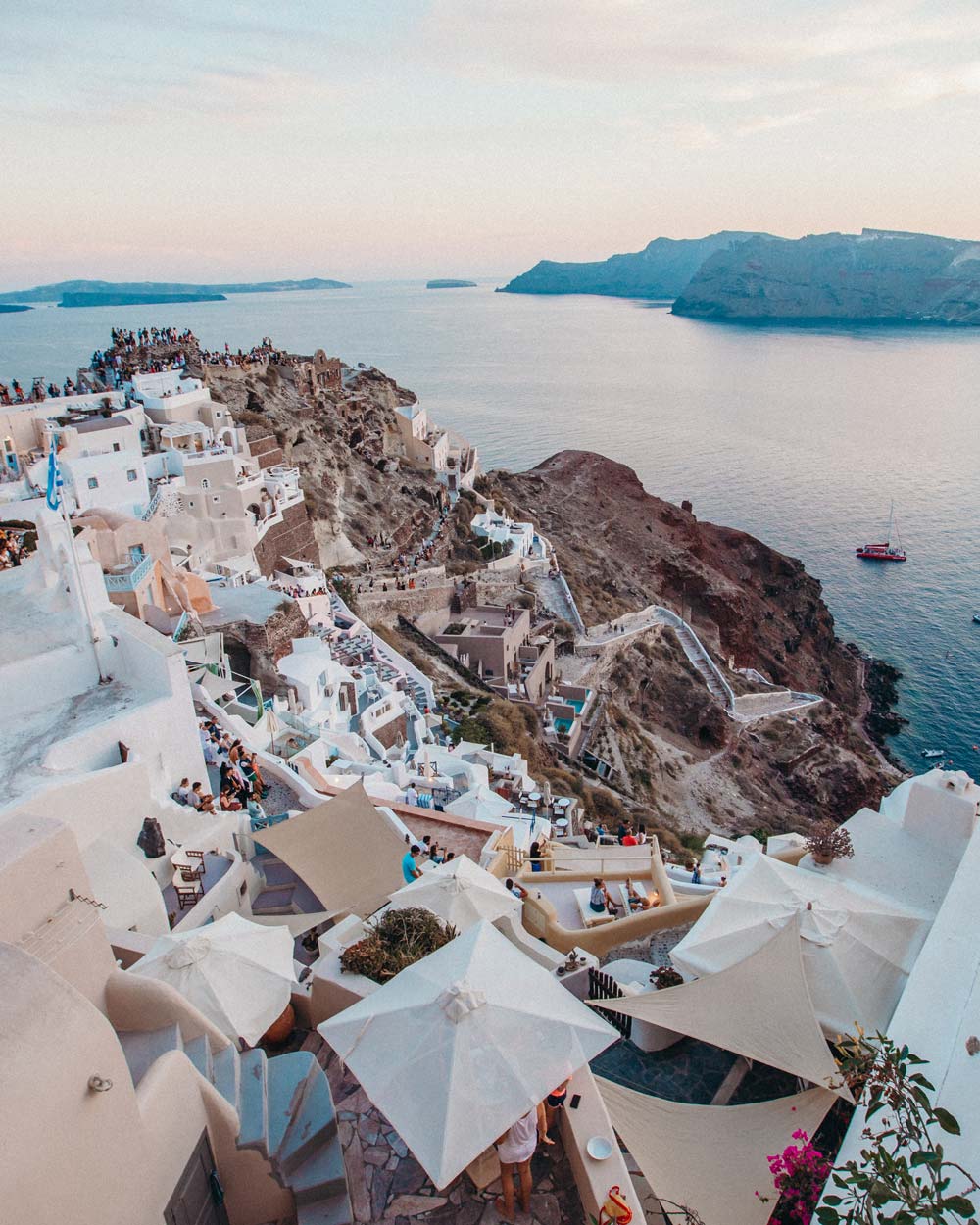 Map Of Famous Santorini Photo Spots
For those of you who are not great with directions (like Katerina ;)) we have built a custom map with all the best photo spots in Oia, Santorini. Each location is marked with the exact spot and the picture we took there!
Tip: if you change the Base Map to Terrain, you can see exactly which alley you need to take to get to the right spot. Enjoy 🙂
Our Tips On Taking The Best Santorini Pictures
Wake up and shoot early if crowds are an issue for you. This is more important here than anywhere else. Even if tourists are still asleep there are always other photographers trying to capture a people-free shot.
Restaurants and cafes with views of the caldera are in demand so it's a good idea to make reservations in advance if you are planning to shoot from there.
Popular Instagram spots in Santorini are great but try to venture on your own too! There's so much to explore in Oia. The main streets always look so busy but as soon as you go into the smaller pathways you will find plenty of spots all for yourself.
You'll probably be there in the summer so it is usually very hot outside. Find good shade to cover between photos, put on a hat and don't forget your water.
If Oia is not your style, or you feel like there are way too many people. Go to Imerovigli! We fell in love with this little town and took awesome photos there too. The sunsets are just as beautiful and way less crowded!
Don't climb on churches and hotel rooftops! Respect people's privacy and the place.
Get a tripod – Santorini is such a romantic place, couple pictures look better. Here are our tips for taking great couple pictures and camera settings for shooting with a tripod.
LIKE THIS POST? SAVE IT ON PINTEREST!