So, where should you stay in Santorini?
If you already read our list of things we loved and hated about Santorini, you probably know we loved Oia but would not recommend booking your accommodation there. Oia is the main attraction on the island and the most popular town but it has a few drawbacks – higher prices, lack of privacy and the crowds, just to name a few.
Our recommendation is to stay in Imerovigli – it takes about 25min by car to get to Oia from here and you get the same stunning views of the caldera (and arguably even better sunsets), a more relaxed vibe and a lot less tourists.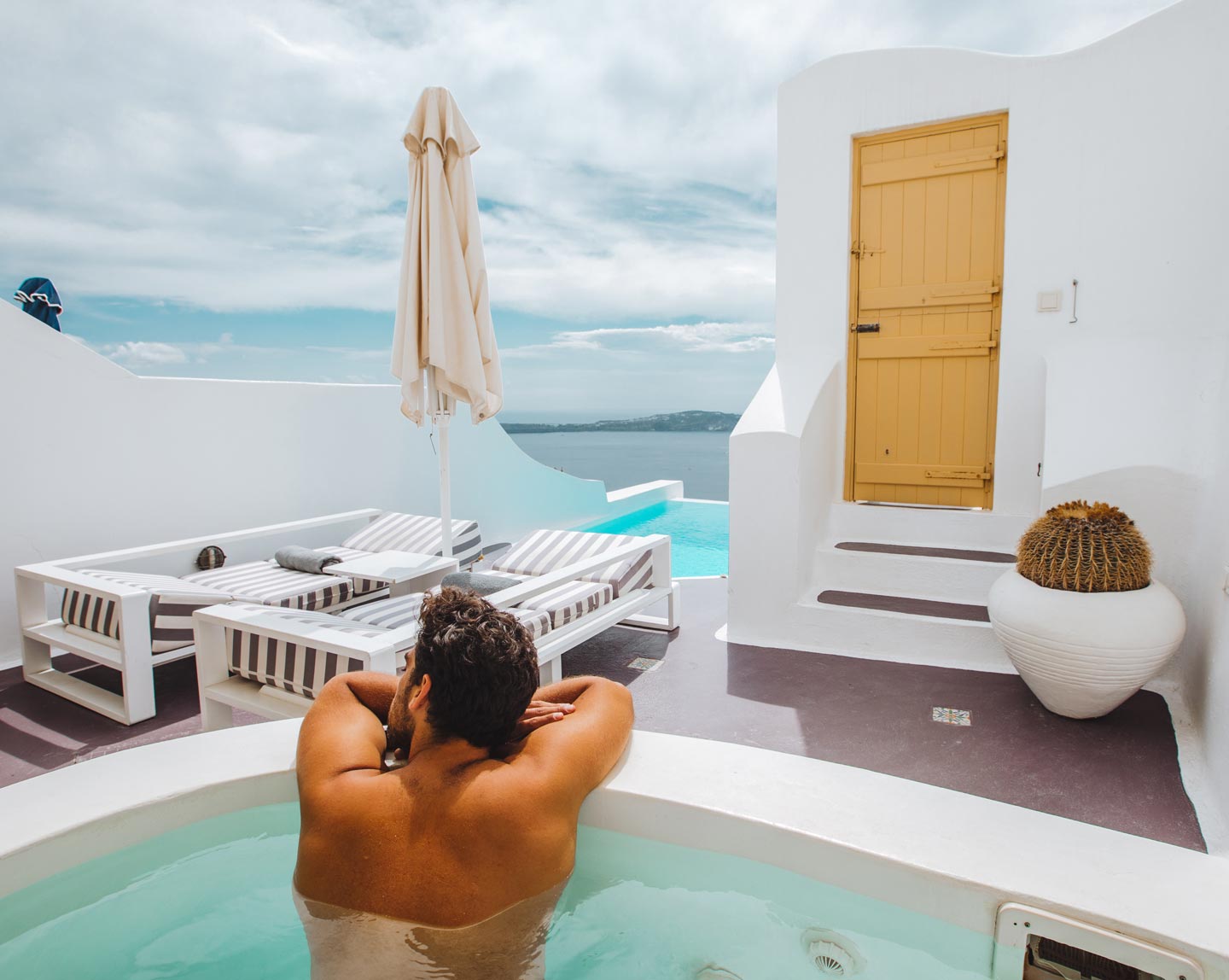 We arrived at Dreams Luxury Suites in the afternoon and got checked in pretty quickly. The blindingly white cave houses set against the other-worldly views of the aegean sea stunned us. We had the Orfeas suite – a little slice of paradise with a private pool and an outdoor jacuzzi. It's so quiet that you can hear your own steps and it feels like they echo across the entire caldera.
The Rooms
The hotel consists of just 6 suites, originally built more than 100 years ago and renovated recently to preserve the original cave-house charm, so you get your quiet and privacy while also enjoying top-notch amenities. The hotel's style is the perfect mix of traditional and modern but with an exclusive feel. It offers privacy and tranquility and excellent service. The combination of cozy and intimate interior and expansive views of the sea hit just the right spot for a romantic getaway.
The Food
There is no hotel restaurant but we did not feel like we needed it. The hotel is just steps away from so many amazing places to eat in Imerovigli and we often had lunch and dinner at Oia anyway. At Dreams, every day you get to pick what you'd like for breakfast the following day from a varied menu consisting of traditional greek yogurt and some international breakfast staples. The food was delicious and fresh and it was delivered to our suite at a pre-selected time so we got to enjoy it by the pool before we started our day.
What We Loved
Some of the best views of the volcano on the island, especially at sunset
Privacy and quiet, exclusive feel due to the small size of the hotel
Proximity to the center of Imerovigli, restaurants, bars, etc.
The outdoor jacuzzi
Free parking
Not too many stairs to climb, which is rare on this Island
Friendly staff and great service (bonus – a few of them were Bulgarian :))
Visiting In September
The high season in Greece is the months of June through August. This is our first time visiting Greece in September so we do have some observations. It is amazing how quickly the weather changes into fall mode – August is usually pretty hot but just a couple of weeks into September you can already feel the difference. It is by no means cold, the temperature is still around 25-27 degrees Celsius. I would even say it's actually the perfect weather as it does not get too hot even when it's sunny and you can still enjoy the pool. You should still bring a sweater for the evening though. The weather was sunny the entire time we were there.
LIKE THIS POST? SAVE IT ON PINTEREST!