There are six districts in Venice—each with its own charm. Here are our top recommendations on where to stay in Venice including the best neighborhoods and hotels.
A trip to Venice is like stepping back into a time that no longer exists, which is one of the main reasons why we love coming back here. A few years ago we identified the main characteristics of European towns that make us love a particular place. It's a combination of old & new that hits just the right spot for us:
A charming old town that makes you feel like you are being teleported back in time and a lively evening atmosphere with lots of trendy bars and restaurants bustling with young people.
It's a balance that is not that easy to strike but Venice nails it, which is perhaps why this city continues to fascinate romantics and academics alike.
Venice is spread throughout 118 small islands that are separated by winding canals and connected by around 400 bridges. It is easy to get lost in its narrow alleys, but that's part of its unique charm.
So don't be at all intimidated—just dive right in!
More than 150 canals crisscross the Floating City. The Grand Canal is the artery of Venice, and several smaller canals radiate away from it.
Since the city's buildings are densely packed and separated from the water only by narrow paths, there are no cars and other vehicles. The iconic gondolas, Vaporettos (water buses), Traghettis (ferries), and water taxis are the primary modes of transportation around Venice.
Keep that in mind when searching for accommodation as water taxis can be very expensive. If your hotel is far from transportation hubs, you might end up having to drag your luggage around the uneven alleys of Venice.
With an annual footfall of over 22 million tourists, accommodation in Venice tends to be tremendously expensive. The rates are moderate in low season but swell up to two to three times in summer and during Venice Carnival. You might even find it hard to find a place of your choice in a popular neighborhood in the high season.
Make sure you book a hotel near a vaporetto station for an easy commute to the attractions of Venice. Here are some tips about the best neighborhoods to stay in Venice. We have also prepared a list of our favorite accommodations, depending on your budget.
The San Marco district is the prime tourist area of Venice, around which the Grand Canal bends. Additionally, the district encompasses San Giorgio Maggiore Island. Being the major tourist hub of Venice, San Marco is abundant with shops, hotels and restaurant. They also tend to be significantly pricier in comparison to other areas.
The district bursts with tourists in the peak season. Despite being rather small, the San Marco district features numerous top Venetian tourist attractions such as the Doge's Palace, the Saint Mark's Basilica, La Fenice (Venice's Opera House), the Bridge of Sighs and the Palazzo Fortuny.
Where To Stay In San Marco
We stayed in this neighborhood on our last trip to Venice and we enjoyed it so much! It feels a lot less touristy than the rest of the city and it allowed us to feel the more authentic vibe of Venice. You can wander around the narrow alleys with nothing but the sound of your own footsteps around, walk into a church or an old bookstore, or just sit by a canal and watch as the gondolas pass by. And you can really see how true Venetians live here.
And if you want to observe a secret Venetian tradition – head to Chiesa di San Canciano and find the little bridge over Rio dei S. S. Apostoli. You can't miss it, it's right next to a beautiful pink building with flowers on the windows.
Hang out here for a bit and watch the locals cross the bridge. You will notice that they touch a couple of metal hooks hanging on the walls for good luck! We heard different explanations as to why they do this. One of them was that the hooks were used to hang human bodies after the executions on San Marco but nowadays people touch them for good luck.
Now you know how to act like a Venetian in Cannaregio!
This neighborhood also boasts some of Venice's gems – Ca d'Oro, Cannaregio Canal (the second-largest Venetian canal and the former main route into the town) and the Santa Maria dei Miracoli Church. Lista di Spagna and Strada Nova are some of the major areas of the district.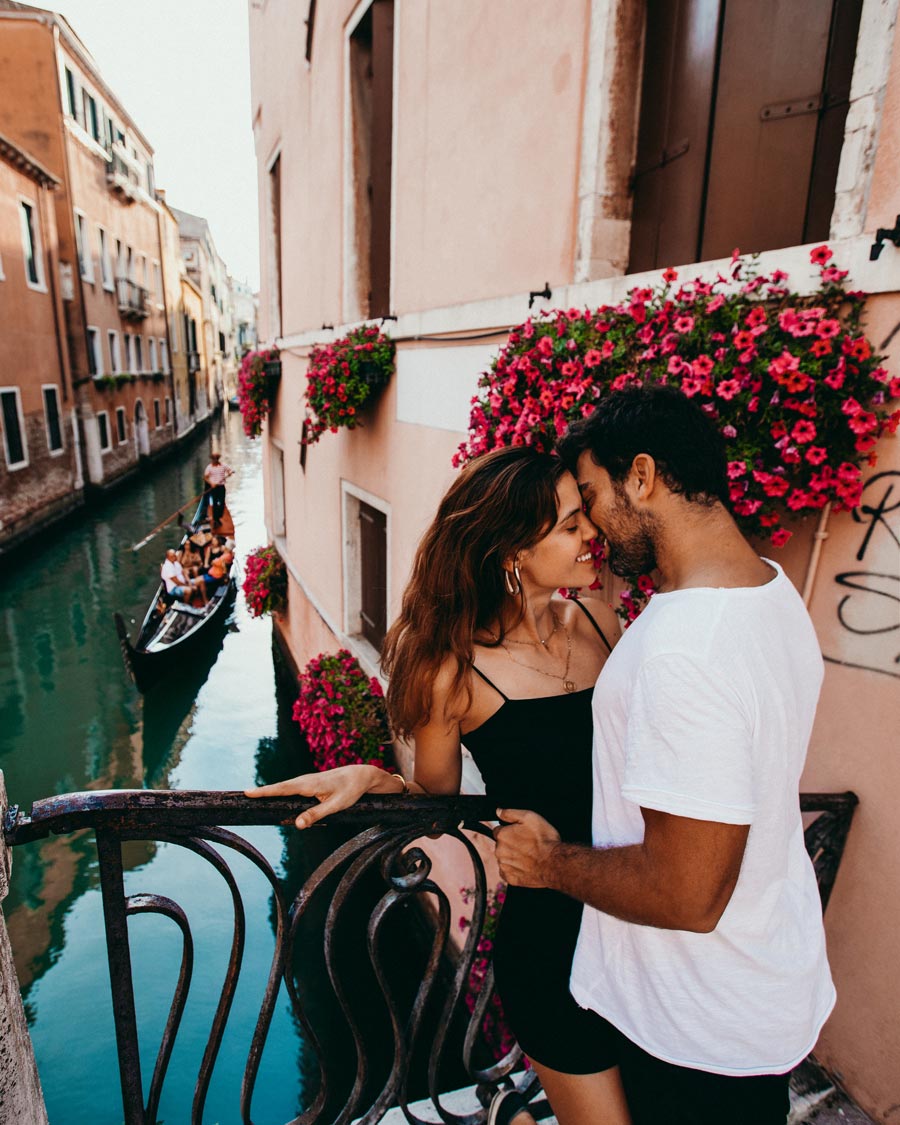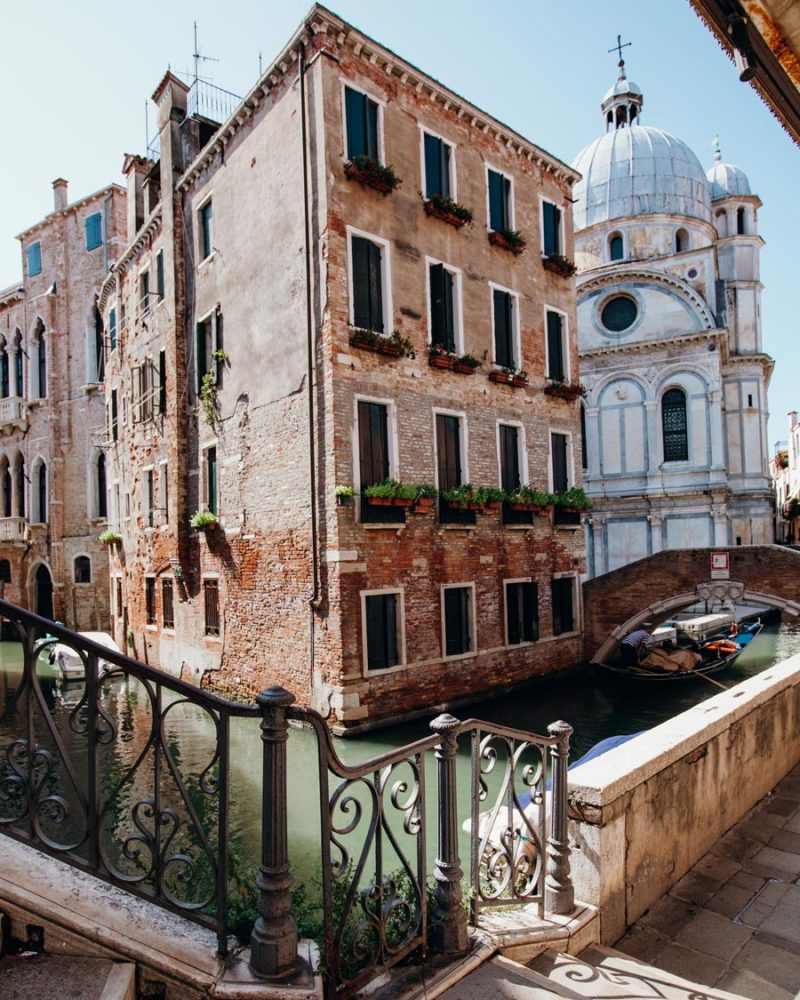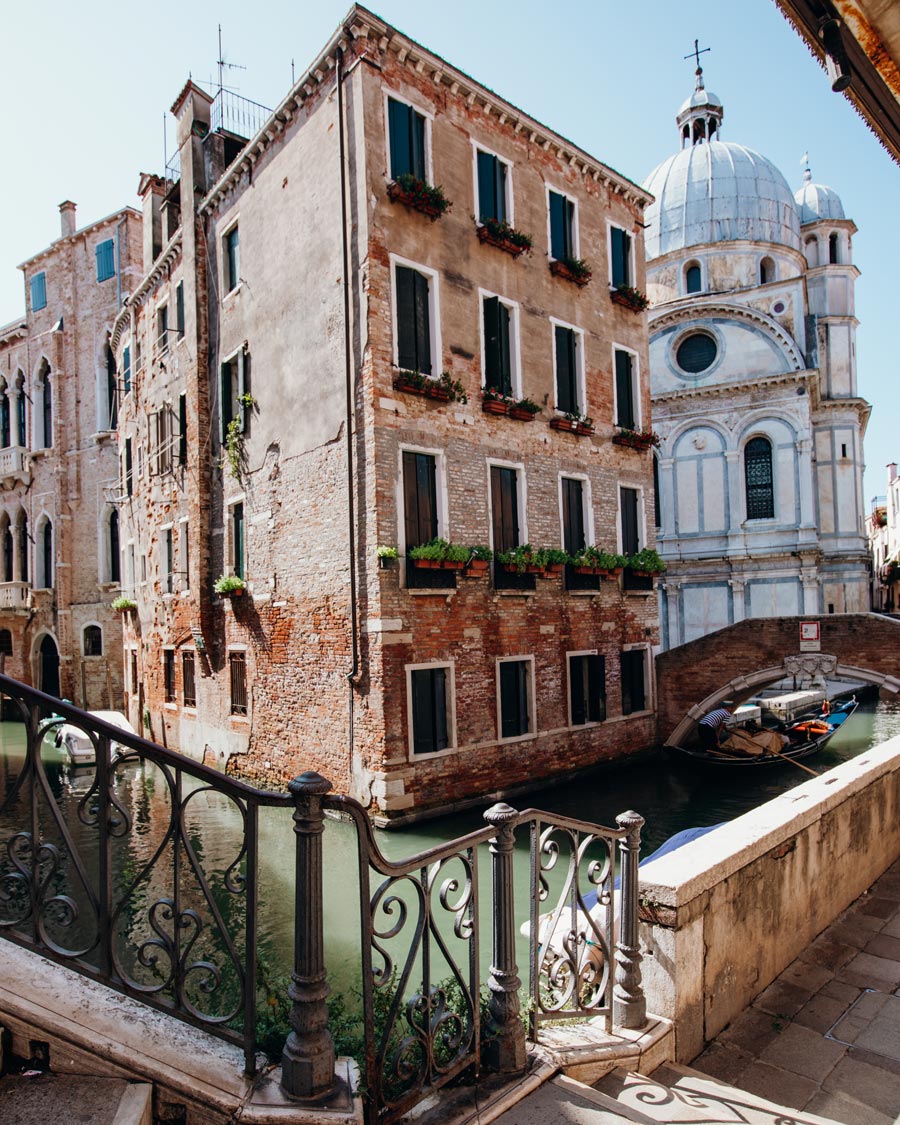 Where To Stay In Cannaregio
Hotel San Geremia.

This is a budget-friendly hotel located around 20 minutes away from the St. Mark's Square by vaporetto and within walking distance from the Rialto Bridge.
Boscolo House. Before being one of the most renowned hotels in Venice, this hotel hosted a monastery, as well as the embassies of France and Savoy. Beautiful marbles, majestic chandeliers, and antique frescoes help you immerse yourself in a magical atmosphere.

Ca' Sagredo Hotel.

Located in a 15th-century palace and declared a National Monument. Its rooms and suites, many with views of the Grand Canal, will transport you to another era.
Al Ponte Antico. This hotel has classic Venetian-style rooms and suites with exquisite brocade, tapestries, bathtubs, minibars, and views of the Grand Canal and the Rialto Bridge.
Palazzo Abadessa. This is a 500-year-old vintage hotel with original furniture, frescoed ceilings, silk furnishings, and a private garden.
The Castello district extends eastward from the tourist center to the public gardens. It is the largest Venetian district, and certainly the most varied. The western part of Castello protrudes into the main tourist area of Venice with some of the most appealing architectural and cultural examples of the former republic. In contrast, the eastern part is mostly residential, with locals outnumbering tourists most of the time.
Some of the top attractions you are going to find in Castello are Arsenale, Museo Storico Navale (the Maritime Museum), the Santi Giovanni e Paulo Church (one of the most important religious structures in Venice) and the San Zaccaria Church.
Where To Stay In Castello
San Polo is another small district of Venice, located across the Grand Canal from San Marco. The San Polo district is famous for its fruit and vegetable markets, churches in its western part, and palaces in the eastern. The district is named after the San Polo Church and boasts the Campo San Polo – the second largest square in Venice.
Major points of interest here are the Rialto Bridge, the Santa Maria Gloriosa dei Frari Church and the Scuola Grande di San Rocco. Along the Grand Canal you will find the famous and historical Rialto markets, where you can find fresh fish, fruits, and vegetables.
Where To Stay In San Polo
Oltre Il Giardino

. With olive, magnolia, and pomegranates trees in its garden, having breakfast outdoors in summer is quite an experience at this bed and breakfast.

Palazzetto Madonna

. This Renaissance-style hotel is located in one of the quieter neighborhoods of Venice away from the buzzing crowds but still close to a vaporetto stop.

Riva del Vin Boutique Hotel

. Overlooking the Grand canal, this 3-star boutique hotel offers a comfortable stay with amenities like work desks, electric kettles, in-room dining, and dishwashers.

H10 Palazzo Canova

. This place is a stone's throw distance from the Rialto Bridge, and its highlight is the La Terrazza Bar, which offers spectacular views of Venice.
The Santa Croce district is the only neighborhood of Venice that you can approach by car. Since the bus terminus is located at the Piazzale Roma, Santa Croce is what most tourists first experience after arrival in Venice. Aside from that, the area is mostly residential.
The majority of hotels in this area are located along the Grand Canal and around the Piazzale Roma. Some of the major tourist attractions of Santa Croce are the San Simeon Piccolo Church, Palazzo Mocenigo (exhibition space of historical costumes), Ca' Pesaro (the Modern Art Museum), and the very old San Giacomo dell' Orio Church.
Where To Stay In Santa Croce
The Dorsoduro district is night owls' favorite neighborhood, featuring a lot of bars that operate during late hours in Venice. Additionally, it is the most artistic Venetian district, with a couple of the most magnificent art displays in the city. If Acqua alta isn't what you would like to experience first-hand, certainly stay in Dorsoduro, which occupies the highest point on land in Venice.
Major tourist points of interest are the Accademia (one of Venice's best art galleries), Santa Maria Della Salute Church, Ca' Rezzonico, Peggy Guggenheim Collection (the modern art display), Redentore Church and the San Sebastiano Church. In addition, you can find most picturesque Venetian palaces and canals in the Dorsoduro neighborhood.
Where To Stay In Dorsoduro
Axel Hotel. Located just a few steps from Basilica di Santa Maria della Salute, this hotel offers beautiful spacious rooms, tasteful decor and buffet breakfast.

Sina Centurion Palace

. This hotel offers bright rooms and suites with luxurious contemporary interiors and Venetian touches. It also boasts wooden beamed ceilings, and polished gold sheets in the bathrooms and minibars.

Ca Maria Adele

. This is an impressive 12-room boutique hotel with an intimate and romantic atmosphere, located in the quiet art neighborhood.
Moresco Hotel. One of its most striking features of this hotel is its hidden garden where you can enjoy a romantic breakfast in this isolated oasis.
Hotel Palazzo Stern. This is one of the few places to stay in Venice that, despite its location on the Grand Canal, offers relatively affordable prices.

Ca' Pisani Hotel

. Located in the quiet Dorsoduro neighborhood, a stone's throw from the famous Ponte dell'Accademia on the other side of San Marco, this small jewel of a hotel provides the taste of authentic Venice.
No matter where you choose to stay, you will undoubtedly uncover just a small portion of what Venice has to offer on your first visit. But don't worry – it's just a good reason to come back again! The city has so many layers and soooo many secrets, it will leave you satiated and hungry for more at the same time.
We hope you enjoy Venice as much as we do!