'Aita pea pea' – Bora Bora's life philosophy. Directly translated, it means 'not to worry'. The locals explain it as go with the flow and enjoy life at a slower pace. Isn't that exactly what you need on your honeymoon? While in Bora Bora, we fell in love with this philosophy. Take in the beautiful surroundings, leave our worries behind and simply enjoy each other and what Bora Bora has to offer.
Typically after the stress of planning a wedding and the actual day itself, you want your honeymoon to be worry-free with someone else taking care of all the details for you. Coming to Bora Bora did not disappoint. No matter where you go or where you stay you'll feel the spirit of 'Aita pea pea' and enjoy that slow relaxing island life.
What's A Bora Bora Honeymoon Like?
There are pictures littered all over the internet of Bora Bora, but what does a Bora Bora honeymoon really look like? Well, picture relaxing by the pool, getting pampered tropical island style, spa treatments, romantic breakfast setups by the beach, and barely leaving the hotel because all your needs are met. All this, with the backdrop of Mt. Otemanu, surrounded by a turquoise lagoon, colorful tropical fish, and beautiful overwater bungalows encircled by a coral reef. Not to mention the friendly French Polynesian culture and of course the yummy french-inspired Pacific Islander cuisine.
That's not to say there is nothing to do outside of the hotel. There are snorkeling tours, shark and stingray close encounter experience, whale watching, exploring the main island and many more things to do if you are more of an explorer when you travel.
But overall the draw of a Bora Bora honeymoon is getting pampered and enjoying the nature around you. So if you're looking for a tranquil luxurious honeymoon where everything is at your fingertips, this is it!
Outdoor Activities
Snorkel With Sharks, Stingrays & Whales
Arguably one of the coolest experiences on the island is swimming with all the different sea creatures. Tours typically take you for a boat ride around Bora Bora, stop to snorkel with different kinds of (harmless!) sharks like lemon sharks and black-tip reef sharks, feed stingrays, swim with mantas and snorkel at one of the many locations with coral and colorful fish swimming around. If you find yourself in the right season (August – October), you can also swim with whales!
You can either pre-book a tour online or ask the concierge at your hotel to help you book this experience.
Snorkel at Matira Beach
Bora Bora is home to multiple coral gardens, shark species and tropical fish that will delight even the most picky snorkelers and divers out there. The calm waters, warm sea temperatures and being surrounded by colorful fish will enchant you into never wanting to leave the water.
Matira Beach is one of the best places to snorkel on the island. It's the only place where you can actually walk out to the reef from the beach and snorkel right away. It's also considered the most beautiful beach on the island.
There are two main spots to go snorkeling. We recommend heading to the most northern tip of the beach there are mature coral heads there so there is plenty to see. Once you're ready for a change, stroll down to the east side of the beach to the most southern tip. From there you can swim out to the northern edge of the barrier reef where you'll find hundreds of fish species all unique in their own way.
You can take a taxi or shuttle bus to Matira Beach from the main dock of Bora Bora.
Or… Snorkel Steps From Your Hotel Room
If you don't really want to leave the hotel, don't worry! Most luxury hotels in Bora Bora have their own coral lagoons. Granted, some hotel lagoons are better than others. Some hotels have inner lagoonariums (natural aquarium) that they've created, whereas others are lucky enough to have natural coral gardens close by. Some hotels are even doing coral regeneration programs.
The lagoon at The Four Seasons Bora Bora is top-notch and they even have an in-house marine biologist to answer all your questions. The Conrad Bora Bora Nui has colorful coral heads right under its overwater bungalows so it is considered one of the best on the island. Some other hotels that have great lagoons are Pearl Beach Resort and Sofitel Bora Bora Private Island. We found the Intercontinental Thalasso lagoon wasn't as impressive.
And if you're planning to stop by Mo'orea as well the Hilton Mo'orea bungalows are practically built on top of a coral reef! We had some of our coolest snorkeling experiences here. And in the evening you can have dinner at one of their restaurants over the reef while watching sharks and stingrays swim by underneath you.
Take A Scenic Helicopter Tour
What better way to soak in all that Bora Bora has to offer than to take a helicopter ride around the islands? Seeing Bora Bora from a bird's-eye view is just an otherworldly experience.
Tours can be taken privately or in groups and can take anywhere from 10mins to 30mins depending on the package you choose. You'll circle the different mountain tops, fly over the reefs that surround the islands and try your hand at spotting the silhouettes of sharks, whales and other marine life. The pilot even provides commentary to give you more context on local heritage and the landscape you're flying over. Manawa tour operator is just one of the few companies that provide this service.
Take a water taxi from your hotel to Bora Bora Island to begin the adventure.
Rent A Bicycle
When you're ready to leave your cocoon, take a boat ride to Bora Bora Island and rent bicycles. Bora Bora has a paved coastal road encompassing the island which is about 20 miles long. It's an easy bike ride that will take you through small fishing villages, ancient Polynesian temples and scenic lookout points. The whole activity can take up to 4 hours which leaves you plenty of time to get back to your bungalow to enjoy a romantic sunset.
There are bicycle rentals around Matira Beach area.
How About Mo'orea?
Of the the 118 islands in French Polynesia, Bora Bora is by far the most famous. Mo'orea comes a close second. When visiting French Polynesia, a lot of honeymooners will split their time between Bora Bora and Mo'orea.
While Mo'orea beaches are not as impressive as Bora Bora, there are plenty of other things to do there. Mo'orea is great for hiking, scenic drives around the 8 mountain ridges and generally has more adventurous activities. It's a great balance to the first half of your trip, which is focused on pampering yourselves and deep relaxation. Mo'orea can add some unforgettable memories to the latter half of your honeymoon.
Hike to Belvedere lookout for sunset, go on an ATV tour to Magic Mountain, swim with hump back whales, or check out the Mo'orea dolphin center. These are just some of the top attractions in Mo'orea.
The highlight of Mo'orea for us was definitely the Hilton Mo'orea. The overwater bungalows are right above a coral reef! Every time we walked outside of our room we'd stop and look at the colorful fish swimming by. There would occasionally be a stingray or a small shark, which always got us even more excited. Not to mention the convenience of walking out to your bungalow's wooden deck and swimming right into the coral reef.
Bora Bora Honeymoon Packages
You can eliminate the stress of planning your honeymoon altogether by opting to purchase a pre-set honeymoon package. Tahiti Tourisme is a company that offers different honeymoon packages with an array of options from different islands, to number of days, adventure packages or VIP packages. There is something for every honeymoon couple here.
Packages range from $2,500 per person up to $14,400 per person. Keep in mind most of these packages might not include airfare.
Pacificislands.com is another company that provides honeymoon packages. This company provides more packages that include trips to Fiji, New Zealand and even Australia. A package to visit Fiji, New Zealand, Tahiti and Bora Bora start from $6,000 for the both of you (includes inter-airfare only).
Why We Chose Bora Bora As Our Honeymoon Destination
After traveling for so long, we noticed something that we didn't necessarily find everywhere. The complete immersion of nature, with the luxuries of a 5 star hotel. Admittedly, we aren't huge outdoor people. And after traveling full time for years, bopping from one adventure to another, we really needed a slow-pace, luxurious getaway.
But like everyone, we can appreciate nature in all its glory when we visit a place that is as stunningly beautiful as Bora Bora. Staying in The Four Seasons overwater bungalows you're as close to nature as you can be, with the comfortability of a plush bed and oversized bathtub waiting for you. Not to mention you feel like you stepped right into a postcard from the moment you get to reception.
I'm sure you can understand now why we wanted our honeymoon to be in Bora Bora. It was somewhere comfortable that we could cocoon ourselves in a beautiful hotel room, eat delicious food, have nature right at our door step and plenty of fun activities. Bora Bora ticked all those boxes and more. Choosing Bora Bora as our honeymoon destination was one of the best decision we made as newly weds.
Things To Consider
The time of year you're planning your Bora Bora honeymoon should be factored in. The weather in Bora Bora is ideal majority of the year with temps between 76°F to 87°F. Try to avoid the wet season, which runs from November through April. You might get an hour or two of showers during the day and sun the rest of the day. But you might also get non-stop rain if you get unlucky.
Consider planning your honeymoon during the off seasons. You'll get more privacy, hotel rates a lower and the activities or tours you do will be less crowded. Avoid the European holiday influx from June to August and the American one from mid December to mid January.
There are also some activities, like whale-watching, that won't be available all year round. Be sure to check what activities are available during your stay before booking your trip.
Make sure to book flights and hotel rooms well in advance. This way you'll have more room options to choose from, and better options of direct flights from SFO or LAX.
Read more about the best time to visit and how to reach Bora Bora here.
Where We Stayed
We decided to stay at two different motu's (islands) during our honeymoon. Given it was our honeymoon, we wanted our first stay to be at the most romantic hotel on the island – The Four Seasons. They offer a romantic honeymoon package that includes breakfast in bed delivered by a canoe followed by a spa treatment. Or if you want something more active, they will arrange a variety of water adventures such as sunset cruises, snorkeling or even scuba diving. This hotel is one of the most romantic places to spend your honeymoon.
The Four Seasons also has a honeymoon wishes registry. This is where your friends and family can contribute to the various activities you do on your honeymoon. What we love about this idea is that you get to enjoy a new activity on your honeymoon while thinking about the friends and family who contributed!
Our second stay was at the InterContinental Bora Bora Thalasso. Almost everywhere around the hotel you'll find beautiful views of Mount Pahia and Mount Otemanu. The InterContinental only offers over water bungalow suites. There are also free water taxis that shuttle guests between the two InterContinental properties which allowed for more dining options and facilities to enjoy. We particularly loved the romantic private dining options that are provided.
The InterContinental also offers a honeymoon gift registry for honeymooners to enjoy activities paid by loved ones. Overall, the hotel had competitive pricing compared to other hotels on the island whilst maintaining their high-end reputation. But keep in mind the atmosphere here can be a little more family-oriented rather than romantic couples getaway.
We finished our trip with a few days at the Hilton Mo'orea, where we spent most of our days snorkeling in the lagoon and taking up more adventurous activities. It was the perfect way to end the trip!
Overall Experience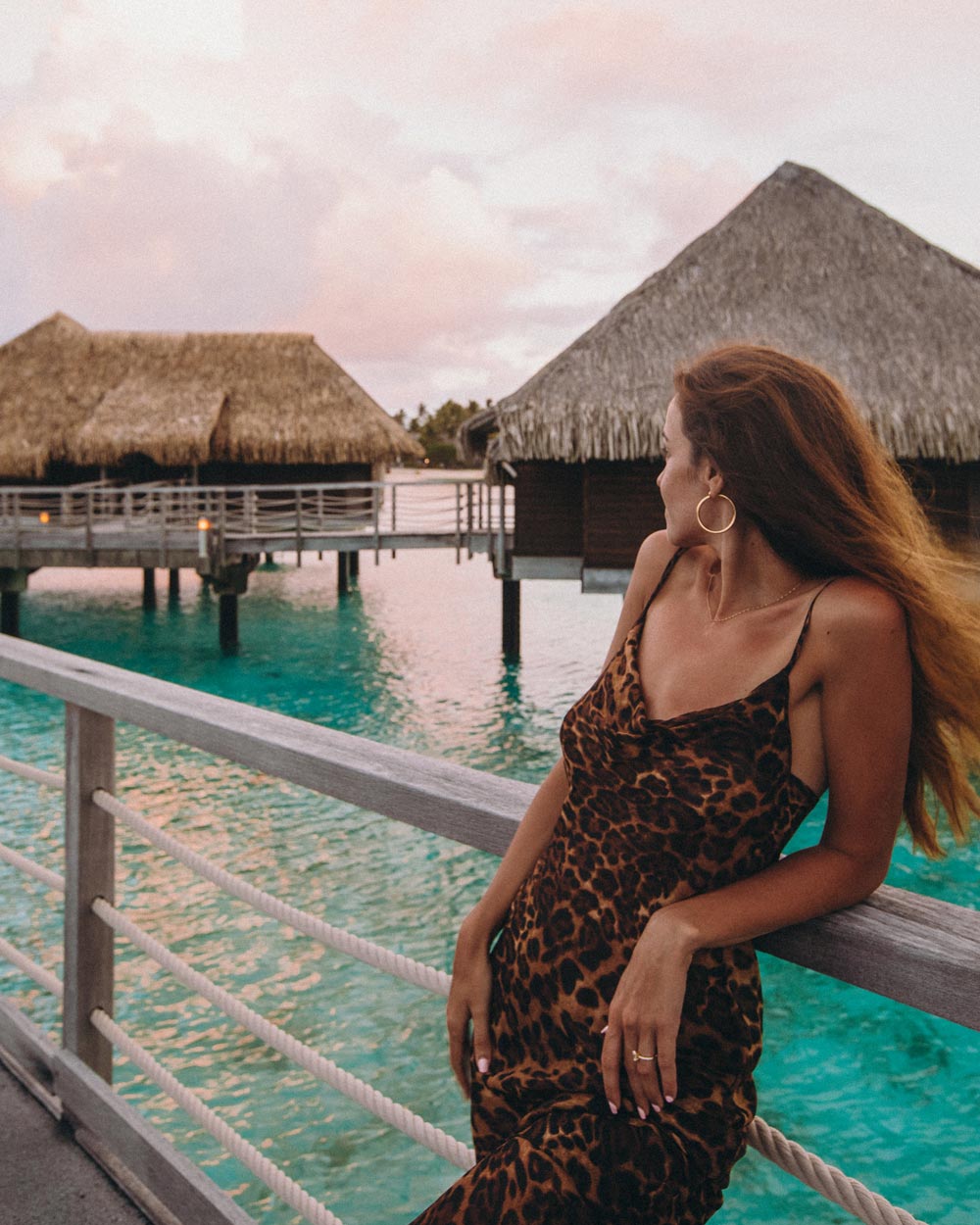 Even with all our travels, we still dream of going back to Bora Bora. It truly exceeded all our honeymoon expectations. The entire island exudes romance and exotic tranquility. From the stunning natural beauty, world-class service, activities and picturesque environment, we made so many magical memories. Bora Bora will always have a special place in our hearts!