Our Guide To Jaipur, India
Our trip to India was by far the most memorable for us over the past year, and Jaipur played a big part in that. Why?
Because Jaipur strikes just the right balance of authentic India and tourist-friendly India. We loved the combination of lots of tourist attractions but not too touristy vibe. You can have an authentic experience, interact with locals and really get immersed in the everyday life of Jaipur. Yet, you still have enough infrastructure and spots that cater to foreigners as to not feel completely isolated in an unfamiliar land.
The first thing you need to know about this city will also tell you a lot about Indian hospitality. Jaipur was named the "pink city" in 1876 when the Maharaja ordered it colored in pink to welcome the Prince of Wales. Every building's facade was painted in pink as it is the color of hospitality in India. Guests are really treated with a different level of respect in India. Read our tips on traveling to India for the first time here to learn more about the culture of this fascinating country.
We visited in December as the winter allows for milder temperatures and a relief from the scorching summer heat. The best time to visit Rajasthan is from November to March when temperatures are more moderate. Days can still get up to 25 degrees, and nights as low as 5 degrees.
We were also surprised by how easy it was to get around everywhere. You can use Uber or Ola (the local version) or explore the city like a local and hail a rickshaw. Just make sure you negotiate the price before getting in!
There's even a new railway station that recently opened up. You can now take a 5 hour train from New Delhi to Jaipur instead of flying. But due to the rising pollution levels in Delhi at the time of our visit, we chose to fly into Mumbai and connect to Jaipur through there.
How Long To Stay In Jaipur
There is A LOT to see in Jaipur – it is really one of the most dynamic cities in India. From the colorful city gates and markets, to the fortresses, various palaces and monuments and the cool little cafes… You can easily spend 10 days here and have something new to do every day – that's what we did! But if you have a tighter schedule, you would also be ok with 3-5 nights.
So here's our rundown of all the interesting places we enjoyed visiting in Jaipur!
You'd be surprised at how affordable hotels in India are, and especially in Jaipur. For around $30-$50 per night you will be able to find a decent 3-star hotel and for around $100/night you can sleep very comfortably at a 4-star hotel. Of course, there are also high-end options where you will be treaded as a king.
We recommend you stay a little outside of the old city of Jaipur, where City Palace and Hawa Mahal are located. It might be the area closest to most attractions, but it's also much louder and more stressful than staying just a little bit outside the Pink City gates. We stayed mostly in an area called Banipark and enjoyed going back to our quiet area after a busy day in the city centre.
Here are our hotel recommendations for Jaipur, India:
City Palace is located right in the middle of the old city of Jaipur so it's easy to find. It is open daily from 9:30am – 5:00pm and entry fee is 300 INR for foreigners. This gives you access to the outdoor areas of the palace, which includes the Chandra Mahal and the famous Peacock and Lotus Gates. For an additional 3,500 INR you can also tour the inside of the palace, which includes the Blue Room.
Hours: 9:30am – 5:00pm
Entry Fee: 300 INR for outdoor area, 3,500 for indoor area
You also have the option to stay at the City Palace and feel like a Maharaja (if you can afford it) for the modest price of $8,000 a night on Airbnb!! If you are not on Airbnb yet, sign up here and get $60 off your first booking.
We chose to do just the outside tour as we didn't have too much time and were mostly interested in the outdoor architecture. City Palace is one of the most popular spots in Jaipur so get here in the morning if you want to avoid the crowds. It's also less busy in the last hour before it closes so that's a great time to visit too.
After City Palace, hail a rickshaw and head to Hawa Mahal. The two sights are located very close to each other which makes it easy to combine them into one day.
Hawa Mahal or the Wind Palace was first built in 1799, and then later colored pink in 1876 with the rest of the city. It is located at Badi Chaupar, also known as the Big Square in Jaipur's old city. We usually took an Uber from our hotel, but you can also just book a rickshaw or hail one on the street.
Hours: 9:00am – 5:30pm
Entry Fee: 200 INR
After taking in the architecture, we went to the back of the palace where the visitor entrance is located to begin our tour. Hawa Mahal is open daily from 9:00 – 5:30pm. There's even a little museum that you can visit after exploring the palace itself. The admission price is 200 INR. You can opt to get a guided tour or an audio tour for an extra cost.
The palace was originally designated for the royal women to peak out of the windows and watch everyday life and festivities in the city without being seen. As we strolled the long narrow corridors, we admired all the motifs and details. We found ourselves peaking out the windows ourselves, imagining what it would have been like to watch life in the city through a tiny window more than 200 years ago. We got to see amazing views over Jantar Mantar and the City Palace on one side and Sireh Deori Bazaar on the other!
How To Get The Best View
One of the best ways to see the Hawa Mahal is from the outside as you can admire the gorgeous honeycomb architecture from the front. The two cafes that offer the perfect view right across the street are Wind View Cafe and Tattoo Cafe. Have a snack and a delicious fruit lassi drink while enjoying this magnificent view or snapping some insta-worthy photos. The palace is equally gorgeous day and night. But it looks just magical right around sunset when the dim evening lights bring out the beauty of its intricate details.
Be sure to take a look at the busy streets below and feel mesmerized by the seemingly chaotic everyday life of Jaipur. There is something charming about the endless traffic. The familiar friendly street honking, with the occasional elephants passing by and the never-ending bargaining at the colorful street stalls below – we could sit and watch for hours! Beware of the monkeys though. They like to climb up to the cafe balconies and grab a drink or snack from an unsuspecting tourist. Stay away from them as they can be dangerous, as cute as they look!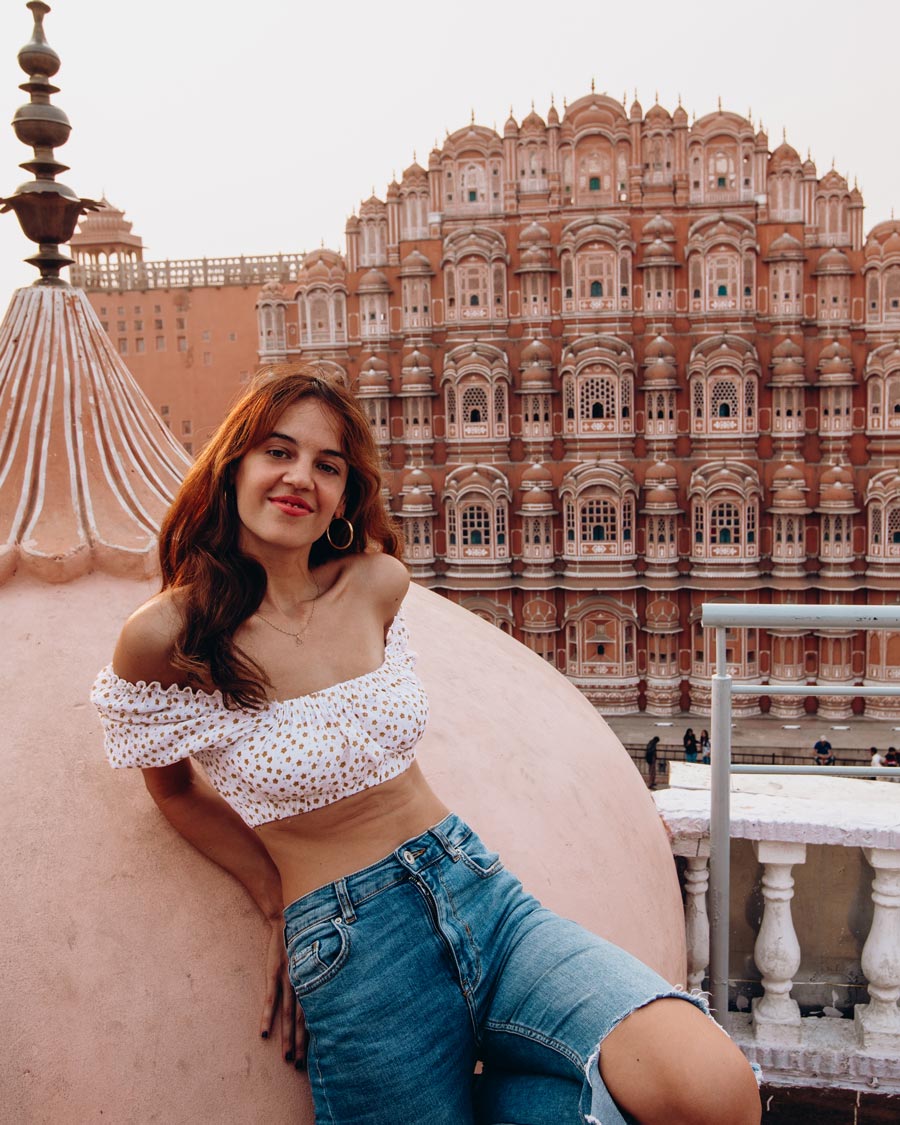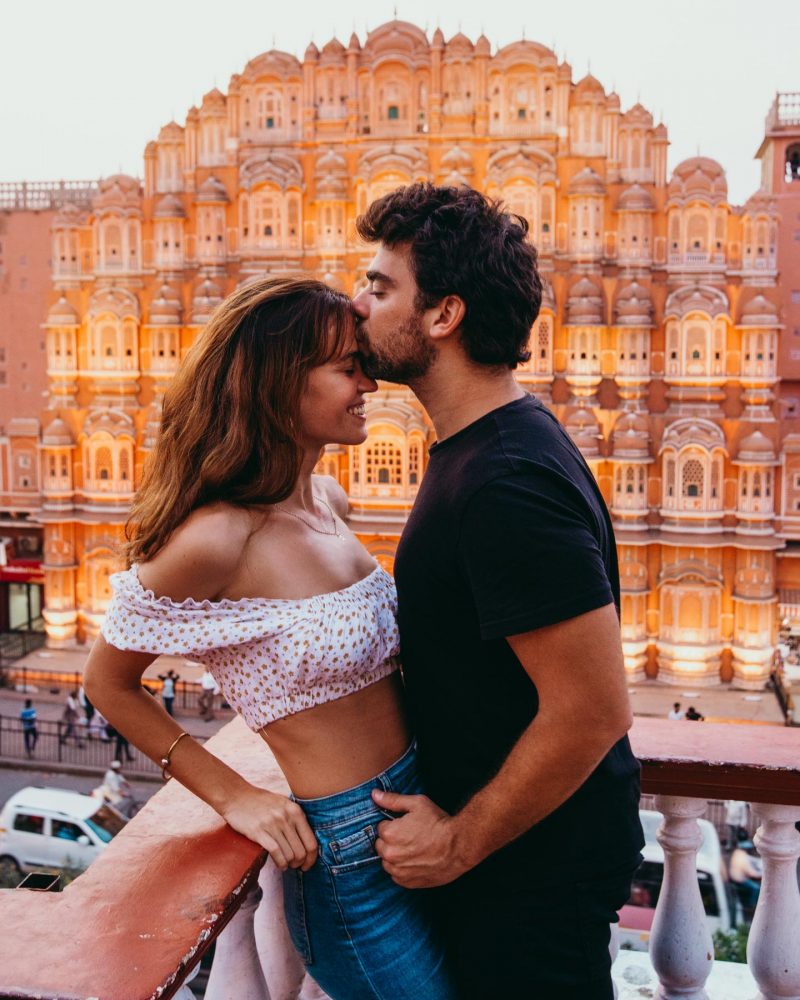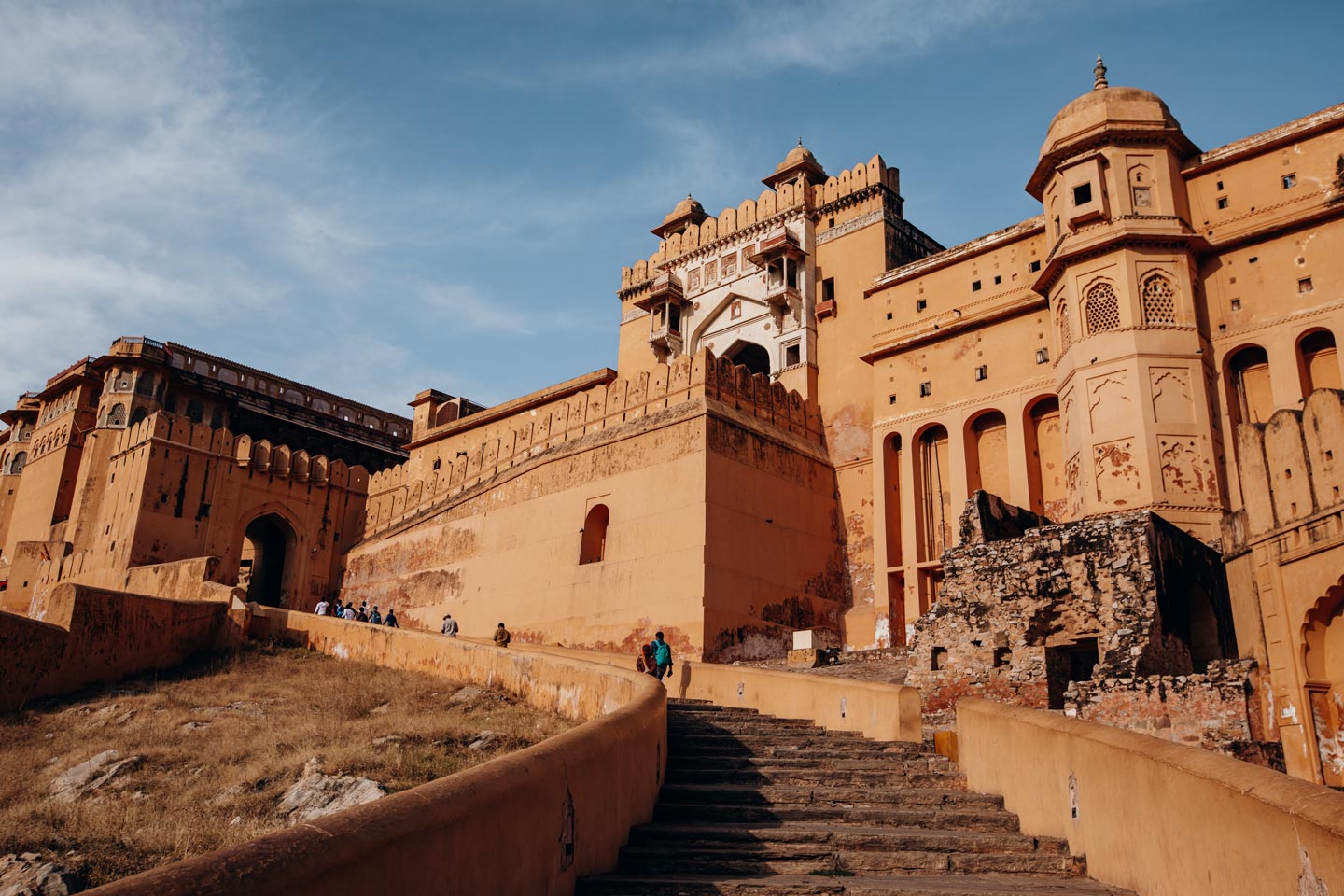 Cradled on the top of the Aravali Hills, Amber Fort is only 11 km from Jaipur's centre. There are a couple of options to get there. Rickshaws can cost up to 500 INR return trip. We recommend you take a taxi/Uber as it is a longer ride, which can be stressful in a rickshaw due to the loud chaotic traffic. A taxi can cost up to 900 INR
The fort is nestled on top of a hill, so be prepared for a 10-minute hike to get to the front entrance. There is an option to ride an elephant to the fort. Unfortunately, quite a few tourists were taking advantage of it when we visited. We are firmly against riding elephants for any reason, so we chose to hike up. It's a very easy hike so you don't really need to think about other options 🙂
Hours: 8:00am – 6:00pm, evening show between 7:00-9:00pm
Entry Fee: 200 INR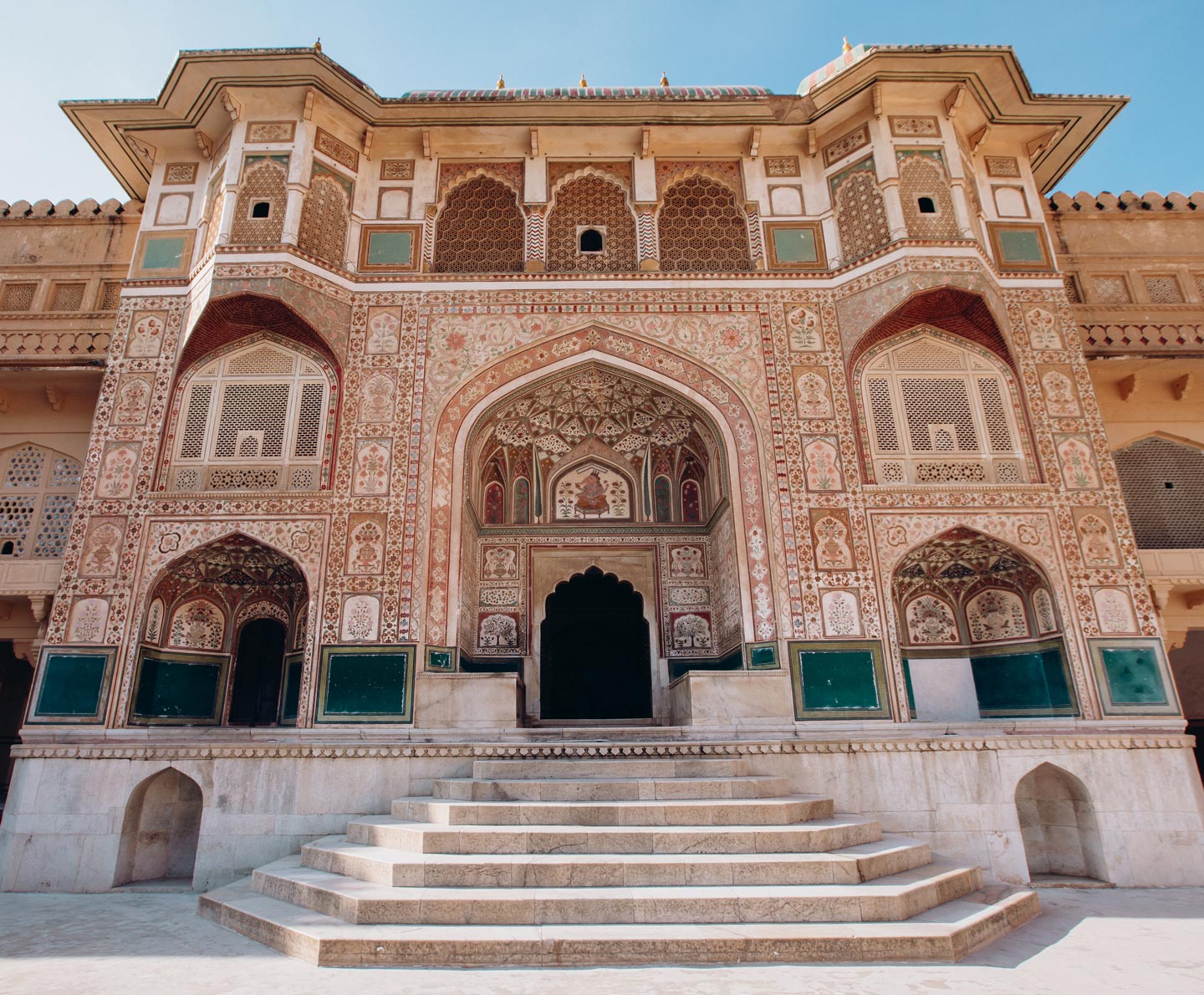 Upon arrival, you're greeted with pink and yellow sandstone and the stunning Suraj Pol (Sun Gate) that then leads you into the main courtyard. The fort is open daily from 8am – 6pm and the fee is 200 INR per person for foreigners. You can also come for the nighttime experience between 7 – 9pm daily, which includes a light and sound show. We visited during the day as it gave us the most time to explore and take pictures. Try to get there before 9am if you are looking to take a photo at the famous main entrance. It gets pretty busy after that.
Amber Fort really took our breath away. Its architecture is an interesting mix of Hindi and Muslim influence. There are so many maze-like passages, blind alleys, grand staircases and secret little rooms that you could spend a whole day here exploring. The fort was built in such a confusing way to allow enough time for its inhabitants to run and hide in the case of an enemy invasion.
For those reasons it might make sense to hire a guide here to walk you through all the important parts and teach you all the fascinating history. We preferred to explore on our own and, of course, got lost quite a few times, but it was fun!
Be sure not to miss Jai Mandir also known as the Hall of Victory to fully enjoy the palace's intricate architecture. And, more than anything, make sure you look for the secret queen balcony! This beautiful room was built to allow the queen to watch the outside world without being seen. It is a little difficult to find but the search is so worth it!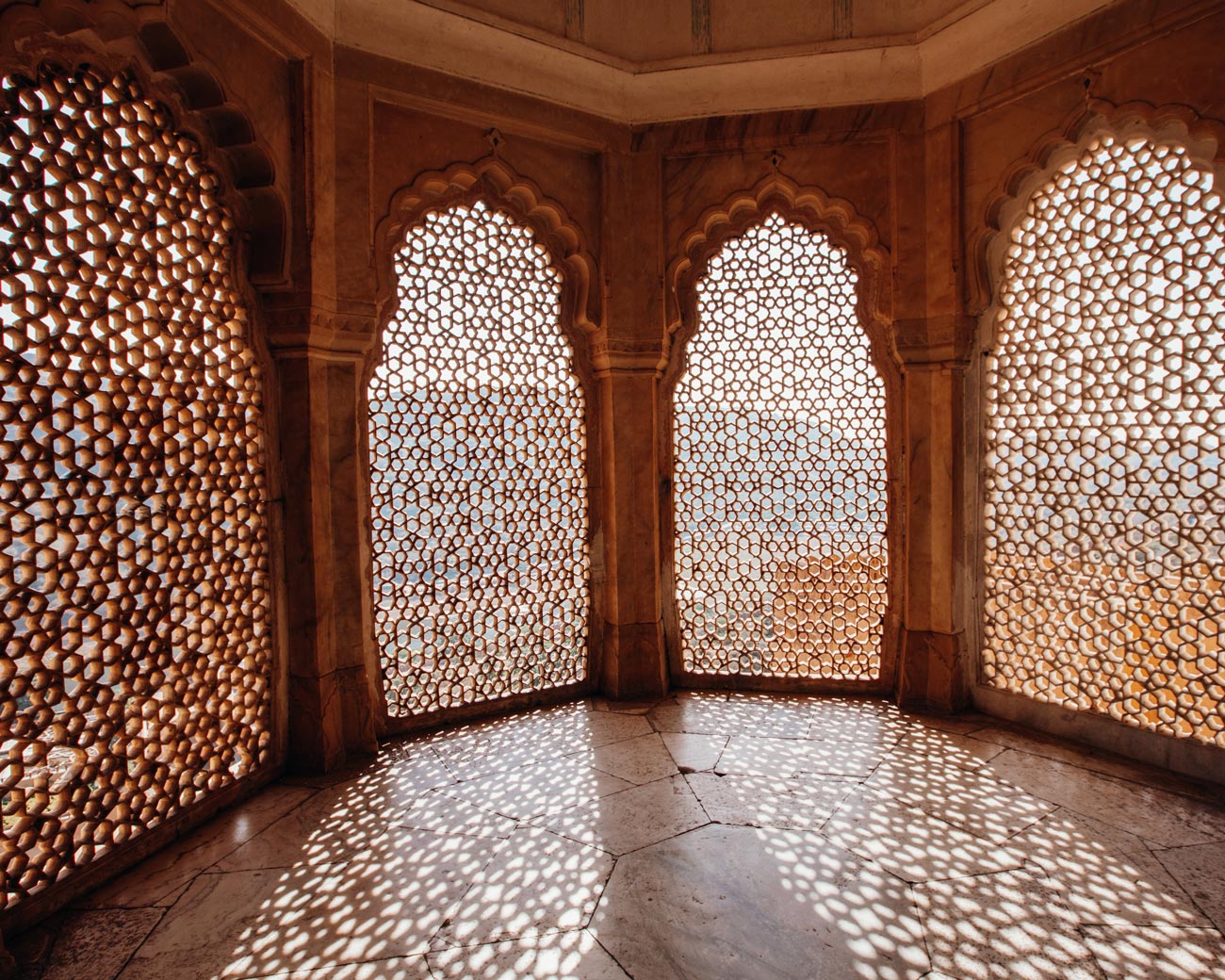 The old city of Jaipur was built based on the principles of Vaastu Shastra – and Indian twist on feng shui. It was originally surrounded by a wall with 7 gates. In later years Sawai Man Singh built an 8th gate and in 2016 Patrika Gate became the 9th gate of Jaipur.
Exploring all the beautiful old gates of Jaipur is fun, but Patrkia Gate is interesting in a different way. Unlike the other gates, this one has a little more modern architecture and the space around it is more open. There is a lovely square and park right behind it where young people gather around to hang out, take some cute pictures and just have a nice time. We came back here more than once not just because of the gate, but also just to hang out in this open space and get away from the noise and stress of the old city.
Patrika Gate is around 30 minutes outside the city centre and accessible by all forms of transportation. You can take public transportation from nearly anywhere in the city centre to Patrika Gate or take a taxi if you want to be more comfortable.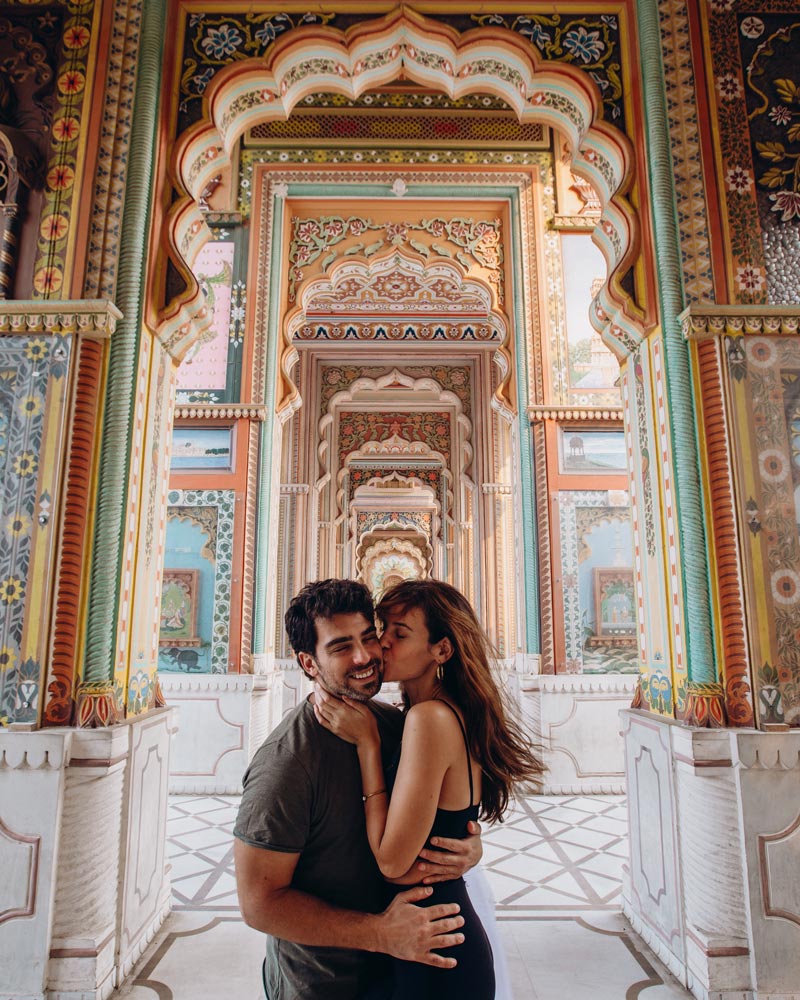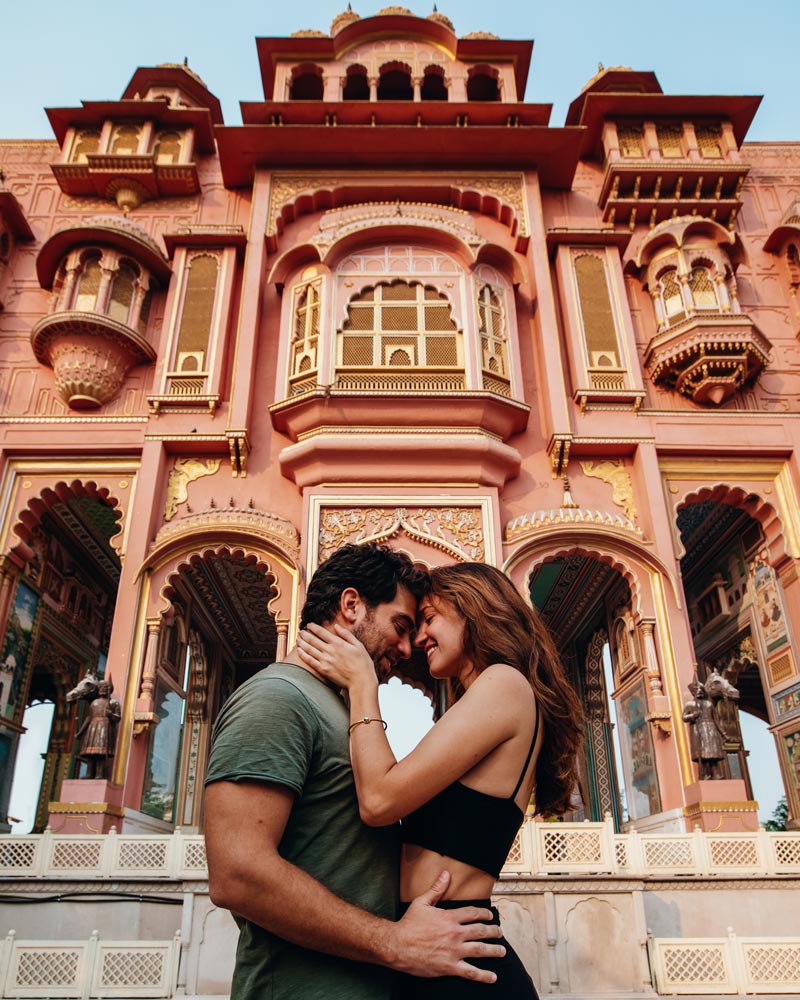 Patrika Gate is open to the public 24 hours a day, 7 days a week. There is no entry fee.
If visiting Patrika Gate during the day is not enough for you, come back at night for the light and water show every evening at 7pm. Blend in with the locals and spend an evening enjoying a nice selection of local food and drink stalls.
Hours: 10:00am – 5:00pm
Entry Fee: 30 INR
We wouldn't typically put a complex of temples and tombs in the same sentence as romantic. But this complex is a charming little spot in Jaipur to run away from the crowds and enjoy a little quiet and spirituality. It's a 20 minute drive outside of the main city centre of Jaipur and only costs 30 INR to enter. It's open daily from 10am – 5pm.
Gaitor Ki Chhatriyan (or Royal Gaitor) is surrounded by lush green hills nestled in the foothills of the Nahargarh Fort. It is not one of the main tourist attractions of Jaipur so it's more quiet than other places. You will get to take in the beauty of Indian architecture in peace.
You only need about an hour here, so we suggest grouping this visit with Nahargarh Fort. We went in the afternoon as the crowds were dying down, early mornings are also less crowded too.
Nahargarh is one of 3 forts in the city. It's located on a ridge just north of the city centre about 6km away. It's also on the same road to another fort called Jaigarh Fort. Admittedly Amber fort is a lot more grandeur, but don't let that make you overlook Nahargrah Fort. This fort has the perfect location for stunning sunrise and sunset views of the entire city.
The fort is open daily from 10am – 5:30pm and costs 200 INR for the main palace part.
Getting to the entrance of the fort is a little challenging with only two options available. An uphill 30min hike that starts near the Nahargarh Palace Hotel. Take Nahargarh road from the Old City to get there. The hike can get tiring though! So if you don't want to hike, you can take the windy drive that starts from Kanak Ghati. Full disclosure, the drive is a little scary due to the amount of bends on the road. We opted to hike!
In the fort, there is a lot to keep you occupied. We learned about the fort's history, marveled at the architecture and had a meal at one of the restaurants overlooking Jaipur. Nahargarh Fort is a popular shooting spot around sunset and sunrise due to its expansive views of the city.
The bazaars of Jaipur (and India in general) were easily our favorite place to hang out. The explosion of colors, smells, sounds and tastes was always something we looked forward to. But more than anything, we loved the dynamic experiences each visit to the markets brought us. You might get stopped by a local and hear their life story, you might find a really delicious snack or buy some interesting jewelry you won't find anywhere else around the world, a monkey might come out of nowhere and snatch your drink… there's always something interesting happening at the markets!
There are 3 main markets in the old town of Jaipur – Bapu, Nehru and Johri Bazaar – and they are all next to each other. You could easily explore all 3 if you have the time, but we loved Bapu Bazaar the most. The vibe here felt the most authentic and the prices were not too inflated for tourists. Here you can find colorful sarees, footwear, kurtas (traditional Indian male clothing), fabrics, souvenirs, jewelry, bags and purses.
On our first day of walking around Jaipur Katerina was so inspired by the colorful traditional Indian clothing women were wearing that she really wanted to buy a saree. We found her the perfect dark red saree in Bapu Bazaar and she even got a quick lesson on how to drape it herself. Be sure not to spend more than around 1,500 INR for a saree here. The shop owners might try to charge you more as a tourist but the price for locals is actually around 500 INR, so do negotiate down.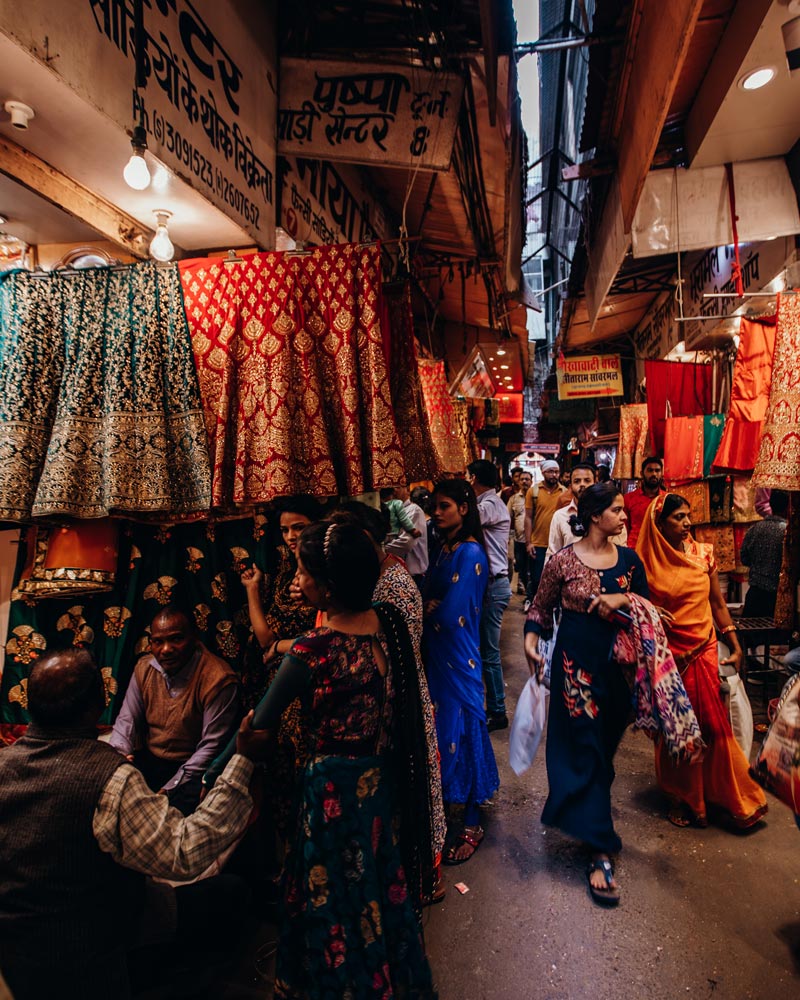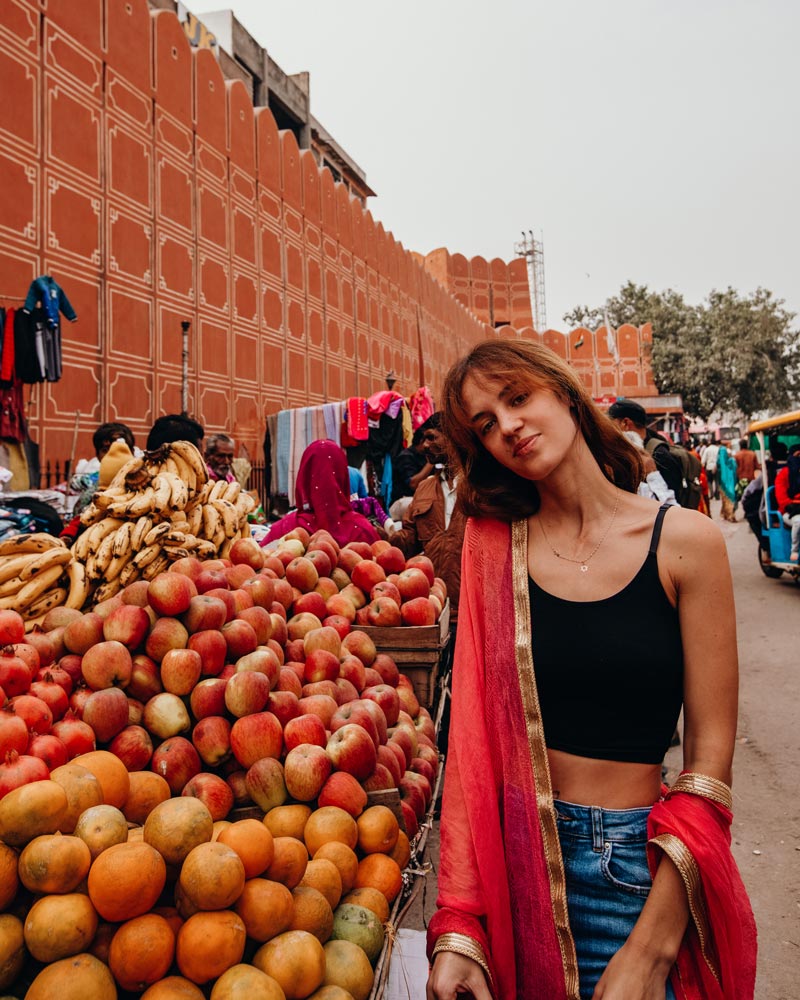 You could easily spend the entire day here sifting through tables of trinkets and costume jewelry. We also found some maang tikkas (head jewelry) and beautiful cuffs for Katerina here. The most fun part was that local women would stop as they were walking by, and help Katerina put things on or show her how to wear them.
Be sure to look around and bargain before you commit to buying something. A lot of the shops sell similar things. Some of the larger shops even shipped the goods back home for you.
India is a huge country with rich and incredibly diverse culture. If you are planning your first trip you probably don't even know where to start. We also had no idea, but it turned out Jaipur is a great place for a first India trip. We had seen pictures of Jaipur all over the place and wanted to visit that part of India for so long. Above all, we love places with rich history and culture, and even richer colors!
But Jaipur turned out to be so much more than that. There is so much to see, so many ways to experience this fascinating place and it will leave you wanting to come back. Be sure to read our tips on how to travel in India so your trip to Jaipur would be a smooth sail.