For as long as I can remember, I knew the Dead Sea as "that place where the water is so salty that it makes you float". I didn't really know why or how that worked and I've always been a great swimmer so I never thought much about it. I also knew the water there helps people with certain skin conditions or joint problems so overall it didn't sound like a very exciting place that I wanted to add to my list.
But as Yinon and I were planning to spend some time in Israel (my first time visiting his home country), we knew we had to include it in the plans. I have to admit I didn't read much about it beforehand – I assumed it's just a very salty sea so what more did I need other than a pair of bikinis??
If you are planning a trip there, let me tell you, it's one of the most interesting spots we've visited around the world. It was also the most fun we had on this entire month-long trip. But there were a few things we had to learn in order to make the most of our time there and enjoy this place safely.
This Is Not Your Typical Beach Vacation
Yes, it's called "a sea" and it can look very tropical and inviting in pictures. However, the Dead Sea is actually not a sea but a lake, and a beach here is very different from a typical beach. There is no sand, for one. The shores consist of a thick layer of crystals that are not particularly soft on your feet. Instead of cool and refreshing, the water feels thick and warm, almost a little oily from all the minerals it contains.
The Dead Sea deserves its name – the conditions here can get pretty extreme. The water is so rich in salts and minerals that it's impossible for any living thing to survive. There are no microorganisms, plants, fish, etc. in the water at all. As a result, it can also be pretty uninviting for humans as well, if you don't know how to experience it. So don't think of it as a beach vacation but more of a spa experience. This is not the kind of place where you bring your kids to play in the water while you relax on the sand with a book in hand and take a dip or two when you get too hot. After reading the tips below you'll understand why.
But there is a fun part too! The high concentration of minerals (about 30%) makes the water's density higher than that of the human body – that's why you can float easily even if you don't know how to swim. You don't need to make any effort, just lie down in the water and enjoy!! In fact, you may actually need to make an effort to get your feet to touch the bottom. People often take a picture reading a newspaper in the water – it's easy to take our hands out of the water as you don't need them to stay afloat. It is a really fun and unique experience that you need to try at least once in your life.
The minerals in the water have some healing properties too – mainly, they're great for your skin. Some of these minerals can't be found anywhere else in the world! Bathing in this water be beneficial for your skin in numerous ways, including: reduced roughness, detoxification, improved circulation; and it can also help with many conditions like psoriasis, eczema, acne, arthritis, etc.
Let's get to the most useful part!
Tip 1: It's Best To Visit In The Spring Or Fall. The best months to visit the Dead Sea are March/April and October/November. The summers in that part of Israel are extremely hot – temperatures are routinely around 40 degrees Celsius. So it is really not advisable to go between May – September. On the other hand, in the winter (December through January) the water can be too cold to swim in.
Tip 2: Best Time To Get In The Water is early in the morning before it gets too sunny and hot. Don't plan to be outside between noon to 4-5pm.
Tip 3: Protect Your Feet. Due to the layer of crystals covering the entire shore and bottom of the sea, walking in and out of the water can be challenging if you're barefoot. It might be a good idea to bring water shoes or hiking sandals to protect your feet from sharp edges. A pair of rubber flip flops would work too. Just don't bring your nice sandals.
Tip 4: Be Generous With The Sunscreen. The white crystalized salt that covers the bottom and shores of the sea reflects sunlight strongly so it can be very harsh on your skin if it's not protected. Use a good sunscreen with a high SPF and bring a hat!
Tip 5: Don't Shave. The water is so rich in minerals that they can cause you a lot of pain if you have any cuts or open wounds. Try not to shave a day or two before bathing in the Dead Sea. Think of it as putting A LOT of salt into the tiny cuts shaving can cause on your skin. Even a small cut can make you cry here.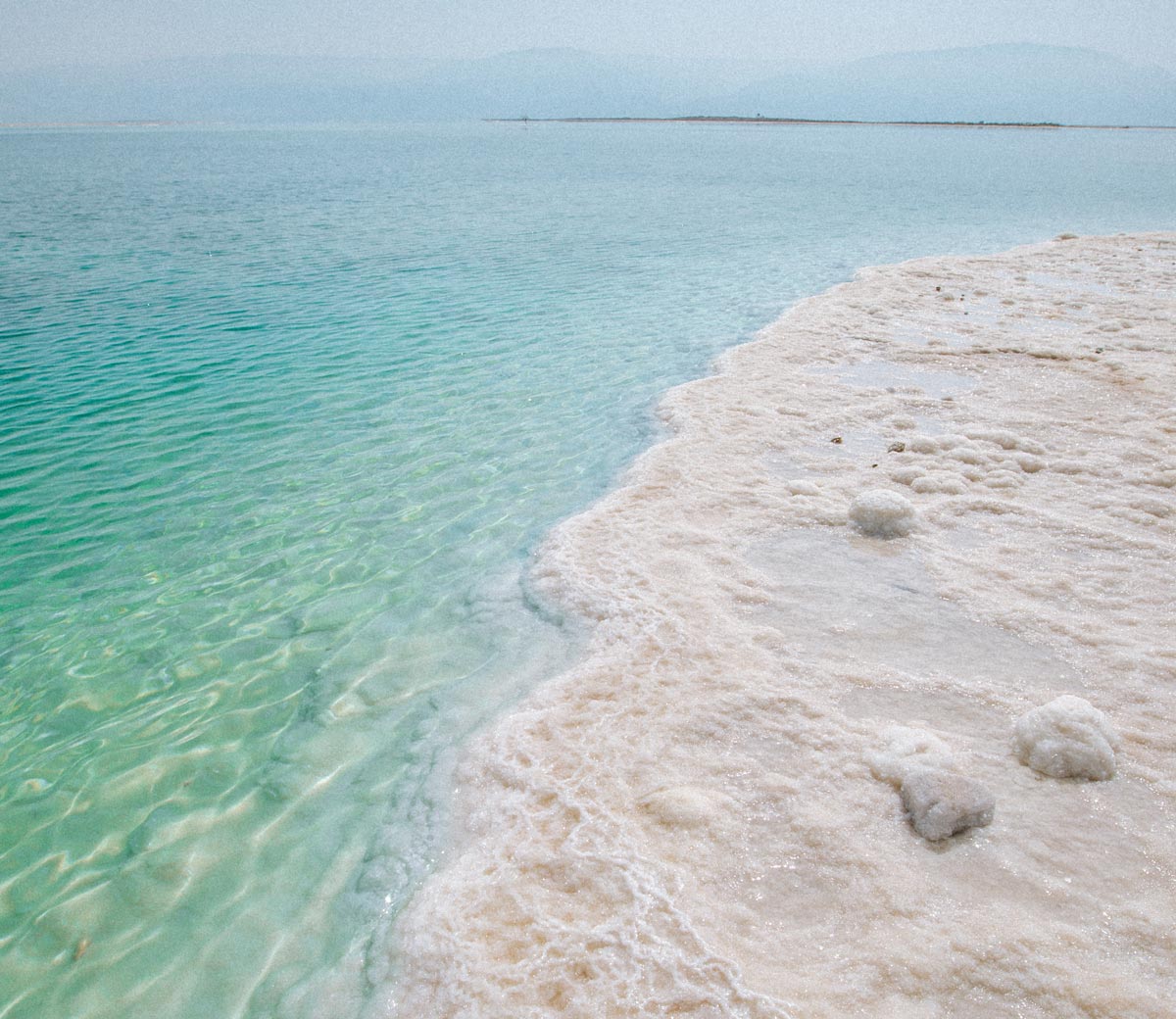 Tip 6: No Splashing. You definitely don't want to get that water in your eyes. Dead Sea water is almost 10 times saltier than that of a typical sea. So if you think getting some sea water in your eyes is unpleasant, imagine what 10 times more unpleasant feels like!!
Tip 7: Don't Swim Face Down And Definitely Don't Dive. The only safe way to swim here is on your back for the same reasons I described above. Splashing some water in your eyes can be so painful that you'll panic and have a hard time getting out of the water. Don't get your face wet at all, it can be quite dangerous.
Tip 8: Don't Stay In The Water For More Than 10 Minutes. You can get out and go back in but each time should not be longer than 10 minutes. Rinse off with regular water as soon as you get out.
Tip 9: Do A Dead Sea Mud Bath! You can buy a pack of Dead Sea mud anywhere along the shore. Apply the mud to your body, let it set in for a while, then rinse it off in the water. The minerals absorb through your skin and will do wonders for it! It also had an amazing effect on my hair – it felt nice and soft for a couple weeks after that. Just make sure you wear an old or dark colored bikini set for this as the mud stains.
Tip 10: Be Careful With Your Equipment. Leave your phone and expensive equipment home. Even your waterproof camera or a GoPro are not safe in the extremely salty water. So be sure to keep any electronics away from the water.
Where To Stay
Choosing a hotel here is important because not all parts of the Dead Sea shore are welcoming or easy to get into. A good hotel will provide you with the proper amenities to enjoy this place to the fullest. It might be a good idea to stay somewhere with a pool too. You will find it frustrating to stay near a sea where you can only get in the water for 10 minutes at a time.
We stayed at Crowne Plaza Dead Sea but actually ended up spending the most time at the beach near the Herods Dead Sea nearby. Other great options in the area are:
Be safe and enjoy!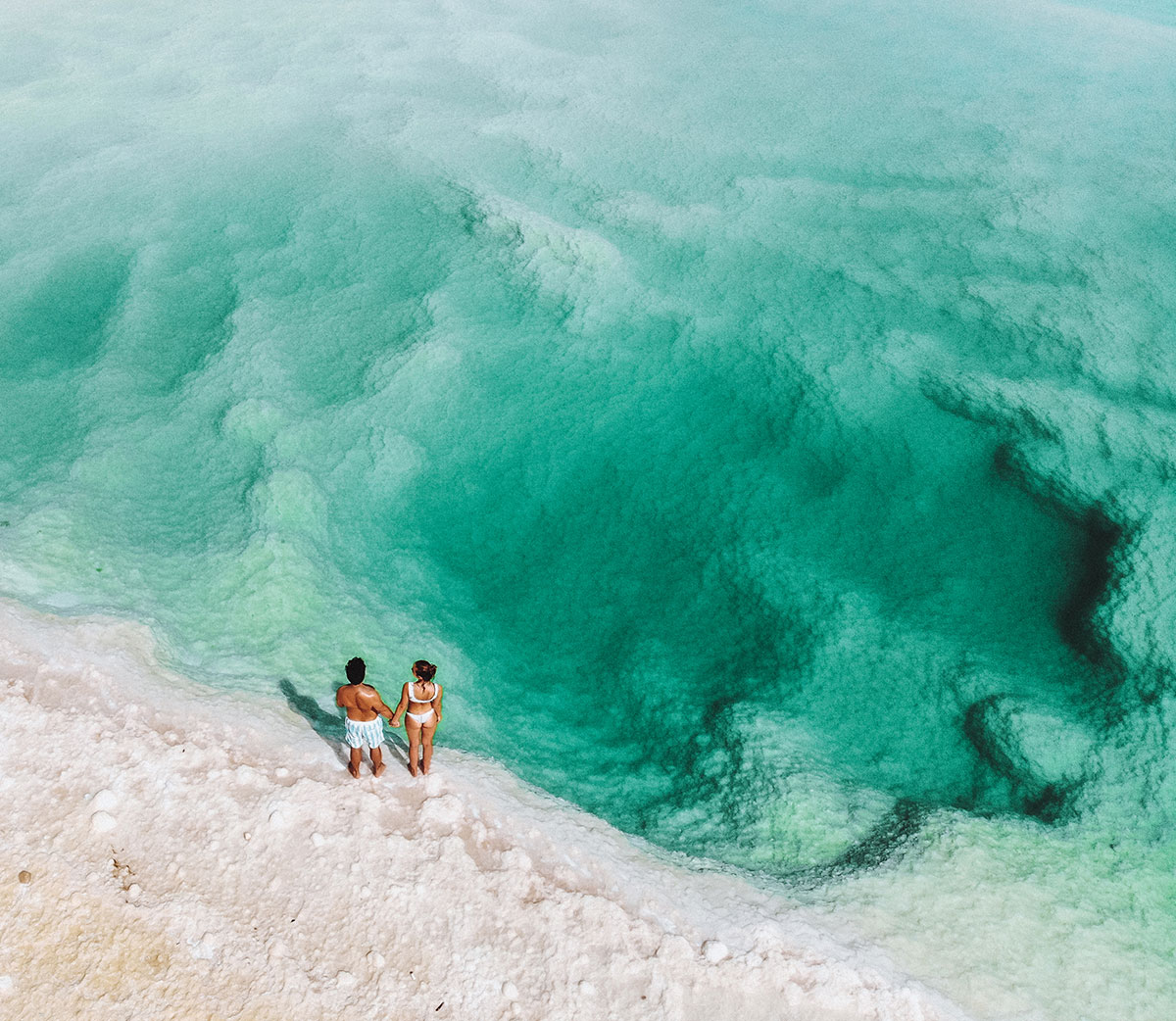 LIKE THIS POST? SAVE IT ON PINTEREST!