Israel is a surprisingly small country. You can probably drive across the entire country from North to South in about 6 hours. But at the same time, it's also an incredibly diverse place in terms of landscapes, cities, history and culture and the type of vacation you can have there. Due to its small size 10 days is enough time to see A LOT, if not everything you need to see in Israel and not feel rushed.
Tips
Car Rental – Depending on how you plan to spend your time in Israel, you might not need to rent a car. If you're spending a lot of time in Tel Aviv and just planning to hop over to Jerusalem for a few days, you'll be fine without one. But if you're planning on visiting more places around the country and going South as well (Dead Sea, Eilat, etc.) you definitely should rent one. 
Guide – We don't typically hire guides often but Israel might be just the type of place where you need one, especially if you are going to Jerusalem. There is just so much to learn about the history of this place, as well as where to go and how to stay safe that we highly recommend it. We hired our guide Moti just for a day tour to Jerusalem but we're sure his team offers other adventures as well. 
Moti Goldrat – Tour & Adventure Team
motigoldrat@gmail.com
Tel Aviv – 2 days
Trust us, this is the place you should allot the most time to in Israel. Unlike a lot of other world capitals, where you'd want to get in and get out as fast as possible, Tel Aviv is probably the most exciting place in Israel. It's vibrant and diverse, extremely progressive, a busy prosperous city with beach town vibes and amazing weather year-round, some of the best food in the world, and so much history and culture all in one place. It's enough to see some areas of Israel once, but Tel Aviv is a place you'd want to come back to again and again and uncover new layers every time. We gave Tel Aviv 2 days for a 10-day itinerary but if you have more time we definitely recommend you stay there a little longer.
Where To Stay
David Intercontinental Tel Aviv – located right on the beach with stunning rooftop pool views and top notch service.
The Setai – one of the best luxury hotels in Israel, located in historic Yafo.
The Poli House – a cute boutique hotel in the heart of Tel Aviv (near Carmel Market) with a rooftop pool for a more budget-conscious but still in-style stay.
Brown TLV – another boutique hotel in the center of Tel Aviv with a stylish rooftop bar.
Day 1 
Start with a delicious Israeli breakfast at one of the many trendy spots in Tel Aviv. Try the shakshuka (poached eggs in sauce of tomatoes, peppers and herbs) or traditional Israeli breakfast, which consists of eggs, breakfast pastries and a variety of small sides, salads and dips. You'd be surprised at the amount of vegetarian, vegan and healthy options you'll find in Tel Aviv. We had some of the best food we've ever tried here.
Yafo (Jaffa) is a must-see in Tel Aviv. You will love wandering around its picturesque narrow streets lined with historic buildings, galleries, trendy shops and cafes. Stop by one of the many street food kiosks and try our favorite malabi dessert (rose-scented milk pudding with date syrup and nuts). 
Be sure not to miss Abu Hassan's Restaurant in Yafo for the best hummus in Israel. It's a small hole-in-the-wall kind of place, one of the oldest and most famous places in the country. Katerina didn't even like hummus until she tried it there! Now she won't stop talking about it. Make sure you visit before noon as the hummus runs out quickly and the lines get longer as the day progresses.
Or head to Rothschild boulevard where you'll find some of the top restaurants in Tel Aviv along with the best falafel and sabich stands around. 
If you enjoy Yafo during the day, you'll love it even more at night. Head to the Flea Market area where you'll find the trendiest bars and restaurants spilling into the streets covered in fairy lights and buzzing with life and flavor. Ramesses Restaurant was our favorite here.
Day 2
Head to the beach in the morning and enjoy a few hours in the sun. The sand is soft and white and the water is warm. It's amazing how many people you see hanging out at the beach in the middle of the day even during the week. This is one of those unique things about Tel Aviv that contribute to its fun relaxed atmosphere.
Next head to the charming neighborhood of Neve Tzedek. Walk around the cute streets, grab a coffee or dessert and spend some time shopping. Be sure not to miss Carmel market – the largest one in Tel Aviv. Here you can taste local delicacies, buy gifts and grab some lunch. Some of the food options include jachnun (a traditional Yemenite specialty), boutique cheeses, salted fish, cured meat, fresh juices and a variety of mouth-watering Middle Eastern desserts. Grab lunch at Restaurant Hamitbahon nearby.
Head back to the beach and find a good spot to sit back and watch the spectacular sunset. Make your way to the Old Train Station (HaTachana) after for dinner. One of our favorite spots here is Vicky Christina – a delicious Spanish tapas place with unique atmosphere. The Old Train Station is a great place to take a stroll after dinner, pop into a shop or two, enjoy a street music performance or catch an art exhibit. 
The North – Achziv, Hof Nahsholim – 2 days
Head North to explore some of the best beaches in Israel and spend a couple of days relaxing.
Day 1
Achziv is an ancient site near Israel's border with Lebanon. The remains of a Biblical city sit near a small stretch of beach with the most pristine blue waters. Spend the day relaxing here and visit nearby Rosh Hanikra. Take a cable car down to the grottos and explore the caves where crystal clear blue waters meet blindingly white limestone cliffs.
Day 2
Spend your second day enjoying the sun at Hof Nahsholim. Named as one of the most beautiful beaches in Israel, it boasts soft white sands and turquoise waters surrounded by picturesque cliffs. Do some snorkeling or paddle boarding or simply enjoy the sun away from the crowds.
Be sure to stop by nearby town Zichron Ya'akov's night fair on your way to or back from the North. It's a truly magical experience and there are quite a few delicious restaurants for the perfect romantic dinner.
Jerusalem – 2 days
Head to the capital Jerusalem next to enjoy a completely different vibe in the old city. Jerusalem is divided into 4 parts – Jewish, Christian, Armenian and Muslim quarters. You really need to know which parts of the city to go to and how to get around safely. For that reason we recommend you hire a guide when visiting Jerusalem. This is where we took the private tour by Motti (his contact info is in the beginning of this post) who shared with us his 30 years of experience in the city and its history. Our tour with him was absolutely fascinating!
What To See
Start your morning getting to the Old city through Jaffa Gate by foot. In general wandering around Jerusalem is very easy using the public "light train". Make sure to dress modestly to show respect to some of the religious sites. You won't be able to enter certain places, including the Western wall, unless your shoulders and knees to be covered.
After entering through Jaffa gate you can take a short tour in the Tower of David museum. Visit the Western Wall and don't forget to bring a note and a pen, think of something you really want and leave your wish on the wall.
Machne Yehuda Market is the place to get some authentic Israeli food experience and it's really hard to go wrong. Talk to the merchants in the market and they will give you some of their goods to try. The treats are delicious and everyone is extremely nice and welcoming so you'll have a lot of fun with that.
Temple Mount and Dome of the Rock is probably the most extremely religious site for Jews, Christians and Muslims. It's a little more complex to go there and you must check hours of entry. The view is exceptional! However, if you are not Muslim you will not be able to go into the Dome itself.
Church of the Holy Sepulcher is the holiest site for Christians. Many believe that Jesus was crucified and buried where this church is today. The Shuk in the Muslim Quarter is a really unique experience and feels like a Moroccan market in modern days. The narrow streets, the vendors sell religious items and keepsakes in prices especially for tourists.
We didn't go to the next two places but Yinon and his entire family very recommend to go to Yad VaShem – this is the Holocaust memorial. Entrance is free and I have no doubt I will go the next time I am there.
The second place if you have time is the Mount of Olives which is mostly known to be the home to the Garden of Gethsemane.
Dead Sea – 2 days
Head down South after Jerusalem and spend about 2 days at the Dead Sea. There is not a lot to do in this area outside of the Dead Sea. Two days is more than enough but you might want to stay longer if you are visiting for health reasons. The minerals in the water have many healing properties so a longer stay might be more beneficial for you in that case. Read our 10 Dead Sea Tips for more information on the benefits of swimming in the dead sea as well as how to enjoy this unique experience safely. Although it looks absolutely beautiful the Dead Sea is not the most welcoming environment. There are a few things you need to know before you bathe in it.
The vibe here is laid back. There are not a lot of places to go out or shop, other than for Dead Sea skincare products. Most people come here for the spa-like experience, so keep that in mind when you are planning your trip.
Where To Stay
Most hotels are located in two main areas on the Israeli side – Ein Gedi and Ein Bokek. We recommend staying in the Ein Bokek area. It is the most developed part of the shore and it has the most built in conveniences for tourists. Trust us, you'll need those here! Showers on the beach are absolutely necessary as well as shade to shield you from the grueling desert sun. It's also nice to have a pool at the hotel as you won't be able to bathe in the sea for too long. Here are a few great options in the Ein Bokek area:
Eilat – 2 days
Eilat is the most southern city in Israel. It's just a couple of hours drive from the Dead Sea but you can also fly here if you are coming from Tel Aviv.
This place definitely has a more touristy vibe with big resorts, beaches, lots of bars and restaurants and organized activities. We mainly wanted to visit the Red Sea and nearby Timna Park so we stayed in Eilat as a base. Two days was enough for us here. But if you want to spend a few more days at the beach, swim with dolphins, snorkel or visit some of the other tourist attractions, you might want to allocate a few more days here.
Timna is a national park about 15 minutes from Eilat. It's one of the main attractions in this part of Israel. There are daily organized tours of the park leaving from Eilat but you could also just drive here and explore on your own, which is what we did. Visit the Hidden lake or do one of the short hikes in the area. Don't forget to bring A LOT of water and susncreen, especially if you are visiting in the warmer months. We would also recommend you don't go there at all during the summer. The desert heat is close to unbearable and can be dangerous as soon as you leave your car even for just 10 minutes.
Book a sunset camel ride and enjoy a short tour of the majestic desert landscapes along with some mint tea and bedouin hospitality.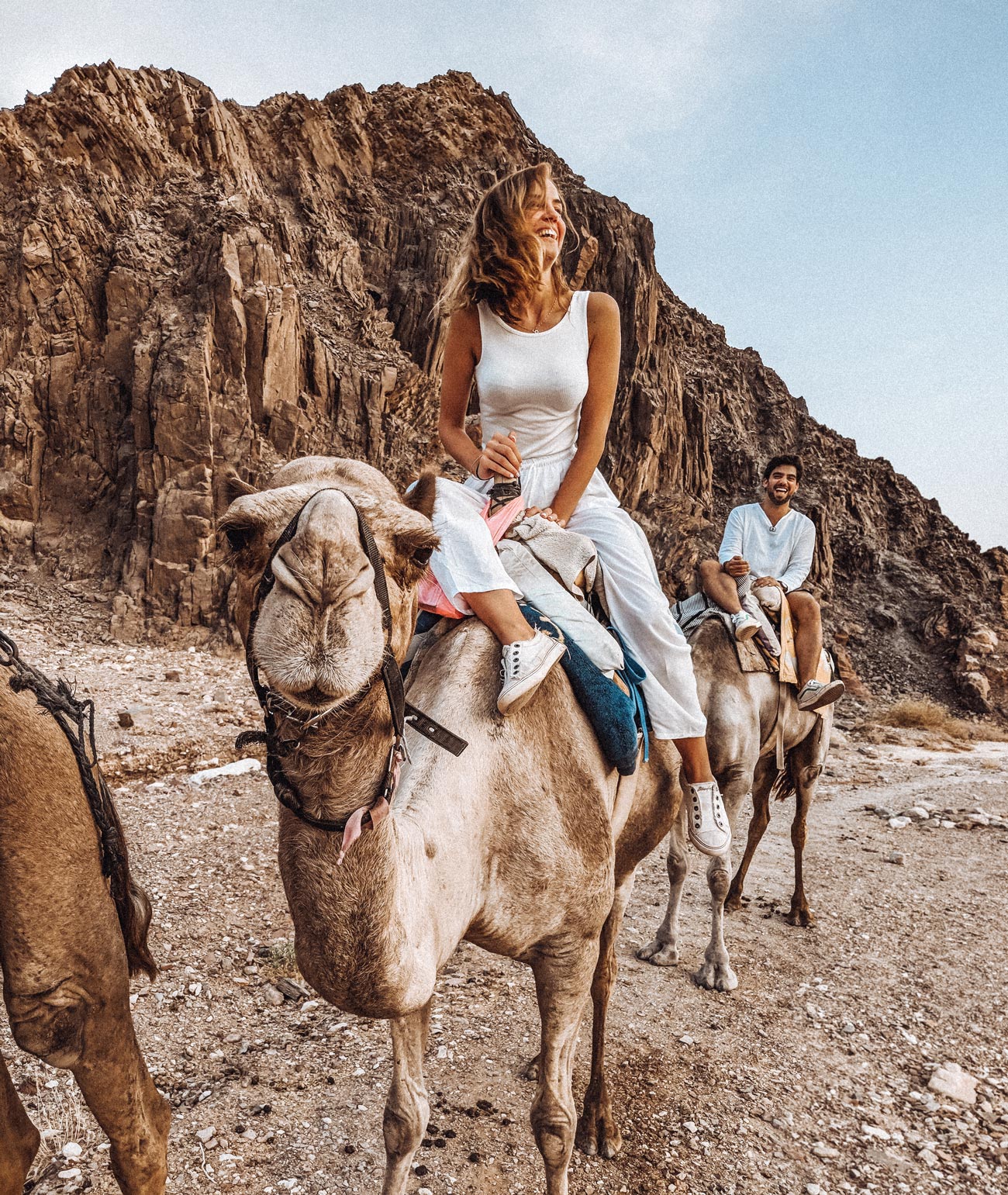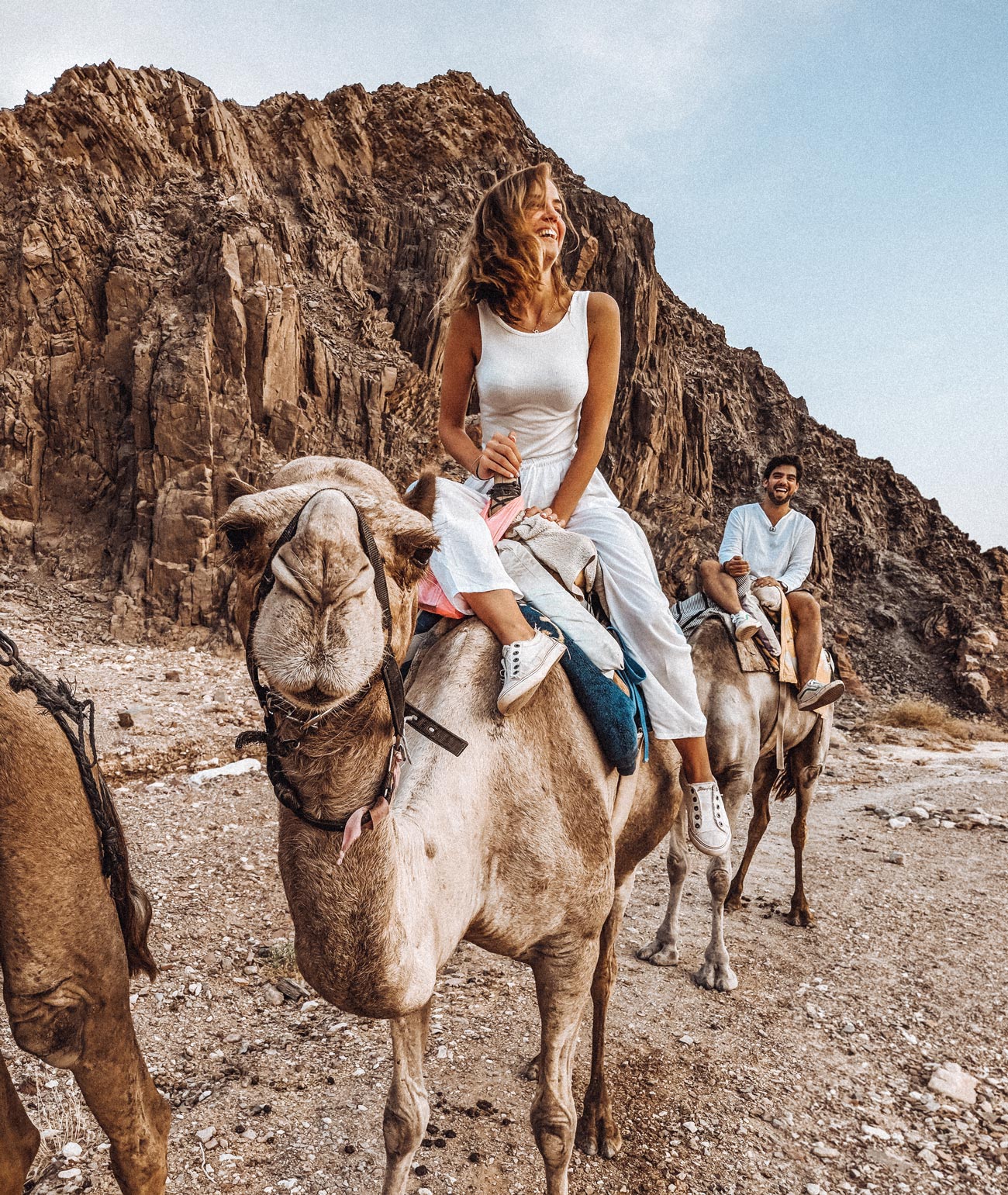 In Conclusion
This itinerary gives equal weight to each destination so you can see as much as possible in 10 days. However, if you prefer a more laid-back type of vacation with less driving around, you should modify the amount of time spent in each location or even drop 1-2 stops. So, if you are a foodie or like going to trendy bars, spend a couple more days in Tel Aviv. If you are more more into history/religion, spend more time in Jerusalem. Or if you prefer laid back uncrowded beaches – stay longer in the north. But if you are more into the big resort vibe, maybe Eilat is more for you. We hope you enjoy your time in Israel and let us know if you have any questions! Since that's where Yinon is from, we are always happy to help 🙂
LIKE THIS POST? SAVE IT ON PINTEREST!