Not even exaggerating – Tel Aviv is probably one of the best cities in the world. Granted, we are a little biased considering that Yinon is from Israel. But, we've traveled all over the world, lived in some of the most famous cities, and yet, Tel Aviv is where our heart is. So many things to do, so many delicious foods to try, perfect weather, amazing people, and of course – that unique Tel Aviv vibe.
You won't really get what the Tel Aviv vibe is about until you visit, but we can at least try and help you learn a little more about our favorite city.
So Here Are Our Top 10 Cool Things To Do In Tel Aviv!
Ahh the beach! It's by far the best thing about Tel Aviv. You get to have all the conveniences of the big city plus the small beach-town vibes of a surfer town, all in one place. It's almost not fair that people get to live like that!
The sun is out almost year-round, there are good-looking young people everywhere, music coming out of the outdoor bars and restaurants and an overall vibe of a never-ending summer. Spend an afternoon here and you'll never want to leave.
Gordon Beach is our favorite for a relaxing evening stroll. Close to Atarim Square, this beach is one of the widest beaches in Tel Aviv, so you can imagine how busy it gets. We love meeting up some friends here, grab a fresh juice and sit around people-watching. Our favorite spot is under the palm trees by the volleyball courts.
If you don't have much time in Tel Aviv, this is the best beach to visit. It's located around the middle of the promenade. Stroll along the palm trees after a day of sightseeing, take in the Mediterranean views from one side and the city skyline from the other. There is a nice seating area right off the promenade overlooking the beach, perfect for hanging out in the evening and watching the sunset. Stay till nighttime and you'll see a row of lit up cafes along the beach with music coming out of every corner.
This beach is a little further from the center of Tel Aviv but that's why it's also more quiet. If you want to get off the sand and chill on the grass under giant palm trees but still be near the water, this is the perfect area for you. There's also a very convenient parking right nearby as well as one of our favorite restaurants – Manta Ray.
Drive A Scooter On The Boardwalk
Driving a scooter if Tel Aviv is a must do not only because of its convenience, but also because of the ambience. There is a nice bike/scooter alley going all the way from Hilton Beach to Jaffa, which provides some of the most scenic views of the city and beach.
We like to rent Bird Scooters through their app. It costs 5 NIS to start and only half a shekel per minute afterwards.
Drive the scooter from the city to the beach and you'll be accompanied by bicyclists, skaters and pedestrians alike. See Tel Aviv from a different point of view, feel the soft Mediterranean breeze and enjoy your ride under the palm trees!
Wander Around Old Town Jaffa
While we enjoy being in the modern city of Tel Aviv, we love wandering around Old Town Jaffa too. We usually rent a scooter somewhere in the city and take the beach lane to Jaffa. This ride never gets old!
The Old Town has so much to offer while you explore this side of Tel Aviv. The architecture, the rich colors of bougainvillea spilling out of every corner, and the delicious food you'll find here are all worth the day trip from the city center.
We love exploring the different craft stores, galleries and stalls selling antique jewelry, or we'll go to the artist square for hours of entertainment. Once we've walked around enough, we'd pick a wine bar to grab a drink or find a nice spot near the beach to enjoy the seaside views.
In the evening we love watching the sunset around Jaffa port. You can see the entire city skyline from here – old and new. Grab a dessert or a lemonade at the stand near the port, sip a drink at the nearby bars or just head to the beach and enjoy the mesmerizing lights of Tel Aviv as they flicker in the dusk.
If you know Yinon, you'll know that wherever we go he always looks for Israeli food. So it should be no surprise that every time we visit Tel Aviv, we're always on the hunt for the best hummus place. Here are our top 3 places for the best hummus in Tel Aviv.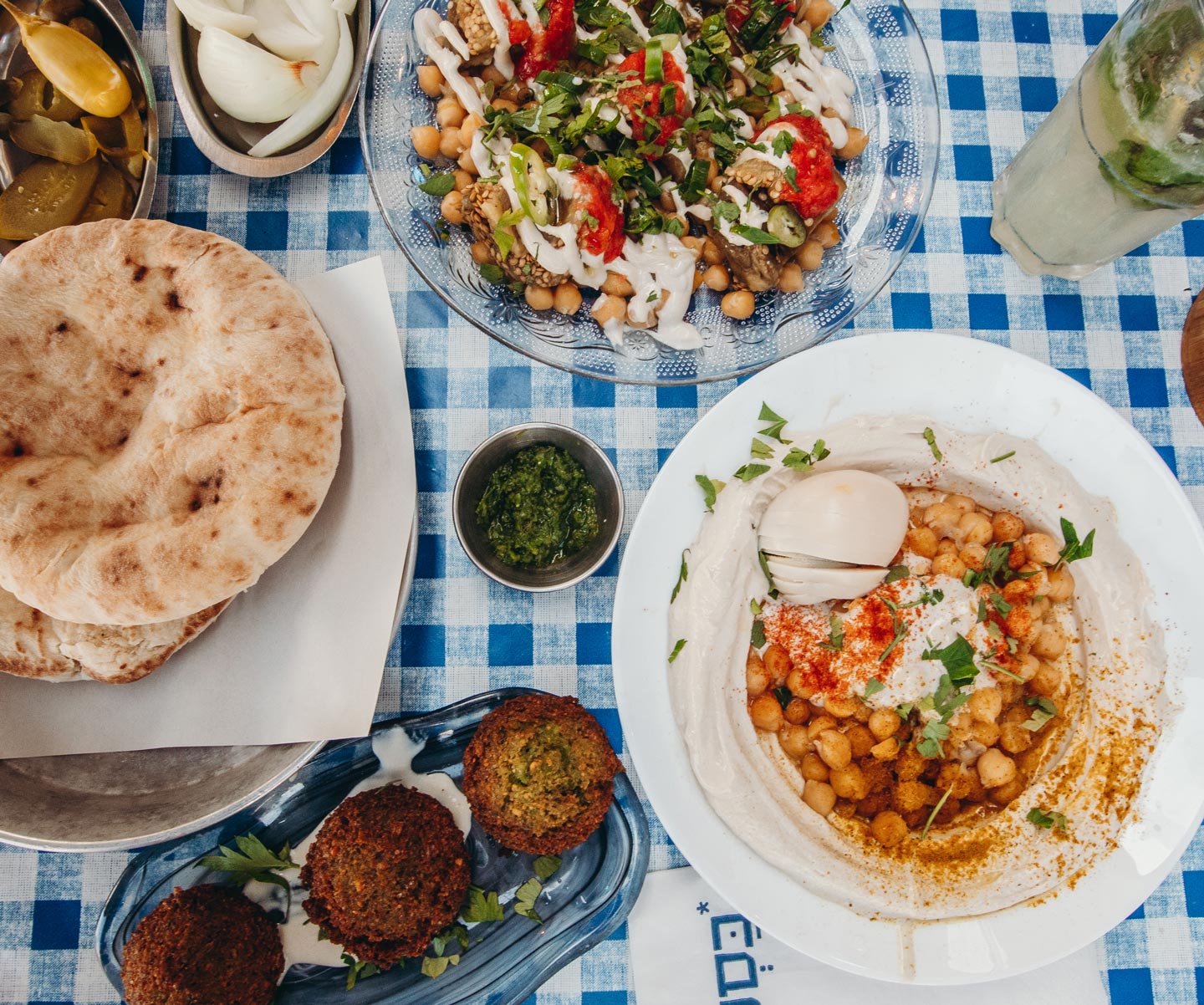 Located in the old town of Jaffa, Abu Hassan is possibly the most traditional hummus you can get in Tel Aviv. We like to think of Abu Hassan as the dive bar of hummus joints. Don't be fooled by the no frills decor, the hummus more than makes up for it. This has become one of our first stops every time we come home for a visit.
Abu Hassan closes once they run out of hummus so we suggest getting there early (before noon), so you don't miss out.
Informal, inexpensive, and some of the best-quality hummus in Tel Aviv. This is also a simple place that locals love – with a long line of customers. Abu Adham serves a few kinds of hummus witch chickpeas and tahini, fava beans, mushrooms and with ground beef.
This is not necessarily the best hummus (although it's still pretty good), but it's a great place to visit if you're not sure you want to eat just hummus. At Kaspi you can try a few different Israeli dishes at once and it's within a walking distance from the beach.
Look For Treasures In Jaffa Flea Market
Located close to the clock tower, Jaffa Flea Market is our favorite market in Tel Aviv. It's open everyday from 10am – 6pm except Fridays when it closes at 2pm.
We love coming here! The outdoor and indoor stalls are full of hidden treasures – everything from old junk, Persian tiles, to vintage clothing. If you are patient enough, you can find some real gems in this market. Or if you are going just for the cool atmosphere, you won't be disappointed – there is something happening at every turn.
Don't worry if flea markets aren't you thing. At night, this place turns into a young foodie's haven. There are so many restaurants to pick from but our favorites are Ramesses and Puua.
You'll be guaranteed to leave this place full and satisfied, perhaps with a few new pieces too from the day.
Sip A Drink At Haiku Skybar
If you had told me I would eat some of the best sushi in Tel Aviv, I wouldn't believe you. But Haiku Skybar is now top on my list.
Even if you don't like sushi this old light house turned Hotel is a must do while in Tel Aviv. Get a reservation at the rooftop on the 18th floor for panoramic city views.
Located two blocks opposite Jerusalem Beach, we like to meet our friends here to enjoy the late night vibes. Alternatively you can also come here during the day for a less crowded scene since the rooftop bar is open all day.
Carmel Market first started in the 1920's only 11 years after Tel Aviv became a city. Come here to experience a variety of market stalls from spices to electronics, or just enjoy the city's most historic market.
It can be pretty overwhelming considering how much is going on inside – from locals buying produce to tourists basking in awe of the largest Middle-Eastern style Shuk in Tel Aviv. Be sure to try some of the local sweets or grab a fresh pomegranate juice.
Carmel Market is open everyday Sunday – Fridays and closes each day at 7pm. The entrance of the market is right in the centre of the city, get to the junction of King George street to enter.
Watch The Sunset At Hilton Beach
We've talked about our favorite beach spots, but watching the sunset at Hilton Beach deserves its own mention.
Right outside of the Hilton Hotel and just above the beach, there is a grass lawn with the perfect elevated view of the beach that has become a favorite hang-out spot for Tel Avivians around sunset. There are people sitting around in groups, playing the guitar, hanging out, all watching in awe as the sun descends into the Mediterranean sea.
This used to be a local hangout spot but it has gained more and more popularity with tourists lately due to its unique vibe.
The oldest area of Tel Aviv, Neve Tzedek is only a 25min walk outside of Jaffa. If you would rather have a quieter time in Tel Aviv, escape to this colorful picturesque neighborhood.
This area is full of artist boutiques, cute stores, gardens and narrow alleys that will teleport you back to the 1880's when it was originally built.
Be sure to stop by the Old Train Station area for an evening stroll or grab a tapas dinner at one of our favorite restaurants in Tel Aviv – Vicky Cristina.
Try Some Malabi, Play Some Backgammon
Don't finish your visit to Tel Aviv without trying our favorite Israeli dessert – Malabi. This traditional milk pudding, drizzled with rose water and nuts, will get you addicted with its light but delicious flavor.
You'll have to head back to Jaffa for our favorite Malabi spot in Tel Aviv – the Hamalabiya. This place serves nothing but Malabi and drinks so it's the perfect place to get your first Malabi taste.
Grab a backgammon set and sit around playing with your friends while trying this delicious treat. You'll fit right in with the locals!