Oh Bora Bora, how we miss this island! Some of our most memorable moments were created there. This magical place can feel like an elusive holiday destination. Many people have heard of it, but not many know much about it. So we wanted to share how to get there and the best time to visit.
Arriving to Bora Bora is like entering a screen saver. Crystal clear turquoise waters, multi colored fish swimming around those famous overwater bungalows, with the lush green mount Otemanu as a backdrop. But where in the world is this paradise actually located?
Where is Bora Bora?
Bora Bora is located in the middle of the South Pacific roughly halfway between Australia and Peru and northwest of Tahiti with not a lot surrounding it. It is 1 out of 118 islands that make up French Polynesia, and, of course, the most famous one out of all of them.
The flora and fauna of the islands are similar to those of Hawaii but there is one key difference that makes the French Polynesian islands unique. The sand-fringed motus (islets) that surround the islands here create turquoise lagoons protected by coral reefs. And that's why you have this incredibly calm shallow water and rich underwater life surrounding the islands that allows for you to enjoy the perfect tropical getaway.
Despite the long trip (it can take 24+ hours to get here), tourists from all over the world flock to Bora Bora to enjoy some of the most beautiful beaches we've ever seen. And who could blame them?
How to get to Bora Bora
First fly to Tahiti
To get to Bora Bora you have to fly through French Polynesia's Faa'a International Airport (airport code PPT), at Papeete, on the main island of Tahiti. If you're looking to gain some air miles or use miles, these are some of the airlines that fly there:
United
Delta
Air New Zealand
Air Tahiti Nui
Air France
French Bee
LAN
Hawaiian Airlines
Air Caraibes
Once you get to Tahiti, you just need to get on a quick domestic flight to Bora Bora's Motu Mute airport (BOB).
The journey to Tahiti can be quite the endeavor if you're coming from the States. No matter where you're coming from, it is a long way to Bora Bora, so taking a direct flight to Tahiti is the best way to save yourself some hassle. Luckily, there are two airports that have direct flights to Faa'a International Airport (PPT).
LAX to Tahiti
We found the more frequent routes fly out of LAX. Air Tahiti Nui has direct flights to Tahiti (PPT) from LAX. You can take the red eye from LAX to Tahiti in just over 8 hours. Afterwards, the most direct route is to take a flight from Tahiti straight to Bora Bora, roughly 50 mins. More on getting to Bora Bora domestic airport (BOB) below.
Direct flights can cost anywhere between $900 – $1,350 round trip with airlines such as Air Tahiti Nui, Delta, Air France and United flying direct from LAX. There are some seasonal deals here so keep your eyes on those if you are looking to make some savings.
SFO to Tahiti
Another option for a direct flight to Tahiti is San Francisco (SFO). You can take the red eye and fly direct from SFO to PPT in just under 9 hours.
Direct flights from SFO can cost you anywhere from $740 – $1,400. Delta, United and Air France tend to fly direct from SFO the most. A red eye flight generally leaves between 10pm – 11pm and arrives in Tahiti the next day at 5am. It feels like you're gaining some extra hours due to the time difference when you arrive, but that quickly gets balanced out on the way back as you lose time returning home.
Flights to Bora Bora
Once you've completed the major leg of the trip getting to Tahiti, you'll have a 50 minute flight left to Bora Bora's domestic airport (BOB). You'll get through customs and passport control in Tahiti so from here on you can already feel the vacation vibes coming through.
This non-stop domestic flight generally costs around $200 – $600 depending on the time of year and leaves roughly 5 times a day. Yes, it's on the expensive side for a 50 minute flight but it's really your only option and these flights can get booked up quickly in high season so be sure to book your ticket in advance.
Keep in mind domestic flights within French Polynesia are running on a much looser schedule than you might be used to, the airport is tiny and security can get overcrowded. So be prepared for long lines and waits here.
The plane that takes you from Tahiti to Bora Bora airport is a smaller propeller airplane which can get a little bumpy for those of you who are prone to plane sickness. But on the bright side, it flies pretty low so you can enjoy the breathtaking views of French Polynesia throughout your flight.
Pro Tips:
Be sure to sit on the left side of the plane so you can get the best views of the Bora Bora island while descending.

While waiting at Fa'a'ā International Airport (PPT) for your next leg, make sure to keep an ear out for announcements. It's common for the flight to leave 20mins earlier than expected.
Flying from Mo'orea to Bora Bora
There is also a flight from Mo'orea's domestic airport (MOZ) to Bora Bora, which takes around 50 minutes. There are approximately 6 flights a week on this route. You can get to Mo'orea from Tahiti by ferry, which only takes about 30 minutes. The fight from Mo'orea to Bora Bora is not any less expensive though, so it would not make sense to make this detour. Flying directly from Tahiti to Bora Bora makes the most sense.
But if you are planning to start your trip in Mo'orea and spend a few days there before heading to Bora Bora, you will need to take this route. We definitely recommend visiting Bora Bora first though, as it is by far a more breathtaking and impressive place to visit. You can wind down and enjoy Mo'orea's more relaxing vibe later to finish your trip.
While you're in Mo'orea enjoy the scenic mountainous landscape and adventurous activities. Mo'orea is also relatively less expensive than Bora Bora and also has hotels with overwater bungalows.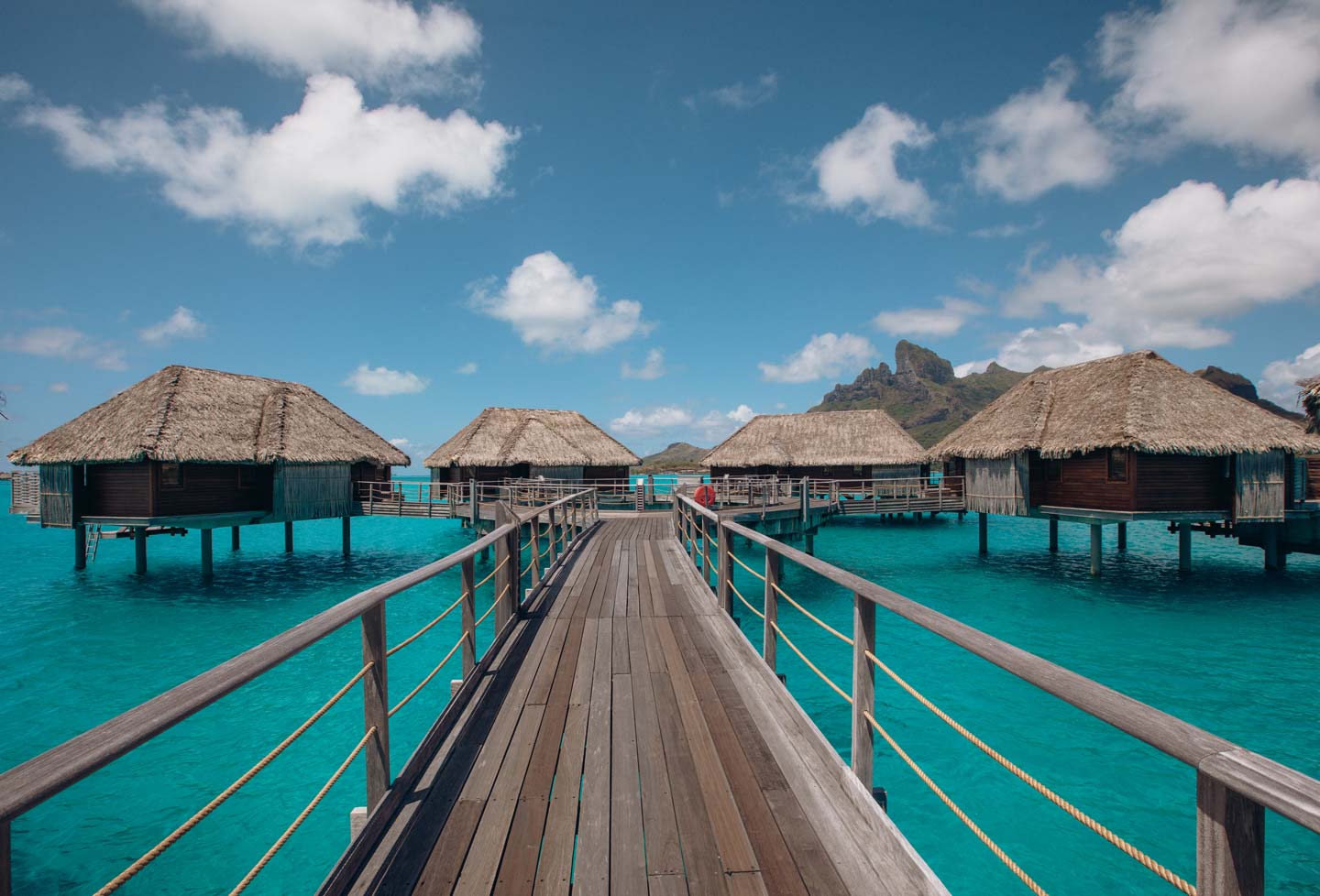 Getting To Bora Bora
Arriving in Bora Bora feels like landing into a movie set. The plane descends over a turquoise paradise and lands right next to the water with a stunning view of Mount Otemanu. As you step out of baggage claim you'll be right on the dock getting on a scenic water taxi ride to your chosen hotel. You'll immediately become enamored with the beauty of the island and surrounding sea. Even something as boring as an airport transfer feels like a paradise adventure here.
Pro Tip:
On your return, we would recommend staying in Tahiti or Mo'orea for a night to reduce the stress of catching multiple flights on the same day.
Best Time To Visit
As we've mentioned in previous articles the best time to visit Bora Bora are April/May and September/October. In these months, you have the lowest chances of rain and the best weather with temperatures between mid-70s and mid-80s. We think these are the best times to visit as there are less people, more rooms available, and milder temperatures.
We also found that October was the best time to visit for outdoor activities. October falls in the dry season. Snorkeling is more enjoyable with the warmer water temperatures and clearer waters. It's easier to see all the schools of fish swimming around in these conditions. There will be practically no waves. You'll also be able to catch the end of whale season which runs from July to October.
We don't recommend visiting during high seasons: June – August and mid-December through mid-January. Hotel rates go up, things get a lot busier and the weather is also not as calm. If this is the only time you can go though, we recommend booking well in advance. An advantage of going during these seasons include the opportunity to swim with whales and dolphins. But on the flip side, you the weather could be horrible. The rainy season starts in November and rages through January. This could make your perfectly planned Christmas holiday a nightmare.
July/August is prime French vacation time and with Bora Bora being a French island, things can get quite busy. Prices will be higher as well.
December and January brings more American tourists due to the Christmas holidays. But again, we don't recommend visiting during these months anyway due to the weather.
Enjoy Bora Bora!
There's a reason Bora Bora is frequently named one of the most beautiful islands in the world. The overwater bungalows, an array of outdoor activities and some of the most unique landscapes make it a once in a lifetime experience. This island is a must visit for those who are looking for the perfect romantic getaway.
But the trip to Bora Bora can be grueling so be prepared and plan well. Be sure to minimize the number of flights you're taking and take the quickest route possible. Take a night in Tahiti between your flights if you need to. And of course, allow yourself enough time on the island to fully enjoy all it has to offer and take in its beauty. After traveling for 16+ just to get there, you deserve this after all! We hope you have the same memorable experiences as we did!
LIKE THIS POST? SAVE IT ON PINTEREST!