Why Visit Aruba?
If you are trying to escape the cold to a year-round tropical paradise, Aruba is a great option. One of the biggest advantages the island has over other Caribbean destinations is that it is outside of the Hurricane Belt. That means it does not get affected by all the hurricanes that rage throughout the area between June and November each year.
The weather is amazing, the beaches are beautiful and the water is calm and as turquoise as can be. It is a very well developed island with beautiful resorts and restaurants, and one of the safest in the Caribbean. As an added bonus you can get away with not exchanging any local currency as most places accept credit cards and US dollars.

Where To Stay
Most hotels are located on the West side of the island along Aruba's most beautiful beaches. The are between Palm beach and Eagle/Divi beach boasts some of the best hotels with direct beach access. This area is just a quick 25min car ride from the airport so the location is very convenient.
We stayed at the Holiday Inn Resort, which is located right on Palm beach. Just a few steps from your room and you can dip your feet into the shallow warm water with some of the most stunning blue hues you've ever seen.
Day 1 – Mangel Halto
Start your trip easy with a relaxing beach day. You might not see Mangel Halto on many Aruba tourist guides and your hotel concierge might not mention it. But you have to visit if you're there!
Our favorite thing about this beach is that it's not popular with tourists. It is mainly where locals go to cool off. Some anchor their boats in the shallow water and groups of kids use the platform to practice their jumps or just lay around and tan. The water is absolutely beautiful, shallow and clear with some rock formations and coral. It might be smart to bring your snorkeling gear.
There are no places to get food or drinks here so you have to bring your own. But that's the charm of this place! Stop by the grocery store nearby before and stock up on picnic-friendly foods.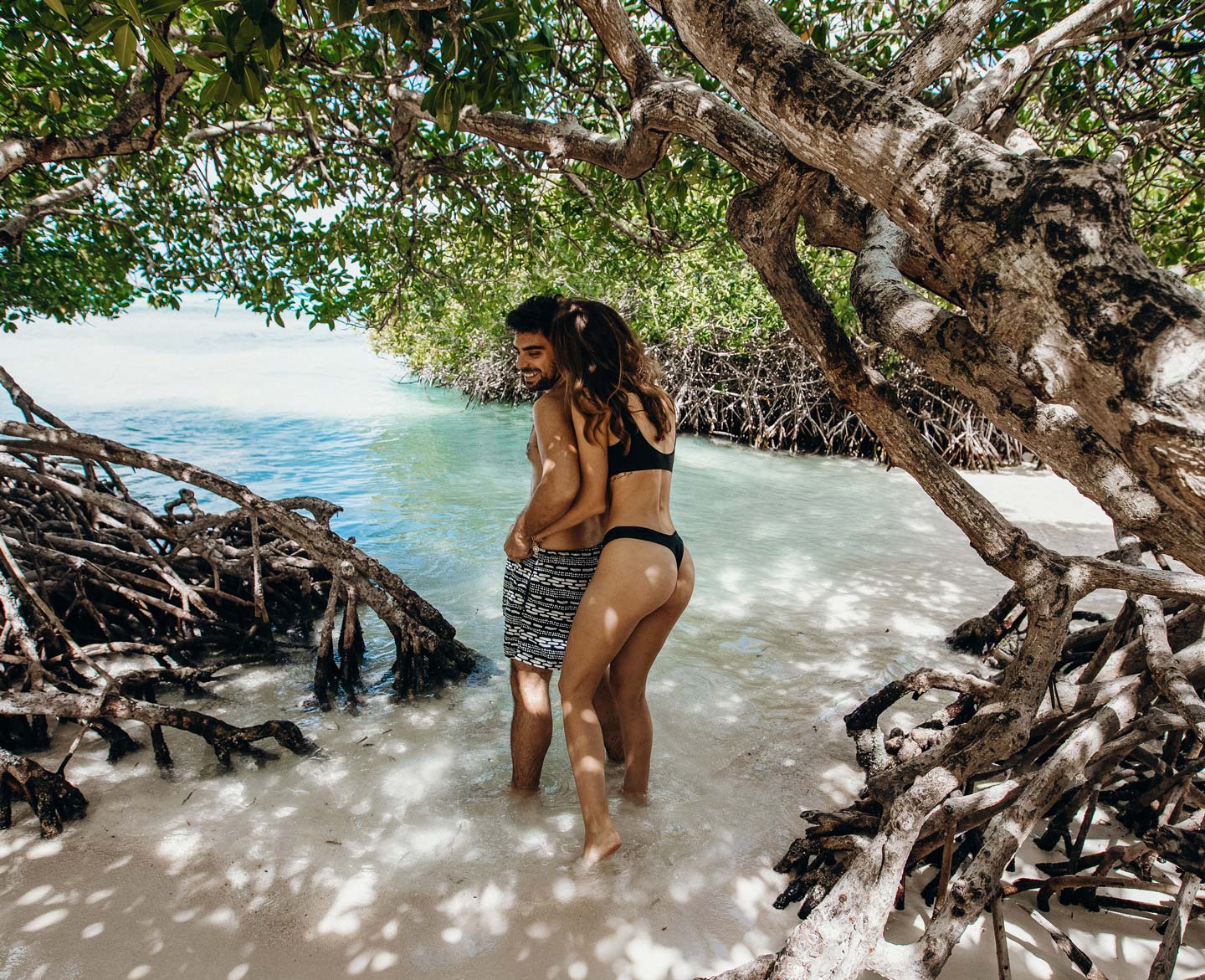 Head into the mangroves on the left side of the beach and you'll find the perfect area to set up your beach picnic. We spent a day here swimming, tanning and napping under the shade.
Day 2 – Catamaran Tour
Book a catamaran tour with one of the tour agencies on the island. We chose Pelican Adventures' Champagne Brunch tour. You need to book the tour at least a day before and head to Pelican Pier, which was just a short beach walk away from our hotel.
Enjoy fun music, open bar and lunch & snacks. We made 3 snorkeling stops – 2 in shallow waters with a lot of coral and colorful fish and 1 near a shipwreck. For the most part we spent the tour laying on the webbing over the water with some wine, enjoying the clear skies and stunning view.
Day 3 – Flamingo Beach
This is probably one of the most popular activities in Aruba and it attracts a lot of visitors here yearly. And for good reason! We can't think of another place where you can interact with flamingos from upclose. And the fact that you can do it while sipping a delicious cocktail by a beautiful beach makes it even more fun.
Flamingo beach is part of a private island that belongs to the Renaissance hotel. To get there you have to either stay at the hotel or buy a day pass. Read our post on Flamingo beach for more details on how to get there.
Day 4 – Explore Oranjestad
Take a stroll through the colorful streets of Oranjestad. The town still retains some characteristic Dutch architecture but painted in bright Caribbean colors. Grab an ice-cream and do some shopping or stop by one of the many restaurants to try delicious local food. Oranjestad is a great place to go dining, dancing or gambling and it's especially fun in the evenings when the temperatures go down a bit and people come out to play.
What To Pack For Aruba
The weather in Aruba is hot and humid most of the time. Make sure you bring light and airy clothing, plenty of sunscreen and a hat. And don't forget to bring your reusable water bottle (tap water is ok to drink there)!
Click here to start planning your trip. Enjoy Aruba 🙂