We've travelled all over the world, we've been to some of the most beautiful places and some of the best hotels. When your job is to visit luxury hotels around the world, it can be hard to find a new place to get excited about. But when the time came to plan our honeymoon, we both knew where we wanted it to be – in Bora Bora. And, of course, the Four Seasons Bora Bora is known as one of the most romantic places in the world for a reason.
With its luxury overwater bungalows sprinkled over turquoise waters against the backdrop of Mount Otemanu, it's easy to imagine why the Four Seasons Bora Bora offers the right intimate atmosphere for a perfect tropical honeymoon. But there are so many other hotels with overwater bungalows in Bora Bora. So how does the Four Seasons compare and is it worth the significant price difference?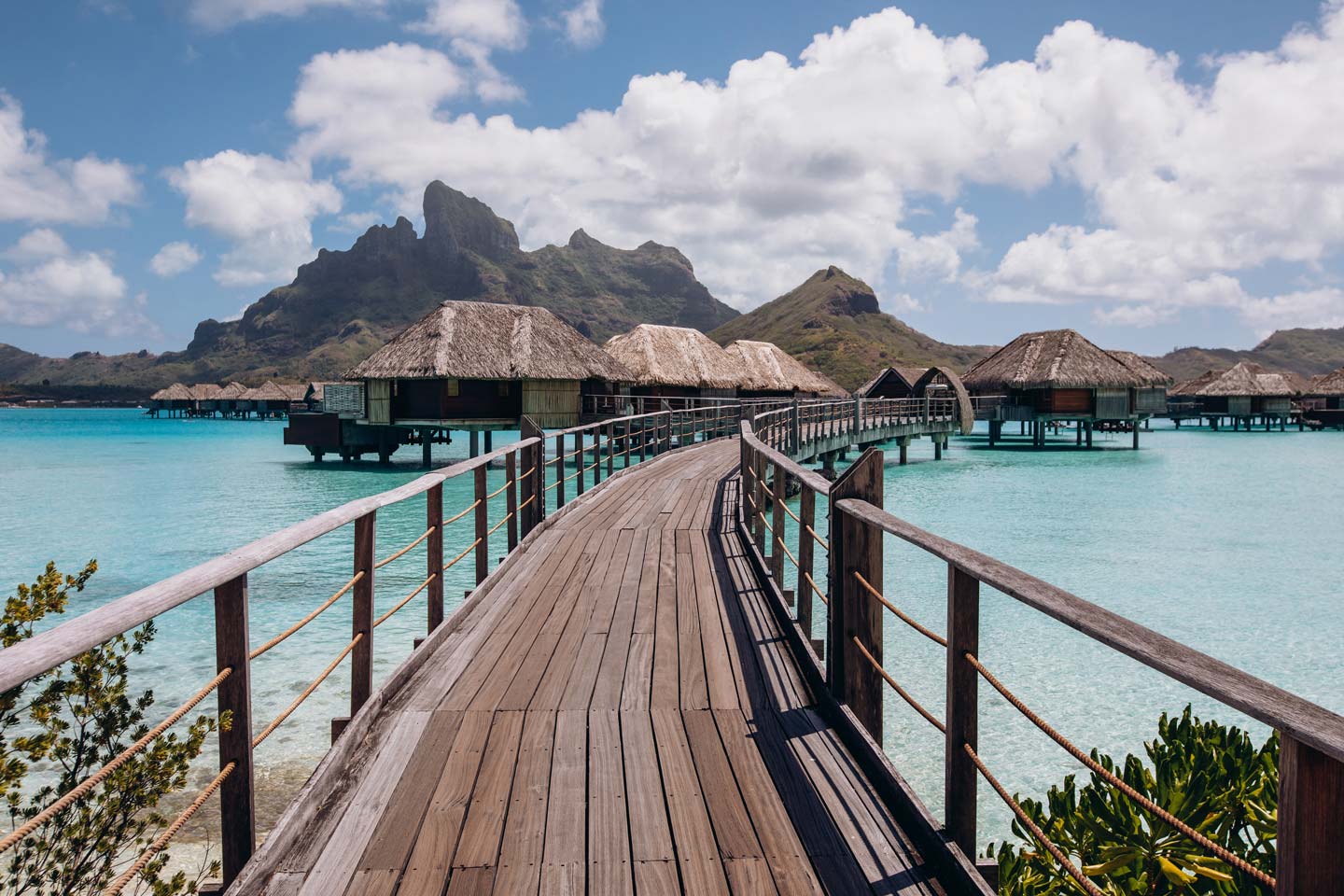 The verdict is easy – if you can afford it, go for it.
So many little details separate the Four Seasons Bora Bora from its competition. They can be hard to see from pictures but are obvious once you set foot at the resort. It starts with the spacious overwater bungalows with luxurious furniture and decor inspired by Tahitian culture. Every little detail is thought out and designed to make you feel special.
The view of Mount Otemanu is the best on the island. Hotels in Bora Bora are built on motus (small coral islets) forming a ring around the main island. Each hotel overlooks a different side of the mountain. So that famous view you've seen in pictures is not visible from every hotel. The view from the Four Seasons is the best we've seen. The entire design and flow of the property is exquisite and incomparable to any other hotel in French Polynesia.
The service is top-notch, of course, and again – it's all in the details. As soon as you sit down by the main pool, a staff member sets up your sun chairs and umbrella and brings you a complimentary bottle of water. The staff is always attentive and makes sure you are taken care of without being intrusive. You will have everything you need before you even realize you need it. It's these little details that separate the Four Seasons from just about every other hotel in Bora Bora. The experience here is just on a different level.
The concierge will always do their best to accommodate your requests, and even surpass your expectations. We requested flowers for a bath and, although it usually takes 24 hours, we were surprised to find them in our room just a few hours later. You can even use an app to chat with the concierge or front desk whenever youneed something.

Best Time To Visit Bora Bora
The best times to visit Bora Bora are April/May and September/October. In these months you have the lowest chances of rain and the best weather with temperatures between mid 70s and mid 80s.
The high seasons are June, July, August and mid-December through mid-January. These are the months that coincide with European holidays and Christmas/New Years period so occupancy increases, the rates are high and things get booked in advance. It's best to avoid these months if you can, not only because of the higher prices but also because the weather is not the best. December is the worst possible time to visit weather-wise as the rainfalls are at their heaviest. And July/August coincide with the strongest winds, which can make the water less clear and boat trips unpleasant.
The Four Seasons Bora Bora Airport Transfer
The airport transfer with the Four Seasons private boat is a unique experience. It is also complimentary if you book one of the beachfront villas.
As you get off your flight and step into the terminal in Bora Bora, a Four Seasons staff member greets you with a flower lei. The airport is located right by the water so in just a few steps you'll be on the boat and on your way! As you're getting on the boat you're already mesmerized by the stunning colors of the water and Mount Otemanu in the background. And best of all, this is the last time you will see your bags until you get to your room.
Accommodations
The tribal luxury ambience combined with overwater accommodation is a once in a lifetime experience. As you walk around, you are immersed in Polynesian architecture with the perfect backdrop of Mount Otemanu. Even the water on Motu Tehotu where the Four Seasons is located has a deeper turquoise tone than the rest of Bora Bora.
The Four Seasons offers 3 main types of rooms to choose from – Beachfront Villa Estates, Specialty Overwater Bungalows with a plunge pool & Overwater Bungalow suites.
Overwater Bungalow Suites
Ah, the overwater bungalows! Waking up with the calm blue water under your feet, stretching all the way to the mountain, is a very special experience. Still jet-lagged from the long flight here, we would sit on our deck over the water with a cup of coffee every morning, and just take in the view, the silence.
The bungalows are decorated with style and some Tahitian influence. Every little detail in the rooms feels luxurious. But our favorite feature of the overwater bungalows is the oversized bathtubs. In each room they are placed right next to floor-to-ceiling teak-wood framed windows that open onto the terrace. From here you can walk right into the lagoon. You might not even miss having a private pool as you'll have the entire lagoon to swim in.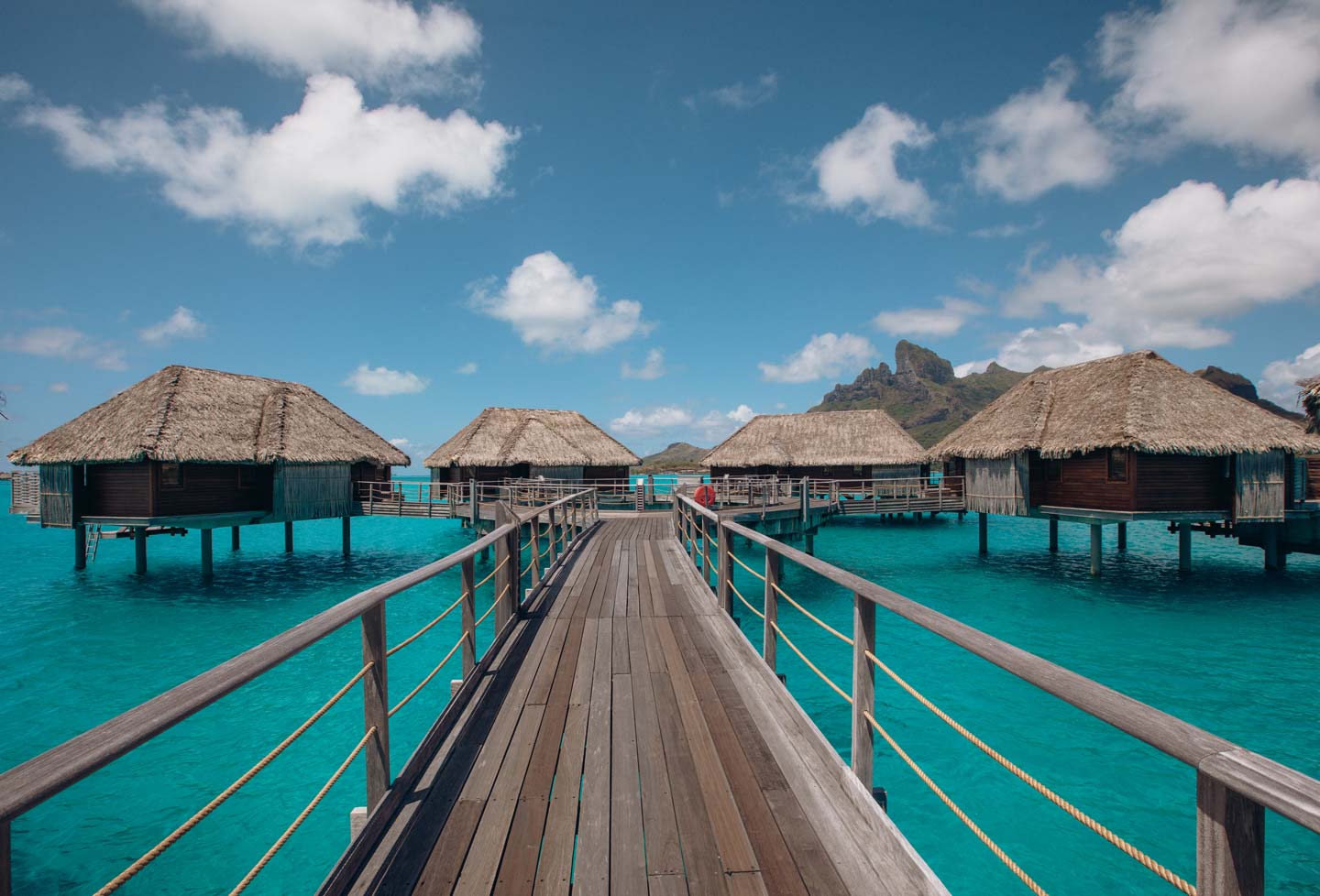 Depending on which room you choose, you'll have three different views – Beach, Lagoon or Mountain view. The Mountain view bungalows are the most expensive ones and for a good reason. After all, the view of Mount Otemanu is what makes this place so special.
All room have high-end amenities. Enjoy 24-hour in-room dining, twice-daily housekeeping, entertainment, WiFi, hypoallergenic duvets and pillows, and, of course, the famous uber-comfortable Four Seasons beds. Not to mention the dreamy glass floor-windows that let you look right through to the water below.
Specialty Overwater Bungalows
If you want an even more special experience, try the Specialty Overwater Bungalows, which come with a private plunge pool. The Four Seasons has two One-Bedroom Specialty Overwater Bungalow suites, one with mountain view and the other with a lagoon view. Both have private plunge pools with the mountain view room one having direct ladder access to the lagoon.
The 1-bedroom Otemanu Overwater Bungalow Suite has ample living space with two top terraces and a lower terrace for direct access to the lagoon. During high tide, you can jump right into the lagoon from your upper terrace. But best of all, this bungalow is closest to the mountain and has an unobstructed view. You will feel like you're lodging at the skirt of Mount Otemanu!
Finally, if you're holidaying with more than your partner, check out the Two-Bedroom Poerava and Herenui Overwater Bungalow Suites. Both have great views, a private plunge pool, separate living spaces and bathrooms for each room. There are also two lower terraces to access the lagoon and an upper terrace that connects the rooms together with a common outdoor dining area. You'll have all the privacy you could want but also be close enough to your holiday buddies.
Beachfront Villa Estates
If you're traveling with more than just your partner or need the extra space, the Beachfront Villa Estates would be the best pick for you. They offer these beautiful landlocked villas from 1 bedroom up to 3 bedrooms that can fit 6 people. You'll be able to relax in an enclosed garden with your own private pool but still be able to enjoy views of the lagoon and Mount Otemanu. The 1 and 2 bedroom rooms are airy and spaciously decorated and built with beautiful Polynesian architecture and teak wood furniture.
The 2 bedroom premier beachfront villa estate has an expansive outdoor terrace that joins with the indoor dining area, making your living area feel that much larger. Each bedroom has its own ensuite bathroom with an additional outdoor shower which is an experience in itself. Enjoy having an outdoor kitchen area with dining facilities, a hammock to lay out in while looking out into the garden and the beautiful swimming pool that looks out to that gorgeous landscape.
The 3-bedroom premier beachfront villa estate has all the offerings of the 1 & 2 bedroom beachfront villas with the addition of 3 bathrooms, outdoor kitchen, private infinity pool, whirlpool, and best of all it's located on the famous beautiful white sand beaches of Bora Bora.
With these premium villas, you'll also get services like private beach set ups, round trip airport transfers, daily breakfast either in your room or at Tere Nui restaurant, to a personal villa host dedicated to you for your entire stay. All your needs will be taken care of in an instance.
Amenities
Although Bora Bora is mostly famous as a honeymoon destination, the Four Seasons has plenty of amenities to make all kinds of travelers feel comfortable. There is almost nothing this place doesn't have!
The Beach
The beach at the Four Seasons Bora Bora is just like you imagine it should be. The water is calm like glass, barely kissing the beach in tiny little waves. Its color is so richly turquoise that it almost feels like a real-time filter. Since the hotel is in a lagoon, it's isolated from the ocean, so you don't have to worry about anything scary swimming by. It's the perfect place to relax and enjoy a laid-back holiday.
There is a separate area at the beach where guests can enjoy water sports. Kayaks, paddle boards, and water bicycles are all complimentary. There is also the option to rent a jet ski at an additional charge.
Although the beach is perfect for swimming and relaxation, if you're interested in snorkeling you should head to the Four Season's very own lagoon.
Lagoon
Here you will find a variety of corals and tropical fish. Grab your mask and snorkel and enjoy observing the local reef life from up-close. Or you can just stand really still in the water and watch the colorful fish come close to you and curiously surround you. The lagoon is also a nice peaceful place to relax or just go for a swim. The water here is calm and incredibly beautiful.
And as if that's not enough, the Four Seasons even has a marine biologist in-house who can tell you all about the sea-life, how they take care of the coral and whatever else you might want to know.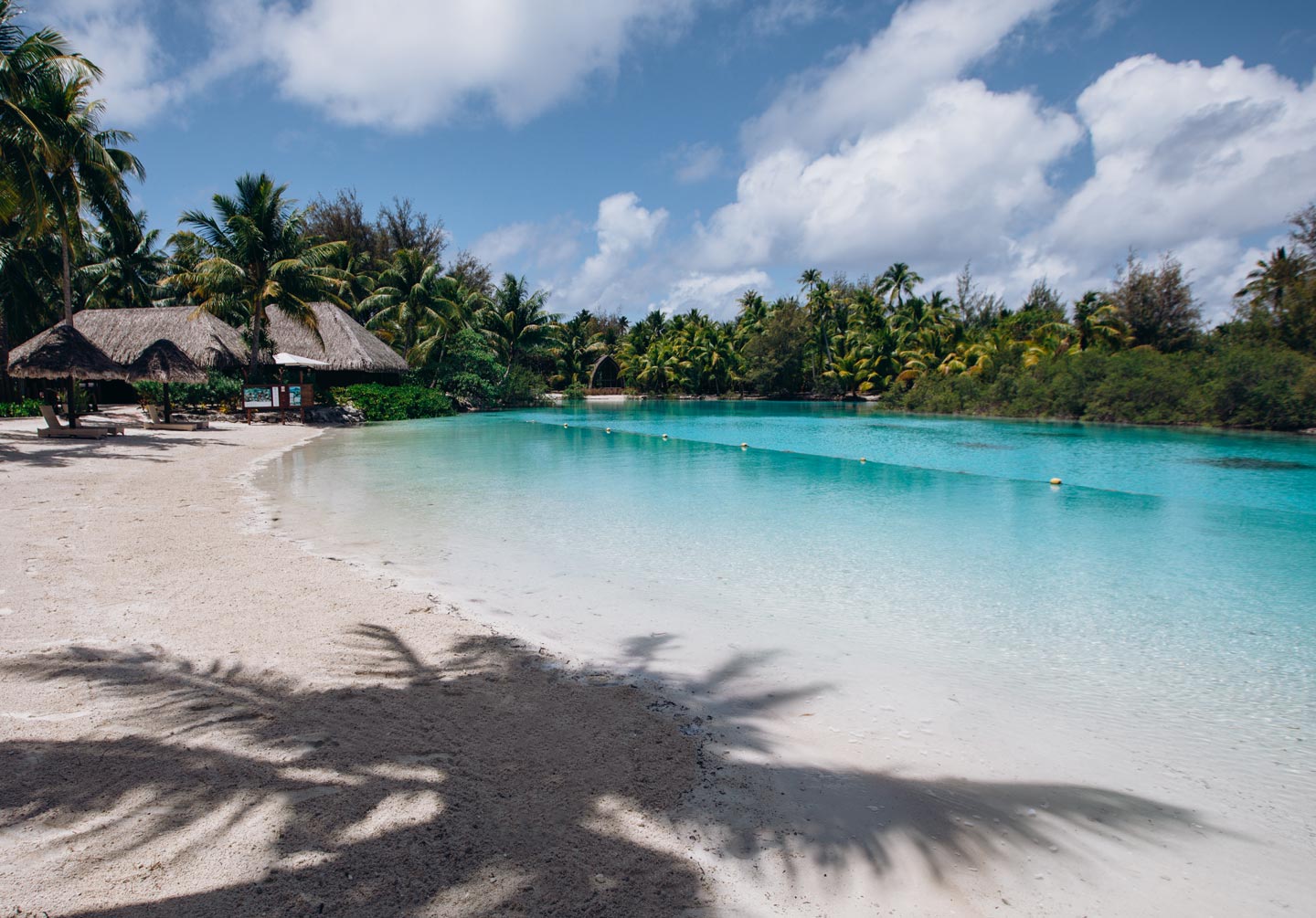 Pool
To be fully honest with you, we spent our entire first day in our bungalow or the beach. We were just so in awe of all the beauty that we barely even ventured outside of the overwater area. When we finally stumbled upon the main pool, we were just completely stunned. You mean, on top of everything so far, this place even has one of the most beautiful pools we've ever seen?!
It's not an exaggeration. The main pool at the Four Seasons Bora Bora is laid out perfectly. On one side you have the chairs and cabanas, in just the right spot to give you a dreamy view of the mountain just peeking behind the tall palm trees on the beach. The sun also joins in right around sunset, to add a little glimmer and make the vibe even more magical.
The pool is heated, of course, so the temperature is always just right. There is also a big jacuzzi and a swim up bar around it. Fare Hoa Beach Bar is right next to the pool so you can order a snack and won't even have to get out of the pool to eat it.
Spa
After a long hard day in paradise, pamper yourself at the spa. The moment you step in you are surrounded by teak wood furniture and high ceilings that create a sense of serenity. Friendly staff welcome you at the front desk with tranquil music in the background.
The spa offers a variety of treatments including massages, facials, Check out the super special Kahaia Haven treatment, where the beds are situated on glass floors over the lagoon. You can watch the fish swim underneath as you're getting your massage.
The spa even has an outdoor tub that looks out onto Mount Otemanu. There's an array of local beauty products and workout gear available for purchase too. Have a browse while you wait for your treatment or afterwards once you've experienced the products firsthand.
Fitness Facilities
The gym at the Four Seasons Bora Bora is one of the best on the island. While working out might not be top of your list when you're holidaying, even the Four Seasons gym has a relaxed holiday vibe to it. The high ceiling fans underneath an A-frame roof with windows that surround the gym give you the feeling of working out in true luxury. The equipment is state-of-the-art from weight machines to elliptical machines that look out into the beautiful scenery.
There are towels and complimentary bottled water, and even headsets in case you forgot to bring a pair. The Four Seasons also offers personal training sessions, private tennis lessons and yoga classes if you're looking for some one-on-one fitness outside of the gym.
Restaurants At The Four Seasons Bora Bora
When you're holidaying on a small island, food becomes very important. You want to make sure there's ample food choices as well as good food to choose from. At the Four Seasons Bora Bora you don't have to worry about that. There are 5 dining options to ensure there is something palatable for everyone's taste buds. Their breakfast is the best we've had in French Polynesia!
Arii Moana
This is the resort's most upscale dining experience. The menu is based on the ingredients of the day, so you can always expect surprises. This more sustainable way of setting a menu really shines through in the freshness of each dish. If you dine here, you'll be amazed by their wine collection with over 150 labels from around the world!
Fare Hoa Beach Bar and Grill
If you're looking for more of a relaxed vibe, definitely check out Fare Hoa. You'll get all day dining right here on the beach. It's right near the pool so if you're lounging around, you won't need to go far. And you can even request to have your food at the swim up bar. On Monday nights you can enjoy a traditional Polynseian BBQ style dinner with live performance and dance.
Fish House at Fare Hoa
The name gives it away. At Fish House you'll get the best seafood you've had with fresh catch right from the South Pacific waters. There is an array of seafood options that are just divine.
Vaimiti (Sunset Restaurant and Bar)
If you're looking for some more exotic flavors, check out Vaimiti. Situated over the beautiful turquoise water, it offers some delicious eclectic Asian cuisine. Be sure to go at sunset as you'll get the best views.
Tere Nui
Start your day off with the best breakfast at Tere Nui. Enjoy the open-air restaurant overlooking Mount Otemanu. Tere Nui also offers a casual dinner experience.
In-Bugalow Dining
Why not lounge around all day in your beautiful bungalow? The Four Seasons offers some incredible in-bungalow dining options. Breakfast can be delivered by a Polynesian canoe decorated with flowers. Have a snack while you're in the plunge pool, or have a romantic dinner on the terrace. Room service is available 24 hours.
Overall the food was all high-end with mainly French Polynesian influences and traditionally inspired by French cuisine. We loved that there were an array of dining options to choose from – from special nights out to more casual eats throughout the day.
Family
The Four Seasons has a reputation for being a family-friendly hotel and this location is no exception. Although most of the guests we encountered here were on a romantic holiday or honeymoon, the hotel has amazing family-friendly amenities. The Kids For All Seasons club has different activities every day. From arts and crafts, to sandcastle building and hermit crab races, your kids will always have something to do.
Spoil Yourself
The Four Seasons brand truly embodies the definition of luxury. And when you combine it with the natural beauty of Bora Bora, you get an unforgettable experience. From the best views of the mountain, to the most beautiful beaches, to the stylish bungalows and the perfectly designed pool, to the private lagoon… every single corner of this resort lives up to the hype.
It is far from being a budget destination but it is absolutely worth it, especially for a special occasion. We are so lucky to have spent our honeymoon here and can't wait to have another excuse to come back in the future!