Cinque Terre, one of the biggest perks of visiting Italy is the access to these centuries-old fishing villages turned tourist destinations. Follow the rugged Ligurian coastline and visit these 5 villages each with their own unique personality.
On one side, you'll be greeted with the Italian Riviera and on the other, jagged cliff side mountains in the Cinque Terre national Park – Italy's first national park. What meets them in between are picturesque, colorful towns as romantic as the fairy tales that have preceded them. Jump on a 19th century old railway line to visit each of these destinations as cars are banned in most of the towns, in order to maintain their quaint village heritage. Alternatively, if you like a little more adventure and exquisite vistas, you can hike the Blue Hiking Trail, which also connects the towns. So if you like the sound of romantic fishing villages, sunny beach days, water sports, artisanal shops, hiking, wineries or delicious restaurants, start thinking about when you want to visit and where to stay. Hotels and guesthouses here are notoriously known to be booked far in advance.
Getting to Cinque Terre
Driving the Cinque Terre windy roads is not for the faint of heart, albeit a beautiful drive. If you want to have more freedom driving between the towns, there are some places that offer free parking for their guests. We've listed guesthouses in Corniglia, Vernazza and Riomaggiore that offer free parking.
We suggest leaving your car behind in Monterosso and opt for taking the train to the rest of these magical towns. You can buy a Cinque Terre Card that gives you unlimited train rides between the towns.
There are two main parking areas in Monterosso. One located in the old town and the other in the new. Parking at Loreto (the old village) is available all year round, while parking at Fegina (new side) is only open during the tourist season from March – October. While parking costs may differ, it will generally cost you 15 euros a day to leave your car in a parking lot. Free parking is only available outside the towns.
There are some hotels in Monterosso that offer paid airport transfers if you opt to not take a car at all.
When To Visit
If you want to avoid the crowded beaches, we suggest visiting Cinque Terre during Spring (March – May) for cooler weather and less crowds. However, if you don't mind crowds, go in the summer months (May – October) to enjoy the outdoor activities like swimming and boating. We don't suggest going in the winter months (December – February) as many restaurants and hotels are closed. If you can take the time off, going for a week is ideal. However, if you have more exploring to do around Italy, then a minimum of 3 nights would be advisable to really enjoy all the various towns.
Having spent a lot of time in hotels, we understand how important your sleep environment is when being in a foreign country. Your hotel room is essentially your home away from home. And part of having the perfect luxury vacation is picking the right place to stay! So here we've listed our favorite luxury places to stay in Cinque Terre as well as things to do in each town.
Riomaggiore
Riomaggiore is known to be the unofficial 'capital' of the 5 Cinque Terre villages. It's located in the most eastern end of all 5 villages. What we love about Riomaggiore is the electric buzz you feel in the village. Filled with a younger demographic, this town has the best nightlife options. There is a constant bustling feel as you walk the streets. The beach at Riomaggiore is more rocky than sand, ideal for sunsets but not so ideal for sunbathing!
Things we recommend doing while in Riomaggiore are to visit the botanical gardens (Castello di Riomaggiore), rent a boat or kayak and go snorkeling or scuba diving. Surprisingly you can even get your PADI license here! Lastly, watch one of the most beautiful sunsets in this region and get that 'perfect' photograph at the rocks by the beach.
Ideal for: This is the best town to enjoy the Old Town filled with restaurants and bars while taking in marvelous sunsets. Ideal for people looking to meet fellow younger travelers who enjoy late nights and a variety of food options.
Where To Stay in Riomaggiore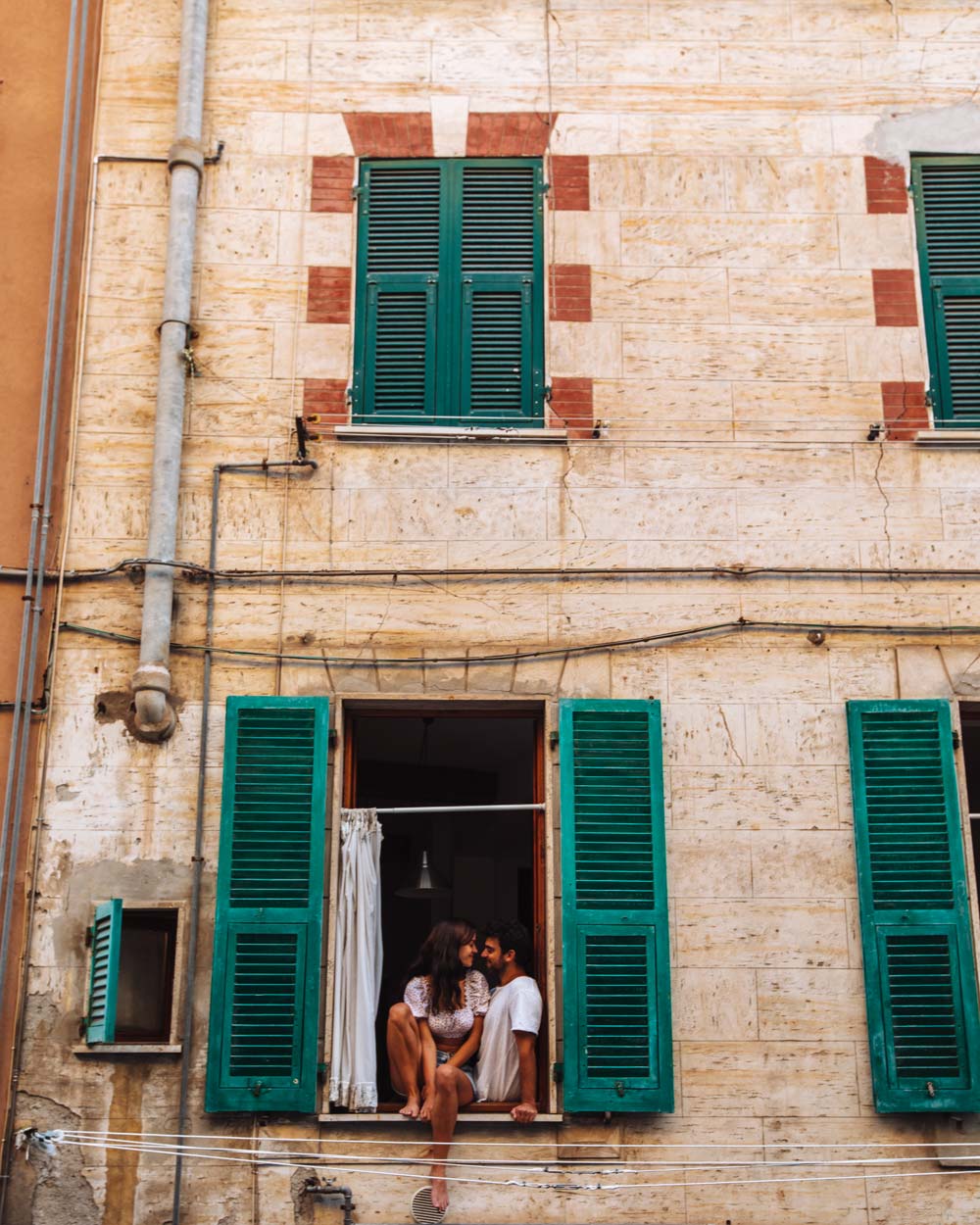 Manarola
Manarola is rumored to be the oldest village of the 5 Cinque Terre towns. Known to be a photographers' heaven, there are Medieval relics littered all over this village. Day trippers and tourist alike fill the main street while shopping and enjoying the sights. Fishing boats line the waterfront promenade where you can see the remnants of what village life was like centuries ago. You'll be surprised how much time you'll want to spend simply taking in the beautiful marina.
A must visit while you're in Manarola is Punta Bonfiglio which is only a short uphill hike from the main street. Go there for the novelty of having a drink at a bar with a playground! You'll be pleasantly entertained. When you're ready to rest, sit back and enjoy the impeccable views from the top. Manarola is famous for its sweet Sciacchetra wine and foodie haven. Do yourself a favor when you're in Manarola, head to Nessum Dorma restaurant. It's situated at the perfect viewpoint overlooking the ocean.
Ideal for: If you're looking for quiet evenings, delicious food and photography opportunities around every corner, this is the ideal town to stay in.
Where To Stay in Manarola
La Torretta Lodge.

Modern luxury meets high end beach chic, La Torretta Lodge was once an old medieval tower. Every room is uniquely designed. Enjoy free aperitifs every evening and hot tub facilities are included in the stay. Breakfast is available on their rooftop terrace.

L'Attico Giallo Oro di Giulia. L'Attico was freshly renovated in 2020. It's a 2 bedroom apartment, 1 bathroom, dining area, a terrace with a multitude of views and a fully equipped kitchen. This place feels more like a hotel than an apartment, with snacks and Italian coffee available in the mornings.
Giovanni Rooms Manarola. Giovanni Rooms is located at the top of a hill, which makes for impressive views but a difficult climb if you have a lot of luggage. Since it is more secluded, you'll get more peace and quiet during your stay. Giovanni Rooms have both apartments and single rooms. All rooms are newly refurbished with great showers and modern decor.
II Sogno di Manarola by The First.

This guesthouse feels more like a hotel than a guesthouse. Spacious bright rooms and services such as a personal concierge for guests, room service, breakfast included and a hot tub on its premises. Rooms range between garden or sea views.

Luxury Seaview Apartments Manarola by Arbaspàa. These are fully equipped apartments offering spacious rooms, nice bathrooms and an open dining area that opens out to the balcony overlooking the sea. The apartments range from studio apartments, loft spaces, 2 bedroom apartments, superior and deluxe apartments.
Olimpo Affittacamere. Olimpo Affittacamere has simple, clean, modern rooms all with patios making it a great hotel choice if all you're looking for are the basics. Head to their restaurant situated on a deck with both city and sea views to enjoy delicious food and stunning views.
Corniglia
Corniglia, surrounded by vineyards, is known as the quieter village of the 5 Cinque Terre towns. Considered the most authentic of the towns. It takes nearly 400 steps to arrive at this hilltop village.
Corniglia is the only town out of the 5 Cinque Terre towns that does not have direct sea access. So instead of enjoying some beach time in this town, we suggest you discover the quaint European alleyways and colorfully painted four-story houses all around. For the best viewpoints, head to La Torre by the main square (Piazza Taragio) or Chiesa di San Pietro, a beautiful Church that gives you that classic Italian scenery. Once you're done with all the great photography shots, rent a kayak and head to the famous nudist-friendly Guvano Beach.
Ideal for: If you enjoy the feel of visiting a place off the beaten track, you will revel in this town. Known for its views and hiking trails, Corniglia attracts more outdoorsy adventurous types. This village is also great for photographers looking to capture the 5 Cinque Terre villages in one snap.
Where To Stay in Corniglia
Vernazza
Filled with couples and photographers, Vernazza is arguably the quaintest of the 5 Cinque Terre villages. It's even been named one of the most beautiful villages in Italy. The town is filled with cafes and a picturesque cobbled stone main street. Walk down any side streets and you'll see glimpses of the sea. With no cars allowed in the town, the historic quaint charm remains the same, even centuries later. Walk through a cave-like entrance to the beach, where giant rocks and a deep sea awaits you, perfect for diving.
A few must visits when you're in Vernazza include the Doria castle built on the hill, the church of Santa Margherita and lastly the Vernazza port. Vernazza is one of the busier Cinque Terre towns to visit, so when booking accommodation, be sure to book well in advance. There aren't many hotels in Vernazza, as most accommodation options are guesthouses.
Ideal for: Vernazza is ideal for couples and photographers who enjoy the outdoors. Many visitors enjoy hiking from Vernazza to the next village of Corniglia. The hike is littered with amazing views along the way. In Vernazza, you can also enjoy access to 2 beaches. So if you're wanting more beach time and nature, Vernazza is the best village for it.
Where To Stay in Vernazza
Carattino.

This 2 bedroom holiday house has modern chic vibes. The apartment is very spacious and has rooftop terrace views that include both mountain and city views.

MaDa Charm Apartments. This 1 bedroom apartment is a decorators dream. The bathtub has funky wallpaper as the backdrop, while the apartment is filled with stylish accent pieces and artwork. If you want to upgrade your room, opt for their Jacuzzi apartment. Just as stylish but with the addition of a jacuzzi right in your room!
Sea View Suites – Francamaria Rooms. Sea View Suites have multiple rooms available from economy double rooms to quadruple rooms. The rooms are a mix of old world brick walls and contemporary decor. There are also minimal steps to get to the rooms for those of you who aren't keen on lugging your luggage up a ton of stairs.
Cade Ventu. This spacious guest house has beautiful sea views from the terrace. The guest house has a homey feel and since it's not located in the middle of the town, the peace and quiet is a nice reprieve. Enjoy the rooftop deck or their jacuzzi and sun chairs. However, they only open the jacuzzi from June – September.
Hotel Gianni Franzi. Hotel Gianni Franzi is located in 3 buildings, and rooms are located at the top of the staircase. Rooms are basic with beautiful scenery outside each window. Enjoy their onsite restaurant and bar that offers both local and national dishes. Breakfast is included.
La Polena Camere Vernazza – Visconti Apartment. This beachfront apartment offers private parking, fully equipped kitchen, 2 bedrooms, 1 bathroom and a shared seating area. This nautical themed apartment is located in the middle of the town. The staff even welcome you at the train station and help take your luggage.

Monterosso al Mare
The flattest town of the 5 Cinque Terre villages. Monterosso is split into the old town and 'newer' town, which is connected by an underground tunnel. Having this split in the town, gives you the best of both worlds. The old town has the charming rustic historic center, while the new town has a more resort-style feel.
Being the most accessible town of the 5 Cinque Terre villages, Monterosso is definitely the most touristic. Enjoy the seafront promenade filled with restaurants and small shops. There is probably some unwritten law in Italy that you must try the Cinque Terre wine when you're in the region. The best place to do that is Monterosso! Indulge in this cultural activity and visit the beautiful terraced vineyards surrounding the town. Once you're done indulging, Monterosso is the best town to start hiking the famous Blue Trail, which connects all 5 villages (12 km / 7.5 miles).
Ideal for: Monterosso is a great choice if you're holidaying with the whole family. This is the best village if you're looking for some beach time and hiking the Blue Trail. Monterosso has a nice stretch of beach with sand, so you can enjoy private beach clubs or simply rent chairs and umbrellas for the day.
Where To Stay in Monterosso al Mare
Final Thoughts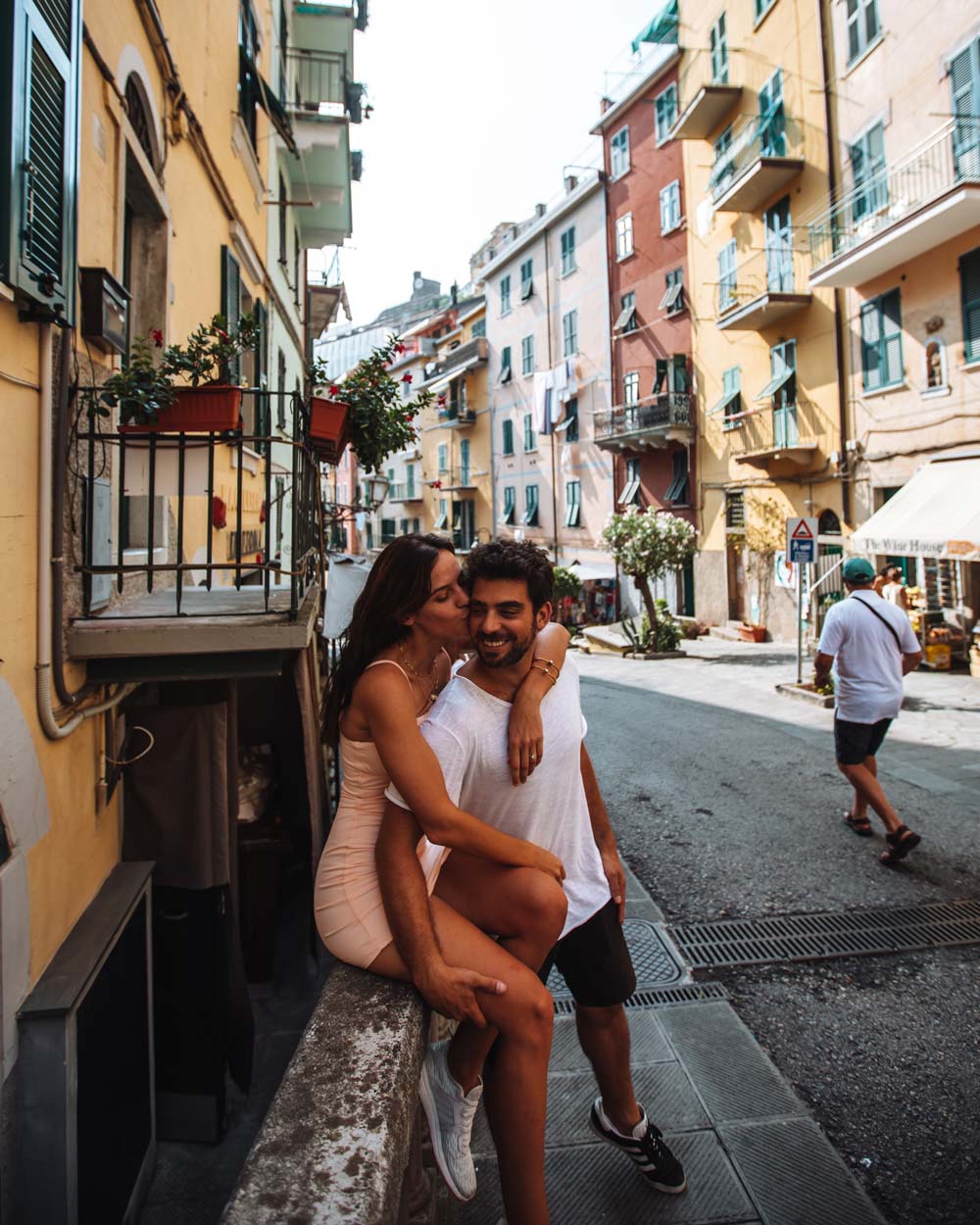 Now that you have a better understanding the different towns and what they are suited for, start preparing for your trip to Cinque Terre! Cinque Terre has something to offer for all vacation types. This place is truly as magical as the pictures. We hope you find the perfect place to stay and get to visit as many towns as possible! Remember to pack light given how steep most of the towns are and enjoy all the activities offered throughout each town.