Ah, Positano, those world-famous cliffs with bright houses painted shades of pink, white, and yellow seem sprinkled all over them. This former fisherman village has become a symbol of the sweet Italian life and one of the most desired honeymoon destinations. But, planning a trip there can be a daunting task, as the summer season is short and accommodation is limited. Here's our guide to the best hotels in Positano as well as which areas you should stay in.
Getting To Positano
First things first, how do we get there?
Getting to the Amalfi Coast can be a little tricky as there are no direct flights or trains and there are few direct buses. In addition, parking is very limited, so renting a car can be a challenge. We recommend taking a train to Naples and continuing by taxi or shuttle to Positano.
Read our full guide on all the routes to Positano and a breakdown of the best options here.
Where To Stay In Positano
Pick where to stay in the Amalfi Coast wisely. While Positano is the most famous town in the area with the most scenic views and best photo ops, it's the most expensive one too. The town is also not as 'authentic' as its neighboring towns due to the flood of tourism there.
If you are traveling with small children, Positano might not be the best choice for you as it's not stroller-friendly (read: lots of stairs!).
Neighboring towns like Praiano and Amalfi can offer a similar experience as Positano for a lot less – and with better parking! If you're looking for a less crowded tourist town, but still the same great views and beautiful hotels Praiano is your best bet. If you're more interested in architecture and exploring the region, Amalfi boasts beautiful 11th century architecture in its old town. It is also a main transportation hub and much more family-friendly.
There is a lot to consider, but don't worry! Whether you're planning a romantic luxury getaway, a family vacation or a budget-friendly trip, we've done all the research for you and are here to break down all the options for you.
Best Luxury Hotels In Positano
Positano is known for its panoramic sunsets, quaint alleyways and picturesque scenic views. It is also home to some of the most beautiful hotels in Europe and an extremely popular destination for weddings and honeymoons. Yes, prices can go through the roof in the summer, but if you are looking to splurge for your special occasion, you can't go wrong with Positano.
What could be a better location for your honeymoon? The views are breathtaking, every corner screams romance and every sunset gets more beautiful than the last. Positano will leave you and your partner feeling more in love than ever.
Here are recommendations for luxury hotels in Positano with the best atmosphere for romance, perfect for special occasions and honeymoons:
Best Value For Money In Positano
There is no doubt that Positano accommodation comes with a high price tag. But if you plan in advance, there are still a few deals you can find. We've found a few places with great views and nice amenities that won't break the bank:
Where To Stay In Positano On A Budget
Positano gets a bad rep for being an expensive holiday location. However, we've found a few budget-friendly stays for you:
Where To Stay In Positano For Nightlife
Positano isn't typically known for its nightlife; however, it has a few places for you to boogie the night away. Here are the best hotels in Positano located near the most lively areas: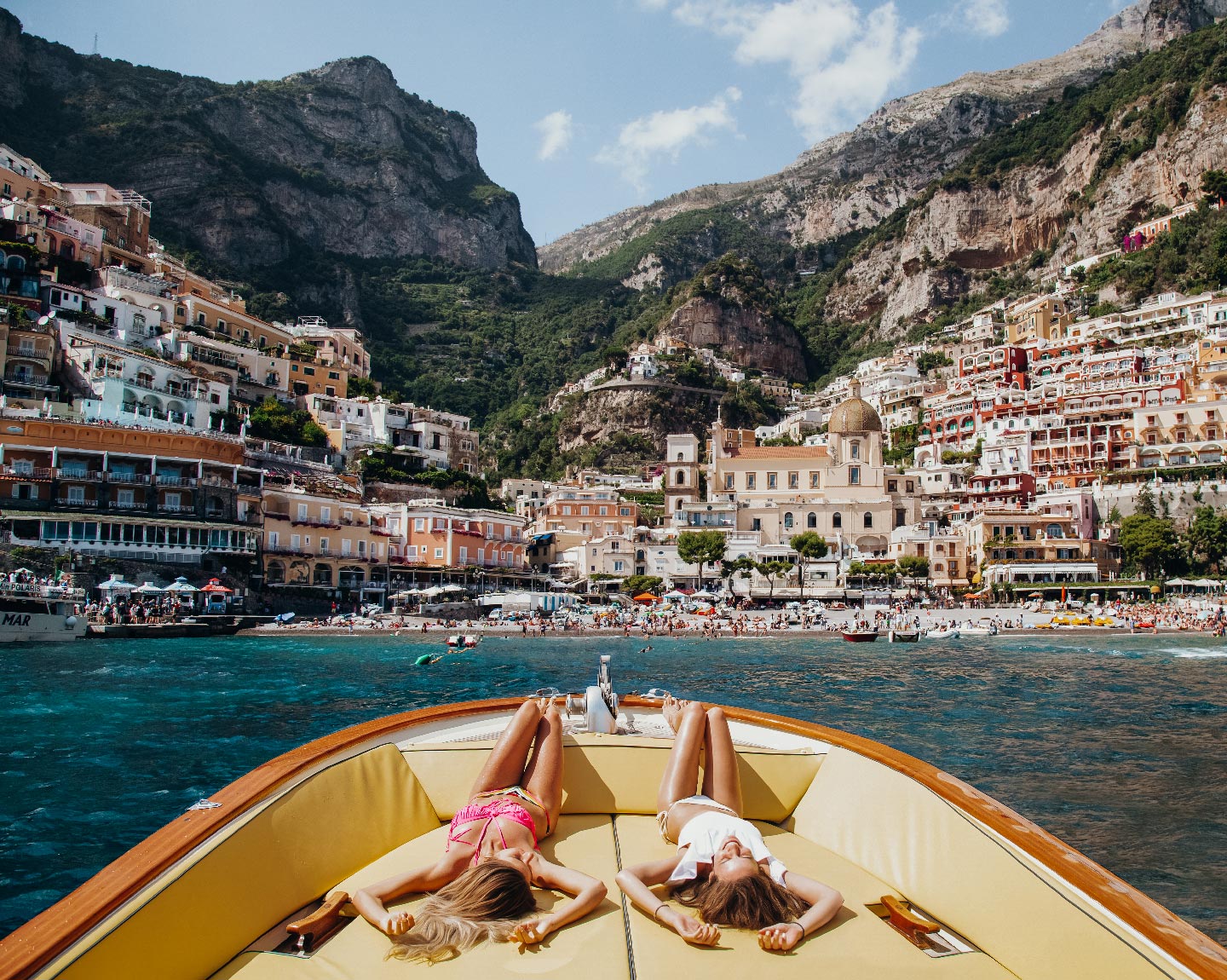 Best Hotels In Positano For Families
Holidaying in Positano isn't like your typical holiday with all the kids and their grandparents. There are a few things to keep in mind before bringing the whole family.
Positano was built on steep cliffs so there are many steep roads and stairs that are not very stroller-friendly. There are just a couple of main roads for cars and the rest is steep alleyways and a LOT of stairs. Be prepared. It can also get very crowded and hot in the summer, and public transport is unreliable and often overcrowded. Be sure to read our cautionary post on Positano here.
This isn't to say you shouldn't come. There are plenty of activities to keep the whole family happy. From boat rides to beach days and, of course, all the gelato! We've picked a few places within Positano that are family friendly, but suggest staying in Amalfi and taking day trips over to Positano if you have younger children.
Where To Stay In Praiano
Praiano, although not as famous as its neighbor Positano, actually has a lot to offer. It's much quieter and less crowded but still offers stunning views of the Amalfi coast without the high price tag. Our hack for visiting Positano is staying in Praiano. We get to enjoy the same gorgeous views, quieter romantic dinners and evening strolls, but much more affordable prices.
Praiano also has a more authentic Italian vibe, as it still feels like there are locals who live here. One thing to be aware of when staying in Praiano it that you'll have to take public transportation to get to Positano. Since it's one of the last stops before Positano, buses are generally pretty full by the time you get on. In high season this could be a real problem.
Here are some of our top picks in Praiano: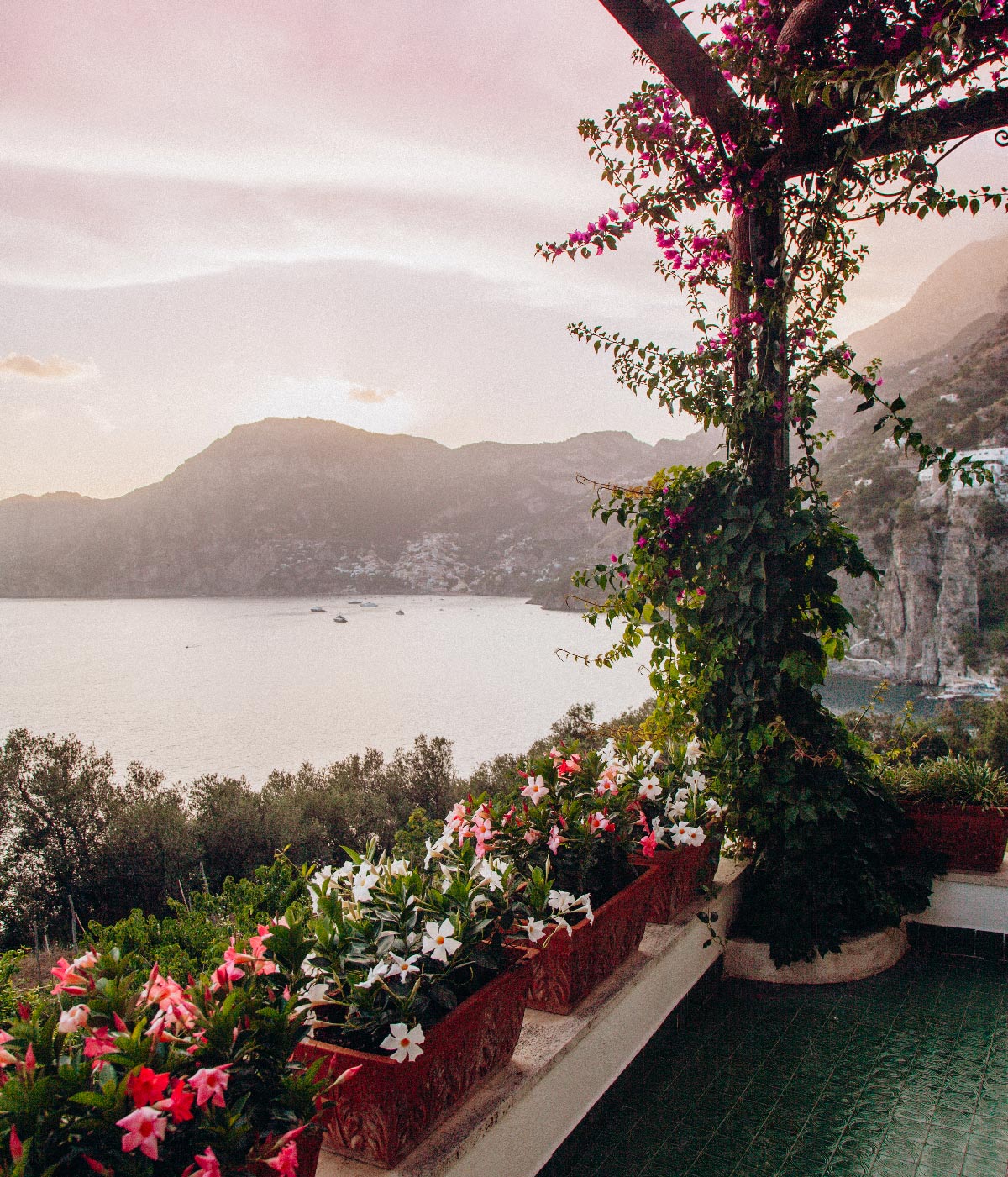 Where To Stay In Amalfi
If you're looking for a quieter stay, Amalfi is your best bet. Explore the 11th century quaint old town, shop, head over to Positano, or take a bus over to Ravello for a change of scenery.
Amalfi is perfect for families as there are fewer steps and the roads are less steep than Positano. However, a lot of tour buses stop in Amalfi so it can get very touristy and crowded at certain points throughout the day.
Enjoy Positano!
So there you have it, all the types of accommodations to fit your budget, occasion, travel needs and our hacks to finding great stays without the price tag! Finding the best hotels in Positano to fit your needs is not always easy, but in any case we highly recommend booking as far in advance as possible. Don't forget to check out the rest of our articles on Positano for our top tips and hacks on having the perfect stay.