The Amalfi Coast is one of the most beautiful parts of Italy so it's no wonder it's also one of the most popular. But getting there can be a little complicated. It is a mountainous region with limited access and narrow single-lane roads that are not built to accommodate the massive traffic they see in the summer. Our guide on getting from Rome to Positano will help you navigate through all the complicated options.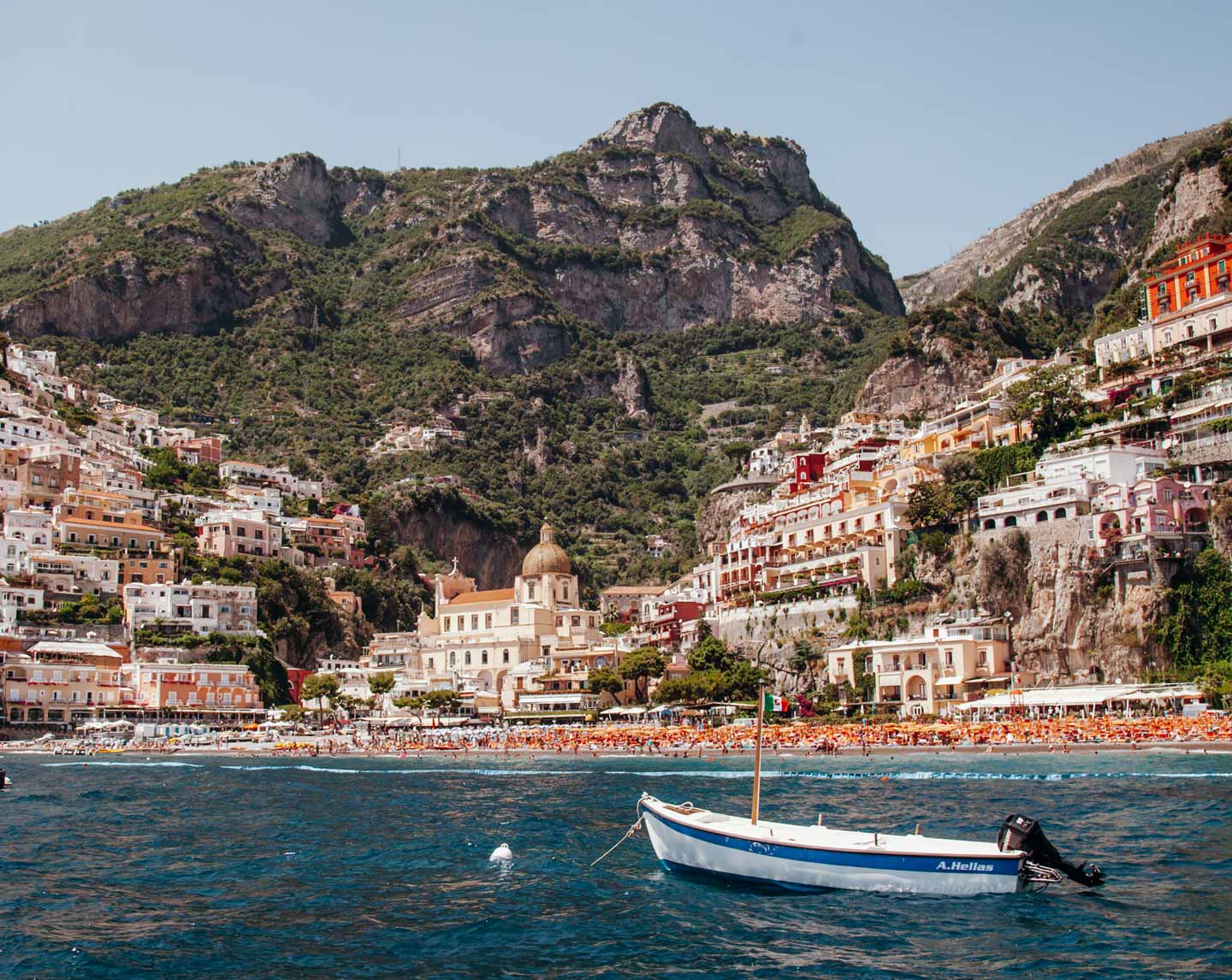 Where To Fly To?
There are no airports in the Amalfi Coast area so the closest cities you can fly to are Naples and Rome. If you can fly to Naples we highly recommend it. But flights to Naples can be also much more pricey. So most likely you'll end up flying into Rome and making your way to Positano from there.
Best Ways To Get From Rome To Positano
Since there are no trains or ferries all the way from Rome to Positano, the only direct transportation between the two cities is by bus and by car. All the other options involve some sort of a mix between train, car, and/or ferry. Here are the most common and efficient routes:
By car/shuttle – taxi costs around 400-500 Euro from Rome to Positano and is the most comfortable way if you can afford it. You can book one here by selecting

Private Transfer

. There is also a

shared shuttle

option at around 100 Euro/person.
By bus – direct, takes about 4 hours and costs around 25 Euro.
Train from Rome to Salerno -> ferry/shuttle from Salerno to Positano.
Train from Rome to Naples -> taxi/car from Naples to Positano.
You can also rent a car for about 20-30 Euro/day. Keep in mind parking in the Amalfi coast is quite difficult so renting a car might not be the smartest option unless your accommodation there happens to have parking.
Below you will find our detailed breakdown of all options to get from Rome to Positano.
By Taxi/Shared Shuttle
---
One of the most convenient ways to get from Rome to Positano or from Naples to Positano is by taxi or shared shuttle. But, of course, it is also the most expensive option.
The added benefit of a private transfer is that you can ask your driver to take a few stops along the way so you can take pictures of the stunning coast. Believe us, you will want to do this.
Rome To Positano
The rate for this trip for a private taxi can be around 500 Euro or more so be prepared to pay up! If you are traveling in a big group, it might still make more sense than other options.
One of the most time and cost-efficient options is to take a shared shuttle directly from Rome to Positano. It will take a little under 4 hours and it costs between 100-150 Euro per person. Considering the price, comfort and convenience, we think this beats most other options. You won't have to worry about getting to the right station, missing your connection or your train getting canceled. Yes, it happens and it can totally ruin your plans!
Naples To Positano
Taking a train to Naples and then a private transfer from Naples to Positano is one of the most cost-efficient ways to get to Positano. The cost of a private taxi should be between 100-150 Euro depending on the season. Keep in mind that booking a service online will usually get you better rates versus trying to hail a taxi at the train station in Naples (we learned this the hard way :))
Here are a few private transfer companies that offer these routes:
And here are some shared shuttle service operators in the area. The cost from Naples to Positano should be around 35-50 Euro per person:
By Bus
---
If you choose to travel by bus, we recommend you only do it directly from Rome to Positano. That's the most time and cost-efficient option. Combining train and bus with a stop in Naples or Salerno will make your trip too long or expensive.
Rome To Positano
The bus ride from Rome to Positano takes about 4 hours and it's the only public transportation option that will take you directly there.
The most popular bus route is operated by Marozzi. It leaves at 7am from Roma Tiburtina and costs around 25 Euro.
Naples To Positano
If you are planning to fly into Naples or take the train here, you can continue to Positano by bus. We do not recommend this option as it is more expensive than taking a bus directly from Rome to Positano. It is also not the most time-efficient way to plan the route.
The bus ride takes about 1.5 hours and costs 45 Euro. You can book tickets here.
Salerno To Positano
There is an option to take a bus from Salerno to Amalfi and then another bus to Positano. The entire trip would cost around 5 Euro. But the time and hassle are not worth it.
By Train
---
There are no trains all the way to the Amalfi Coast, so the closest cities you can get to by train are Naples and Salerno. Salerno is a little closer to Positano and has the added bonus of direct ferry service between the two cities, unlike Naples.
Rome To Naples
You will take the train from Roma Termini station to Napoli Centrale. There are many direct lines running between the two cities so you would not need to make a connection.
There are a few options to get from Rome to Naples by train with Trenitalia (Italy's national train service):
Regionale – the slowest and cheaper option. Depending on the line, it can take up to 3 hours to get to Naples from Rome using this train. There is no reserved seating. The price is around 12 Euro
Intercity – these trains take about 2 hours for the whole ride. They do offer reserved seating and the price of the ticket is about 15 Euro.
Frecciarossa – this is the express option, which takes about 1 hour and 15 minutes. Seat reservations are mandatory on this train. It is also the most expensive option but if you

buy tickets online

in advance you will get a better deal (about 20-30 Euro).
In addition to Trenitalia, you can also take Italotreno – a private train operator in Italy. Their trains are new and fast but prices can be higher in some cases. They often offer competitive prices to Trenitalia though so try to plan in advance.
Once you get to Naples, you can continue to Positano by taxi/shuttle or rent your own car. We will break down those options below. There are no direct ferries from Naples to Positano.
Rome To Salerno
The options to get from Rome to Salerno on Trenitalia are similar to Naples, but they take longer and can be more expensive:
Regionale – it can take between 2-4 hours and costs around 17 Euro. You will have to make 1-2 connections though.
Intercity – this option can take between 2-3 hours and costs anywhere between 10 – 15 Euro. Some options do not include a connection so look for those – they are the most cost-efficient way to get between the two cities.
Frecciarossa – these trains take around 2-2.5 hours. Some are direct and some include connections. But they can cost between 40-65 Euro.
Italotreno offers just a couple of options for this route – from Roma Termini and from Roma Tiburtina. They both take around 2 hours and cost around 15 Euro for Economy.
Once you get to Salerno, you can take a bus, taxi, ferry, or rent a car to get to Positano. We will break down your options below.
By Ferry
---
Taking a ferry can be a quick way to move between the towns in the Amalfi Coast, but ferry service is not available at all towns. The following towns have ferry ports in the area:
Amalfi, Salerno, Sorrento, Positano, Capri, Maiori, Cetara, Minori.
If you are planning to take a ferry, keep in mind the ferry ports are located at the skirts of steep mountains and there are no paved roads leading to them (with the exception of Amalfi). That basically means once you get off the ferry, you will have to carry your luggage up some very steep stairs, or pay someone else to do it.
Also keep in mind ferry service in the region runs only during the summer season from April to October.
There is conflicting information on whether there is a direct ferry service between Naples and Positano. But we did find this direct line between the two towns offered by Lucibello Positano that takes an hour and 20 minutes and costs 28 Euro.
Alternatively, you can take a ferry from Naples to Sorrento and then from Sorrento to Amalfi or Positano. Naples to Sorrento takes about 40 minutes by ferry and costs around 12-15 Euro. And the connection from Sorrento to Positano also takes about 40 minutes by ferry and costs around 12-15 Euro.
If you choose to get from Rome to Salerno via train, you can continue to Positano by ferry. This is one of the most convenient and common routes most people choose. The ferry takes about 1 hour and costs around 12 Euro.
This is the other major ferry line that operates in the area. The ride takes only around 10 minutes and costs 8 Euro. Keep in mind if you are already in Amalfi, you can also take the local SITA bus between the towns.
Rent A Car
---
Renting your own car is usually the most convenient and cost-efficient way to travel. However, that's not always the case in the Amalfi Coast. There are a few things to consider here:
Driving in Amalfi Coast is not easy. The roads are really narrow, with a lot of sharp turns and scary drop offs on the sides. Local drivers are used to the roads and drive quite fast at times, which can be frightening. If you are not an experienced driver, especially with narrow European roads, driving here might not be for you.
Parking in the area is really limited. There is virtually no public parking available in Positano and the few private parking lots are very expensive – up to 7-10 Euro per hour during the high season! You will find some public parking in Amalfi but it's still about 3 Euro/hour.
Some of the high-end hotels and some rental apartments might have private parking spots available. Be sure to ask and, if you are lucky to get one, renting a car can be an option for you.
Before you rent a car, be sure to read our complete guide to driving in Italy. There are things you need to keep in mind to make sure you don't get fined as an unsuspecting tourist.
---
Our Advice
The first time we visited Positano we took a train from Rome to Naples and a private taxi from Naples to Positano. For a group of 4 people the total came out to about 70 Euro per person. We do recommend this option if you don't mind the transfer in Naples and if you are somewhat budget-conscious. Our train from Rome was cancelled last minute, though, which added to the overall hassle
If the price is not an issue, taking a private taxi or a shared shuttle from Rome to Positano is the most comfortable hassle-free way to go.
When we went back to Amalfi Coast last year, we had a rental car that we were planning to drop off in Salerno and continue by taxi to Positano. But when we got to Salerno, we realized the price of the taxi to Poistano (one way) would be higher than what it would cost to rent a car for our entire time in Positano. Luckily our rental apartment in Praiano had a parking spot, so we ended up keeping our rental car instead of taking a taxi. It was the best decision for us! Not only did it save us a lot of money on taxis (transfers between the towns can cost 40 Euro one way), but it was also very convenient. This won't work for most people but do check if your accommodation in the Amalfi coast has parking just in case.
Read our detailed tips on what most blogs don't mention about Positano here.