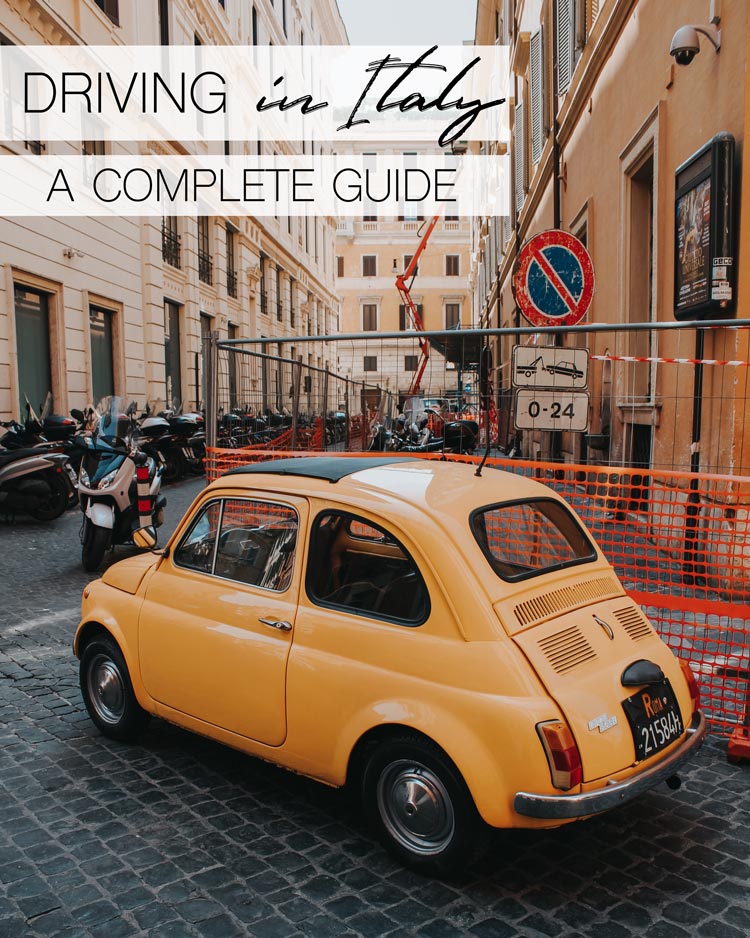 If you follow us on Instagram, you know we did a whole road trip driving around Eastern Europe and finishing in Italy last summer. We started from Bulgaria and drove through Serbia, Montenegro, Croatia, Slovenia and spent a few weeks in Italy. It was an incredible trip! We saw so many different landscapes, visited so many places and got a taste of so many cultures.
It was all fun and games until we started receiving speeding tickets and fines in the mail almost a year later 😀
But, interestingly enough, although we drove through all of Eastern Europe, we only received fines and tickets from Italy. Wonder why that is?
Italy is very strict with speed limits and has LOTS of speed cameras. But that's not all. They are also very serious about enforcing rules on driving in restricted areas, and it is a very easy trap to fall into as a tourist. Not that it's a "trap" necessarily, all these restricted areas are marked clearly. But you could easily miss them if you don't know they even exist or didn't do your research. And these mistakes can be very costly.
So if you want to avoid spending hundreds of Euros on fines after driving in Italy, be sure to read our tips carefully.
Documents Required to Drive in Italy
To drive in Italy, you need to be 18 years of age. But you must have had your driver's license for at least a year before you can rent a car in Italy. Many rental car companies will charge an extra fee if you're under 25.
Driver's licenses from all EU member states are valid in Italy. If you don't have an EU driver's license, you will need an International Driver's Permit (IDP) to drive in Italy. Although car rental companies might not require it to rent you a car, by law you do need to have one. And if you get stopped for a routine check without it, you risk getting a fine of up to €300.
Remember: an IDP is not a substitute for a driver's license. It's something you need to carry together with your driver's license in order for it to be recognized in over 150 countries around the world.
Where to Get an International Driver's License
Only two organizations in the US issue international driver's licenses/permits (IDP): the American Automobile Association (AAA) and the American Automobile Touring Alliance (AATA). You don't have to be a member of those organizations to apply for an IDL. You can do it in person at one of their offices or by mail.
Checklist for Driving in Italy:
Driver's license (required)
IDP (required)
Proof of liability insurance (required)
ID/passport (required)
Reflective safety vest (required to have in the car)
Reflective triangle (required to have in the car)
Fire extinguisher (recommended)
Spare tire (recommended)
Now, once you have the right documents, make sure you know the rules for driving in Italy.
General Rules For Driving In Italy
If you know Italian traffic law, you can avoid getting fined or stopped by traffic police. While most laws are pretty similar to those in the US, there are some differences. However, there are some rules like Zona Traffico Limitato that are particular to Italy. Read more on those below.
Seatbelts. By law, anytime you're driving or riding in a vehicle, you have to wear your seatbelt.
Car Seats. Children under 36 kilograms (97 pounds) or 150 centimeters (4 feet and 9 inches) must use appropriate car seats or booster seats and must ride in the back of the car.
Phone Usage & Driving. You are not allowed to text or speak on the phone and drive, while holding the phone. Hands free talking is allowed. Fines are high and you could get your driver's license suspended for up to two months.
Right Turns On Red. In Italy, you cannot make a right turn on a red light, even if you stop first.
Headlights: You must always drive with your headlights on, even on sunny days.
Emergency Numbers: Dial 113 for police, 115 for fire department and 118 for ambulance. This is a little known fact, but you can also always dial 911 and your mobile and it will automatically redirect you to the local emergency number. You can even dial emergency numbers if your cell phone plan is deactivated and even without a SIM card.
Parking In Italy
Always park on the right side when parking in urban areas.
White-marked parking spots are free. Blue-marked spots are paid. You can either pay at a dispensing machine and display the receipt on the dashboard in your car, or you can display a blue parking disc inside your car. These discs are available at tourists offices, banks and post offices.
How To Avoid Speed Cameras
As we mentioned before, Italy loves its speed cameras. Speed limits are strictly enforced. Speed traps and cameras are everywhere and they will record an infraction even if you're driving just 5km above the speed limit. And whether you drive a rental or your own car, you will promptly receive a ticket in the mail up to a year later!
By Italian law, authorities have up to a year after the incident if it's your own car, or after they receive your information form the car rental agency, to send you a notice. From our experience, they like to wait until closer to 12 months from the date of the infraction. Could be because of bureaucracy or because you might be less likely to remember details and try to contest the fine.
Either way, once you get your notice, if it you don't pay in 60 days – the fine doubles.
So, in other words, you will want to make sure you don't get on the radar.
Watch Out For The Cameras
There are a few different types of speed cameras in Italy. The ones on the autostrada (highway) are easiest to spot from a mile away. They look like this:
These cameras are attached to the signage above the highway and can detect speeders in all lanes. They photograph you as you enter the monitored zone and as you exit, to determine your average speed within the stretch. If you're speeding, expect a ticket in the mail!
There are also speed trap cameras in smaller towns and villages. These are usually on the side of the road or on the sidewalk. They are more difficult to see sometimes until you're right next to them so it's good to know where they are in advance (or just don't speed :)).
Use An App Like Waze
One of the most effective ways to avoid the speed traps is to use an app like Waze or a smart GPS map that will alert you when you're near one. Waze is especially effective because it's popular in Italy and up to date with all the active speed cameras. We used it most of the time we were in Italy and it never failed to warn us about speed traps.
Beware Of ZTLs The Most
Italy's Zona Traffico Limitato are restricted traffic zones that most cities have. These are usually around the historical centers where streets are narrow and traffic congestion can be out of control if traffic were not restricted.
Only residents or people with special permits can drive in those areas. If your hotel happens to be in such an area, they will be able to provide you with such a permit. However, you have to notify them in advance and make those arrangements. If you end up driving in such an area without a permit and receive a fine, you can contest it if your hotel was in the zone, as long as you can provide proof and receipt of your booking.
At every entrance/exit of such a zone there are cameras that will photograph your car. Your license plate number will be checked in the database and if you don't have a permit, you will receive a hefty fine. From our experience, ZTL fines are even higher than speeding fines and they can multiply quickly. You will receive a fine for each time your car is photographed by the ZTL cameras. At a minimum that means when entering AND when exiting such a zone. So you can easily end up with multiple fines for the same infraction.
If you mistakenly end up in a ZTL zone and keep driving around looking for a way to get out, you might get photographed multiple times and receive multiple fines. That adds up quickly!!
How To Avoid ZTLs While Driving In Italy
The best you can do is research in advance where the ZTL areas are in the cities you're planning to visit. They are not marked on Google maps or Waze so you will have to do your own research.
You can also, of course, just look out for the sign that marks these zones, which looks like this:
HOWEVER, keep in mind that some ZTLs are not marked as clearly and in advance as you would expect. Some of the signs are very small and placed at a point where you might not see it until it's too late to turn back. So our recommendation is to download an app that helps you keep track of the zones easily on your phone. Some of these apps work with Waze and will allow you to sync that information with your route and alert you when you get close to a zone.
Our Experience With ZTLs
For the most part, we didn't drive near historical city centers. However we did encounter some ZTL zones and ended up entering one by mistake in Siena. The sign was right after an intersection and it was impossible to turn back by the time we saw it.
Once we entered the zone, we had to drive around until we found our way out. And of course, our car got photographed again when exiting the zone as we ended up exiting from the same spot we entered. As we mentioned before, this is pretty much unavoidable. And it's one of the reasons why these ZTL fines might feel a little predatory to tourists.
As expected, we received the double-fine in the mail almost a year after our trip. Each ticket was for 120 Euro, although we received a 30% discount for paying it early.
Gas Stations
Here's a little tip that will save you some money driving in Italy. When an attendant fills up your car at a gas station in Italy, you will pay an extra fee (around 15 cents per litre). Luckily there are a lot of self-service gas stations in Italy, so look out for those if you want to save some money.
And if you do that, always make sure you know if you have rented a diesel car or not! Diesel cars are quite common in Italy. Be careful not to put the wrong fuel in your car 🙂
Enjoy Driving In Italy!
Driving in a foreign country can be quite intimidating. It can be extra-intimidating in Italy, not only because the roads are so narrow and confusing, but also because of all the extra rules you have to keep in mind.
But if you're prepared and do your homework, you will have an amazing experience exploring this beautiful country with the comfort of your own car!