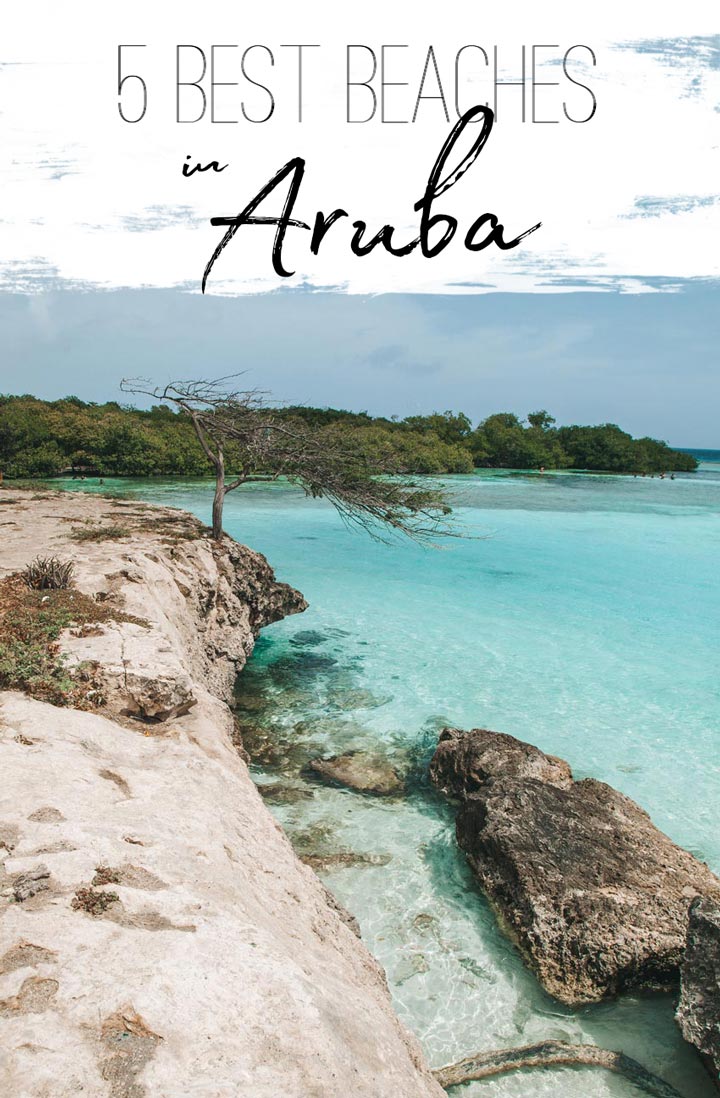 Aruba is home to some of the most beautiful beaches in the world. The color of the water is so turquoise, it feels like a real-life filter was permanently applied on it. The sand is white and powdery and the sun shines bright almost every day of the year. Aruba is outside of the Hurricane belt so it rarely sees much rain. Keep in mind this is not the best island to visit if you're looking to surf though. The nice beaches basically have no waves and the ones that do, are very rocky and dangerous.
If you are looking for more things to do in Aruba, read our detailed guide here.
Here is our list of some of the best beaches in Aruba.
1. Palm Beach
You'll find a lot of the nicer hotels in Aruba here, and it makes sense. Palm beach is a long stretch of powdery white sand and clear blue waters with no waves in sight. It's the perfect beach for a relaxed family vacation with all the conveniences the resorts offer – palm trees, rows of cute little palapas, bars & cocktails, water sports and of course, endless sunshine.
Keep in mind this beach is quite busy but the atmosphere is fun. This is where you come to lounge comfortably in a beach chair under a palm tree with your favorite book. You can order a yummy cocktail that will be conveniently brought to you, or grab a kayak/paddle board for an hour without much of an effort. This is the place to have fun and meet other tourists and one of the best places to visit with kids.
2. Malmok Beach
Malmok is one of the best beaches in Aruba for snorkeling. A lot of the tour boats anchor off the shore here for their snorkeling stop as there is a lot of coral and interesting fish to see. It is beautiful and quite rocky but the water is warm and not too wavy so it offers some of the best conditions.
The beach does not have any amenities so you'll have to bring your own food and water. But it is also not very crowded and you'll find plenty of areas where you can park your car and set up your towels.
3. Flamingo Beach
This is probably the beach Aruba is most well-known for, but Flamingo Beach is not open to the public. It is located on a private island, part of the Renaissance Aruba Resort and access is very limited. The resort takes precautions to make sure there are not too many people on the beach at any given time to avoid disturbing the animals.
That being said, interacting with the flamingos is one of the most fun experiences you could have in Aruba and we highly recommend it. Read our detailed post on everything you need to know to visit Flamingo Beach here.
4. Mangel Halto
This is one of our favorite beaches in Aruba and it's not very well-known to tourists. This is where locals go to cool off, anchor their boats in the shallow and do a bit of snorkeling. Groups of kids use the platform to practice their jumps or just lay around and tan. The water is absolutely beautiful, shallow and clear with some rock formations and coral, which are great for snorkeling.
One thing to keep in mind is that there are no places to get food or drinks here so you have to bring your own. But that's the charm of this place! Going from the commercialized expensive resort with a private island and pet flamingos to this hidden natural gem where only locals hang out was a pretty fun experience and a nice change of pace.
5. Surfside Beach
And finally, another less-known beach made it to our list for exactly that reason. Of course, you can go to Palm beach or Eagle beach if you are looking to be more comfortable but that's also where most of the tourists would go. If you are looking for a more relaxed beach experience but just as beautiful, Surfside beach is perfect.
The water is just as blue as anywhere else on the island and smooth as glass. There are even a few beautiful divi trees that provide nice cool shade right by the water. And the best part is, there's hardly anyone around. This is what we call true paradise.