We started our journey on Instagram a couple of years ago. Katerina started on her own first and since then we have been able to build a stable income and quit our full time jobs to travel full time. The number one question we get asked is how to make money on Instagram.
People are usually surprised to find out that we are able to fully finance ourselves while we travel. Not only that, we are also able to save the same amount of money we used to save monthly while working high-paid salaries in New York city.
How do we do that?
By choosing how to invest our time smartly. Working on social media can be confusing as there are so many different ways to make money. It's up to you to decide what to focus on. If you don't choose smartly, you could easily get sucked into something that takes all of your time with little return.
How Many Followers Do You Need To Make Money On Instagram?
You might think that you need millions of followers to really make a good living on Instagram, and that takes years to build. But we've learned that whether you have 10k followers or 1 million followers doesn't matter as much as you think.
We often meet other influencers during our travels and are surprised to find out that people with 2x-5x the amount of followers we have are struggling to make enough money. Of course they are still living amazing lives that most people would be jealous of – working on their own time, being able to travel whenever they want, visiting some of the most amazing places around the world as a job.
But some are still finding it hard to build a consistent income or to really be able to live comfortably like they thought they would. Some of your favorite travel influencers are actually still working other jobs to help support their passion.
At the same time, we are able to grow our income every month and not only fully support ourselves while traveling the world, but also re-invest in different ventures we are working on.
This experience has taught us that the number of followers you have on Instagram is not the most important metric in determining how much money you make. In our estimate it's enough to get to about 100,000 followers to be able to start making a comfortable living.
But the single most important thing in learning how to make money on Instagram is understanding the different revenue channels you can build and how to make the most of them.
Working With Brands On Instagram
Once you've gained some following on Instagram, brands will pay you to promote their product. You've seen all the #ad posts on your feed – cosmetics, clothes, flights, hotels, technology. This is the most obvious way to make money on Instagram and the one most influencers rely on when they first start out.
But we highly recommend you don't depend on this revenue channel for all of your Instagram income, not even for 50% of your income. And we'll explain why.
How much can you make from brand collaborations?
Your rate for a sponsored post on Instagram will be based on how many followers you have. As a general guideline, for every 100,000 followers, you would be able to charge between $500 to $2000 for a sponsored post.
That does not mean you need to have 100k followers to start charging. In fact, we think you should charge for sponsored posts no matter how many followers you have – even if it's less than 5000. We are firmly against working in exchange for product. But that's another topic.
Where you fall within that range depends on a few things:
How strong your brand is. If you've built a strong recognizable brand, you are more likely to have real influence on people.
Your connection with your audience and your engagement rate. High engagement rate means your audience is paying attention to what you are saying to them and are more likely to purchase something you are recommending. It also means more people are seeing your posts.
The match between your brand and the brand you are going to promote. Even if you have a strong brand and engaged audience, your ads might not be effective if you are trying to promote products that are not relevant to your followers.
Your negotiation skills. This is really important in such a saturated field. How well you present yourself, how you backup your rates with stats and results, as well as how confident you are can have a huge effect on the rates you are able to negotiate.
The kind of companies you are working with. Not all brand collabs are equal. Of course larger brands or ones that are more successful are able to pay more for promotion. In general clothing and swimwear brands have lower rates than consumer product companies or airlines.
Most guides on how to make money on Instagram will focus on this revenue channel. They'll tell you, you just need to make it to 1 million followers, charge $10k per sponsored post and you're all set. You just need to do a few posts per month, right?
In reality it doesn't really work like that. Finding brands to work with, negotiating rates, managing your content schedule, keeping track of all the sponsored posts requirements, and making sure you have enough good deals each month can be too time-consuming. Managing all of this takes A LOT of time. Having an agent can help. But still, there are only a certain number of posts you can do each month. The biggest problem with this revenue channel is that it's not scalable. And you need to have a larger following to start making decent rates.
Doing too many sponsored posts can also hurt your engagement rate as well as your own brand. Especially if you are not careful in picking your brand partnerships.
Content Creation
Another way to make money on Instagram is through original content creation. Many of the brands you see on Instagram also need daily content just like you. And usually they don't have someone in-house to create photos and videos to meet their needs. So instead, they pay influencers to create content for their own social media channels or website.
This is a great way to make money if you don't want to commit to posting too much sponsored content on your own account.
What brands you can create content for depends on your niche. But picking the right companies to work with is key. For example, fashion and accessories brands typically don't have great margins so they would rarely offer high enough rates. Technology brands are usually a little more flexible.
But since we are in the travel & lifestyle niche, we love creating content for hotels. Hotels rarely pay for social media promotion but they would happily offer good rates for content creation, especially the bigger chains. They are always in need of professional lifestyle photography for marketing purposes – their websites, various screens and info boards at the hotels, fliers, ads, etc. Hiring professional photographers and models for this purpose would be a lot more expensive to them than paying an influencer. After all, we serve as our own models, make up artists, stylists and photographers – all in one!
Affiliate Programs
A lot of brands have affiliate programs, which allow you to make a commission on each sale that comes from your referral. All you need to do is sign up for the program, get your unique links and promote them on your profile. You can place links in your bio or as a swipe up in stories. You can also use apps like LIKEtoKNOW.it which let your audience shop your outfits by taking a screenshot or using their app.
Affiliate links are easy to set up and you don't need to negotiate rates or reach out to anyone to start. On the flip side, you need a lot of volume to make a decent amount of money so the effort might not be worth it if your audience is still small.
Starting Another Channel
Once you have a successful Instagram, it's just a waste not to have another channel. Whether it's a blog, YouTube or Pinterest, you will be able to grow quicker than if you start from scratch. You already know how to create good content and build an audience. And your different channels will feed off of each other, making it easier to generate traffic and revenue.
Which Channel Should You Choose?
This all depends on your skills and what you enjoy doing. Don't go into something because you think it's more lucrative or because everyone is doing it, if it's not your passion. For example, we decided to start a blog and not YouTube, because we just really love writing and we don't enjoy creating and editing video.
As a result, our blog grew really fast and is now our main source of income. Of course, our blog by itself would not be as profitable without Instagram. Instagram is still our brand and marketing channel but our blog is where most of our sales happen.
We also have a growing Pinterest account, which took only a few months to get to over 2 million monthly viewers. We just used our already existing content and a few other social media strategies we've learned.
The best thing about having other channels is that you don't depend 100% on one platform. And you can use them to cross-promote your other channels. Instagram is where we started, our main brand and marketing channel. But our blog is where we sell the most products. And our Pinterest feeds into both, boosting our traffic and sales.
Creating Your Own Product
In our opinion creating and selling something of your own is the best way to make money on Instagram. While content creation and brand collaborations are more straightforward, they are too time-consuming and not scalable. Affiliate links only work well with large volumes of traffic. And even having multiple successful social media channels could leave you with a modest income if you are not selling something of your own.
Creating your own product, on the other hand, can be much more rewarding and sustainable in the long run. It also doesn't require huge traffic if you know your target audience well.
In our opinion, as soon as you start gaining some audience on Instagram, you need to start figuring out what your product will be. Why is building your own product so important?
Because it's your own. You can design and price it however you want, and you can completely control the quality and customer experience.
You can choose exactly when and how to promote it. No need to give yourself deadlines and stress over deliverables.
100% of the profit goes to you.
It's scalable. A lot of work goes into closing a brand collaboration and usually you only get paid once when you finish. With your own product, you only need to work on creating it once. And it can keep bringing you consistent income over time.
You can create something bigger out of it. Once you create your first product, you'll just want to keep creating! The feeling is addictive and only the sky is the limit to the kind of company you can build.
You don't need a huge following to make money. If you are targeting your audience well, you can sell a lot of product with not a lot of followers. While you need at least 100,000 followers to start charging brands a decent rate, there is no minimum followers to start selling a product. You can sell a lot with as much as 10,000 followers if your account is very targeted. This is one of the main benefits of having your own product!
You know your audience. It's no coincidence that a lot of hugely successful brands these days start out on social media. As an influencer, you are already so close to and in touch with your audience. You get direct response about everything you do, you know what they like and how they react to your product. And you can respond more quickly.
Think of it like this – Kendall and Kylie Jenner are equally famous and have about the same amount of followers on social media. But one of them is a model (the highest paid model in the world to be exact) working for brands to advertise their products, while the other one launched her own products. Which one is a billionaire?
We rest our case 🙂
How You Can Sell Your Product
If you already have your own blog, adding a Shop page to put your product up is easy. Just download an Ecommerce plugin like Woocommerce.
But if not, you can easily set up an online store with Sellfy. Sellfy is a platform that helps you create your Ecommerce store from scratch (you can use their free templates). And they have payment processing, reporting, marketing tools, etc.
What Kind Of A Product Should You Create?
The first product of our own that we created was our Lightroom editing Presets. It made a lot of sense as the common question we got from our followers was how we edit our pictures. Editing is one of our passions and after years of practice we finally had a set of presets that worked well for all of our pictures. And that's when we decided to start selling them. Over time we've learned many techniques to keep growing our sales and reach more people through our various channels. And compared to all of our other revenue channels, this one brings the highest return with the least time investment.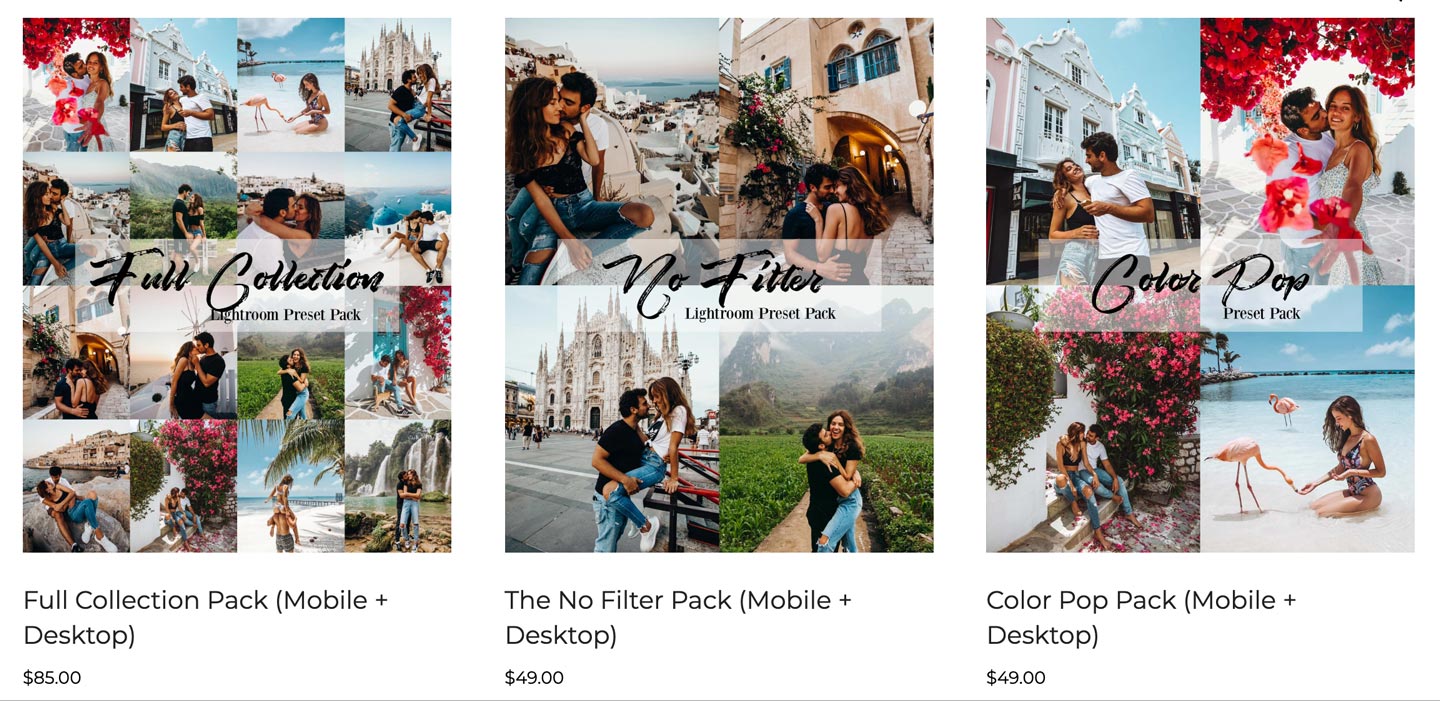 But that does not mean this is the right product for you. What kind of product you should build depends on your niche and what you enjoy doing. The key is to pick something you are really passionate about and that fits well with your brand.
Start by asking yourself some questions:
What do your followers ask you about the most? Is it your editing, your workout routine, the clothes you wear, make up, hair, or something else?
What do you enjoy doing? If you are into design, do you like digital design, working in Photoshop or Illustrator, etc? Do you like clothes and see yourself having a clothing line? Are you passionate about hair? Tanning products? Furniture? Only your imagination is your limit here.
Look at what other people are doing to get some ideas. We've seen a lot of creative products on Instagram lately that other influencers are selling. Story elements, coffee table books, wall decoration kits, wigs…
Use your imagination. Selling presets is very popular these days but maybe you can come up with something else that no one else has done yet. Only the sky is the limit to your imagination!
You're Your Own Boss
Remember you started your Instagram in the first place. To be your own boss! Working with other brands to promote them is nice and can bring you easy income, but at the end of the day you will still feel like you are working for someone else. They dictate the deadlines, the message, your salary… When you create your own product, you set the rules. You are in charge of the promotion and sales and only you reap the benefits.
We can't stress enough how much creating our own product has transformed our experience on the platform. And we can't wait to launch more and more products! Hope we've convinced you to do the same 🙂
Have any questions about making money on Instagram? Let us know in the comments! We're always happy to help.