Shopping for jewelry is such an intimate experience. Most times jewelry is harder to shop for than clothing or any other accessory. It's like how a belt ties an outfit together – jewelry gives it the final touches that are oh so noticeable when you don't have the right pieces on.
It's rare that I find quality pieces of jewelry that can transition with all my outfits, as well as cater to all my different styles. I have a pretty simple classic style but also enjoy a bit of edgy here and there. Rellery is the perfect mix for me. Between their dainty necklaces, classic chains, custom pieces and bold statement rings, I can find whatever style I'm looking for, all for an affordable price.
Based out of Rhode Island, Rellery prides themselves on cutting out the middleman. As they sell direct-to-consumer, their prices are quite affordable for the quality. Rellery provides ethically made and sourced jewelry from within the U.S. They only work with precious metals such as Sterling Silver, 14K Solid Gold or 18K Gold over Sterling Silver, so you never have to worry about your skin turning green or your pieces rusting if they are exposed to water.
Jewelry can be so hard to shop for as I've learned over the past few years. I used to go for inexpensive pieces from fast fashion brands because I liked their style. But since those brands mostly use cheap materials like brass, zinc, or nickel, I would be throwing away my jewelry after just a few wears. I always had to worry about getting my jewelry wet, and even if I never did, it still wouldn't last long.
On the other hand higher end jewelry brands offer beautiful pieces that are high quality but way overpriced for what you get. Rellery bridges that gap by providing quality at a reasonable price.
It's not only the designs that make Rellery unique but the thoughtfulness of how they produce their jewelry. Rellery focuses on ethically made jewelry which means they don't mass-produce like traditional jewelry companies. Most of their items are made-to-order, except for some of the most popular items like chains. This helps them reduce waste associated with the mass-manufacturing process.
Reducing waste is really important when we think about the bigger picture. Jewelry is included in that. Instead of buying inexpensive jewelry that you'll have to throw away in a year's time, Rellery focuses on only using precious metals that can be recycled at any refiner. In fact, any extra or defected materials are melted down to be reused at their local Rhode Island refiner.
Having most of their items made to order also means it's easy to customize most of their pieces. What better way to enhance a jewelry piece than to customize it with a personal touch. Whether it's a special occasion or wedding gifts for the bridal party, Rellery is your go to for quality without a high markup.
My Order
When ordering from Rellery, I went for classic and simple pieces with a bit of a spiritual twist. I got 2 simple chains that work great for layering, plus a zodiac pendant necklace that goes together with them. I also got a couple of rings, one of which has a special date for me and Yinon engraved on it.
The Band Ring is the perfect ring for stacking. The simplicity of it makes for a versatile piece that can easily be worn with different outfits and different occasions. It's one of those rings that once you have it on, you never need to take it off! I got the date Yinon and I met engraved on my ring, which makes it a little more special for me.
I love a statement ring, but it's hard to find one that is both subtle yet interesting. The Moon Ring reminds me of a daintier version of those old school signet rings. The careful detailing on the ring gives it a quality finish. It's so comfortable, you'll barely notice it when you're wearing it. Others however, will definitely notice it on you!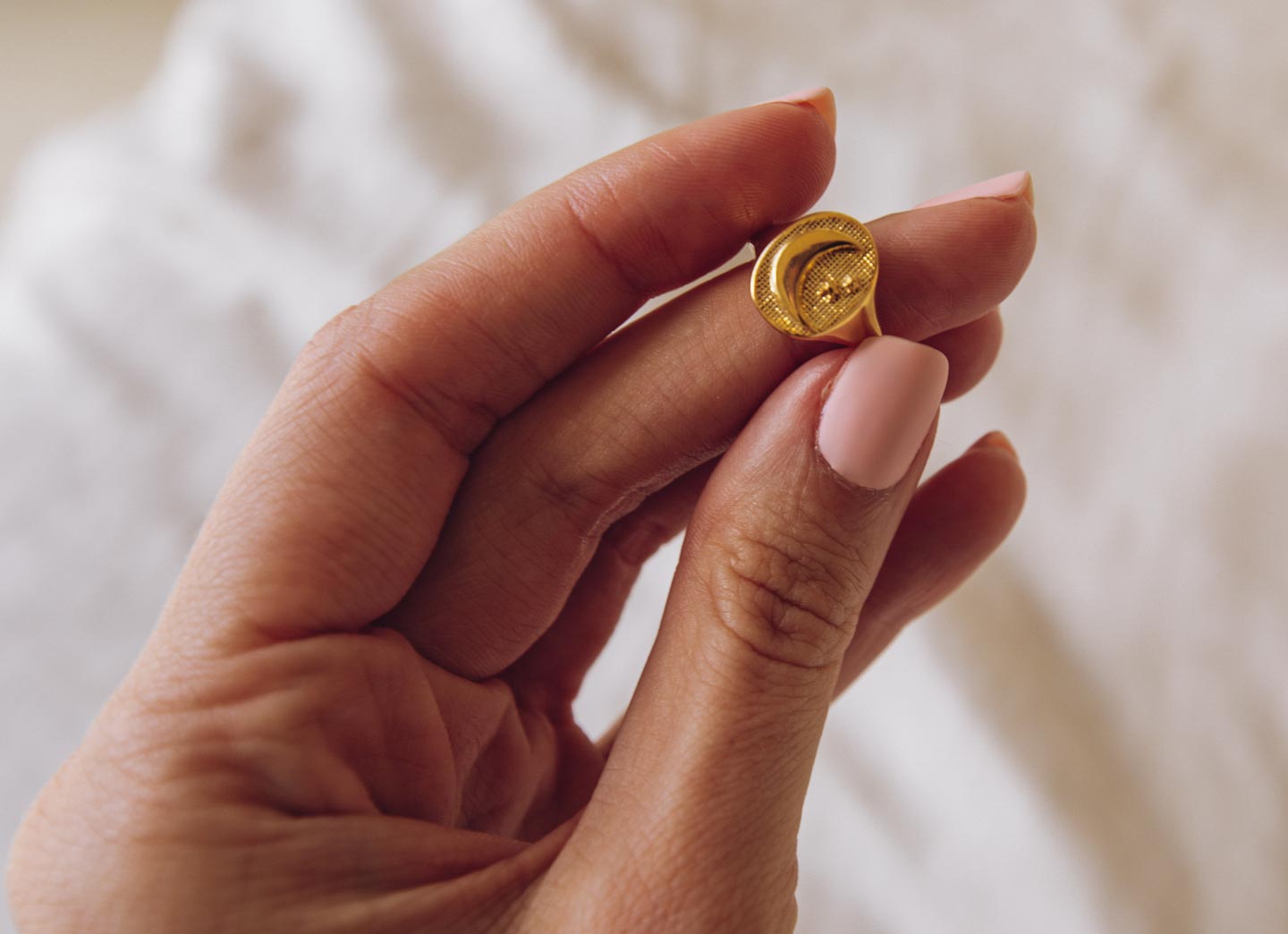 I love that this chain has made a comeback in fashion from the 70's. This thinner version of the traditional Cuban Link is a little more feminine and easy to layer. It's crazy lightweight, so you'll barely notice while wearing it. I also love that it's more of a choker, it makes for a great eye-catching piece. I love this chain as it is so simple and can be layered almost pretty much anything and fit any look, so I barely ever take it off.
I've always loved wearing two chains. With the Long Curb Necklace sitting a little longer, it makes this a perfect layering piece. I usually wear this and the Cuban Link together. The chain looks really elegant on, but the links are strong, so you won't have to worry about it snapping. What I like about this chain is that I can put it on when I want an edgy look or just stick to the other two chains if I'm going for more elegant.
I love a gold pendant necklace, they're the perfect item that goes with any outfit. What I love about this pendant is that it's not a clean circle, which gives it that antique feel. Rellery goes the extra mile by incorporating a stylish twist to their adjustable necklaces, making the function of a necklace part of the design. This necklace goes perfectly together with the other two chains!
I'm not the best at layering and never seem to pick pieces that go well together. But this time with Rellery I finally nailed it! The 3 chains I picked go so well together and made layering feel easy.
Care
The materials Rellery uses are Sterling Silver, 14kt Gold, and Gold-Plating or Gold Vermeil. Here are some home remedies that you can do to keep your items sparkling.
For the Sterling Silver jewelry pieces you can clean these by applying a dab of toothpaste to them and polishing it.
For 14kt Gold items mix lemon juice and baking soda together for Gold items to sparkle again!
Lastly, for the Gold-Plated or Gold Vermeil items simply use a dry cloth to wipe any natural oils or makeup from them.
Check out their website for detailed instructions on how to store each item and when not to wear them.
The great thing that Rellery offers is a lifetime tarnish guarantee. If you can't get the shine back yourself, you can send it in for a proper polish. You'll get the piece back practically as shiny as when you first purchased it.
Rellery has such strong pieces that I doubt there will be any breakages, but if there happens to be a defective piece or breakage which can happen to the best of us, they offer a 1 year warranty.
Last Thoughts
From the beautiful packaging, highly attentive customer service and easy to use website your entire experience will be a pleasant one shopping here. You'll get quality pieces at prices that won't break the bank. And best of all, you can sleep easy knowing that all their items are made with care by artisans right here in the US.