As you probably know, Tokyo is one of the most expensive cities in the world, space is limited. As a result, finding a nice hotel in Tokyo with a decent size rooms that won't break the bank is not the easiest. We don't like to stay at hostels or places that are inexpensive but also inconvenient. Our expertise is finding hotels that are good value for money. They are usually comfortable, clean and even somewhat luxurious but still affordable. So we were very happy to discover the Candeo Hotels chain in Japan. Their hotels are comfortable with spacious clean rooms that have everything you need but still within the $100-$200 per night price range.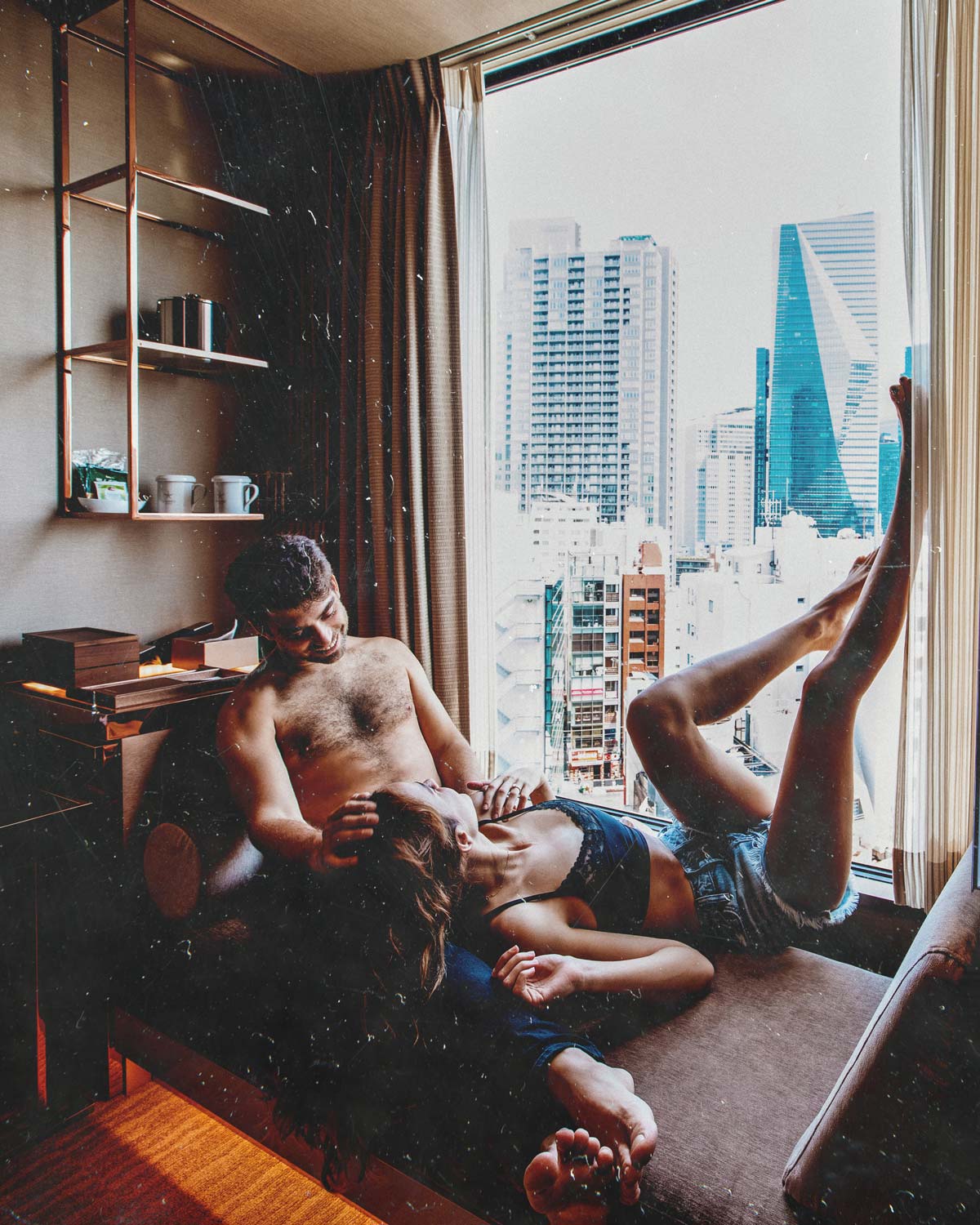 The Locations
Tokyo is a very spread out city. Its territory is so vast that there isn't really one central area where everything is concentrated. There are a few "centers" in Tokyo that you can stay in and they each have their own character. Getting around also takes quite a bit of time, so picking the right area depending on what you want to do is important.
We got to stay at two different Candeo Hotels in two of the most central areas – Rappongi and Shimbashi. Each area has a different character, but both are very central, full of life, delicious restaurants and a lot to explore.
This area is popular with tourists mainly due to its vibrant nightlife. There are a lot of foreigner-friendly bars here, restaurants and night clubs. Roppongi, along with a few other neighboring districts, is home to a large expat community.
The Candeo Hotel in Roppongi has a very convenient location, spacious rooms (for Tokyo standards) and some offer a beautiful view to the Tokyo tower.
This is a mainly business and entertainment area in Tokyo. It is within a walking distance of the high-end shopping district of Ginza. Here you will find a lot of taverns and yakitori restaurants and local eateries, as well as plenty of entertainment and shopping. The Candeo Hotel in this area has a little more upscale vibe with beautiful high rise views on all sides.
Rooms
One of the things we like the most about Candeo Hotels was the size and layout of the rooms. Tokyo is well known for the small hotel rooms but in Candeo the experience was very different. The space was smartly designed and organized with plenty of room to move, work and have our luggage out of our way.
We really enjoyed the seating area by the windows as well, which was the highlight of our stays at both Candeo Hotels. It's a nice touch that allows you to sit by the windows with your coffee in the morning and enjoy the view.
Having a comfortable desk is always a must for us as we work a lot on the road. We did not have a work are at the Roppongi location. But the one at the Shimbashi location was very well designed with plenty of space and comfortable chairs.
The TV and entertainment system had a lot of useful information about the hotel. For example, you could check the fees for laundry service or how many people are currently in the SkySpa.
Bottled water is provided daily by the staff, but drinking the tap water in Tokyo is fine too.
Breakfast
The breakfast hours at Candeo Hotels are between 7-10am. However, due to the limited space, it's better to get there early as you might have to wait to be seated otherwise. We often wake up early even on vacations as we are eager to explore, so that was not a problem for us.
The food options were quite varied with some Asian and some Western dishes available. We were both excited about the fresh croissants, which are not always available at hotels in Asia.
You can book a room with breakfast included or you can add it later at 1,800 JPY per person.
Amenities
SkySpa
Located in the top floors, both hotels have a traditional Japanese-style Onsen Spa where you can enjoy yourself after a tiring long day of wandering around Tokyo.
The Spa is separated into male and female sections with its own hot and cold pools. Guests who have any tattoos are not allowed into the Spa and you have to go in completely unclothed. So keep that in mind if you are planning to use the SkySpa.
The operating hours are 3pm until 11pm.
Unfortunately both of us have tattoos so we were not able to use the Spa.
Laundry
The hotels provide laundry service for a fee. But there are also coin-operated laundry machines available. We are often on the road for so long that we need to do our own laundry. So having that option was great.
Service
The service at your hotel can really make your stay wonderful or ruin your entire mood. The Candeo Hotel staff was more than kind and welcoming throughout our entire stay. From email communication before we even got there, to helping us with restaurant recommendations and directions, to accommodating our requests and helping us get ready for our flights.
Overall
The Candeo Hotels in Tokyo provide really good value for the money. The nightly price is not exactly "budget" but the rooms provide the comfort and efficiency you will need to enjoy your stay in Tokyo. The service and staff are amazing and will make your stay easy and enjoyable. The locations are very convenient and easy to use as a base to explore the city. And details like comfortable seating areas, views and the SkySpa add that extra touch that will make you feel at home.
Click Here To Book the Candeo Hotel Tokyo Shimbashi
Click Here To Book the Candeo Hotel Tokyo Roppongi
LIKE THIS POST? SAVE IT ON PINTEREST