Keep in mind Tokyo is very expensive. We travel a lot around the world and we found it to be one of the most expensive cities in every way possible. For example, an unlimited local SIM card for 7 days will cost you USD $45. For comparison, a similar card in Taipei costs around $13. Finding affordable hotels is not hard but the rooms are usually tiny. Dining is also not cheap compared to other major cities in Asia. We spent on average about $18 per person per meal.
Cash is king. You might think that Tokyo is very techy and advanced but you'll have a hard time finding places that accept credit cards. Make sure you don't rely on the plastic and take out a lot of cash.
Tokyo subways close at midnight until 5am. The city is not really walkable so you'll definitely need to get a taxi if you miss the last train. Since the city is just so vast, taxis can be very expensive. You can easily end up with a $60-$100 bill just to get home.
You'll notice that it's pretty impossible to find a trash can anywhere around Tokyo. Just look for a vending machine – they usually have a bottle disposal attached to them where you can dispose of small rubbish too.
Tokyo is one of the most vibrant cities in the world with endless amounts of shopping, entertainment and delicious food to try. It is also one of the most expensive cities in the world. So finding the right balance between price and value when looking for accommodation is key. In this article we've narrowed down the list to the best areas and hotels to stay in while visiting Tokyo.
Tokyo is more of a congregation of suburbs rather than one big city with a single central area. So there are quite a few options where to stay depending on what kind of experience you want to have. Each of the main suburbs has its own distinct character and attractions.
This is one of the most touristy areas in Tokyo and is very foreigner-friendly. This is where those futuristic skyscrapers with busy flashing neon lights you see on TV are located.
There are a lot of shopping malls and entertainment centers here, including the famous Robot Restaurant and Yodobashi electronics store. At night this place comes even more alive with lots of bars, restaurants and entertainment areas full of curious tourists.
This area is also where one of our favorite spots in Tokyo, Omoide Yokocho, is located. Walk down the city's most charming alley in the evening when the lanterns light up the street and the air is filled with smoke from the grill and the sound of sizzling meat.
Where to Stay In Shinjuku
Park Hyatt Tokyo. This is arguably the most iconic hotel in Tokyo. Famous scenes from the cult movie Lost In Translation were filmed here.
The Hilton Tokyo offers unforgettable views of the city and top-notch service for a reasonable price

Gracery Hotel Shinjuku.

Located right near the area's most famous attractions like the Golden Gai and Shinjuku Gyoen National Garden, the Gracery Hotel is a great mid-range option with a very central location.
Citadines Shinjuku Tokyo is a stylish budget-friendly hotel, which still offers a high level of service.
Daiwa Roynet Hotel is a brand new hotel that you can sometimes book for less than $100. Great value for money and convenient location.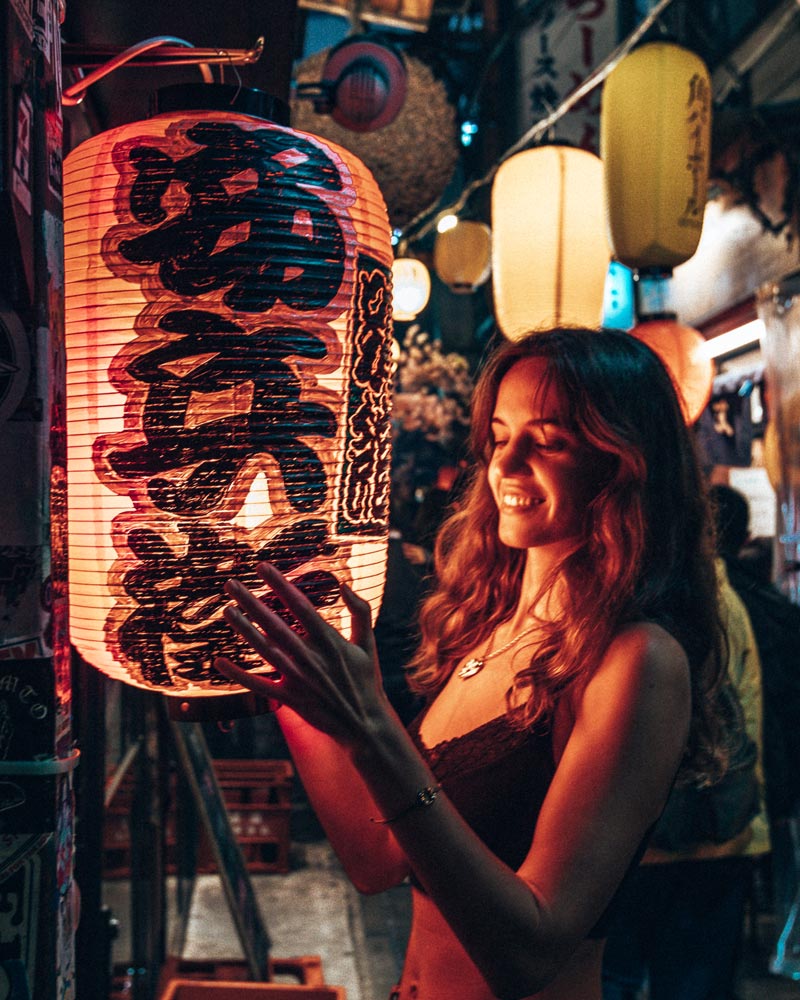 Shibuya is a more trendy neighborhood, which attracts a younger demographic. When it comes to Tokyo street style, Harajuku is usually mentioned first. But in our opinion, Shibuya is way cooler and more fun. This is by far our favorite area in Tokyo.
The famous Shibuya crossing is located here. It is the busiest pedestrian crossing in the world, where lots of iconic TV and movie scenes have been shot. And it is also where young people love to meet up to hang out, shop, and visit mega gaming centers and arcades. This is the perfect place to go people-watching in Tokyo, if that's your thing.
This is Tokyo's famous "geek" neighborhood. It is full of electronic stores, huge arcade centers and one of the largest Don Quijote stores in Tokyo. (If you haven't heard of it yet, be sure to stop by this iconic chain store, which sells virtually everything under the same roof – from quirky beauty products to sex toys to groceries and gadgets).
Akihabara is a great place for those interested in anime and manga. Some of Tokyo's most interesting and quirky shops are located here, including:
Mandarake is the biggest manga and anime store in Tokyo
Akihabara Gamers – shop for retro games
Super Potato is another great shop for retro video games
Vstone Robot Store sells small humanoid robots
Where to Stay In Akihabara
And when it comes to hotels, Akihabara is actually quite affordable. Here are some great options:
Best Western. The rooms are small but affordable so this is a great crash-place in the heart of Akihabara.
Artist Hotel BnA STUDIO Akihabara. Stay here if you're into cool edgy designs and like supporting artists. Part of the profits from each room go to the artist that designed it.

Hotel Resol Akihabara

. This is a great budget-friendly option with no-fuss rooms and Italian-style breakfast. The location is particularly good for solo travelers.

Akihabara Bay Hotel

(female only) is one of the top-rated capsule hotels in Tokyo. Its feminine pink design and cleanliness have earned it an amazing reputation. Be sure to take it into consideration if you're interested in experiencing a capsule hotel in Tokyo.
Famously known for it's old wealth, this area was Tokyo's first western-styled shopping district. Every major high-end brand in Tokyo has a store in Ginza. Here you'll find cute bars, chic restaurants and wide streets perfect for strolling down.
In Shinbashi you'll find a lot of major tourist attractions like the Imperial Palace and Kabukiza Theatre. This neighborhood is also home to the famous Yakitori alley under the Shinbashi railway tracks. This is a great area to stay for business travelers.
Where to Stay In Ginza/Shinbashi
Conrad Tokyo. Attentive and caring staff, close to restaurants. The best views of Tokyo Bay can be found from your room.

T

he Gate Hotel Tokyo. Great location and spacious rooms. Walking distance from the best restaurants in this neighborhood. Read about

our stay at the Gate Hotel here

.

Park Hotel Tokyo.

Situated in a quieter area, this art-themed hotel provides a unique stay with each interior being completed by a different artist.
Remm Hibiya. This budget-friendly hotel has multiple subway stations close by, and best of all you can relax with their in room massage chairs.

Solaria Nishitetsu Hotel

– Although this is a budget-friendly hotel, there is still a stylish twist to the place. It's also within walking distance of Ginza and Tsukji.
Roppongi is popular with tourists due to its vibrant nightlife. There are a lot of foreigner-friendly bars here, restaurants and night clubs. The area is home to a large community of expats. Roppongi is like a bubble with everything you need, including great dining options, nightlife and plenty of attractions.
Where to Stay In Roppongi
Grand Hyatt Tokyo. Right in the heart of Roppongi with views overlooking Tokyo tower. This hotel has all the luxury amenities and multiple onsite dining options.

Hotel Villa Fontaine Roppongi.

This hotel is located on top of a subway station and provides free breakfast with most packages.
Roppongi Hotel S. This mid range boutique style hotel blends a western and Japanese style take on their rooms.
Hotel Asia Center of Japan. For something more affordable this hotel provides free breakfast and is located in a residential area, just north of Roppongi.

Candeo Hotel Roppongi.

Great value for money in one of the most popular neighborhoods in Tokyo. Read about our stay at

Candeo Hotels Tokyo here

.