Sooo many fun things to do in Barcelona! We were so charmed by this place and really feeling its energy. It's like a typical European city, with so much history and beautiful architecture BUT with an extra splash of energy. You really feel it when you walk down the street and random passersby burst out dancing, laughing, signing, kissing, making your day with their contagious smiles.
While Yinon has been to Barcelona before, we had never been there together. So it really made this trip even more special to us.
Barcelona is famously known as one of the busiest cities in Europe. And naturally, there are way too many things to do to fit in one post, but we'll do our best 🙂
Main Tourist Attractions In Barcelona
The Basílica de la Sagrada Família is probably the most famous spot in Barcelona. It was designed by the famous Spanish architect Antonio Gaudi, whose work is sprinkled around the city. And although unfinished, the building is so impressive it attracts millions of tourists every year and has become a symbol of Barcelona.
Sagrada Familia opens everyday from 9am – 7pm. We suggest getting the fast track entrance to avoid the massive queues. Or you can head to the small park on the back side of the building for one of the most insta-famous spots in Barcelona.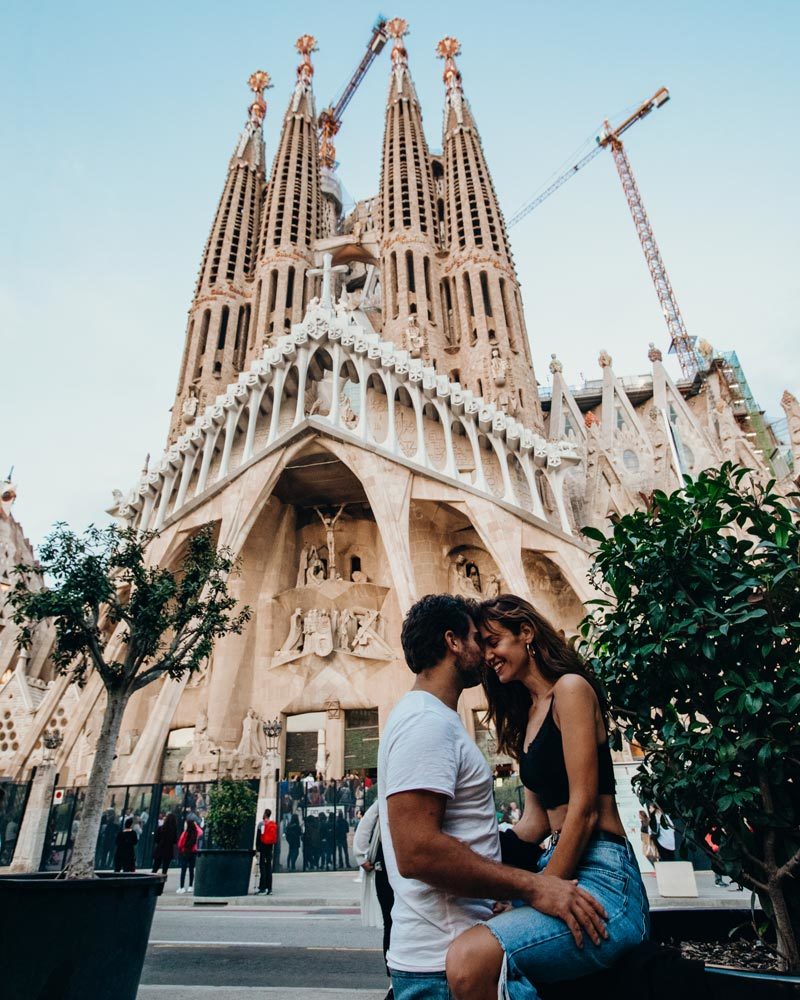 Located between the streets of Las Ramblas and Laetana, this is a great area of the city to explore if you love gothic architecture and history. This area is over 2000 years old and contains remains of the Roman empire, as well as a number of neo-gothic landmarks like the Cathedral de Barcelona and Carrer Bisbe.
Full of restaurants, bars, and shopping, all against the backdrop of stunning architecture. Wander around the labyrinth of narrow streets that open into beautiful squares and marvel at all the details.
While in the Gothic Quarter, don't miss this beautiful cathedral – not only for the architecture but also for the vibe. The square outside the cathedral is the perfect spot to hang out on a warm summer evening, sit around with friends and some ice-cream and people-watch while listening to charming street performers.
If you want to take a look inside, the church is open everyday from 8am – 12:30pm and then again at 5:45pm – 7:30pm. To see the temple and cloister is free, but we opted to take a look around the entire site for 7 euro. This included access to the temple, cloister, terraces, chapel, and the sala Capitular. You can even take a lift up to the rooftop of the Church for more stunning views.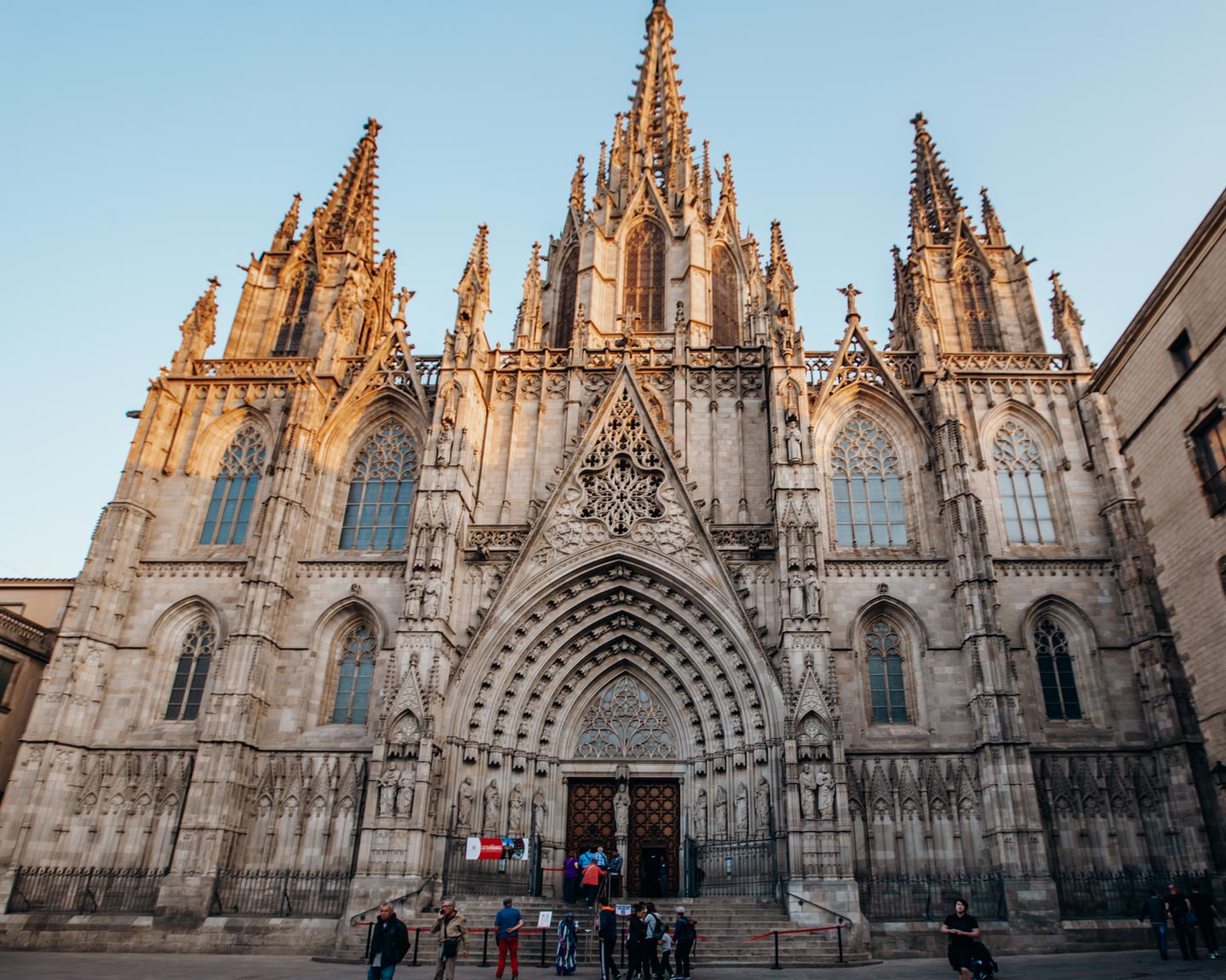 Barcelona has their own Arc De Triomf! Located in Passeig de Sant Joan, it's just a short walk from Park de la Ciutadella and the Gothic Quarter, which makes it a great spot to add to a day of sightseeing around Barcelona.
On one side of the Arc there is a wide road and the other a small park making it a great place to take photos from all different angles and distances. The archway leads into a promenade where you can rent a bicycle or take a stroll until you hit the beach. This attraction gets fairly busy so we suggest going in the early mornings to avoid the crowds.
Head to this park right after Arc de Triomf for a relaxing time walking around or resting a little after a long day in the city. The vibe in this park is chill and fun. There are lots of birds and parrots flying around and sometimes street music.
Make sure you head to Cascada Monumental as well, in the Northern corner of the park. This breathtaking fountain is especially charming at sunset when the sunlight hits the water and golden statues at just the right angle to create beautiful gem tones.
Barcelona is famously known for this 1.2km tree-lined pedestrian street. While we typically shy away from touristy areas, we wanted to see for ourselves what the hype was all about. Filled with restaurants, bars and gift shops, Las Ramblas is fun to walk around, even if eating here can be a bit of a tourist trap.
La Boqueria is an outdoor market full of fresh produce, fruits, cold meats and food stalls that will be sure to keep your stomach satisfied. It's a good place to have some quick tapas and enjoy a glass of cava – a local sparkling wine.
La Boqueria is open from 8am to 8:30pm every day except Sundays. Walk through Las Ramblas to get to La Boqueria, this way hitting two main attractions in one go.
La Barceloneta is famous for its beach and wide palm-tree-lined boardwalk. It can be crowded with tourists but we still recommend going. Locals pointed us up North of the W Hotel to find quieter parts of the beach to soak in the sun.
There are some restaurants along the beachfront too if you decide to grab a bite and enjoy the view. It is a beautiful area to get some fresh air and escape the hustle and bustle of the big city for a bit.
Tibidabo is the tallest hill in Serra de Collserola with its peak overlooking both city and coastline. Visit the amusement park or the impressive Tibidabo Cathedral right across from it. Enjoy the majestic views of the city or spend the day having fun in the amusement park. There is something for everyone here.
You can take the metro, bus, drive or hike to Tibidabo. Keep in mind the area is open from 11am until 6pm all week.
Monjuic is a hill overlooking Barcelona, opposite of Tibidabo. The most scenic way to get here is by taking a cable car from the Telefèric de Montjuïc station.
Walk around the parks, visit Montjuic castle or if you want to experience Barcelona's party scene, go to Brunch In The Park festival, held here every Sunday. On your way down from Montjuic walk by or visit The National Museum of Catalan Art open everyday except Mondays.
Bunkers del Carmel is our favorite viewpoint in Barcelona. It not only has some of the best views of the city, but also a really cool vibe.
Local kids and tourists alike gather around here to watch the sunset every evening while enjoying a beer and the stunning 360 degree views of Barcelona.
Bring a warm sweater as it can get windy!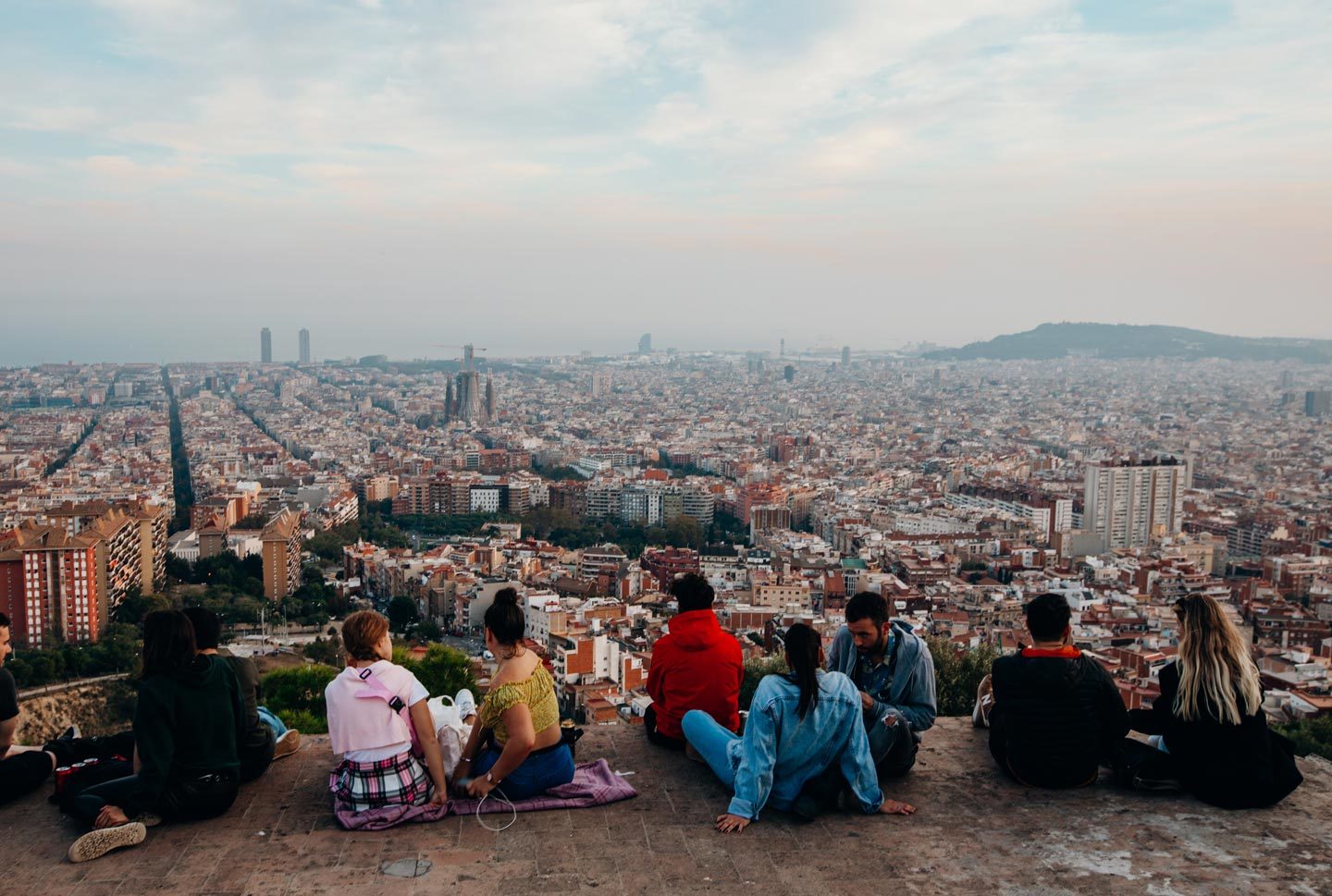 If you're not looking for some nature on your trip, we highly recommend taking a day trip to Montserrat. Although Montserrat is not technically Barcelona, this multi peak mountain range has stunning views and is a great place to take a break from the busy city with multiple sights to keep you entertained for the day.
Montserrat takes about an hour by train from Barcelona or you can rent a car and drive for about an hour. We chose to rent a car and the drive was pretty easy.
You can take the train from Placa Espanya in the city. From there take the R5 line to Aeri de Montserrat. Once you're there you can take a cable car up to the top and back for 11.50 euro.
Keep in mind there is not a lot to do in this are or many places to stay, so we recommend you just spend a day here. Staying overnight might not be necessary.