Disclaimer: This is a sponsored review in a collaboration with LG gram.
With the explosion of various social media platforms, more and more people are becoming full-time content creators. Bloggers, Instagrammers, YouTube-rs, Tik-Tok-ers, podcasters.. So many new types of content are being created and the entire creator economy is just at the beginning of a massive boom.
As more and more people are creating content to document their daily life, having the right tools to facilitate your workflow is more important than ever. It was time to upgrade my laptop and we discussed getting a desktop computer as they are more powerful. But knowing that we are traveling a lot, working from different working spaces, and even in a few places around the house we decided on a light laptop that would be used for all of our photo editing, content writing, emails and more. We needed a reliable machine on-the-go, as we need to create and edit content no matter where we are.
In our team I (Katerina) do all the photo and video editing, so doing all the research and picking the right laptop for my needs falls on me! Finding the right laptop that is powerful enough to handle heavy editing, has a quality screen AND is light enough to take anywhere, is not easy. The LG gram 16 (2021) is LG's latest thin and light laptop that finally comes in a convenient 16-inch size and answers all of our needs.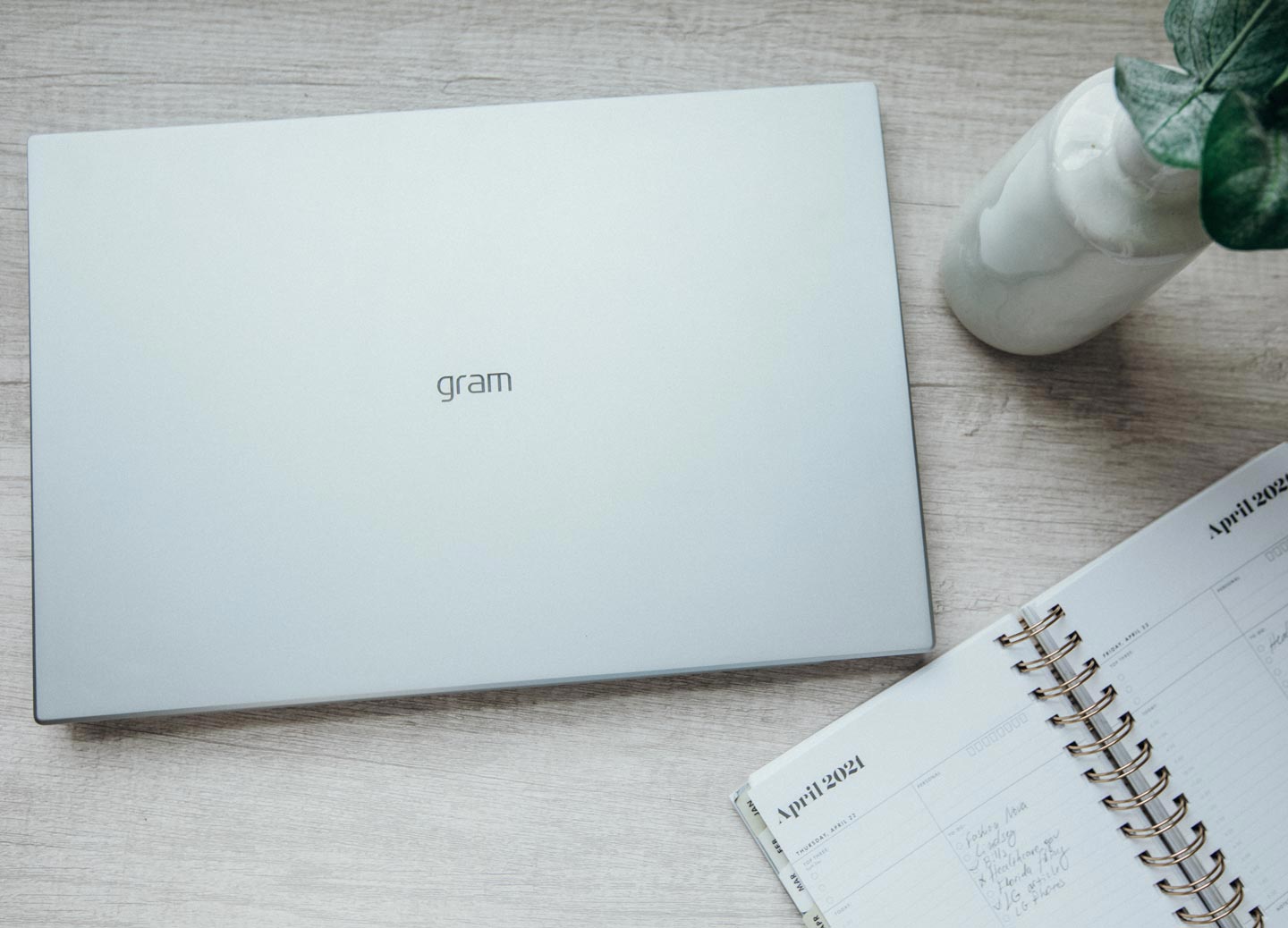 What Equipment You Need To Start Out As A Content Creator
The beauty of the content creation world is that nowadays anyone can do it. There's no professional equipment you need to buy, no studios or extensive setups needed. All you need is a smartphone and a laptop and you're good to go!
Depending on which platform you are creating content for, you might also need a professional DSLR camera, a tripod and a microphone, but as a beginner you would be good to go without those.
While your smartphone can be enough to capture amazing content with, still your best bet for storing that content, editing and preparing it for posting is a solid laptop.
Don't be stingy on that one! It will be your biggest investment but if you do it right, it will serve you well and you might not need to replace it for years.
How To Choose The Right Laptop For Content Creators
Check Your Software Requirements
Depending on what kind of content you will be creating, you might need specific software to run on your laptop. Whether you're a photographer like me running Adobe Photoshop and Lightroom, or a graphic designer using Illustrator, a video creator running Premiere Pro or a musician recording with Avid Pro Tools, you will need to make sure the laptop you choose will be able to run the right software smoothly.
Consider Your Sound And Color Needs
Not all laptops are created equal when it comes to sound and color. If you are doing any color editing at all, you will definitely need a higher end laptop with a high-definition display and accurate color representation. If you travel and often edit in various conditions outdoors, you will need a display with high brightness to make sure you are still able to see well when it's bright outside. A matte display vs. a reflective one is always a plus too.
The 16-inch display on the LG gram is a nice middle ground between the previous 13-inch and 17-inch options. It's large enough to see details clearly when editing but not too large as to make it uncomfortable for traveling. The screen is bright and vibrant with rich colors and high definition image. It is also bright enough to use outdoors. This is something I often struggle with as sometimes I would need to edit an image or video on the go while sitting at a ferry station and struggle to see clearly.
Performance & Battery Life Are Important
Obviously performance is one of the most important things to look out for. Heavy editing programs like Adobe products can take up a significant amount of resources to run. You need to make sure your laptop's specs are above average for its time to make sure your machine lasts you a long time. I've noticed that if I get the base laptop for the year I'm purchasing, in about a couple years I start to see very sluggish performance when running my editing programs, which usually means I need to upgrade soon.
I'm not a typical laptop user in that I spend the majority of my time on my laptop editing photos in Photoshop or Lightroom and often run both programs at the same time. Not surprisingly, that can strain the battery and force me to always search for power outlets. With the new LG gram, the battery lasts about 11 hours even with my heavy workload and can easily stretch to 15 hours if I'm doing more mundane tasks like browsing the internet. This is quite impressive for such a high-performance laptop and especially considering how light it is.
Long battery life is especially useful when traveling or working remotely and not knowing where or when your next charge will come from.
Get The Biggest Storage
When creating photos and especially videos, large enough storage is one of the most important things. You will have thousands of photos and video files that you need to store somewhere, and the storage space you need for professional files is much larger than that for a typical phone photo. We are talking about 34MB per photo file on average and 1GB for videos! That adds up fast, especially if you are an avid creator like me.
When I got my old laptop with 500GB storage capacity, I thought I was really doing something! Well, it wasn't long before I got to 90% capacity even though I clean out my unneeded photos quite often. So I had to move to an external hard drive pretty soon.
Go for at least 1TB of storage if you can, trust me, you'll need it!
Increasing Productivity with

LG gram

as a Content Creator
So what do I typically use my laptop for? The majority of my work as a content creator is split between creating content for social media platforms (Instagram and TikTok) and writing articles for our blog (the one you're reading right now :)).
On the Social Media side I mostly edit photos and videos.
How I Edit Our Photos
When it comes to photo editing, Photoshop and Lightroom are my two best friends. I use Lightroom to import all of my RAW photo files from my camera and catalog them by year and location so I can easily find what I need in a catalog of over 12,000 photos. The beautiful thing about Lightroom is that it saves all edits made on a specific photo without losing the original unedited photo. Plus you can always go back and change some edits or completely reset them. That way my photos can stay dynamic even as my editing style evolves.
Due to the amount of data Lightroom stores, it is a heavy program that requires a solid machine with above-average processing power to run smoothly. That's why I always need a higher-end laptop for my editing needs.
I often edit my photos using pre-saved Lightroom presets, which significantly reduce the amount of time I spend on editing by applying the same settings on different photos. Since I started using Lightroom presets I spend an average of 35 minutes editing a photo to post on Instagram vs. the 2-3 hours I used to spend before. You might think slapping a preset on a photo is no big deal but when working with a heavy program like Lightroom, which keeps so much information stored about each photo, a simple switch between two different presets can take a precious 30 seconds. This adds up if you, like me, do a lot of switching before finally settling on an edit, and then spend another 20 minutes on minor adjustments.
Overall having a fast processor saves me a lot of time on photo editing, which I can then spend on creating new content instead.
Photoshop is the other photo editing program I use the most. I mainly use Photoshop to fix minor imperfections in the final photo I've chosen to post – like removing objects or people from the frame, fixing textures, changing the sky in some cases.
When I first started editing photos for Instagram, I would first edit the colors in Lightroom and then move to Photoshop to edit out unnecessary objects and do final touches on the image. But I quickly realized it's much more efficient to do any Photoshop processing FIRST and then move on to Lightroom for color editing. This saves me A LOT of time in the cases where I finish color editing and Photoshop retouching and only then I realize I do not like something about the color edit. Then I would have to go back re-do color edit and then re-do Photoshop. Doing Photoshop work first allows me much more flexibility on the color correction later.
All this back-and-forth between Photoshop and Lightroom requires me to have both programs open almost at all times and speedy switching between the two is so important for my workflow. This is where the speed and efficiency of the new LG gram is really valuable to me and it allows me to work much faster than before.
How To Make Sure You Are Editing Colors Right
One of the most important things for me as a photographer is that the colors that I see on my laptop are accurate, meaning that when I transfer the photo to my phone to post it, the colors look consistent with what I saw on my computer screen. The LG gram screen colors are accurate and consistent with my color-calibrated monitor. This also saves me plenty of time on the back-and-forth of color-correcting the tiniest details to make the photos fit my Instagram feed.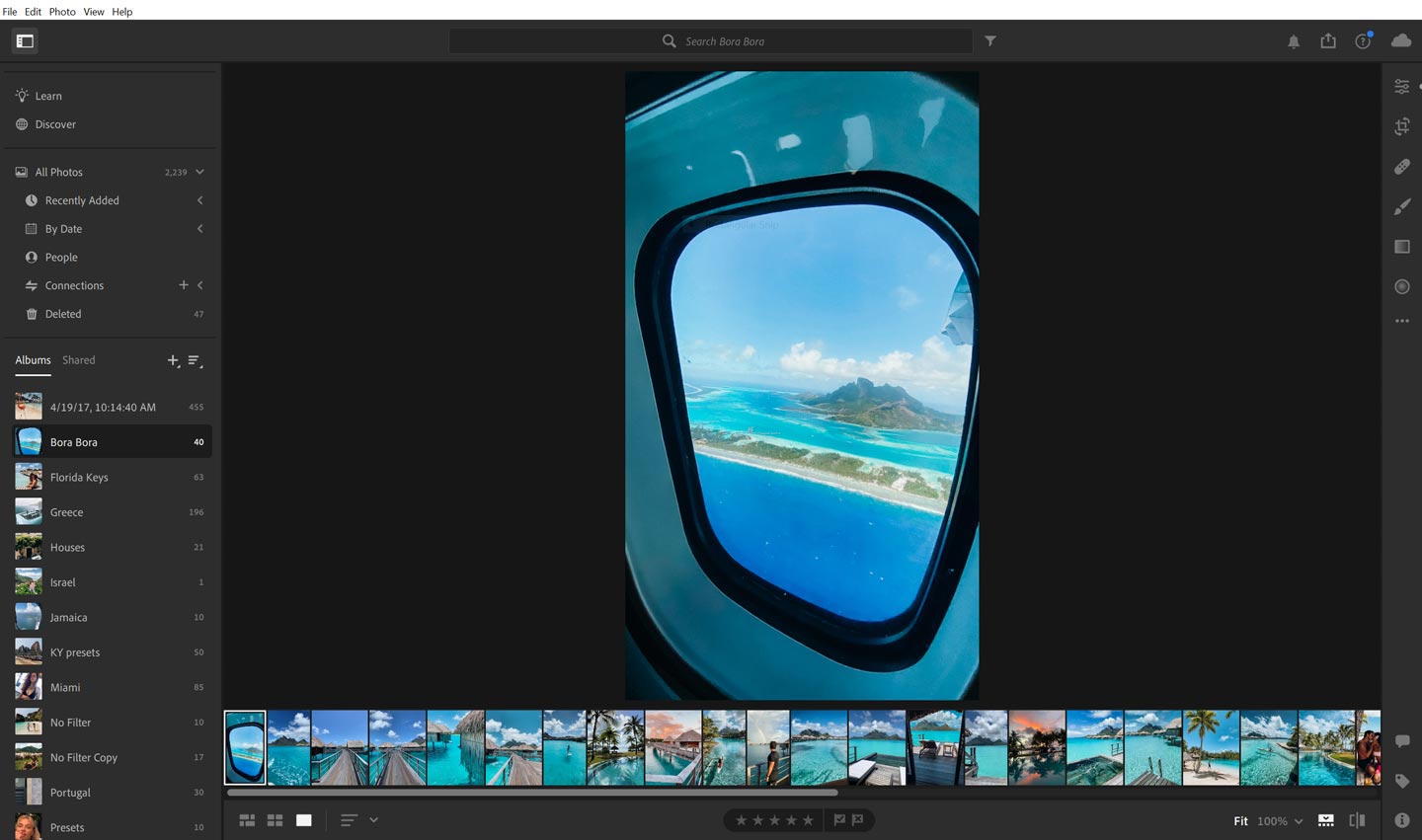 How I Edit Our Videos
Although I edit most of our videos on my phone, I do occasionally work on more complicated video projects, which require editing on a computer. For those occasions it was important for me that the laptop I chose is powerful enough to run Adobe Premiere Pro without issues.
You might not expect this from such a light laptop, but the LG gram performs surprisingly great with Adobe Premiere video editing. This is due to LG's use of Intel QuickSync technology, which uses dedicated media processing capabilities to speed up any media processing work. Adobe Premiere takes advantage of QuickSync which makes it run quite smoothly on the LG gram, which is more than satisfactory for the occasional video editor like me.
The 16:10 aspect ratio of the screen is another reason to love this laptop. It allows more real estate on the screen for you to see as much of Timeline as possible as well as all those necessary panels in Adobe editing programs.
Summary
The new 2021 LG gram is the perfect lightweight high-performance laptop for the modern content creator. Its impressive battery life, high-quality screen and performance with heavy editing programs, all packed into such a lightweight machine make it the perfect combination of all important qualities a prolific editor like myself values. The improvements in workflow and the amount of time I save on editing with the LG gram make the price tag more than worth it.