When you have a limited time trying to plan the best 10-day Thailand itinerary can feel a bit overwhelming. There's just so much to see! You want to visit all the beautiful beaches? Secluded less-touristy islands? Elephants? Temples… where do you start?
But generally you can divide the country into two main parts – Northern and Southern. Northern Thailand is known for its lush green mountains covered in rainforest, abundance of temples and elephant sanctuaries. Chiang Mai, Pai and Chiang Rai are the most well-known regions there. Southern Thailand is all about those recognizable turquoise water beaches, colorful longboats and island-hopping.
Of course we wanted to do all of that but it would not be feasible in 10 days so we had to pick one of the two areas.
Best Time To Visit Thailand
The first thing we always check when planning a trip is the weather. The best time to visit Thailand overall is during the cool and dry season between November and April. We were planning our trip for the end of April so we were cutting it a little close to rainy season. But the bigger problem with April is that it's "slash and burn" season in Northern Thailand. Locals use fire to clear fields between planting seasons, which creates a huge smoke issue all over the region.
So that left us with Southern Thailand and its beaches and we weren't mad about it – it made our itinerary planning much easier.
____________________________________________________________
Our Thailand flight itinerary:
New York -> Phuket -> took a car to Krabi -> flight to Bangkok -> flight back to New York.
____________________________________________________________
We used to always book our roundtrip flights to the capital of the country we're visiting first, and then figure out the domestic flights later. But that's not always the most efficient way to plan your itinerary, especially in Thailand. Since Phuket is such a popular destination, there are many direct flights there from cities all over the world. So it made more sense for us to fly there first and then fly back to New York from Bangkok. Whenever you have the option, I highly recommend this method as it saved us a lot of time and money.
Booking buses, trains or private cars within Thailand can be quite confusing as well, so we use Bookaway to help us navigate all the different options. Just enter your starting point and destination and browse all the buses, trains and shuttles offered with actual photos.
First Stop: Phuket
We'll be completely honest with you – Phuket was not exactly our scene. It's busy, quite touristy and it just doesn't have that chill beach vibe we enjoy. We realize most people don't come to Phuket to chill, it's more of a party town. But we still wanted to check it out anyway so we added it to our Thailand itinerary. Luckily, we had only planned a couple of nights here so we still enjoyed it. But we definitely would not have been able to stay here longer than that.
We stayed at Kata Rocks, which is one of the best hotels in the area. It is a little separated from all the craziness of Phuket, so that made our stay very relaxing.
Kata Rocks has a very Santorini vibe. It boasts a bright blue infinity pool overlooking the sea and all-white interior details. We were lucky enough to get invited for a sponsored stay, so special thanks to them for making our stay in Phuket so enjoyable. Each "room" here is actually a full 2-floor private villa with its own pool and virtually anything you might need. We enjoyed some of the best service we've ever had at this place.
We went out to Patong one evening and got our dose of Phuket nightlife. After that we were actually pretty content with not leaving the hotel and spending most of our time relaxing by the pool and soaking in the sun.
Where To Stay In Phuket
Pullman Phuket Panwa Beach

– we stayed here in our first two days in Phuket and really loved it. right on the beach, a few beautiful pools, and price was on the affordable side. staff was super helpful and also arranged a ride for us to Krabi.

Sri Panwa Phuket

– this is a the more luxury option in Panwa beach area. even if not to stay in that gorgeous hotel, go to the bar they have on the roof and don't forget to call and reserve a spot a day or two in advance

Kata Rocks Villas

– there is only one way to describe Kata Rocks – Remarkable! this is most definitely one of the hotel experiences we will not forget.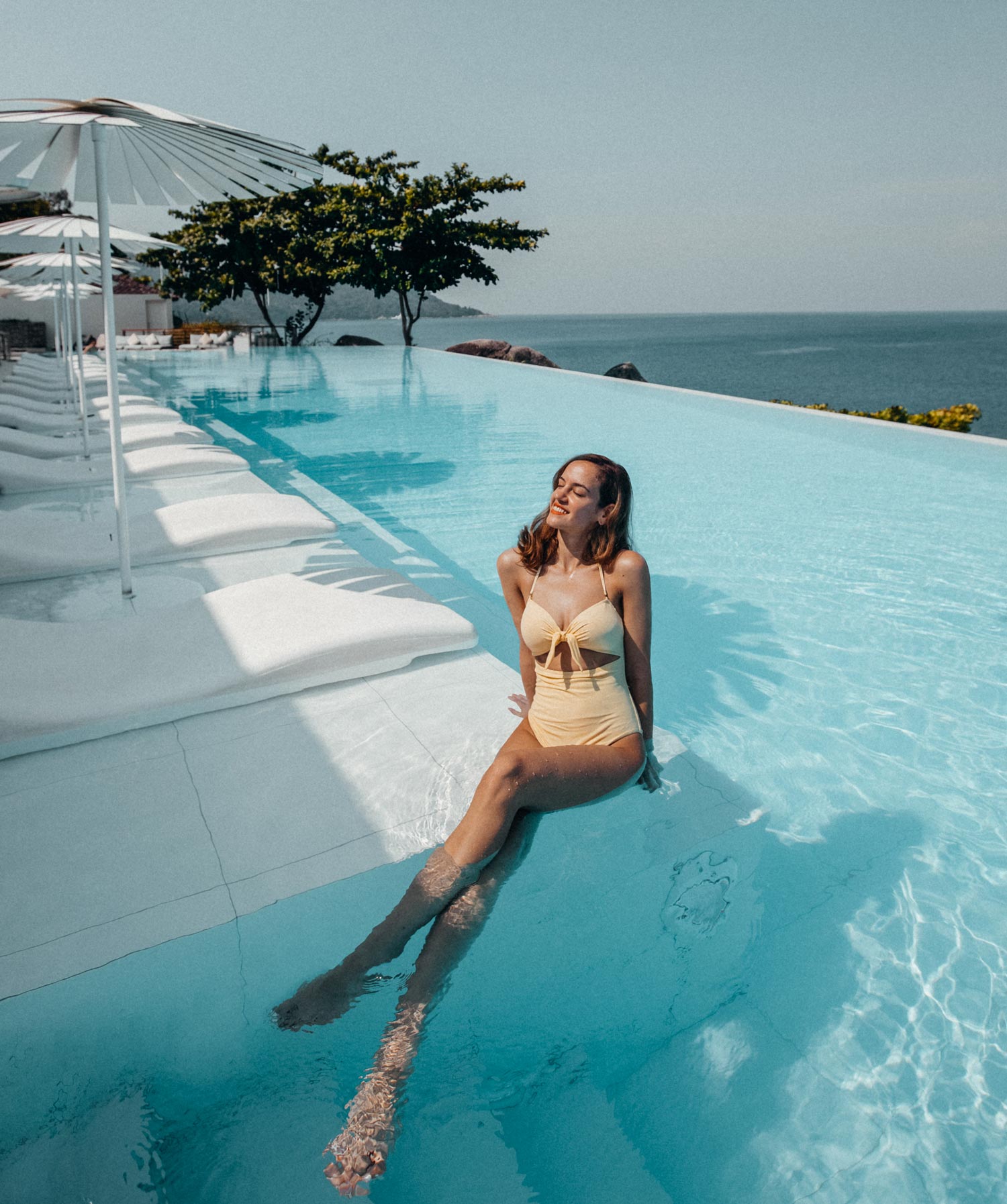 Getting From Phuket To Ao Nang, Krabi
You have a few options to get to Ao Nang from Phuket – you could fly, take a boat or a taxi. There are no direct flights though. You'd have to connect through Bangkok or Koh Samui so it's not the fastest or most practical way to get there.
There is a ferry that leaves from Phuket to Ao Nang every day. But, at least while we were there, there was only one on the schedule leaving at 8am and we did not want to feel rushed.
Instead, we just booked a taxi as it seemed like the most economical and convenient option. The ride took about 2-3 hours including a stop for food and it cost around $90.
Spending A Few Days In Krabi
As soon as we got to this area, we realized it's our kind of place: beautiful nature, laid back vibes and tons to explore. We wished we had planned a little more time here as this was our favorite spot on our Thailand itinerary.
We stayed at Phu Petra Resort, close to the town centre and overlooking the stunning limestone formations nearby. There aren't many fancy hotels in this area so we aimed for something low key with a view and this place was just perfect.
Where To Stay In Krabi
Phu Petra Resort

– this is where we stayed. it is clean and affordable. it's located between a few mountains which makes it feels secluded but only 5 minutes drive to the town, which they have shuttles.
Centara Grand Beach Resort – if you are looking for a more luxury, Centara would be a great option. it isAccessible only by boat, but a private bay overlooking the entire bay.
Aonang Cliff – This was the alternative we had for Phu Petra as Yinon stayed there a few years ago and had a great experience. many bars and restaurants at the hotel to enjoy
Things To Do In Krabi
There are so many things you can do in this area but the main activity people love here is island hopping. You can find a wide variety of tours to the nearby islands – with a long boat, speedboat, with a larger or smaller group or you can rent a boat privately. Most hotels in the area will help you book your tour and recommend the best option for you.
We definitely preferred the private tours as we didn't want to deal with massive crowds. But they are also more pricey, especially the speedboat ones. We wanted to stick to long boats as they have that traditional Thai vibe that we wanted to capture in pictures. But the problem with them is that they can be A LOT slower than the speedboats. So we chose to stick to closer destinations as opposed to going to, say, Phi Phi.
Visiting Phi Phi Islands From Krabi
If you are in the area, Phi Phi islands are probably on your list – this is arguably the most stunning archipelago around here!
Phi Phi islands are right in the middle between Phuket and Ao Nang so there are tours that go there from both towns. With a speedboat it would take you about 45 min to get there, whereas a long boat would take more than 3 hours! It would have made more sense for us to go by speed boat but we also wanted to rent a long boat as they are prettier (for pictures – duh!).
This is why we recommend you spend at least a night in Phi Phi. Get there by speedboat, sleep on the island and rent a long boat locally in the morning to visit the famous Maya bay before the crowds.
Hong Island Tour
The tour we loved the most took us to Hong Island and a few others around it. It took about 45 min to get there by long boat and then we just hopped around the different islands for a few hours. Other stops on the tour were Koh Lading, Koh Pak, Hong Island beach and Hong Lagoon. We took a really early tour with a 7am call time so we got to Hong Island before the crowds. We really got to explore the island on our own. After 9am, however, things get quite busy on all of these islands. So even if you get to the first spot early, chances are you'll still be late for the other ones.
The good news is the tours can come and go in cycles, so you can easily get lucky and find yourself alone on a beach when all of the tour boats get up and leave at the same time. That happened to us on Koh Pak, which is probably why it ended up being one of our favorite spots on this tour. We had the entire island and beach swing to ourselves.
Railay Beach
This place is a must if you're staying in Krabi area and the best part is that it's just a short 15min boat ride away. Keep in mind there is no way to drive to Railay beach, you can only reach it by boat. So, when you are looking into hotels in the area, keep that in mind. You might not want to depend on getting on a long boat early in the morning if you need to catch a flight.
From Ao Nang, you can just head to the beach and hail a long boat taxi any time you want to reach Railay.
We spent entire days lounging at the beach and exploring the area. This place is very close to what you call paradise. The stunning limestone formations are visible from any vantage point and you can hardly take your eyes off it. There are a lot of people at the beach but the area is so wide that you don't feel crowded. This place is also known for rock climbing so if you're into that walk over to Pranang beach. And if you're lucky you might see some monkeys as well.

2 Days In Bangkok
The final stop on our Thailand itinerary was Bangkok. We took a direct flight from Ao Nang, which was pretty quick. We wanted to spend our last couple days in Bangkok to explore the city, visit some of its many temples, night markets and street food stalls.
Where To Stay In Bangkok
Things To Do In Bangkok
There are too many temples in Bangkok to even attempt to list. But if you have limited time, the two musts are Wat Pho and Wat Arun. They are also very close to each other. We took a taxi from our hotel to Wat Pho and then just needed to cross the river by ferry to get to Wat Arun. The weather in Bangkok can be so unpredictable! From the time we left Wat Pho until we got to Wat Arun 15 min later it was sunny. Then it poured and then it was sunny again.
We also visited a few night markets in the area to try some of that delicious Bangkok food and shop. If you want on visiting a floating market – make sure you plan in advance! A lot of them are open only on certain days and you need to wake up early and get there. Damnoen Saduak is the most popular and biggest one but it's also the most touristy. Amphawa, Klong Lat Mayom and Taling Chan are also good options. You can book a tour to visit any of these but the best way to do is to just take a taxi and explore on your own.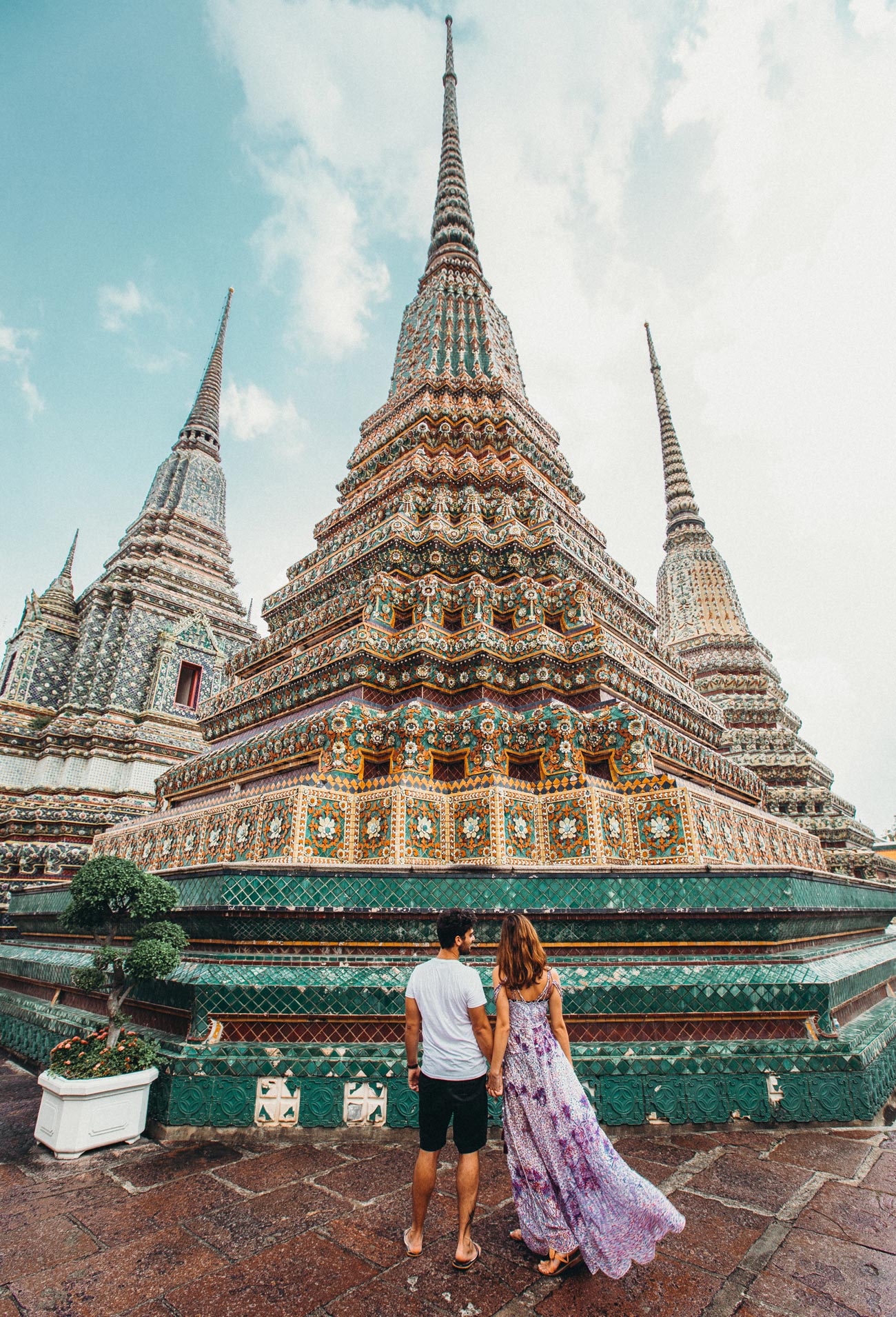 Although Bangkok is such an interesting and vibrant city we quickly got tired of it. It's busy and crowded and has that big city hustle vibe. Two days was just the right time to spend there for us.
Enjoy Thailand!
With some good itinerary planning you can easily visit 3 locations in Thailand and see a little bit of each. It's best to figure out which area offers the kind of vacation you want to have and spend the most time there. Spend no more than a couple nights everywhere else.