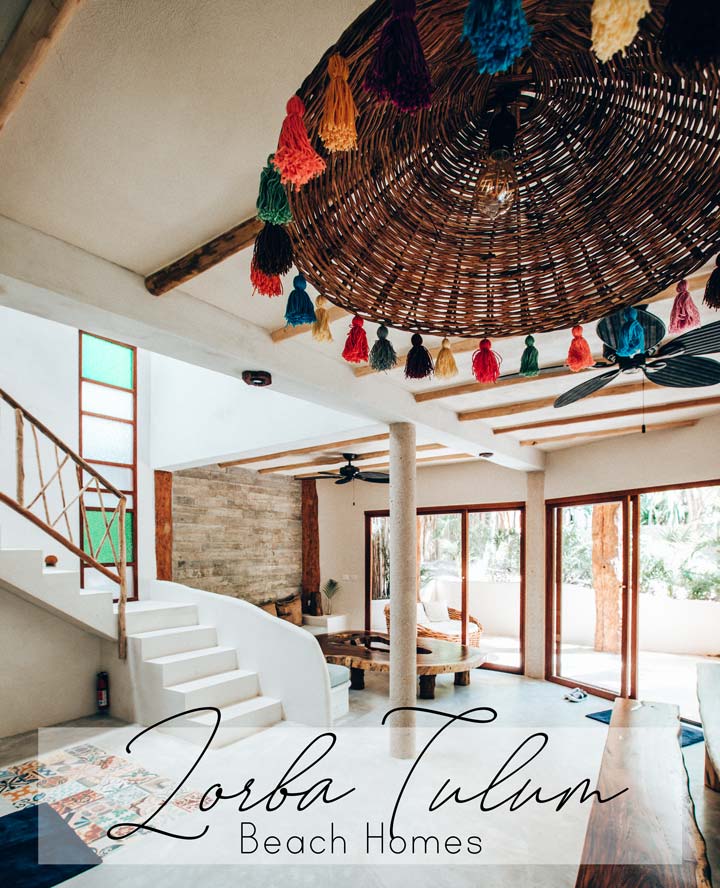 One of our favorite things to do in the frigid New York winter is to escape to the Caribbean for the weekend. And our hands-down favorite place in the Caribbean is Tulum. But don't waste your time looking for all inclusive or luxury resorts here. Tulum is all about eco chic living and boho vibes, and that's exactly why we keep coming back over and over. Although we've tried almost every type of hotel here, this time we stayed at Mahayana and Zorba Tulum beach villas, and can't wait to share our experience.
The Magic Of Tulum
If you've never visited Tulum before, your first time experience goes something like this: you start by looking into some hotel and villa options online. A lot of them seem quite pricey but look enticing. Relaxed hippy-chic vibe, jungle tree houses, full moon parties and yoga retreats – all situated right on the glistening turquoise Tulum beach. Every place you look at is a Pinterest dream of boutique tribal sun-kissed design. To top it off, all of social media is buzzing about it. What is it about this place?
You bite the bullet and book your flights and accommodation. You land in Cancun and pick up your rental car or get in your taxi. It's a long almost 2 hour ride to Tulum so you get comfy in your seat. You drive on the highway the entire time and the roads are wide clean and well maintained.
As you get close to your final destination, something changes. The road becomes narrow and full of bumps and holes. There is no street lighting, everything looks dark. Both sides of the road are walled off with bamboo and palm branches. And then you start feeling the magic. You catch a glimpse of a restaurant along the way – airy jungle-style atmosphere with dim fairy lights and palapa roofs. People are walking around barefoot in their flowy gypsy dresses and tribal outfits. There's something in the air and you're already feeling it.
Zorba Tulum Beach Homes
As soon as you get to the wooden gates of Zorba Tulum you start to get those Survivor vibes. Every little detail here makes you feel like you are starting your own little jungle adventure. From the moment you enter through the gates, you are walking on sand. You feel the urge to take off your shoes. The staff leads you through the torch-lit property to your villa and you can already hear the sound of waves crashing on the beach.
The best way to describe what it's like to stay here is primitive luxury. The villas have a traditional vibe but with a modern twist, the interior is tasteful and feels luxurious. The amenities are top-notch and the kitchen is fully equipped. But there are also some inconveniences – the tap water is not potable, for example, and there are limits on how long the AC can be on. The entire town of Tulum is lit by fairy lights due to the insufficient electrical system, there is very limited cell service and the wifi signal is weak.
But that's just part of the charm. This is a place you come to disconnect from the world for a little bit, stop wearing shoes or worrying about how your hair looks.
The Property
The villas are designed for families and larger groups of people. Most of them sleep between 4 to 8 people and the largest villa sleeps up to 12 people. There is a shared pool for the whole property and the largest villa has a private one. We stayed at villa #4.
Zorba Beach Homes is located very centrally and, like most hotels in Tulum, right on the beach. That makes it very easy to get to most popular spots by taking a short walk along the road. You can also walk on the beach instead, which was our favorite way to get around.
Mahayana Tulum Beach Homes
We spent half of our time in Tulum at Zorba beach homes and the other half at Mahayana. Just like Zorba, Mahayana Tulum Beach Homes is located in a very central location, right on the beach. It is a private villa property with 4 separate villas. One of the villas has a private pool but there is no common pool for everyone to use. We stayed at Casa Bonita here, which has one master bedroom and a small half-bedroom with two twin beds.
Mahayana has a similar vibe to Zorba – tastefully decorated with a local flare, spacious rooms filled with light, quiet and serene. The construction and appliances at Zorba are definitely a little newer and more modern but we the atmosphere is equally charming.