We traveled to Hawaii recently, spending a few days in Kauai and a week in Oahu. We were blown away by the beauty of the islands and, as avid beach enthusiasts, wanted to give you a list of our personal favorites. As a word of caution, we don't love the most touristy places. Usually we prefer to sacrifice convenience for the sake of finding less popular spots. So what we consider the best beaches in Oahu might not be what everyone considers the best beaches in Oahu. You've been warned 🙂
Another thing you should keep in mind is that the East side of the island has sharply different weather from the West side. In the East side it's always sunny and warm, whereas the West side is mostly cloudy and rainy. We spent a week in Oahu in December and drove between East/West parts of the island daily. Only on one day did we see the sun for more than a few minutes at a time on the West side. Overall we still enjoyed the cloudy beaches though, it was a nice break from the heat and sun.
Here is our recommendation for the 5 best beaches in Oahu, in no particular order.
1. Waikiki Beach
Let's start from the obvious. If you are in Oahu, you are most likely staying in the Waikiki area. The weather is always nice and sunny here and that's where most of the hotels are located. Waikiki beach is large enough to accommodate all the tourists and delivers some of the best sunsets. It also offers all the conveniences that come with a major tourist beach like food, sun chairs, umbrellas, etc. To be honest with you though, we didn't spend much time here. We mostly drove around the island looking for less populated beaches. But that's up to you.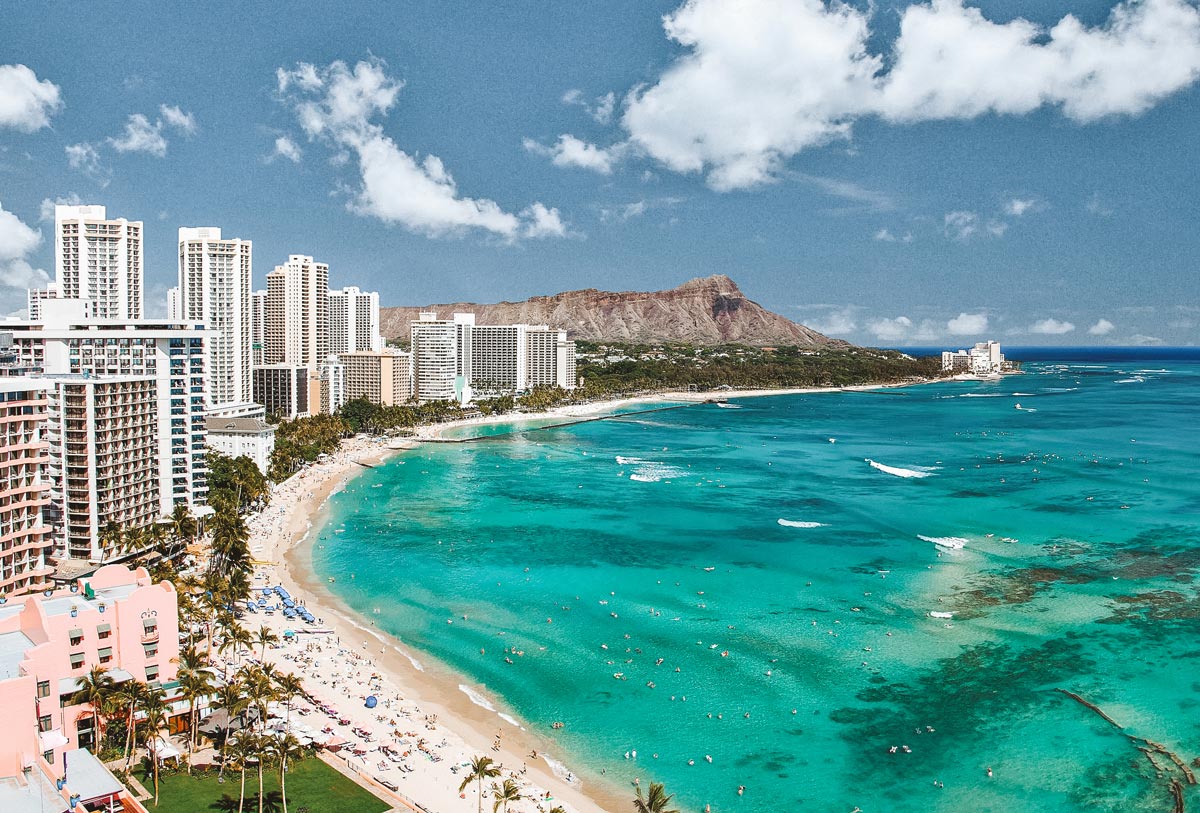 2. Ka'a'awa Beach
Ka'a'awa beach is located on the East side of the island, about a 45 minute drive from Waikiki. It's not the most relaxing beach as it is very narrow and located right by the road. But we also never saw any people there so we really enjoyed having it all to ourselves. The beach offers beautiful mountain views and several swings, which were super fun! Again, be sure to check the weather before you head here for a full day at the beach. If it's rainy, you won't stay here long.
Nearby is the Crouching Lion hike so our suggestion would be to plan to do the hike in the morning and stop by the beach right after to relax for a bit.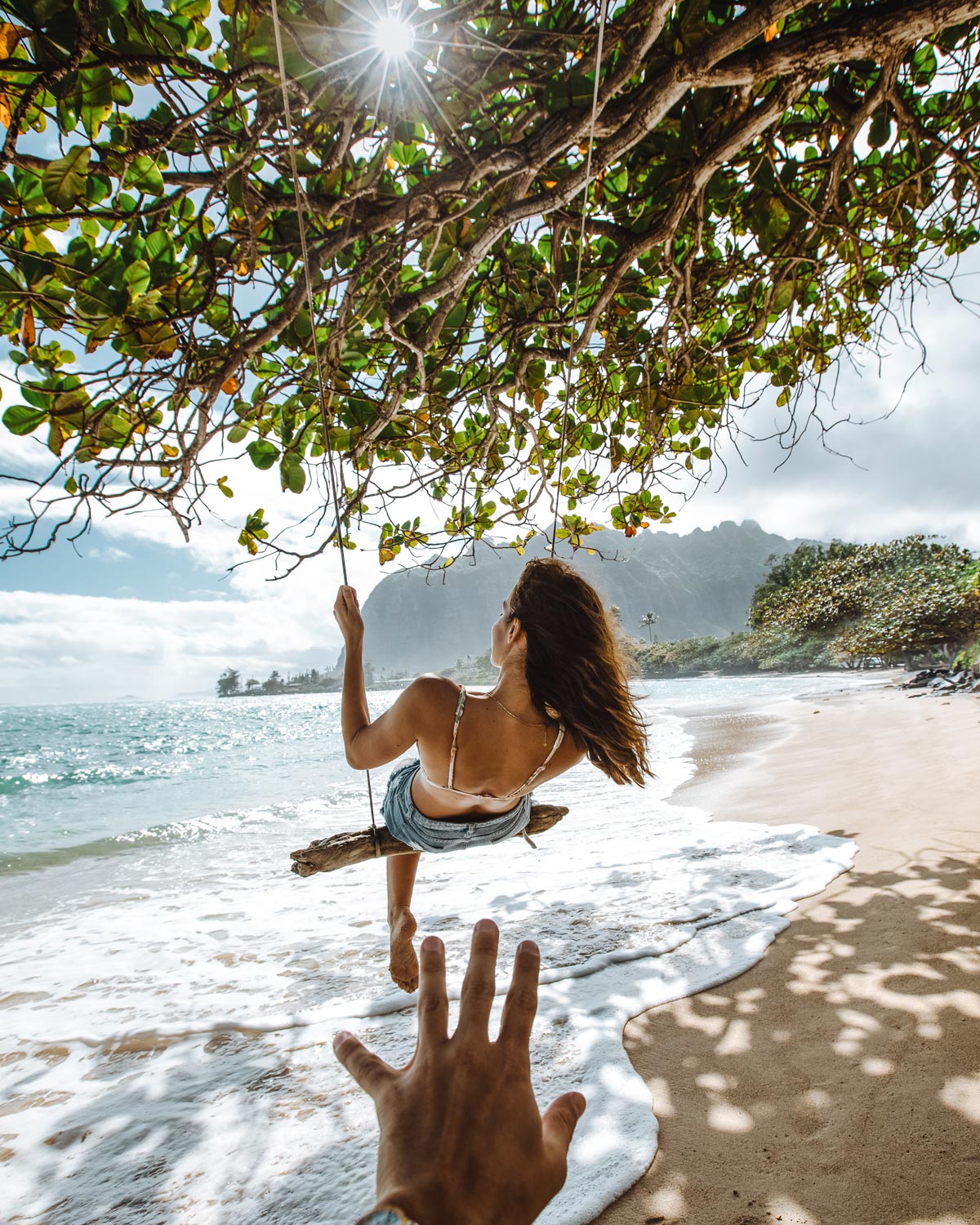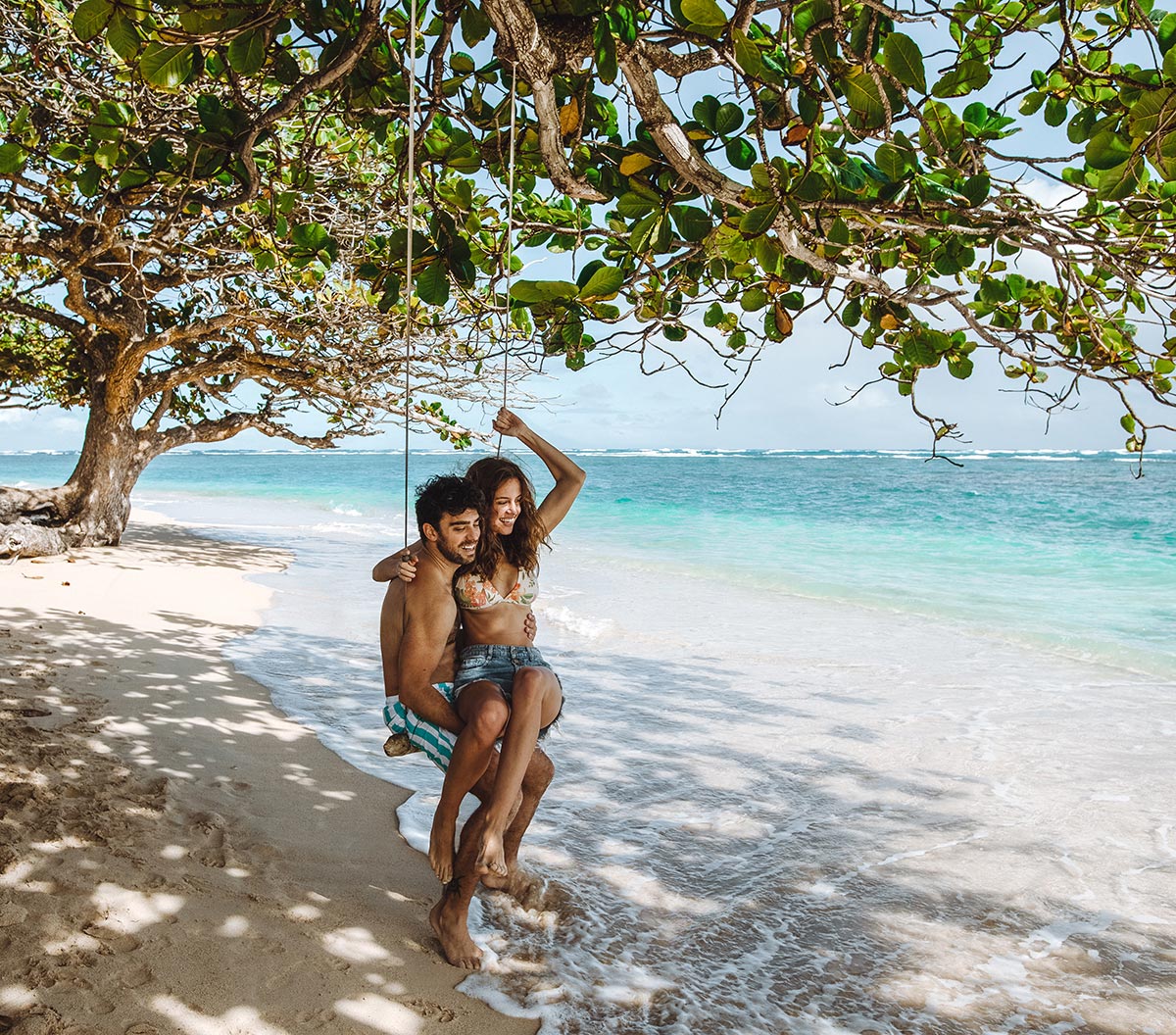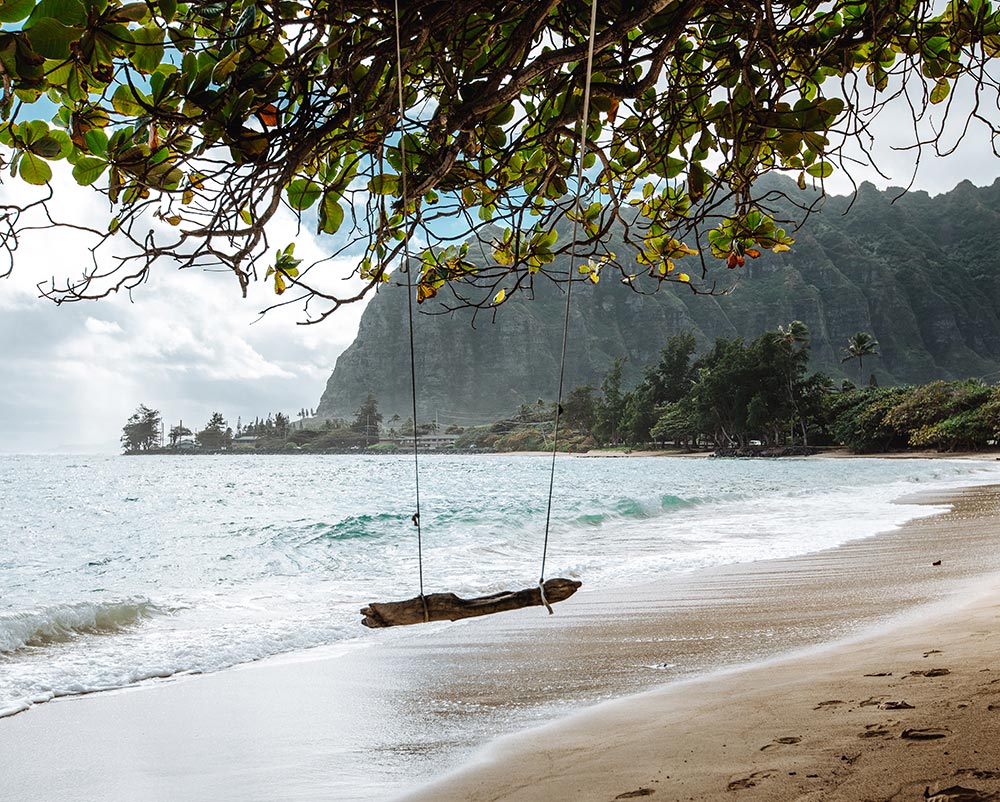 3. Makaha Beach
This was by far our favorite beach in Hawaii. A long stretch of soft pale sand surrounded by the stunning backdrop of the valley and its green-sprinkled cliffs. We just couldn't believe a beach this beautiful can be so secluded and feel so untouched, in Oahu! The weather was beautiful, the views are spectacular in every direction and the water was warm and pleasant. There were a lot of signs for dangerous currents though so we didn't swim that far out.
Makaha is in the Northwest part of the island. It took us an hour to drive there from Waikiki and the area felt a little more local and less developed. We got some funny looks here and there and some people honked and flipped us off for no reason. So be warned – this area is not for everyone. But we definitely never felt unsafe and had the best time at this beach.

4. Kailua Beach
Kailua is one of the more popular beaches in Oahu and it attracts a lot of tourists. You might have trouble finding parking and you might feel a little crowded. But it's still a beautiful beach, it's that popular for a reason! The water is clear turquoise blue and the sand is soft. Unlike nearby Lanikai beach, Kailua has public bathrooms, beach showers and picnic tables in the nearby park area. Kailua town is also very close and a great place to grab food and drinks before heading to the beach.
5. Kahana Bay Beach Park
This beach is also located on the East side of the island. It is not great for swimming because the water is very shallow and murky but it's surrounded by beautiful jagged cliffs and a nice park with picnic tables, so if you are looking for a peaceful place to escape the crowds and sit on the sand for a bit, you'll love it here.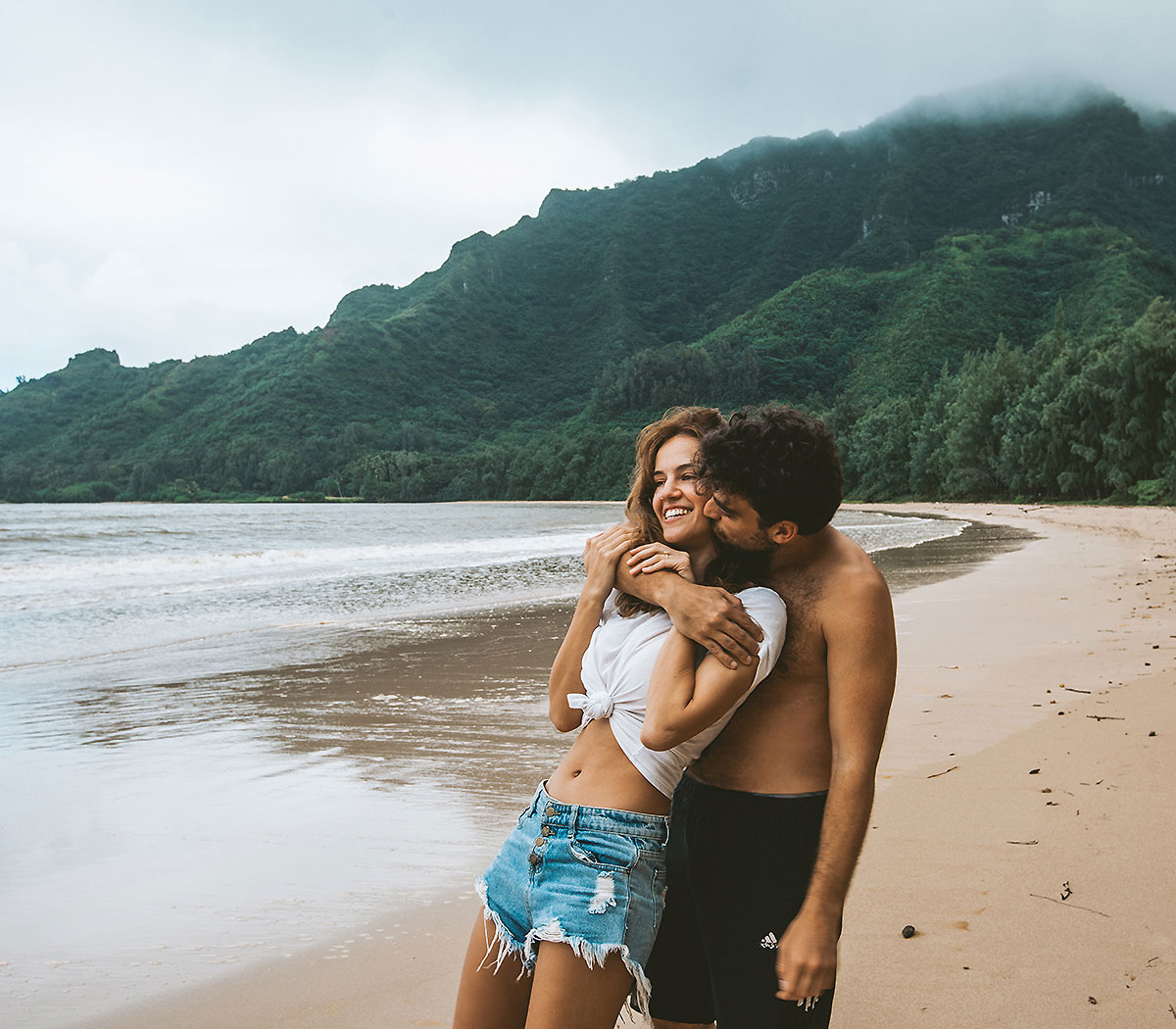 LIKE THIS POST? SAVE IT ON PINTEREST!